1.  Our trip to Seattle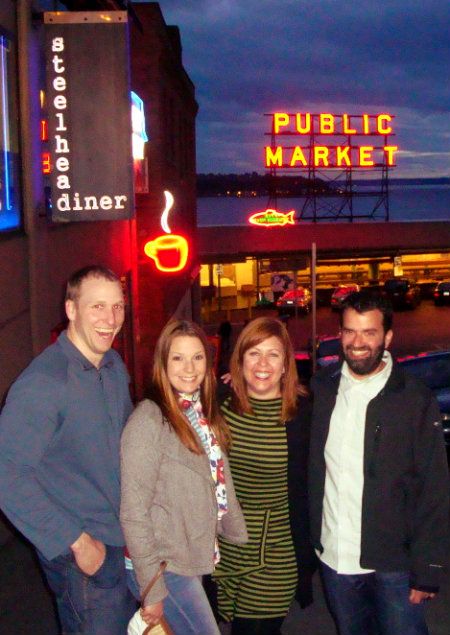 G&D and Lesley & Ben
Not only did I survive Seattle, we had a wonderful time visiting G's sister Lesley and her boyfriend Ben in the Emerald City.  We did all sorts of fun touristy things.  So many, in fact, that Seattle is getting its very own picture-filled post, coming soon!
2.  Meeting jbhat
I was so excited to meet "jbhat" (one of my favorite commenters on my blog) during our Seattle trip!  Jbhat has done a pretty good job of maintaining online anonymity which is why I'm not sharing her real name…but I am plastering her picture on the internet.  I also know her cell phone number.  (Not that I'm sharing it, mind you; I'm just bragging.)  It was so lovely to meet her.  She is incredibly warm and kind and effortlessly beautiful.  She has an adorable little dimple in her right cheek (just like Kate!), a gorgeous family, and a huge heart.  Chatting with her felt like chatting with a lifelong friend. I could have sat in that coffee shop all day getting to know this woman!
3.  Menchie's Frozen Yogurt Shop
Do you have one of these in your city?  For your sake I hope not.  This place is suburbia's version of the corner crack house.  It's a build-your-own-yogurt sundae shop featuring a ridiculous amount of frozen yogurt flavors and toppings—oh yeah, and free samples.  We only went there twice but talked about it every five minutes.  I think I put about 20 miles on my running shoes between running, hiking, and walking while in Seattle…but I'm pretty sure I still gained 15 pounds thanks to this delicious place.  Damn you, Menchie's!  DAMN YOU!
4.  Red skinny jeans…
…which fit me for about 2 days, before I discovered Menchie's (see #3).
I've been wanting a pair of red skinnies all winter, and finally (now that it's almost summer, of course) I found a pair I like!  They're Joe's skinny jeans in chili pepper red which is exactly the deep red color I've been looking for—and best of all, they're super soft and comfortable!   
5.   Heel pads
 I've always hated wearing flats.  I have a cute little pair of metallic flats that I've been dying to wear with my skinnies and skimmers, but they always rub at the back of my foot and drive me crazy!  I can wear my 3 and 4 inch heels all day long, but a pair of flats will leave me sore and blistered simply walking from my front door to my mailbox. 
Not anymore!
I picked up a package of "back of heel protectors" and they work like a charm!  (I found mine at Target, although I'm sure they're available pretty much anywhere shoes are sold.)  Simply peel off the paper in back, stick them to the inside of your shoe just behind your heel, and enjoy walking without blisters!  I brought my flats to Seattle (to wear with my red skinnies) and was able to walk all around town without any discomfort.  I feel like a whole new shoe world has opened up for me now thanks to these little things! 
What were your things loved in April? I'd love to hear about them!