Other titles considered for this post included:
Socializing After Only 4 Hours of Sleep
Is It Legal to Buy This Much Alcohol in The South?
The Rudest Introduction EVER!
Thank Goodness for Clara
Can I Still Call Myself "A Blogger" If I Don't Take Pictures?
I'm back from the first ever Haven Conference and am so excited to tell you all about what an amazing time I had!
Have you ever walked away from a conference thinking, "I really wish I had gotten more out of that" or "I really wish I would've taken more time to network with people"?
That was SO. NOT. ME.
I told G when I got home that I honestly believe I made the most out of every second of Haven 2012 – and if that meant sacrificing sleep, so be it.  My experience was so full, in fact, that I'm breaking my recap up into several posts, one for each day.
Are you ready for this?!
Put down your paint brush, pull up a chair, pour yourself a glass of wine, and let me tell you all about it!
My flight left Madison, WI at 6am on Wednesday morning, I stayed up packing until midnight the night before, and my alarm went off at 4am telling me it was time to get ready to leave.  Four hours of sleep?  Not my favorite thing.  Arriving in Atlanta for the Haven Conference a few hours later and being greeted by my beloved friend Beth from Unskinny Boppy?  Totally worth it!
Our ride to the hotel was joined by Aimee from  Project: Aimee and Terri from Crafty Workin Mommy – two girls so cute and chatty that my excitement for my first blog conference grew even greater!  As Beth checked us into our hotel room I noticed a couple more cute and chatty girls in the lobby and couldn't resist asking, "Are you girls here for Haven?"  That's how I met the fabulous Erin from How to Nest for Less and Chelsea from Two Twenty One – two girls so cool they later knocked on our hotel room at the end of the night, beer in hand, looking for an after-party.  Love that!
After check-in Beth and I unloaded our bags in the hotel room (can you believe I carried-on?!), checked in for the conference, and got some fabulous swag bags and this kick-ass name tag lanyard: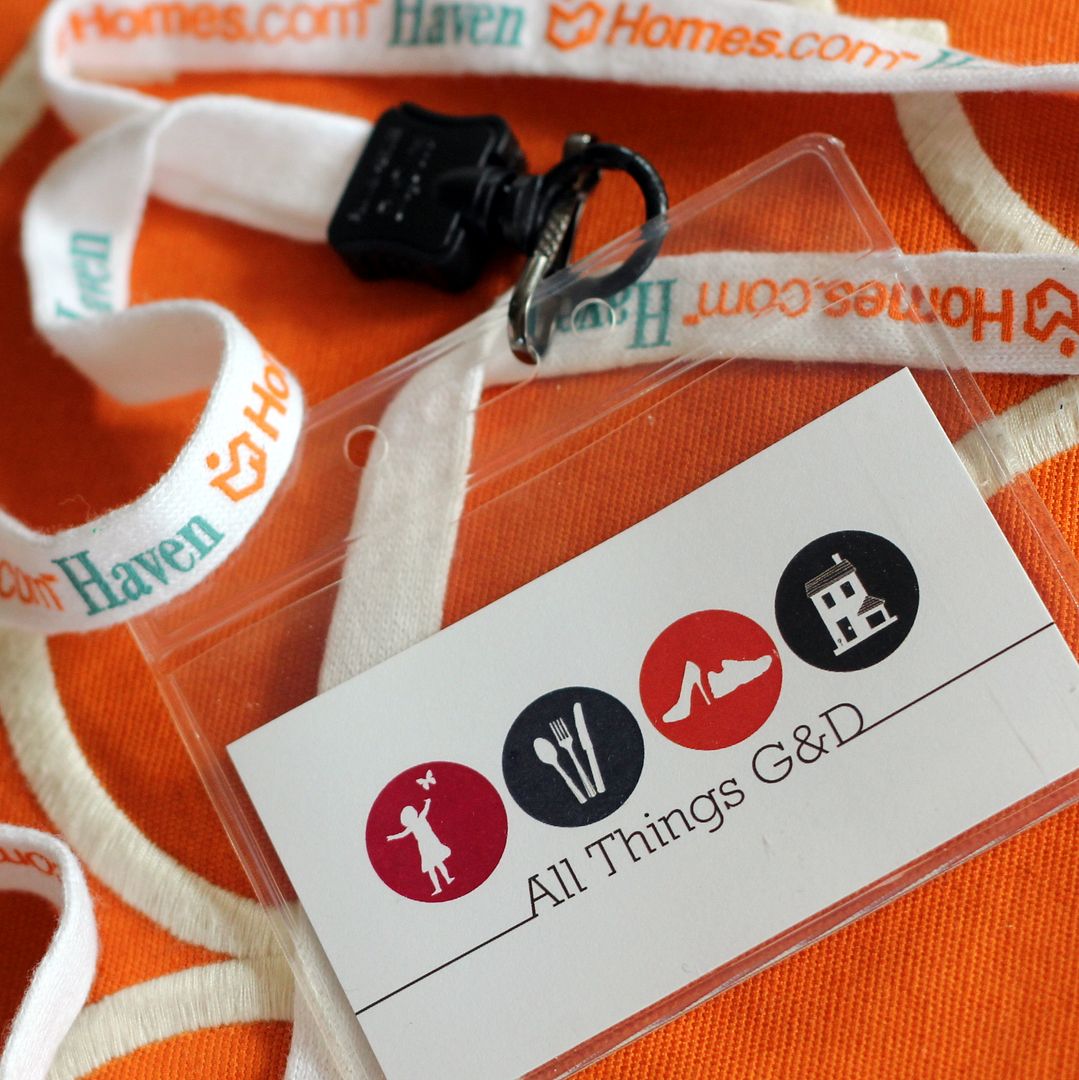 Look for this on Vogue's next Top 10 Must-Have Accessories list.
You heard it here first.
After check-in we met and chatted with a few other Havenistas in the lobby, and after enough awkward silences and blank faces of people not recognizing each others' blogs, Beth and I decided it was time to make a little trip to the Publix grocery store across the street.  Forty-five minutes later anyone still sitting in that lobby would've seen me and Beth wrestling a heavy cooler filled with ice, wine, beer, and a cheese tray up to our room.
Time to kiss that awkwardness goodbye and get this party started!
The Haven Conference officially kicked off that evening with a fabulous Welcome Reception hosted by Oreck and Frog Tape.  Beth and I were all dolled up and looking fantastic that night, but you'll just have to take my word for it because I didn't take a single picture.
What kind of a blogger am I?!
I did, however, snap a photo yesterday of the super cute outfit I wore on Wednesday night (you'll just have to picture it on me instead of my closet door):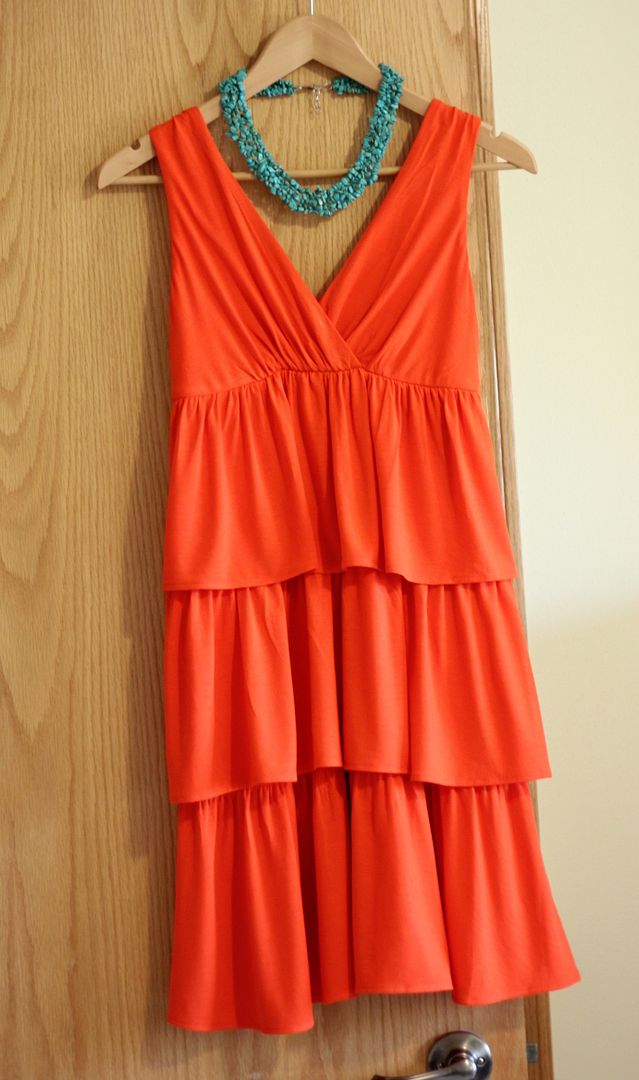 You know I was the hotness in this, right?
(For real. It was like 100 degrees there. I was sweating my ass off.)
The first person I spotted as Beth and I strolled to the reception area was Clara – the adorable daughter of John and Sherry from Young House Love. For those of you new to the internet, John and Sherry are A Super Huge Deal in the home decor/DIY world.
Here's how our introduction played out:
I walked up to Clara and her parents, pushed through a crowd of people to tap Sherry on the arm and get her attention – which in turn interrupted her conversation with a woman I would later discover is Ana White, DIY furniture superstar (could I be any RUDER?!  Yes I can.  Read on…) – and spoke my very first words to Sherry:
"Hi.  I'm going to steal your daughter now."
Seriously! Who does that?!
Thankfully Sherry has much better manners than I do (she's a 10 on a scale of 1-10; I'm about a 2 on a good day) and she had the most gracious and sweetest reaction to meeting me, giving me the most wonderful smile that I'll never forget, followed by a great big hug.
Then, on my continued Rampage of Rudeness/I Have No Boundaries, I turned to John and asked, "Have you been showing Clara pictures of me so she won't be freaked out when I kidnap her this week?"
(No, "Hi John, I'm Dusty from All Things G&D" with the requisite pause while I wait for a sign of recognition – or at the very least, a sign that he's not going to call security.)
COME ON!
(I'm signing myself up for etiquette classes just as soon as I'm done clubbing baby seals and budging to the front of long check-out lines.)
John (who didn't even flinch by my rude non-introduction, by the way) simply scooped Clara up and so nicely replied, "Of course!  Clara – you remember your Auntie Dusty, don't you?"
Seriously – how cool is that?
John, Sherry, and I instantly began talking nonstop like we were simply picking up a conversation we'd been having for years.
And in a sense, we were.
I'm not sure when or how I found their blog, and I'm not sure when or how they found mine, but I feel like we've always been friends – we just hadn't met yet.  And our introduction required no introduction…and I kind of love that.
I spent the rest of the Welcome Reception going between mingling and meeting other fabulous bloggers, checking in with my dear friend Beth, and chatting with John, Sherry and Clara.
It's hard for me to be away from my 2-year-old daughter Kate – and ridiculously harder when I'm not with her and I see another little girl her age.   John had already given me a heads-up that Clara was going to be there, and I had already give him a heads up that I was going to need my Clara snuggles.  I just couldn't stay away!  By the end of the night Clara and I were total buds as we danced in the hallway – all smiles and giggles – holding hands "Clara style," twirling around, and dropping to the ground.  We did this dozens of times, and I could have done it all night long.  She is just the cutest little thing and I was thrilled to spend some time with her!
My other highlight from this first night of the Haven Conference was meeting my friend Kate from Centsational Girl* – another Super Huge Deal in the home decor/DIY world, and one of the organizers of Haven!  And just like my non-introduction with John and Sherry, Kate and I looked at each other, screamed, hugged, and picked up our conversation as if we'd been having it for years.
In the months leading up to Haven I fretted that since it'd been so long since home decor and DIY projects had been the focus of my blog that I didn't belong there.
I was quickly proven wrong.
I had the most spectacular time, met the most wonderful people, and was so glad I decided to attend Haven 2012 – and the workshops hadn't even begun yet!
Check out my Day 2 recap of The Haven Conference HERE!
*I know there was at least one picture taken this night of me and Kate by a male photographer going around the room, snapping shots.  I'd love to get my hands on it if anyone knows how!