Cancer.
It's the one word no one ever wants to hear.
Sadly, we heard it a couple of months ago when we found out G's aunt Anne (whom Kate lovingly refers to as her "Aunt Mimi") was diagnosed with cancer.
From two states away it's hard to know how to help.  With more than 300 miles between us we can't exactly stop by to drop off a lasagna, clean a bathroom, or do the grocery shopping.  One thing we could do, however, was send her a little cheer.
I decided to put together a care package filled with wholesome homemade snacks for Aunt Anne and her family, and topped it off with a "hug" from Kate!
First I gift-wrapped the inside of a box with colorful striped wrapping paper, and then I filled it with homemade veggie muffins, baked oatmeal muffins, and granola bars.  Next, Kate and I busted out the finger paints!  Kate painted a picture and then we made purple painted handprints of each of her hands.  I trimmed each of her handprints out and cut her picture into strips.  I glued the strips together and wrote, "Sending you a great big hug!  Feel better soon, Aunt Mimi!" Then I folded them accordian style so they would pop out when Anne opened the box.  I glued the message to the left and right sides of the box and topped them with Kate's handprints.
Then end result?  A hug in a box!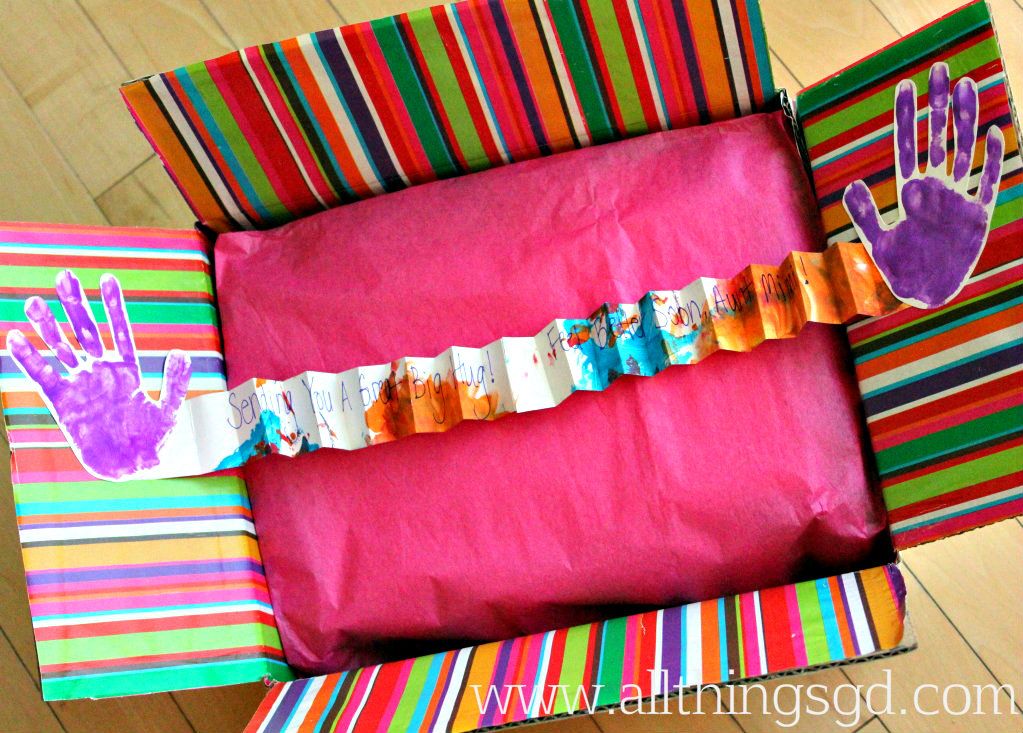 Have a loved one going through difficult time?  Send them a hug in a box!
Our care package brightened Anne's day just like we hoped it would.  Even more importantly, she continues to stay strong and positive, and each day brings her closer to recovery.
We love you Aunt Mimi!