Bet you thought I forgot all about my "Things Loved in June" post this year, huh?
Not a chance!
June was such a wonderful month there's no way I'd scratch it from this year's Things Loved list!
1.  For starters, June is the month that I got gorgeous new granite countertops (and the return of running water) in my kitchen!  That alone makes June a major contender for being voted My Most Favorite Month of 2012.
I'd post a picture of my new countertops again, but I realized after Haven that those pictures could be dramatically improved (and the kitchen has yet to pose for another photo shoot) so for now you'll  have to click on the link to see them.
What's that?  Did someone mention Haven?
Oh, okay.  I suppose since you brought it up I'll talk about it again…
2.  The Haven Conference!
Oh how I loved attending the first ever Haven Conference for home decor/DIY bloggers (and me).  I've already posted recaps of Haven Day 1, Day 2, and Day 3  so I won't go into those details again, but I do have to say that one of my favorite parts of the experiene was all of the wonderful new people I met – many of whom I now call friends!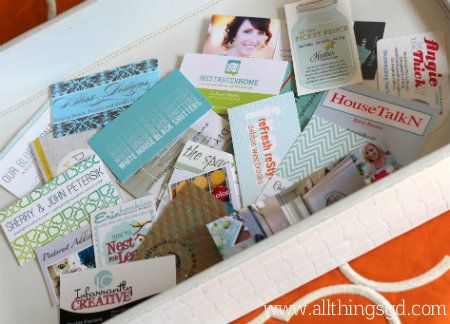 Business cards collected at Haven – a.k.a. Blog Love
I cannot wait to see all of these wonderful people next year for Haven 2013!  Something tells me we're going to skip right past that awkward introductory phase and jump straight into the belly laughter, rounds of drinks, and somebody get Dusty off the bar! phase.
Charge those camera batteries, ladies.  It's on.
3.  This compliment, given to me by Karianne from Thistlewood Farm, after Haven was over and we'd all returned home:
"Dusty….Dusty….Dusty….where do I begin? You are so amazing and authentic and absolutely REAL! Seriously. I was laughing to myself all the way home at your Carmen Electra impersonation. What a joy for life you have and your sweet spirit is incredible! I can't believe how lucky I am to have met you!!!!  Cheers my funny dancing friend!"
A compliment that made me laugh and tear up all in the same moment.  Lovely words from a stranger who is now my friend, that I will cherish forever.
4.  Speaking of friends, one of the things that made my Haven experience so wonderful was sharing it with my dear friend Beth!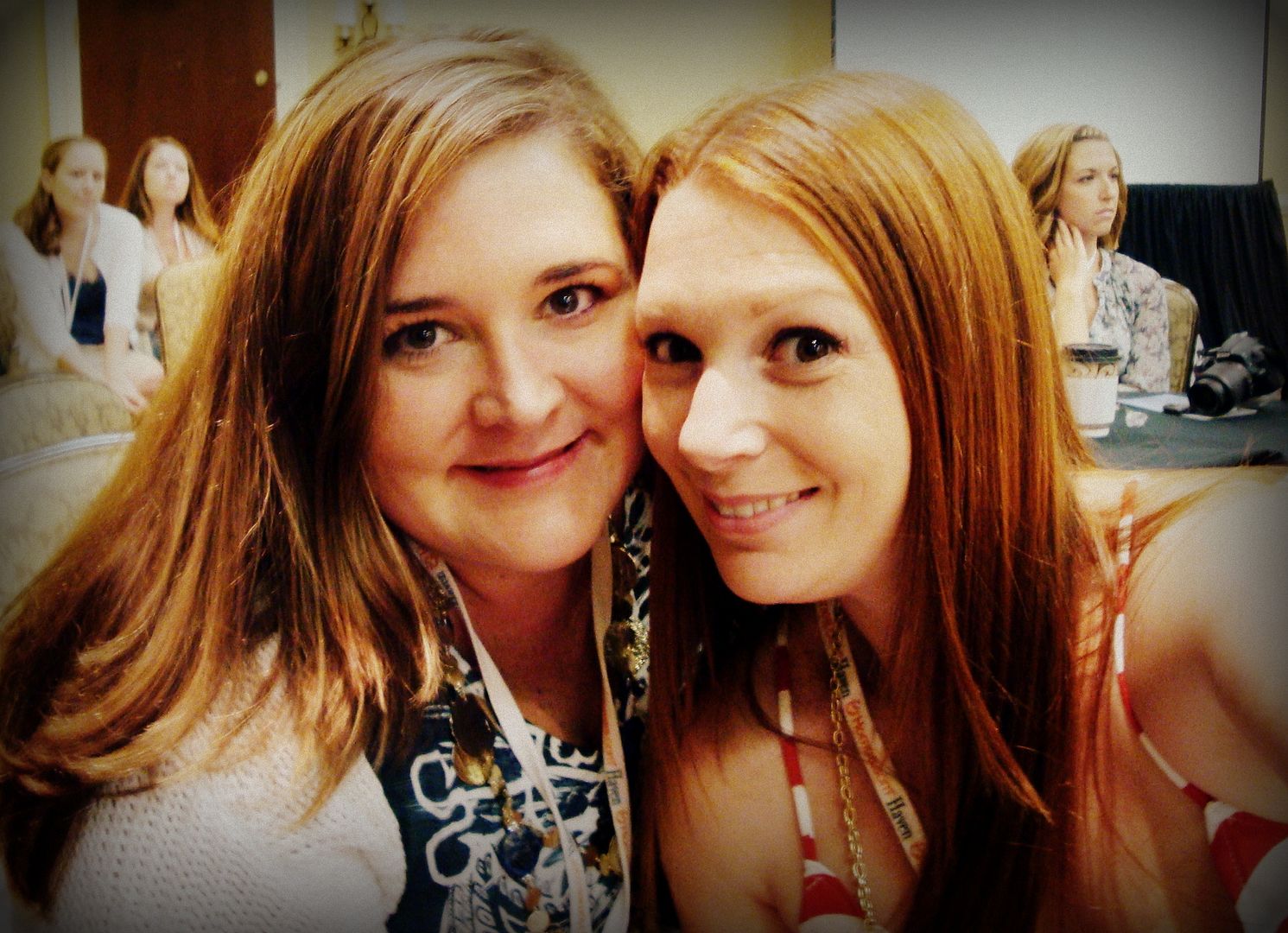 Beth & I at Haven – a quick self-portrait snapped with my point & shoot at the beginning of Kevin and Layla's photography session.  (That takes balls, people.)
I'm quite confident Beth and I would have manged mingling in rooms full of strangers just fine without the other one (that's just the kind of people we are), but having her there with me was THE BEST.  For much of the conference we split up and did our own thing, but all throughout the day we checked in with each other – either in person or via text – and each night we had a blast celebrating our friendship and the new friendships we were forming.  Long after we closed down restaurants and bars, and removed bras and makeup, you could find us hanging out in our room, talking the night away and peeling back layers of life as each hour passed.
It didn't matter if my head was spinning from information overload, or I was saying "you guys" instead of "y'all," or I drank too much and dropped a couple of f-bombs.  Surrounded by a room full of strangers, I didn't cave to that nagging urge to act a little bit better than I really am – a little nicer, a little quieter, a little less wild and crazy – because there was no need.
I had Beth with me.
My touchstone.
My person.
My June wouldn't have been the same without her, Haven wouldn't have been the same without her, and my life wouldn't be the same without this beautiful and beloved friend of mine.
5.  My readers.
That means you.
Yes, YOU!
A common conversation at the Haven Conference was bloggers talking about the stressors associated with the pressure to put out content.  It made me reflect back on my month leading up to the conference when I had to step away from my blog for a few weeks to manage other things in my life.  I'm not going to lie – during this time I felt the strong pull of my blog and the worry that I was disappointing you for neglecting it.  But when I finally did write an update, your comments were nothing but 100% supportive and understanding.  Equally surprising is the fact that – even though I only wrote two posts in about one month's time – I lost no subscribers.
I love this about you, my readers.
It makes me feel like you're here with me because you are genuinely interested in what I have to say versus how often I put out content…and I can't tell you how much that means to me.
Thank your for your loyalty and your virtual friendship.  Thank you for understanding that this is my hobby and sometimes hobbies have to wait.  And thank you for joining on this journey with me as I continue to balance trying to do it all with keeping life simple.