6:28am: I wake up on my own, 2 minutes before my alarm goes off. I love when that happens. I get out of bed and get ready for Body Pump (strength training) class at the gym.
6:40am: I hear that Kate's awake early, so I go to her room, give her some good morning cuddles, pick out her clothes and get her dressed for the day.
6:50am: G wakes up and takes over with Kate since its time to leave for the gym.
Braided pigtails and looking like I just woke up – you know what that means! Time for my Saturday morning Body Pump class.
7:00am:  Body Pump.
8:10am: Home from the gym. Time to shower and get ready – quickly! I'm taking Kate to Kids in the Rotunda at the Overture Center and we need to leave our house by 8:45am if we want to make it. Kids in the Rotunda is a weekly theatre or music performance for children (and their families) offered FOR FREE throughout the fall and winter. Today will be our first time going and I'm so excited because I just know Kate is going to love it!
8:40am: I'm ready! I go downstairs and see that G already has Kate's hair combed and her shoes on – woohoo! I go to put a barrette on Kate and remark to G about how baby fine her hair is: "She has hair just like Brittny's," I say, referring to my sister. "I remember when she was little her hair was so baby fine that it would frizz up just like this," I add with a laugh as I wet down the section of Kate's hair that's fuzzy from sleeping on it and put her barrette in.
"My hair was just like that, too," G replies.
We continue chatting about the tragedy of baby fine hair as I move to the kitchen island to pack up morning snacks for Kate. I had asked G to peel and slice an apple for Kate earlier before I hopped in the shower, and as I pack it up I notice there are still some little pieces of peel on it. I quickly slice them off before putting them in the snack container.  G walks up while I'm doing this and asks, "Something wrong?"
"Oh no," I reply.  "I just have to get these last little pieces of peel off before I pack them up otherwise she isn't going to eat them."
"Is she really going to notice?" he asks skeptically.
"Of course she is!" I say.  "You know how she is.  She notices the tiniest little detail and it's got to be right or she's not going to be happy." 
"…I have no clue where she gets that," I add with a laugh.
"I'll take the blame for the hair," G responds, "but that one's all you!"
I finish packing up Kate's snack, and we're out the door by 8:50am. Not bad!  (G would normally join us but he does his Saturday morning workout at 9am.)
9:10am: Kate and I park downtown and walk to the Overture Center for the show.  This week's Kids in the Rotunda performance is a children's rock & roll band called The Madgadders. 
9:30am: The show starts and Kate loves it!  Almost instantly she starts moving her body to the beat as she sits, and soon she jumps to her feet and starts dancing – right there in the aisle!  I love how much she loves music, and even more than that I love that she's still so uninhibited!  She didn't care that no one else in the room was dancing yet, she just jumped up and moved her body because she was so happy she couldn't contain it.  I love that!  At one point during the first song she even yelled out a "Yeah!" to cheer them on as they were playing, and at the end of the song my usually soft-spoken child clapped her hands and shouted out, "YAY! Great singing!"
The Madgadders were a hit with my 2 year old!
Kate, moving along to the music:
Kate and Mommy, after the show:
We had so much fun at the show that Kate didn't want it to be over!
10:20am:  After the show, Kate and I walk up State Street to a great little gourmet popcorn shop and I let her pick out a treat.  Popcorn is her favorite and she's thrilled with all her options.  She decides on a bag of caramel corn with M&Ms – no surprise there!
As we drive home I hear Kate singing "If you're happy and you know it. . ." and soon I join in with her and the two of us are giggling down the road as we tap our heads, pop our mouths, blink our eyes – whatever comes to Kate's mind.  Such fun!
11:00am: We're almost home when Kate says, "Let's stop at Target to get ingredients for cupcakes!"
"Do you want to?" I ask.
"Yeah! That sounds like a great idea!" she replies.
Who can argue with that?  I turn left instead of going straight, and Kate and I stop at Target to get ingredients for cupcakes. As we're strolling the aisles Kate spots a purple blanket that looks super soft and asks to touch it.  Kate's obsession is soft blankets – especially soft, fuzzy blankets – and she instantly falls in love with his one as soon as she touches it.
"Can I have it?" she asks as she pulls it into the cart and starts cuddling with it.
She actually does need another blanket for her bed now that it's getting colder out, but she already picked out a soft yellow blanket earlier this week, which we bought for that very reason.  I remind her of this and ask her to put the blanket back on the shelf.
She usually doesn't mind when I tell her we're not going to get something, but this time she minds.  I know she likes this purple blanket a lot more than that yellow blanket, and I can see her wheels turning as she tries to figure out how to negotiate this.  I expect her to start crying, but instead she looks at me thoughtfully and says, "How about we bring that yellow blanket back to Target and I just have this one?  Is that okay, Mom?"
I am shocked that she thought of this!  Both blankets are the same price and the yellow one is still in its packaging, so. . .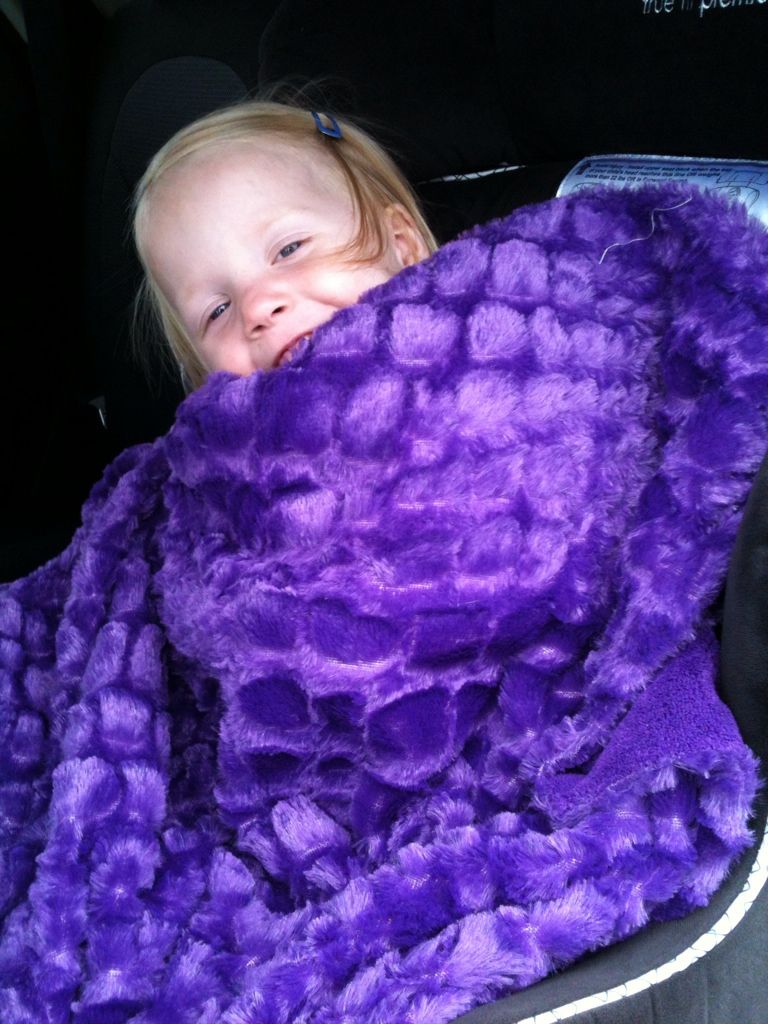 Kate snuggled up in her carseat with her new purple super soft blanket.
11:45am:  We arrive home. Kate snacked all morning so she's not hungry for lunch. She plays while I unload the car and get her bed situated for nap time.
12:00pm: I eat lunch (leftover shrimp ) and sit down at the laptop to type up notes and fill G in on our morning.
12:30pm: G puts Kate down for her nap and I leave for Fleet Feet, my favorite running store, to get fitted for new running shoes.
1:50pm: I receive a call from G as I'm checking out.  We're planning to take Kate to the Fitchburg Fire Department's open house this afternoon and G's worried about being late so we agree that he and Kate will leave now and I'll meet them there.
2:15pm: I get another call from G. They're at the fire station but it looks like the open house is next weekend; not this weekend.  He decides to take Kate to a big playground in that area instead, so I tell him I'm heading home and I'll see them when they get back.
2:30pm: I arrive home to an empty house – something that rarely happens.  I brew myself a cup of tea and sit down to relax and enjoy this solitary time. I decide to start this week's episode of Project Runway.
3:15pm: G and Kate are home from the playground.  Kate joyfully bounds into the house and I give her a big hug and say, "I'm so happy you're back! I missed you!"
She replies, "I missed you so much" and then grabs my hand and kisses the top of it.
SO SWEET!
Kate and I assemble foam spiders for our Halloween decorations and I get started on boiling pasta and browning hamburger for dinner.  We're having lasagna tonight – G's favorite!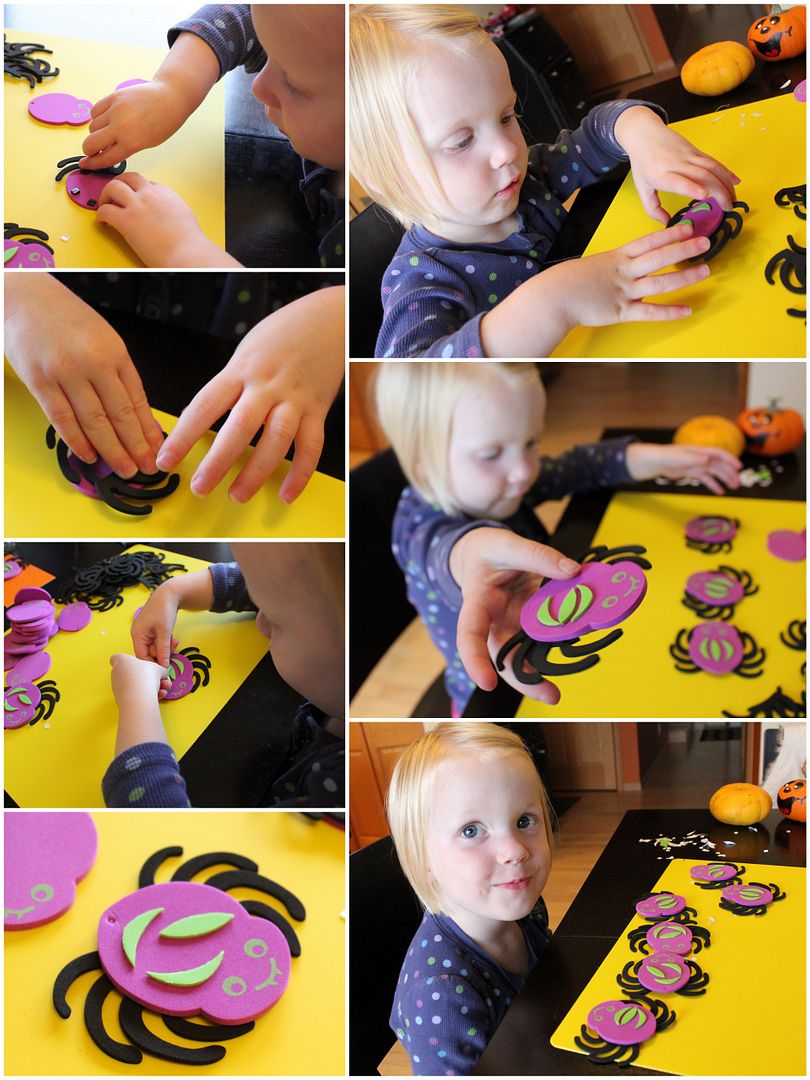 Kate, assembling foam spiders for our Halloween decorations.
4pm: Kate and I make the two-ingredient "cupcakes" my friend Tiffany made for me on Thursday night, but I use our leftover baked acorn squash from earlier this week instead of a can of pumpkin.  We weren't eating up the leftover squash and I hate seeing food go to waste so I'm thrilled that we can turn these leftovers into delicious muffins!
Kate inspecting the squash in the food processor, prepping the pan with cupcake papers (she loves using cupcake papers for muffins), and lastly, "helping" me stir as we prepare our squash spice muffins.
Our doorbell rings and G answers it.  Afterwards he tells me it was a kid going door-to-door trying to raise money for something. G gave him $10.
"What was the cause?" I ask.
"I'm not sure," G replies.  "He was talking so fast that I didn't catch it.  I could tell he was really nervous.  He was pretty young, but he's going door-to-door, which isn't easy to do, and he looked me in the eye, shook my hand, and introduced himself. That deserves $10 right there."
I smile and nod in agreement.  This is one of the many things I love about G.
4:15pm: Our "cupcakes" are in the oven so Kate joins G (who's sweeping out the garage) while I pull the lasagna together.
4:30pm: GRRR! I just realized we're out of mozzarella.  I hate, hate HATE when I'm halfway through a recipe only to find I'm missing an ingredient!  I run to Target (our closest grocery store) to get some.
4:50pm: Back from Target. I finish putting the lasagna together.
5:10pm: Lasagna is in the oven, now it's time to unload the dishwasher and clean up the kitchen.
5:40pm: I ask Kate if she wants me to make "frosting" (homemade whipped cream) for the "cupcakes" (squash spice muffins) and she replies, "Mmm-hm" and pulls up her stool to help. A few seconds later she shouts with excitement:
"I love you, Mom!"
She holds my hand as we beat up some homemade whipped cream.
5:50pm: Dinner time!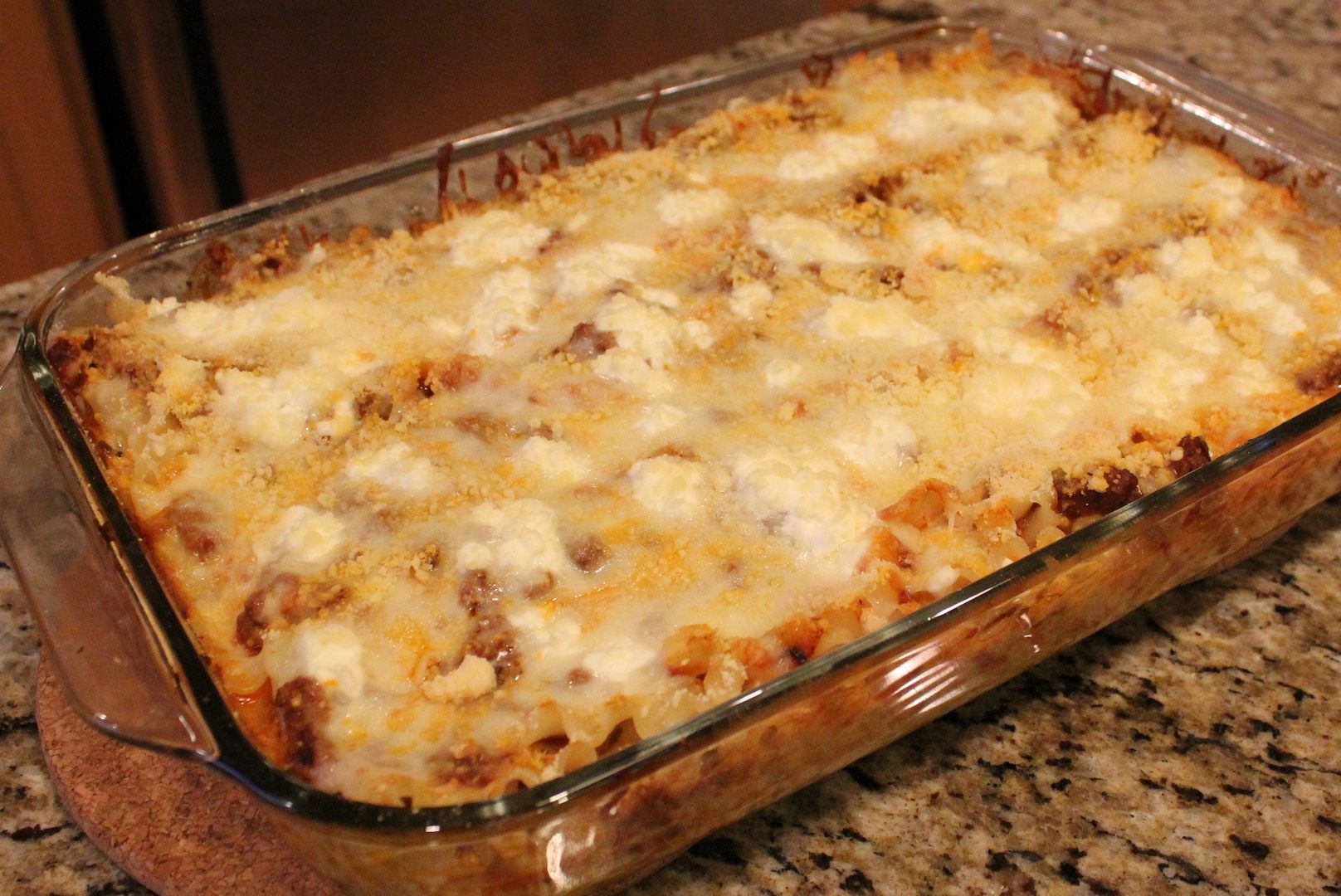 Homemade lasagna – G's favorite!
6:15pm: I clean up after dinner and load up the dishwasher while G and Kate play in the living room.
6:30pm: I say goodnight to Kate and G takes her upstairs for a bath and bedtime while I turn on the TV and watch the rest of Project Runway.
7:15pm: G and I start a Netflix movie (Chronicle) and this time I actually sit and do nothing but watch the movie – this almost never happens. 
8:45pm: The movie is over (I wasn't impressed) and I decide to head upstairs to get ready for bed and read for a little bit before going to sleep.  I'm currently on book three (Voyager) of the Outlander series and I'm loving it! 
10:00pm: Bedtime for this tired girl!