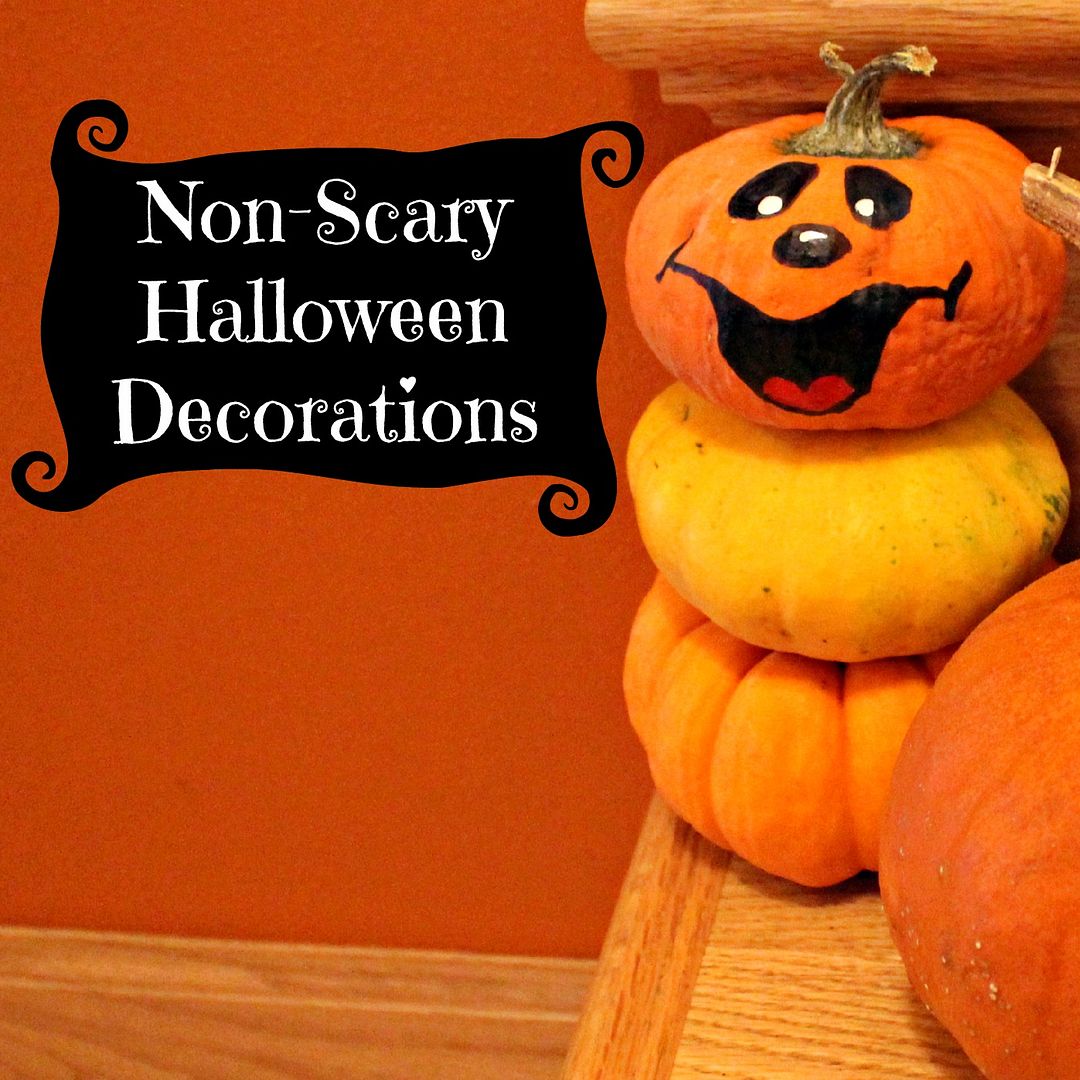 For those of you who don't already know, I have a crazy fear of spiders.  Like, heart-stopping, run my car off the road, jump into the laps of total strangers, and stop traffic in the middle of a busy intersection kind of fear.
When it came time to decorate for Halloween (something I decided to do for the first time this year now that Kate is a little older and getting excited about holidays), I knew I wanted to put up some of that fun fake cobwebby stuff in our entryway.
What I didn't know if I could handle, however, were those little black plastic spiders that went along with it.
I tried my hardest to be okay with using those fake flesh-eating monsters – I really did.  For starters, I made direct eye contact with them in the seasonal section at Target.  Then, after circling the aisles a few times to catch my breath, I even got so far as to touch them!  I picked up the bag (they were sold separately) and kept telling myself, "They're just fake!  Pull it together!  You CANNOT have a heart attack in Target in front of your two-year-old over a bag of plastic spiders!"
Decision made.
I threw them in my cart to get them out of my hands and headed for the check-out.
Three steps later I fished them out of my cart (careful to touch only the netting packaging; not actual appendages), threw them back in the seasonal section, and ran for my life.
Decision made for real this time.
I knew that even if I could make it through the check-out line and transport that bag of horrors home with me, every damn time I saw one of those blasted things out the corner of my eye I'd die a little death.  And probably sprout a gray hair.  And six wrinkles.
What I needed were happy Halloween decorations.   Something that didn't scare me, and, to share the blame be fair, something that didn't scare Kate.  (We've made it this far without her sleeping in our bed with us – no need to start now!)
What I needed were spiders that didn't really look like spiders.  Even more than that – what I needed were spiders that were kind of cute.  The least scariest spiders ever imagined by anyone, ever, period.
I found them in the form of a kid's DIY foam assembly kit, which Kate and I recently put together: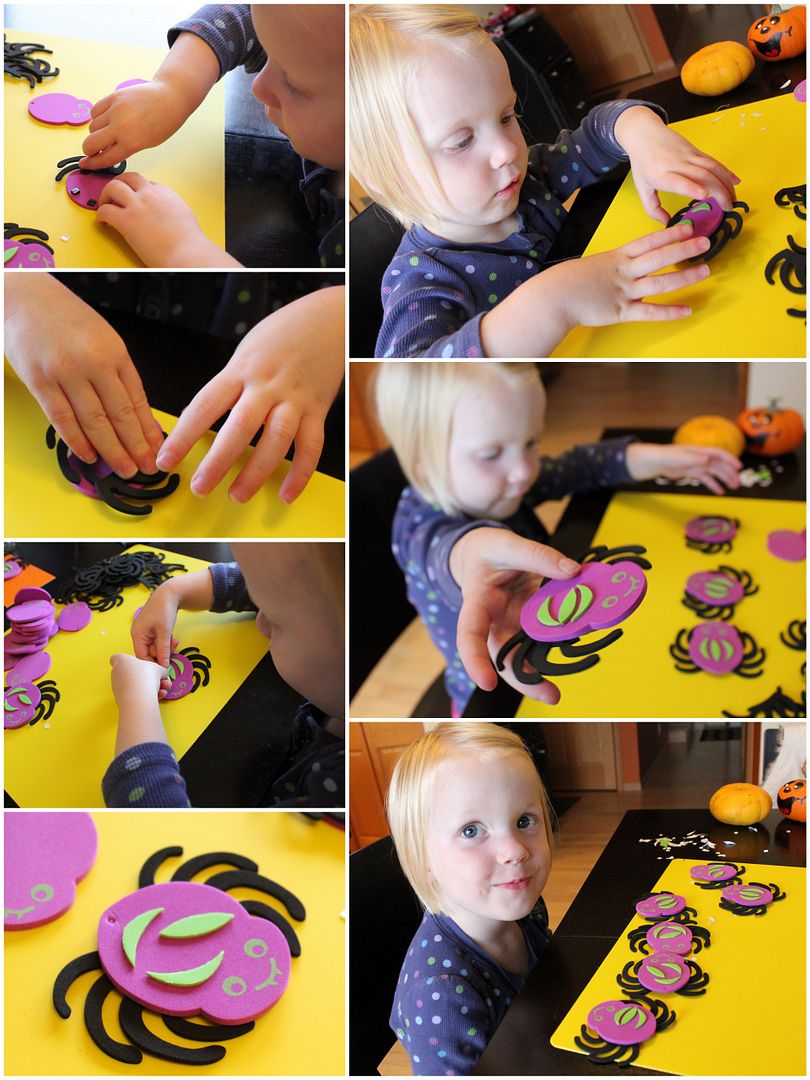 Kate (32 months), assembling foam spiders for our non-scary Halloween decorations.
These cute little purple spiders with bright green smiles (smiles!) were the perfect (non-scary!) addition to the Halloween cobwebs in our entryway: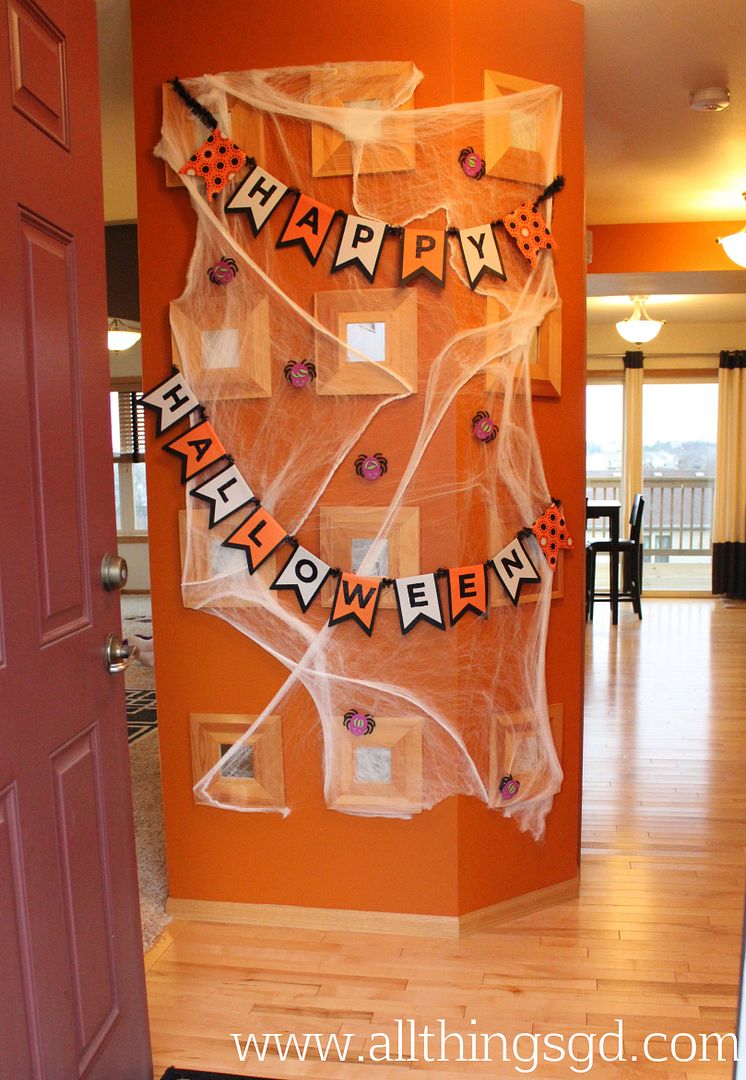 The view of our entryway from our front door.
I even got brave enough to put some glitter spider garland on the stairway banister, too!  It helped that they're glitter.  Glitter is not scary.  (Unless Mariah Carey is involved.)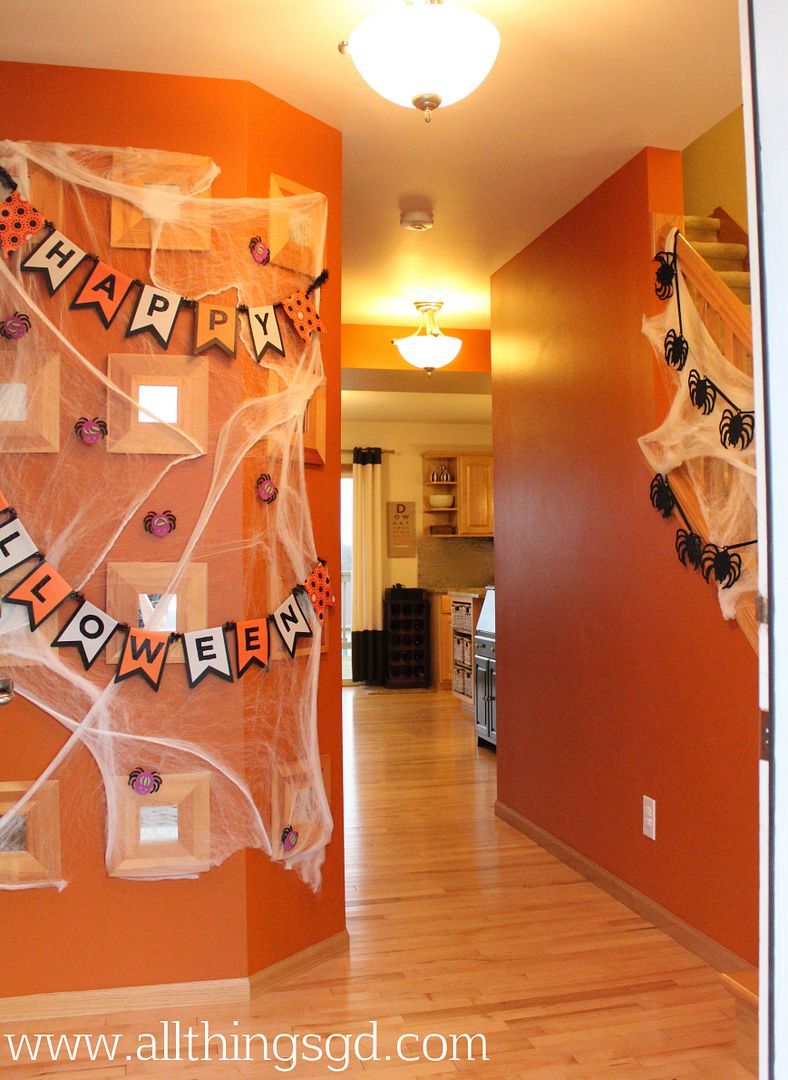 Come on in trick-or-treators – no scary spiders in this house!
Close-up of Kate's DIY foam (non-scary!) spiders.
Some of Kate's favorite (and cute) little pumpkin treasures (plus my new anniversary pumpkin added since this picture was taken!) at the foot of the stairs complete our very first happy Halloween look: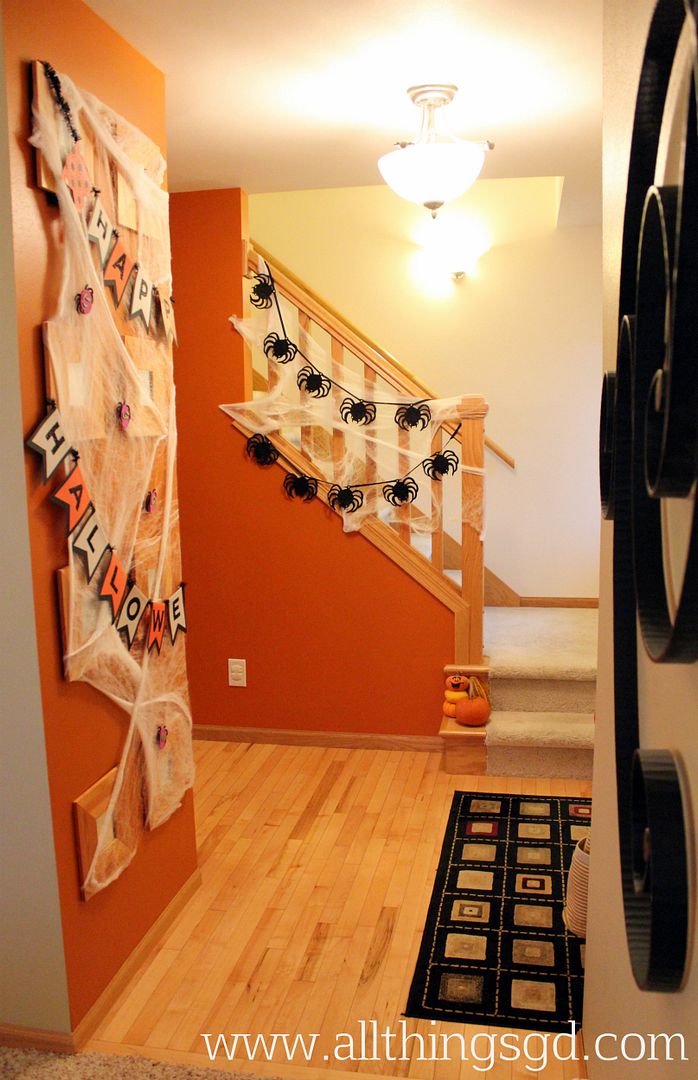 I can't be the only one who's on high alert this time of year!  What are you hoping to avoid between now and November?