1. My annual girls weekend getaway!
Back Row, L to R: Steph (from Ohio), Me (from Wisconsin), Aly (from Florida), Kelly (from Georgia), Kent (from Georgia), Marcia (from New York), and Beth (from Alabama).
Front Row, L to R: Natalie (from Louisiana), Jenna (from Ohio), and Allison (from Minnesota).
This year my group of girlfriends came from our homes all across the country to converge in Watercolor, Florida – one of the most beautiful little towns I had ever seen. (For real. I kept blinking my eyes thinking we were on a movie set.) To top it off, my friend Beth's husband, Jeremy rented one of the most beautiful homes I had ever seen for us to stay in – it was stunning! (For real. I kept expecting the faucets not to work, thinking it was a prop house.) As always, we had an amazing weekend filled with great food and drinks, the beach, a pool, a little bit of dancing, and a whole lot of laughs!
2. Celebrating my birthday!
Kate & Mommy, taking a birthday train ride at the zoo!
After a whirlwind girls' getaway in mid-September, it was nice to come home and have a relaxing birthday weekend with my family. G and I had a date night on Friday night and on Sunday (the day of my birthday) I got to sleep in – one of the best gifts you can give a mom! We spent the rest of the morning at the zoo (per Kate's request) and I worked on a home improvement project in the afternoon (per my request). At dinner, G and Kate "surprised" me with an ice cream cake (that Kate had already spilled the beans about, hahaha) and sang happy birthday. It was a wonderful birthday weekend!
3. PicFrame app
PicFrame is a photo collage app that my friend Allison introduced me to. Instead of sharing several separate pictures with the same theme to your social media sites, you can use PicFrame to create a collage and turn your related images into just one picture! The PicFrame app features 67 adjustable frames and cold hold up to 9 pictures in a frame. Once you've perfected your masterpiece, you can easily share your newly collaged pics via email, Facebook, Instagram, Twitter, Flickr, and Tumbler. It's a great little app that only costs $1 and does a ton!
4. Homemade Lara Bars


I've been loving this homemade lara bar recipe from Susan at My Family Eats. It's quick and easy to make, and a great mid-afternoon snack to have on hand at work or at home when the munchies hit! My first batch was initially a little crumbly and didn't hold its shape, so I added a little bit of peanut butter to the mix and mmm, they tasted so good!
5. Outlander, by Diana Gabaldon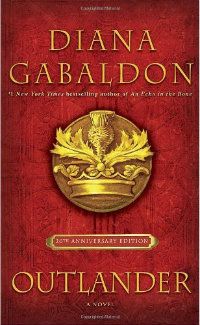 I was at my friend Beth's house last winter and she was so into this book that she convinced me to buy it. I knew nothing about it, other than Beth couldn't stop raving about how obsessed she was over it! (And she was – she even picked it up and read a few sentences during a thirty second break in our conversation while I checked a message on my phone.) So, at Beth's insistence, I ordered the book. It arrived. I grimaced at how thick it was, put it on my nightstand, and hadn't touched it since.
Until last month.
And now I'm obsessed, too.
I wouldn't say I'm Twilight obsessed – let's not get crazy here, people – but I might be in the ballpark.
I'm not even going to try to attempt to describe the storyline of this book to you because it's a little strange, and frankly, if I tried it would probably turn you off, because admittedly, it doesn't sound that interesting – but it is! This is typically not the kind of book I'd want to read: it's long, I don't care about 18th century wars, and (warning!) there is a very disturbing torture scene in the book. All signs point to it being a book I'd hate, but I couldn't put it down! Outlander was written 20 years ago, and is the first book in an 8 book series. I loved it so much that I ordered the next three books in the series before I even finished the first!
What were some of your things loved in September?
This post contains affiliate links.