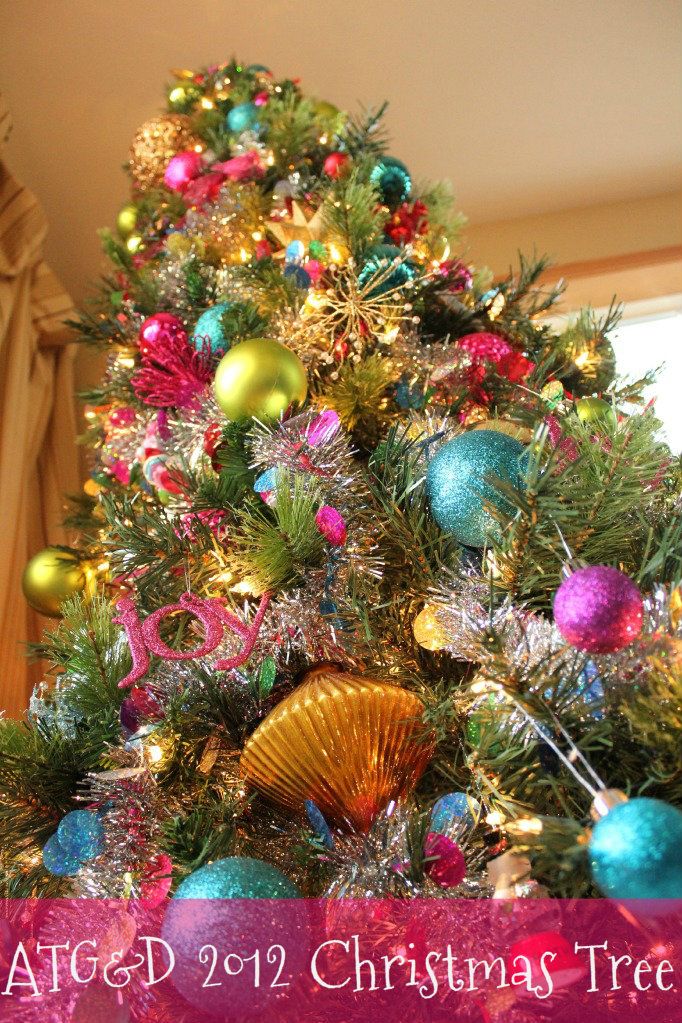 I would start decorating for Christmas on July 5th if G would let me.
Unfortunately, he insists that I wait until after Thanksgiving to bust out the Christmas cheer.
In recent years, however, I've taken the liberty to interpret this to mean "after we eat turkey in November," so once we get home from our family's Thanksgiving dinner, I'm plugging in twinkle lights and popping in Love Actually.
Last year, I was thrilled to thrill Kate with the joy, magic, and surprise of waking up to a beautifully decorated Christmas tree the morning after Thanksgiving, and I was giddy with excitement over doing the same again this year!  As I was pulling our (ahem…artificial, pre-lit) Christmas tree from its box that evening, I joked with G and my sister Brittny (who had recently arrived) that every year I say a little prayer that the tree lights up.
Sure enough, the beginning of my Deck the Halls – the pinnacle of my Winter Wonderland! – was met with this: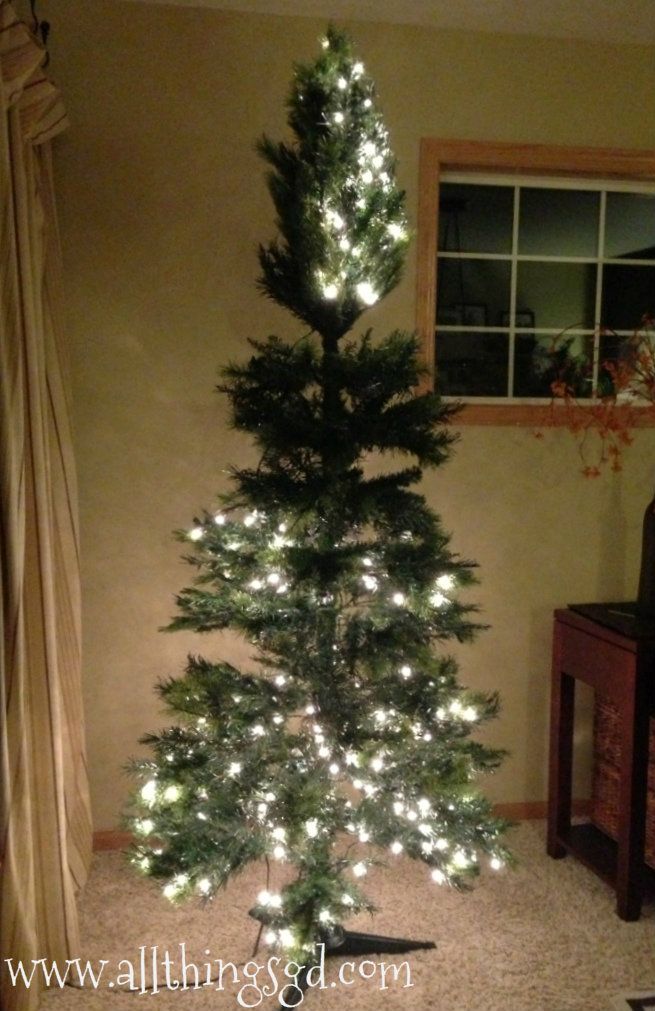 My pre-lit tree, slowly committing suicide over being stored in our basement.
Whaa, whaa, whaaaa…
Normal people may have handled this normally.  Crazy Christmas Lovers such as myself handle it a little differently…
"No!  WTF?!"
"Look at this!!"
"KATE NEEDS A CHRISTMAS TREE IN THE MORNING!"

[Change fuses and wiggle every light bulb on the tree and continue to hurl expletives, while my husband and sister sit in the living room watching sports and ignoring my self-destruction.]
"Alright.  This is the last strand.  If these lights don't miraculously light up in the next five minutes we're going out and buying another tree tonight."
[G and Brittny continue to ignore me.]
"I know for a fact that Wal Mart is open. They start their Black Friday deals tonight."
[crickets]
"You're coming with me, Brittny."
[still nothing]
"It's funny that you think I'm joking."
Twenty minutes later Brittny and I pull into the last remaining parking spot at Wal-Mart, and twenty minutes after that we leave empty handed and scarred for life.
Wal-Mart on a good day gives me hives.  Wal-Mart on the night before Black Friday?!
Holy.
Shit.
That twenty minutes is now going to cost me two years in therapy.
And Kate still needs a tree!
I decide to make our half-lit pre-lit tree work by stringing fresh strands of lights over the unlit parts and crossing my fingers that tinsel and tons of ornaments hide its flaws.
And here she is, standing tall, and proud (and doctored) in the light of day:
Our Colorful Christmas tree!
I decided last year to bring some color to our Christmas, and I've continued that trend this year with our (even more) colorful Christmas tree!
Once again, Kate was absolutely ecstatic to see the Christmas tree surprise greet her on Friday morning!  I had most of it already decorated so she'd get the (mostly) full effect, but I left some ornaments off for us to hang together that morning.  Here's a peek at some of our favorites on this year's tree:
New this year – a cupcake for Kate!
No one's having more fun on our tree than this guy.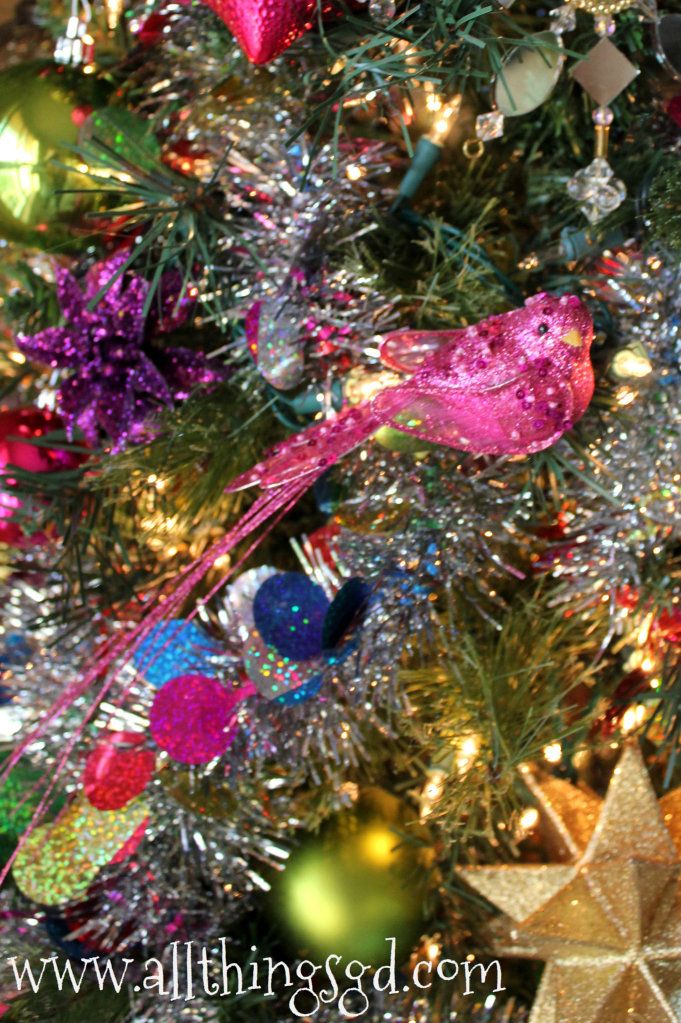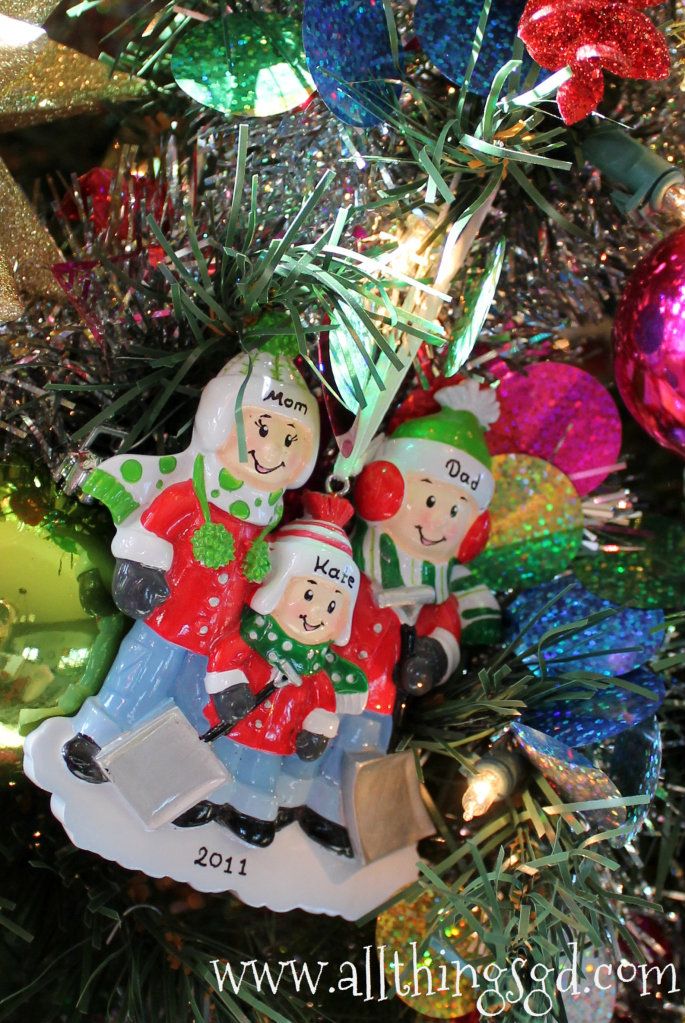 Kate is just as much of a Christmas junkie as am I, and her excitement can hardly be contained when she sees the holiday decor section at Target.  The last time we were there she tried talking me into buying a 6 foot tree made entirely out of tinsel.
(I'm not going to lie.  I was tempted.)
Instead, I talked her into picking out just one ornament from the entire section.  This funny little owl was her winner: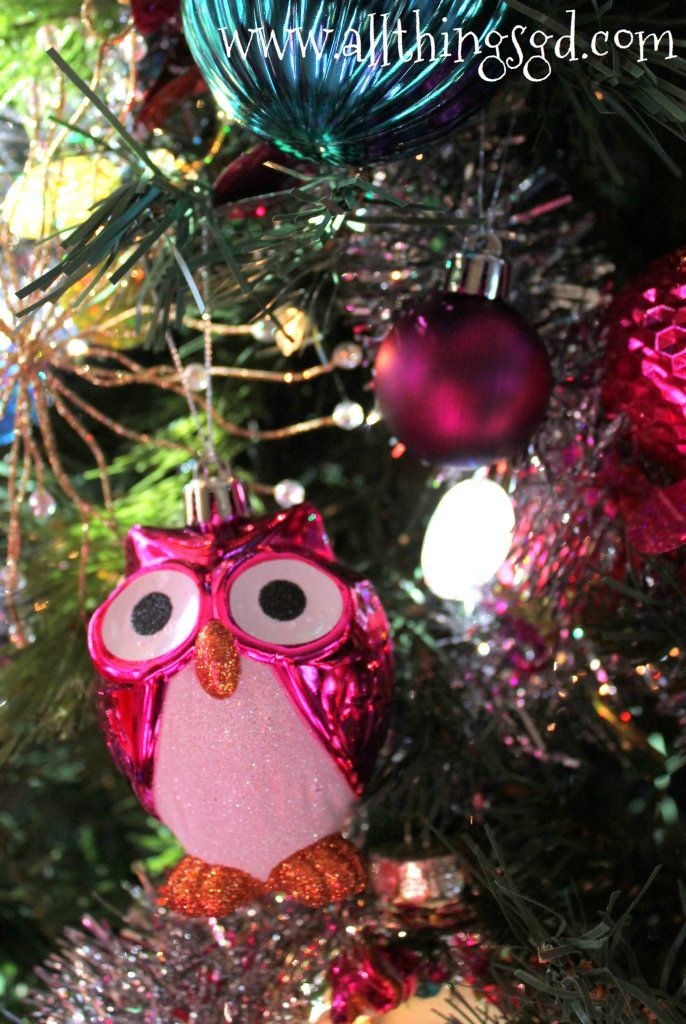 Kate's favorite ornament this year.
Kate loves her little owl ornament so much that she can't bear to leave her alone.  She's constantly plucking her off the tree, rearranging her on new branches, and then "decorating" around her.  She's chosen to ignore my suggestion of one ornament per branch, and instead I tend to find Owl hanging out on our tree like this: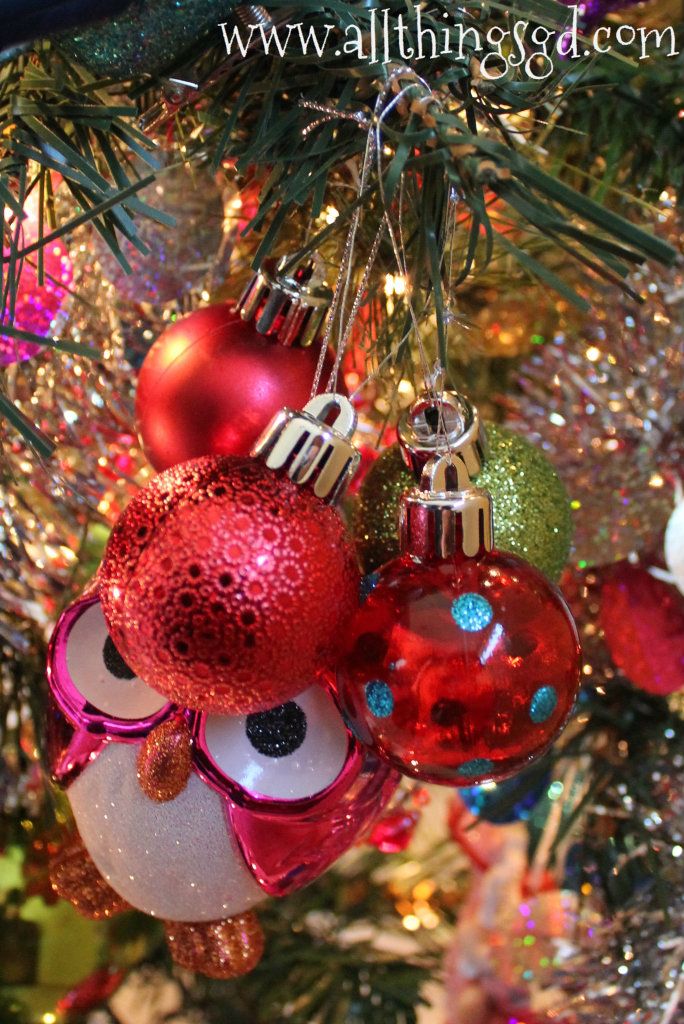 Loads of ornaments = loads of love!
No matter how our ornaments are arranged, and no matter if it's day or night – we love our colorful Christmas tree!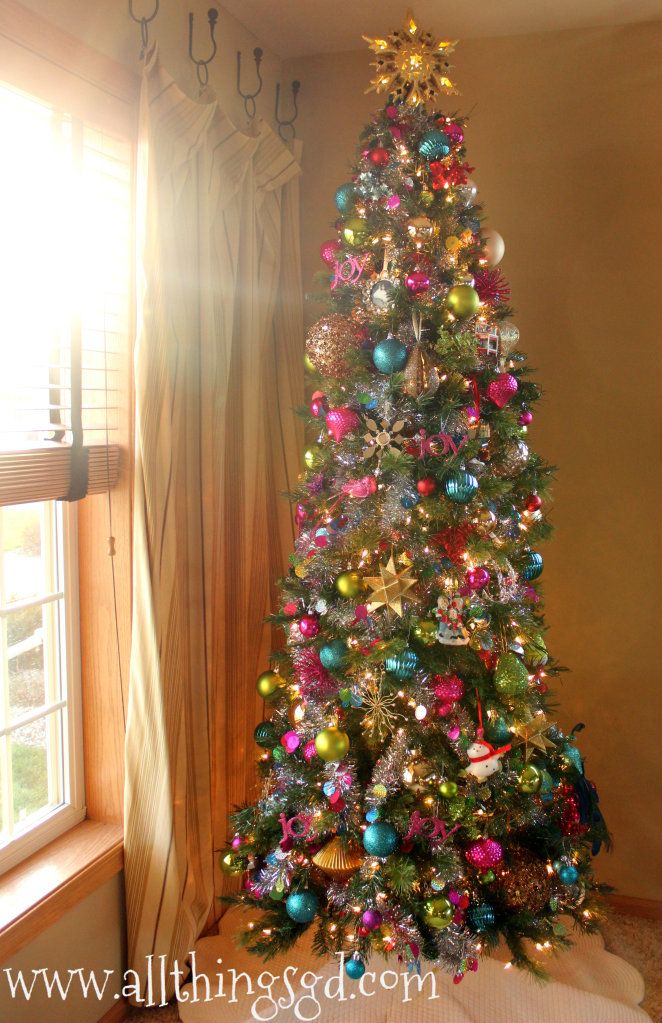 Our colorful Christmas tree in the bright light of day…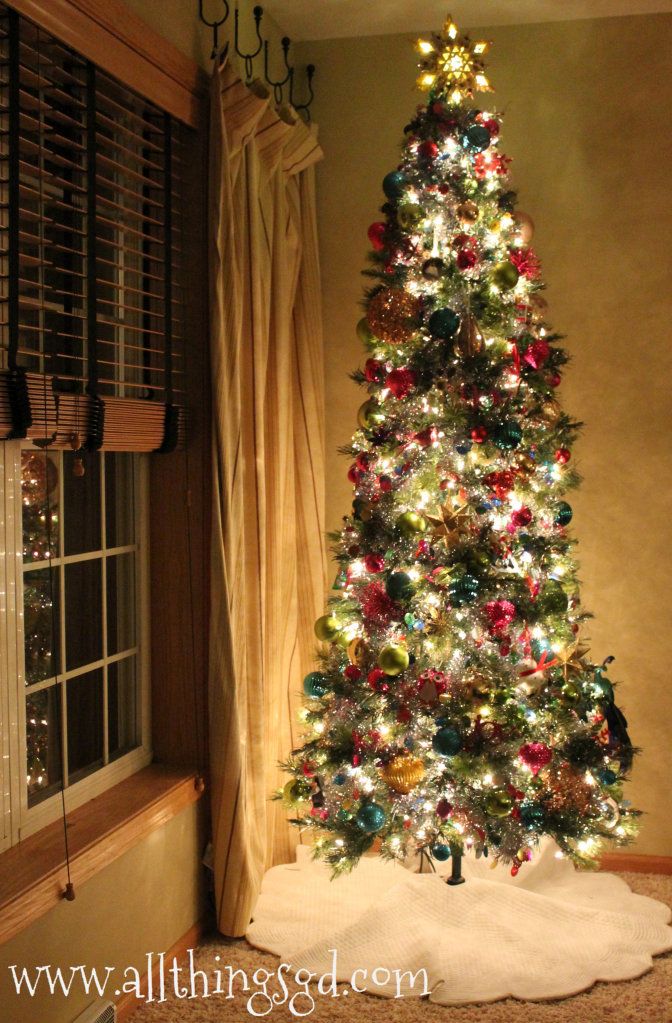 …and glowing proudly at night!
Anybody else looking at a therapy bill that rivals your child's college tuition fund for venturing out on Black Friday?  Maybe we could get a group rate.