Kate loves popcorn.
Loves.
It surprises us considering she's really not much of a food person yet, but the first time I popped up a bowl of popcorn for us to enjoy during a movie night she didn't even hesitate to try it, and was soon shoveling it into her mouth by the fistfuls!
I love me some popcorn too (and also subscribe to the "fistfuls" popcorn eating method), so Kate and I have turned our movie/popcorn nights into a little weekend ritual.  We snuggle up on the couch under my favorite T-shirt quilt, put in her favorite Cars DVD, and balance a heaping bowl of popcorn between our laps.
More recently, however, Kate has been less and less inclined to share the popcorn.  She's figured out my hands are bigger than hers and when I dip one into the bowl it leaves quite the dent.  She tried to shoo my hand away one night, but I reminded her that "we have to share."  She then asked me to sit in the chair (across the room, and safely away from her precious popcorn), but I told her no, and that this was our cuddle time, as I scooted closer to her and went in for another handful.
Finally, she had had enough.
She took the popcorn bowl from between our laps and moved it to her other side (away from my reach), looked up at me with her big blue eyes and said with all sincerity:
"I just need some space right now."
We now eat out of separate popcorn bowls.
Something that she loves almost as much as popcorn is trains!  I got her a wooden train set from IKEA and she's so enthralled with it.  We also started recording Thomas the Tank Engine on TV and she's hooked!  She runs around the house chanting, "Chugga, chugga, choo-choo!"
When she's not chugging like a train we'll often hear her spontaneously burst into song!  The Itsy, Bitsy Spider and Ants Go Marching are two of her current favorites, but she's also perfectly comfortable making up her own songs to fit whatever occassion.  Hearing her sing throughout the day is one of my favorite sounds!
Something else that makes my heart sing is hearing her recite a "Thank you for the world so sweet…" prayer she learned at daycare.  I'm assuming they say this prayer before lunch because Kate will often follow up her "Amen" with "Now it's time to eat!  Nom, nom, nom, nom, nom!" Here's audio of Kate saying her prayer at bedtime:
(And here's the next audio of me reading to Kate at bedtime if you're interested – the book is "It's Time to Sleep, My Love" by Nancy Tillman.)
In more fun 30 month news – remember when I shared that video of Kate dancing at the mall?  Well I caught her on camera again!  This time we were at Francesca's Collection – one of my favorite stores.  We were the only two customers in the store when we walked in and I could see the saleswomen giving us the side eye (I worked in retail; I get it), but Kate has such great manners when we shop (asking permission before she touches things, carefully putting them back where they belong when she's done) that soon those saleswomen were completely charmed by Kate, and ooh'd and ahh'd and showered her with compliments as she piled bracelets all up her arm, put on a pair of oversized sunglasses and danced in delight throughout the store.  By the time we left they were laughing and calling out, "Come back and visit us again soon!" I think it's safe to say that Francesca's Collection is now one of Kate's favorite stores, too!
On the potty training front, we have phased out giving Kate M&Ms when she uses the potty (I told her they were all gone) and she handled that shift in the routine really well.  Her big draw for using the potty now (especially when we're away from home) is that she loves seeing what kind of soap people have in their bathrooms!  When she's showing signs that she needs to go (but tells me otherwise because she doesn't want to stop what she's doing), I ask, "Want to go and see what kind of soap they have in this bathroom?"
"Yeah!" she cheerfully replies.
Once I have her in the bathroom she's so excited to wash her hands, but I remind her, "First we have to go potty, then we wash our hands…" and that does the trick!
(Foam soap is her favorite, for the record.  Who doesn't love a good foam soap?)
Kate (and the rest of us!) enjoyed a visit from her Aunt Lesley and soon-to-be Uncle Ben this month, and even though we don't see them as often as we'd like, it's clear that Lesley and Ben rank pretty darn high on Kate's list of favorite people. Here's a video of her wrangling them (and Daddy) into doing "Ring Around the Rosie" while they were here:
Kate is just beginning to get the concept of counting objects
one at a time
.  Prior to this she would "count" everything to the number 10, pointing all over as she counted.  Now she is starting to slow down and grasp a greater understanding of how numbers have meaning.  The most surprising example of this ocurred while driving home one day.  We passed four bicyclists and Kate said, "There are four bicyclists.  Four is twice as many as two."  I have no idea where she learned that!
I'll end with my favorite story of Kate from this month.  We were driving to my friend Erica's house for a pool party, and we passed a farm on the way.  Kate noticed it from the back seat and cheerfully remarked, "Oh look, a farm!"
A second later she spotted a man outside and casually added:
"And there's Old MacDonald."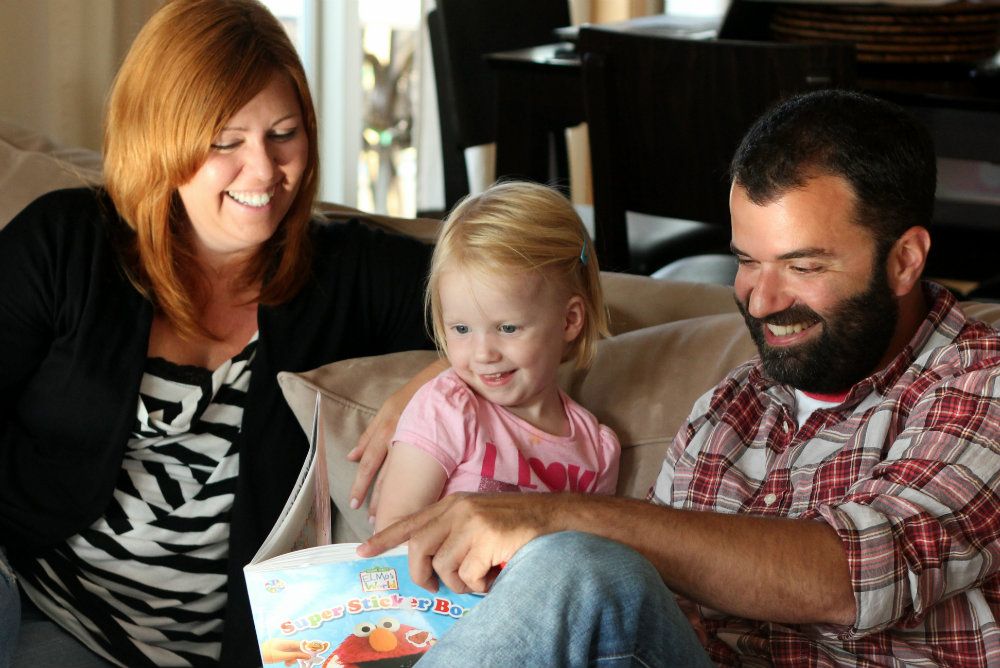 Kate (30 months old) enjoying a visit from her Aunt Lesley and soon-to-be Uncle Ben!