What an eventful month we've had in the G&D household! So many fun, exciting, and crazy things happened this month, so I've decided to do my first ever "Month in Review" photo recap of the highlights!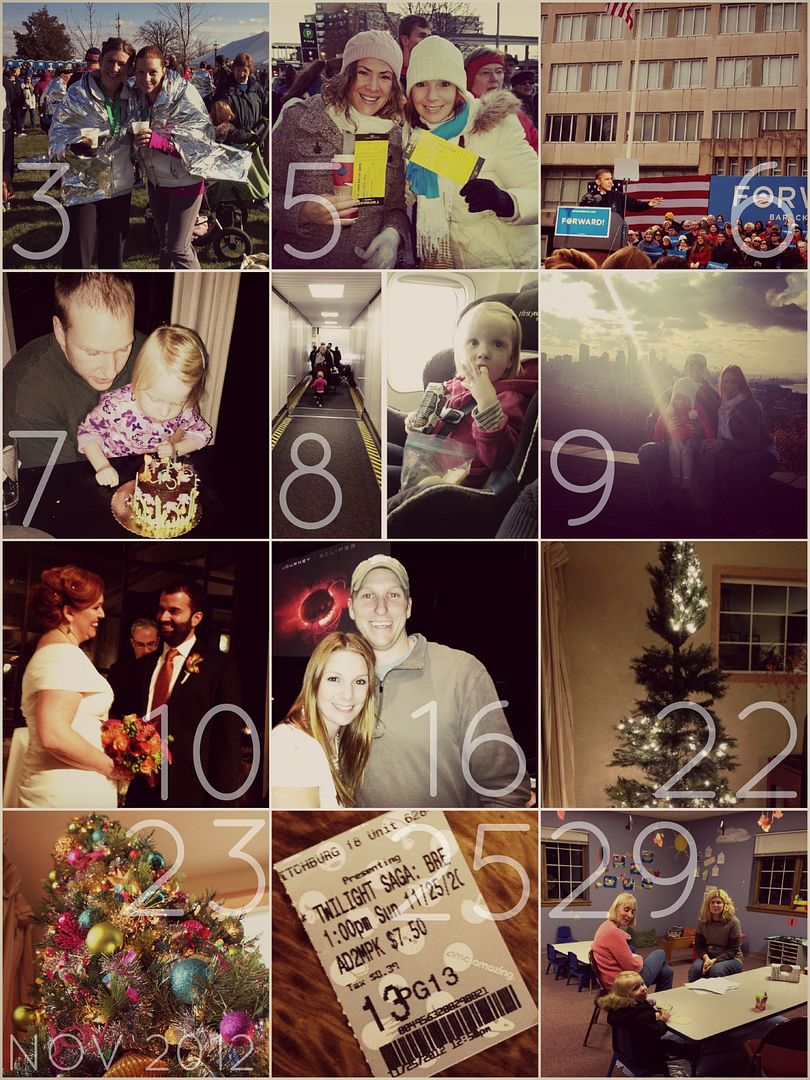 Our Month in Review – November 2012
November 3: My friend Jill and I finish the Tyranena Beer Run half marathon – an accomplishment that's been five years in the making for me!
November 5:  I scored VIP passes for me and Jill to see President Obama's speech in downtown Madison, WI just one day before the Presidential election.  We woke up at 5:00am and stood outside for 5 hours in 20 degree temps (with no bathrooms and nothing to drink) but it was worth it to see President Obama less than 20 feet away from us, and to hear his speech!
November 6:  Election Day!  (This picture of President Obama taken at his speech in Madison the day before.)
November 7:  Kate helping G blow out the candles on his birthday cake!  G's birthday is the 8th but we celebrated one day early this year, because…
November 8:  On our way to Seattle!  It's Kate's first plane ride, and our first out-of-state family vacation as we fly off to Seattle, WA to visit G's sister Lesley and her soon-to-be husband, Ben!
November 9:  Sightseeing in Seattle.
November 10:  Lesley & Ben get married!
November 16:  G&D at a Journey concert!  Journey is one of G's all-time favorite bands, and I surprised him on his birthday with tickets to see them.  I'm not really into classic rock, but I have to admit Journey was fantastic, and Pat Benatar (who opened for them) blew me away.  My friends Jill, Tiffany, and Katie also went to the concert, and the five of us had a blast celebrating together!
November 22:  It's probably sacrilegious to post a picture of my sad little half-lit Christmas tree for Thanksgiving Day, but this is the only picture I took on this day.  I should have taken a picture of the madness my sister Brittny and I saw this night at Wal-Mart for their pre-Black Friday event (I'm still in therapy) because it was utterly indescribable.  We may have to go back next year just so I can get the shot.
November 23:  I surprise Kate with our colorful Christmas tree!
November 25:  I sneak away to the theatre to see the last Twilight movie – Breaking Dawn: Part 2.  They definitely saved the best for last!
November 29:  We have our very first Parent/Teacher Conference at Kate's daycare and Kate gets her first report card!  G and I are a couple of super proud parents!
What were some of your favorite highlights from November?