Kate's birthday party was such an incredible day and I'm so excited to share it with you all!  But first, I need to weed through 3,509 pictures of it all.  Until then, this is a good time to catch up on some of Kate's monthly posts leading up to the big day!
Kate has pretty much dropped her nap since she turned two years old, but it's taken me 7 months to finally admit it.
We still put her down for a nap every day at 12:30pm and remind her of the rules ("stay in bed, lay down, no talking"), but she pretty much just hangs out in her bed and plays quietly.
No naps.
We give her an hour to see if she'll fall asleep but we're lucky if that happens once or twice a month.  After an hour we go in her room to get her and she pops up from her bed and cheerfully exclaims, "No naps!"
It's clear we're fighting a losing battle on the naptime front, but at the very least I think it's still good for her to have that rest time and sensory break in the middle of her day.  In the meantime…senior citizens will continue to have later bedtimes than my daughter.
My sister Brittny was out of state doing basic training for the Army National Guard during Kate's 31st month, and she saw me writing her aunt a lot of letters during this time.  Kate has plenty of number and letter pieces as part of her toys, and one day she brought a letter "T" to me, and bursting with pride and sincerity said, "Mommy, I have a letter for Aunt Brittny, too."
Love.
Speaking of letters, Kate is super into SuperWhy! – an educational spelling/letters cartoon series on PBS.  She is so excited to shout out the "super letters" when she sees them appear on TV!
"Do you see Super Letter?" the cartoon will ask.
"YES!" Kate shouts with excitement.
"What letters do you see?" the cartoon asks.
"A! C! R! G!" Kate shouts out.  She loves trying to shout them out as fast as possible before the cartoon says them first.
Our friends Lisa and Jason, and Kadi and Jeff, and their children visited us this month and one of them brought a toy magnifying glass with them.  Kate had the time of her life spreading her letters out across the floor to search for them with the magnifying glass – just like Alpha Pig does in SuperWhy!.  One of my most memorable moments of the month was when my friend Lisa – an incredible mother of three, daycare provider, and, quite frankly the nicest, sweetest person that's ever befriended me – saw Kate "searching out super letters" and asked her, "Do you know what that letter is, Kate?"
"Q," Kate replied.
"Wow!" Lisa replied, impressed.  "Great job!"
Kate looked at her, not sure how to respond, and then continued on her way in search of "super letters" singing the entire alphabet as she did so.
"Well now you're just showing off," Lisa added dryly.
Oh how I laughed!  To hear something so unexpected from my friend of more than a decade over something I'd seen and heard my daughter do on a daily basis – there was nothing to do but laugh!
Those moments when you see your child through the eyes of others is such a surprise, isn't it?
In even more spelling news, Kate spells her name on the iPad every chance she gets.  If the keyboard pops up for any reason, you better believe she's typing in "k-a-t-e."  We joke that hopefully "Kate" isn't anyone's iTunes password or else she'll rack up one heck of a bill for them!
She's got her name down, but she's still learning how to spell everything else.  One day I overheard her spelling out the word "yellow" by saying, "Y…E…eleven…"  She never fails to make me laugh!
Kate has a great sense of humor, but she also has a very practical side.  When she watches SuperWhy! I'll ask her, "Are you a Super Reader?"
"No," she replies matter-of-factly, "I'm Kate.  I'm a friend."
Or when she's playing in the bathtub I'll ask, "Are you a fish?"
"No," she replies matter-of-factly.  "I'm a girl laying in the water."
Smartypants.
Last, but not least, Kate's 31st month rounded out with us attending Family Fun Day at Camp Randall and her seeing "Lucky Badger" (real mascot name: "Bucky Badger" but good luck convincing my daughter of that) at Camp Randall Stadium!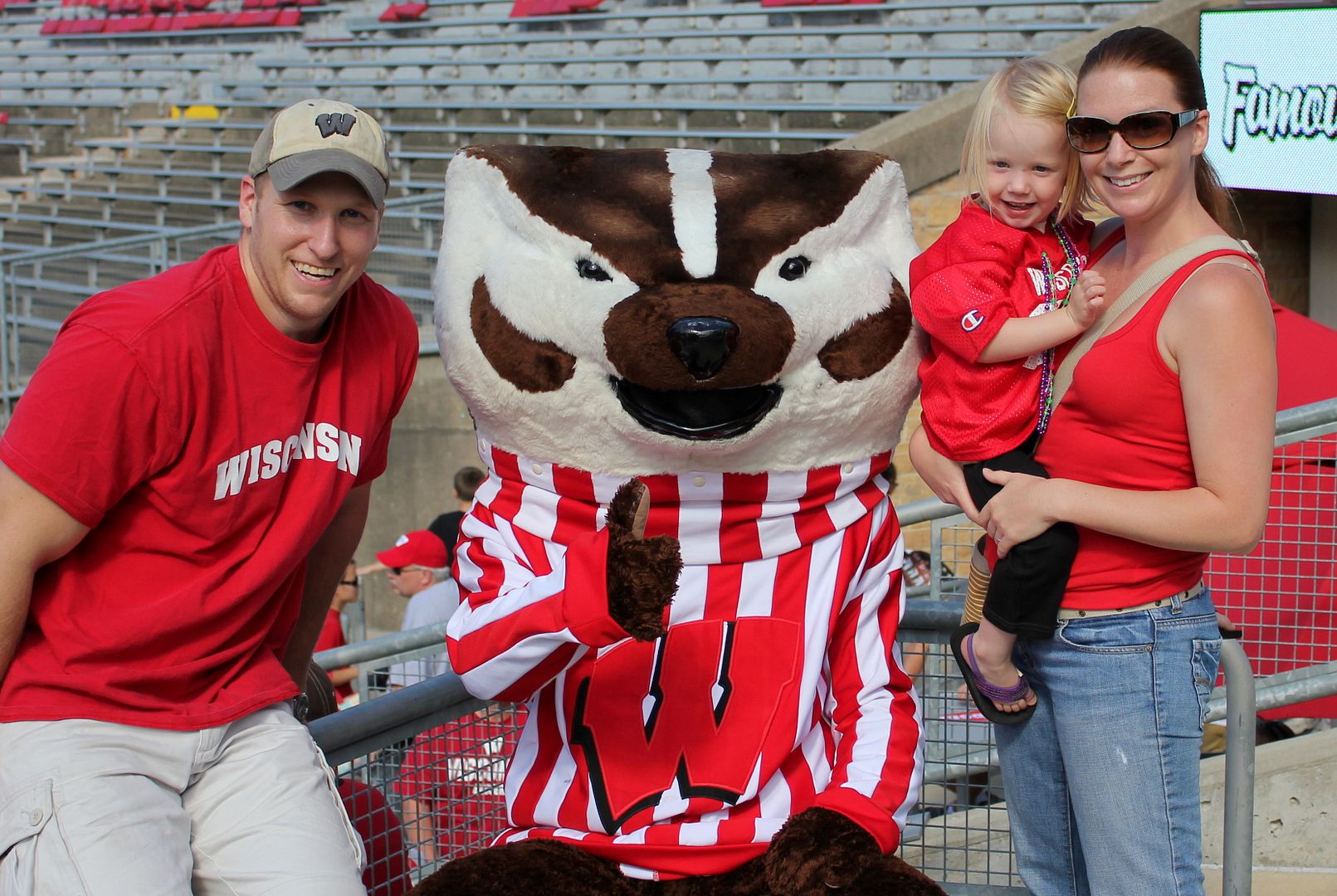 Additional Kate 32 Months Posts:
Kate's Art on Display
I'm Going to be on TV!