One of mine and G's favorite things to do before Kate was born was seeing movies in the theater. Ever since her very first viewing of the 20 minutes that is Elmo's World, we've been waiting for the day that Kate was ready to wait in line with us to purchase three tickets to the next Pixar flick and a $20 bag of popcorn (all for her, of course).
The first full-length movie Kate ever watched at home was Cars (shortly after she turned 2 years old) and she instantly loved it.  Several months ago as I was wondering when (if) G and I would ever get to the point where we'd take Kate to a movie without us screening it first, I thought to myself, "Wouldn't it be great if Kate's first movie in a theater could be something we already knew she'd love?"
And that, my friends, is all the spark my Crazy Mom Brain needs to ignite the flame that is my party planning blaze of nonstop ideas and over the top excitement:
Wouldn't it be neat if the first movie Kate saw at the theater was her favorite movie, Cars?
I wonder if Disney has any plans to re-release Cars in theaters this winter?
Wouldn't it be awesome if we could just rent out a theater and make them play our daughter's favorite movie for us?
Wait.
Maybe we can…
Maybe that could be her 3rd birthday party…
We could invite everyone we know!  And make cute little car-themed food!
We wouldn't have to clean the house!!!
Now all I needed was to successfully pitch it to G.  I tried not to get my hopes up (too) high because this is the guy who's always telling me not to go overboard and who almost didn't allow Kate's first birthday party (which ended up being totally awesome; just saying).
So I pitched it to him one day, after I'd tossed the idea around in my mind long enough to realize that this was definitely how I thought we should celebrate Kate's 3rd birthday, crossed my fingers and held my breath while he sat there in silence, and then finally replied:
"That is seriously the coolest idea I've ever heard."
BAM! My flame was fanned and I began my mission to find a movie theater we could rent that would play a movie that was released six years ago.  It was a surprisingly difficult feat, but I finally found a place, and the party was on!
Nearly all of our friends have children (most have multiple children), and since we had a great big theater all to ourselves we invited them all and were thrilled to have 70 friends (32 of them kids) join us for Kate's big birthday celebration!
One of my favorite parts about Kate's birthday party last year was seeing how excited the kids got when they walked in our house to see it transformed.  I wanted to bring that same excitement to this year's party, so the first thing they got when they arrived were VIP "Pit Passes" that I made for each child's entry into the party.  These were such a hit that even some adults were asking for them too!
VIP Pit Passes for each little race fan that attended Kate's 3rd birthday party!
I made this "KATE IS 3" banner that mimics the classic Route 66 road sign, and dressed it up a bit by adding some red polka dots: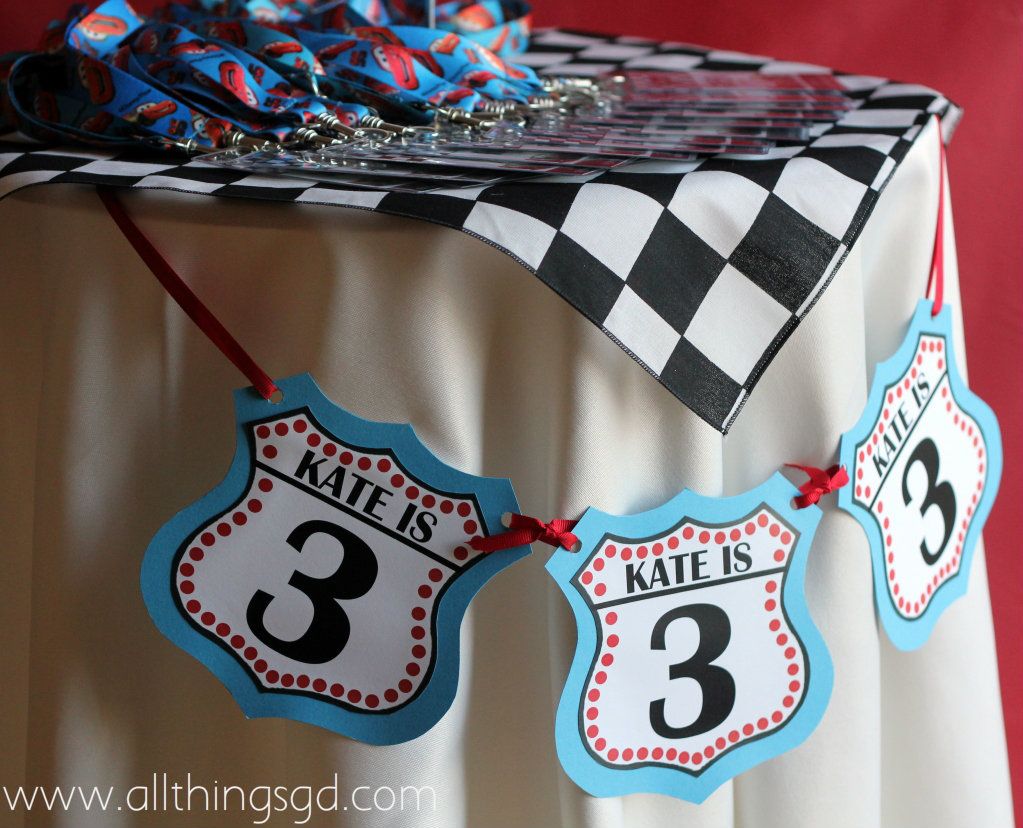 Kate is 3!
Close up of our Pit Passes:  All of our littlest guests' pit passes said, "ADMIT ONE to Kate's 3rd Birthday Party!" but Kate's, of course, said, "The Birthday Girl!"  G and I were both the "Crew Chief" and my awesome sister Amanda and fabulous friend Jill who both helped me with set-up were our "Pit Crew."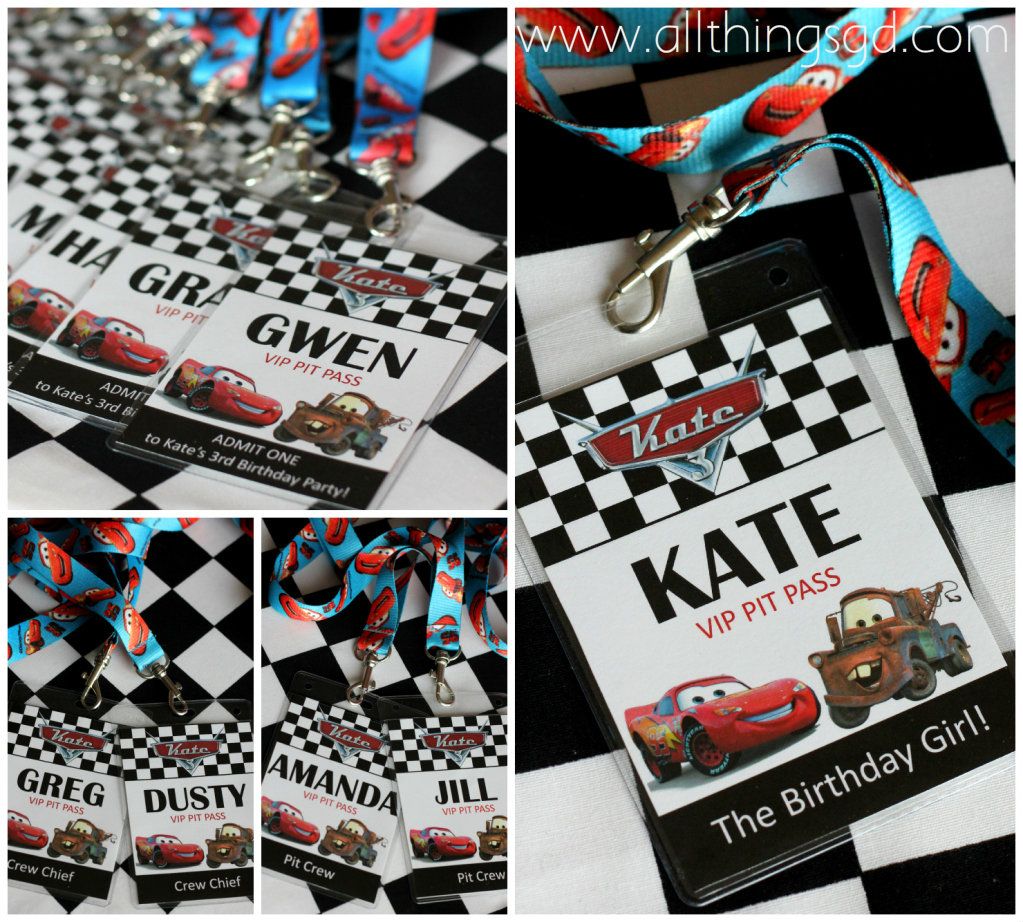 VIP Pit Passes for the kids, the birthday girl, and the crew!
I was excited to have a grand entrance for our little birthday girl and all her guests, so I lined the hallway into the theater with orange safety cones filled with balloons and checkered racing flags, and decorated the sides of the cones with characters from the movie:
Kate, running into her birthday party!
The first two cones in each line featured Lightening McQueen and Mater (Kate's two favorite Cars characters) and after that each cone featured a picture of another character from the movie – all 16 of them!  The last two cones in the line (there were 20 cones total) featured the Cars logo with Kate's name and age (as seen at the top of the VIP passes above and in the food signs below).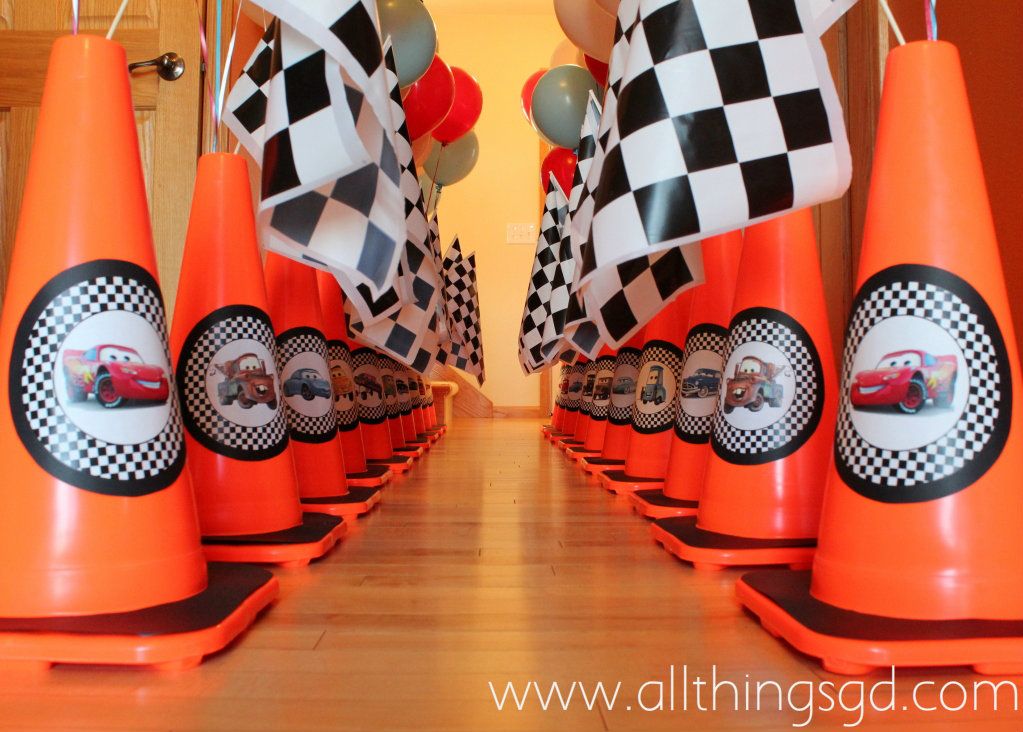 I decorated each safety cone with a character from the Cars movie and filled them with a racing flag and balloons.
I made a video slideshow of Kate's pictures from over the past three years (set to songs from the Cars movie) which played before the movie as guests arrived.  Kate got such a thrill seeing all those pictures of her up on the big screen!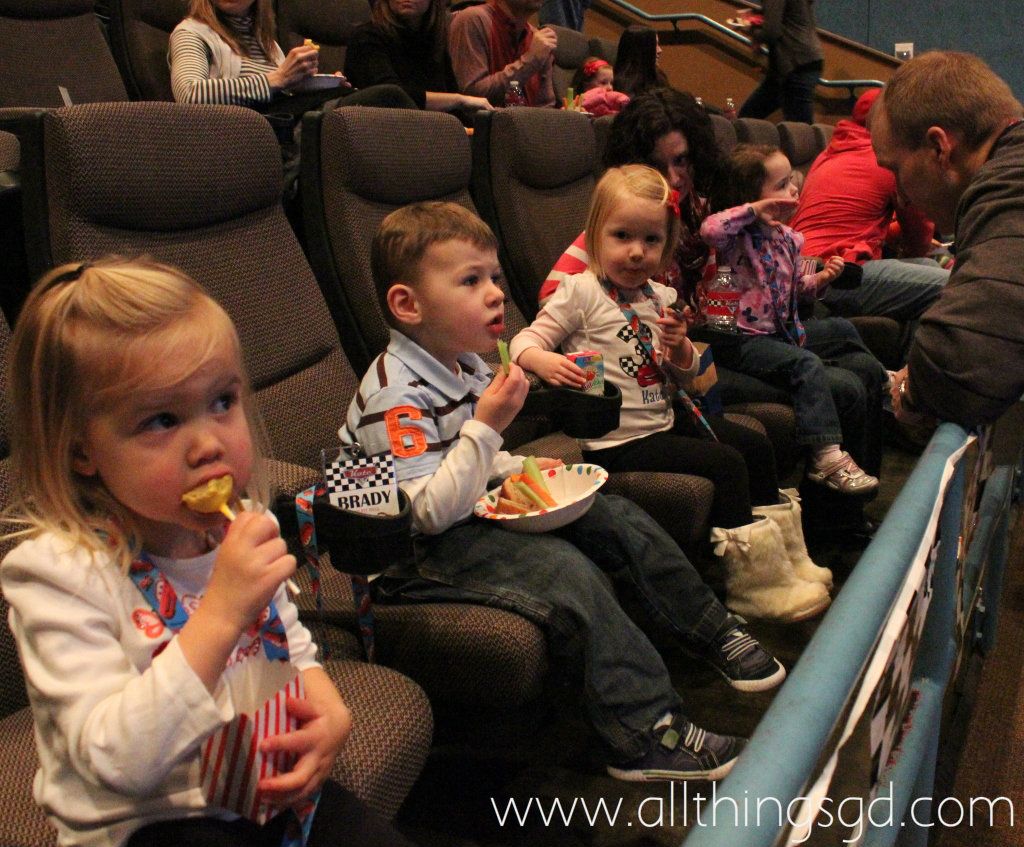 The birthday girl, and some of her friends, with the best seats in the house!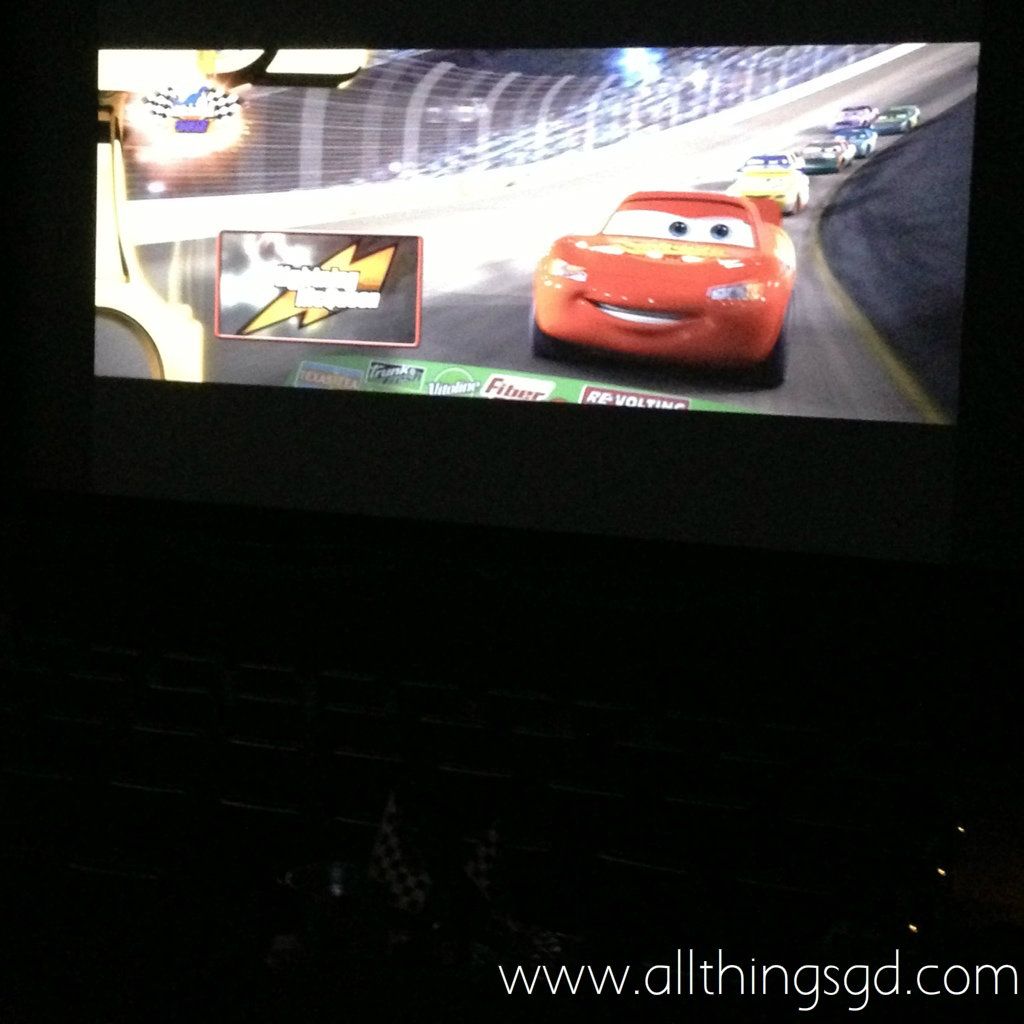 Movie time!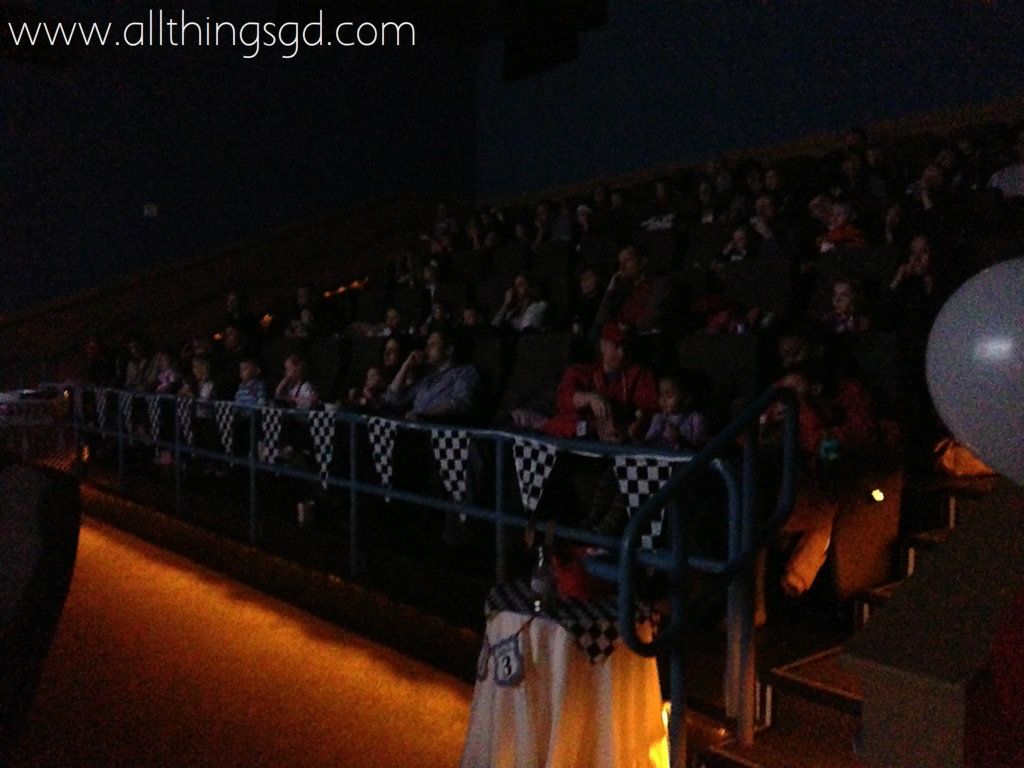 Our guests, enjoying the movie…
…with the birthday girl, front and center, and having a great time!
I made two birthday banners for Kate using the Route 66 road sign shape for each letter.  I originally planned on hanging these from the two food tables, but the tables ended up being smaller than anticipated so we hung them just below the theater screen instead:
Birthday banners I made for Kate using the Route 66 road sign shape.
I made two of these trophy centerpieces (one for each food table) stuffed with red carnations and checkered racing flags: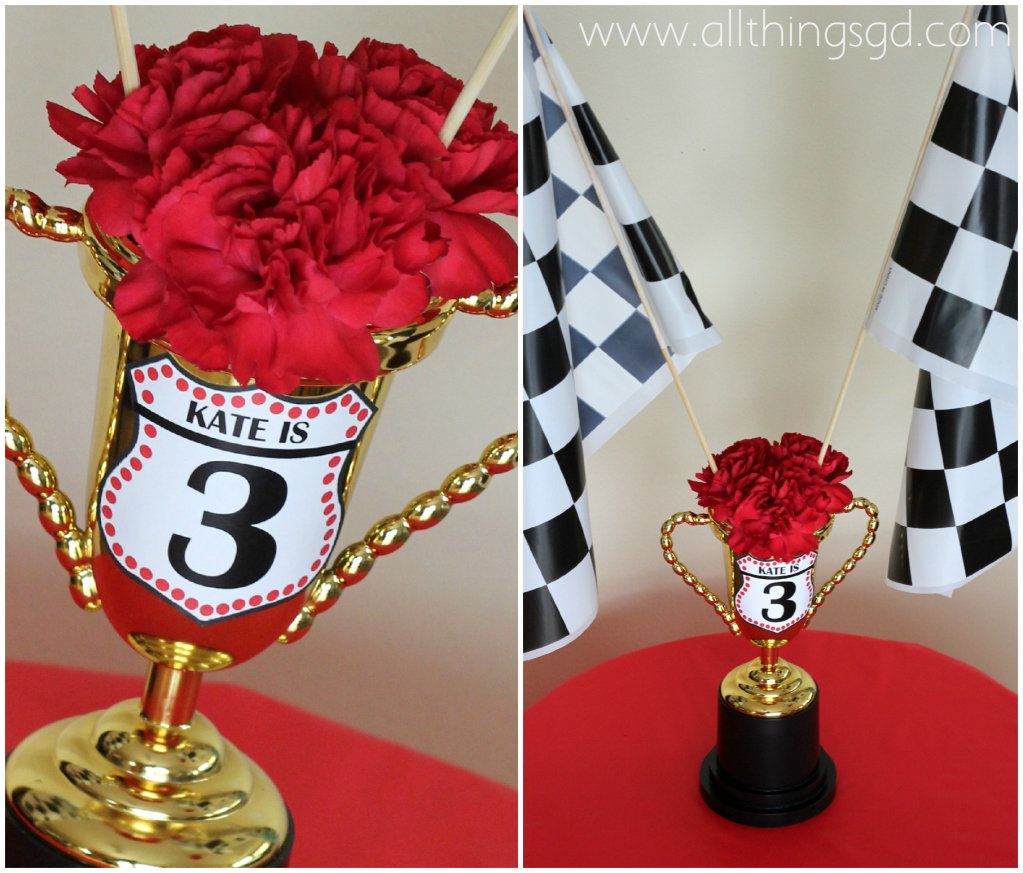 Kate's "Piston Cup" centerpieces for the food tables.
Knowing that kids would mostly be eating from plates (or bowls, which were another option) balanced on their laps, I focused on finger foods that wouldn't need utensils or make big messes – and I had a blast coming up with fun Cars-themed foods!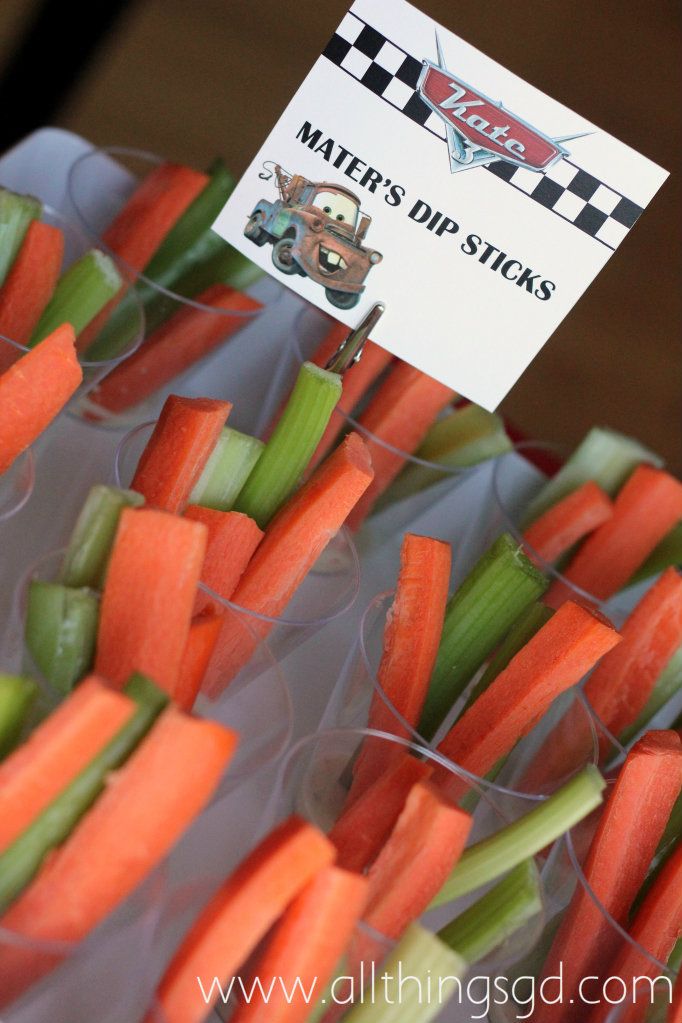 Mater's Dip Sticks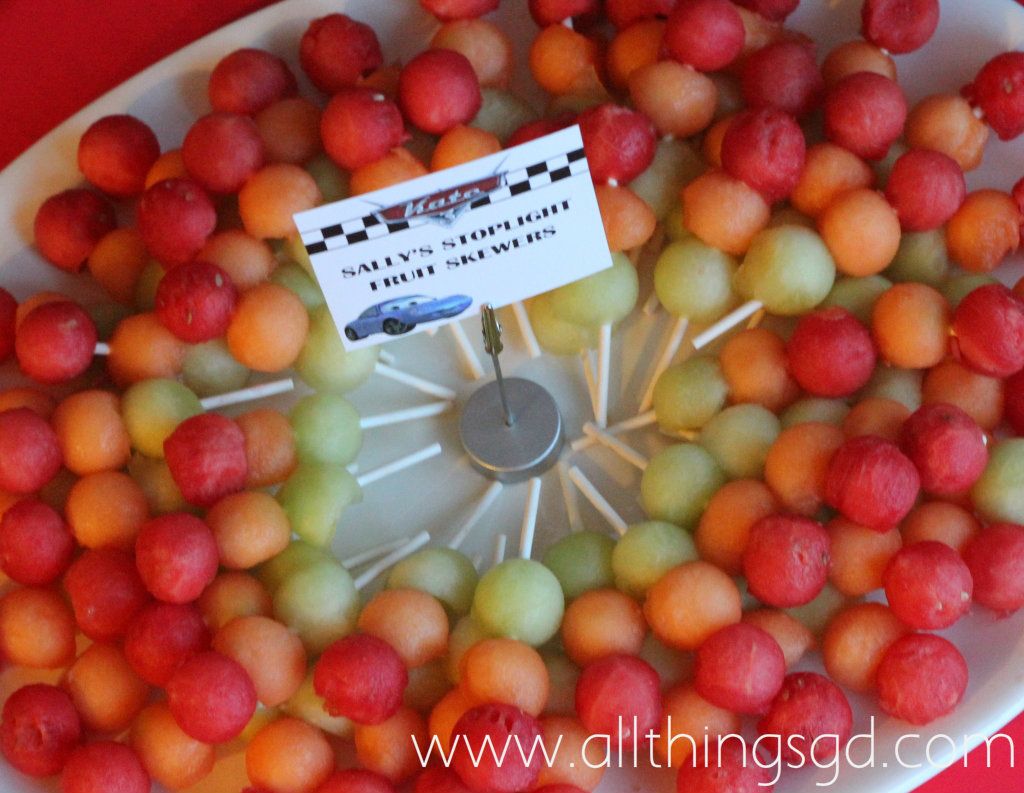 Sally's Stoplight Fruit Skewers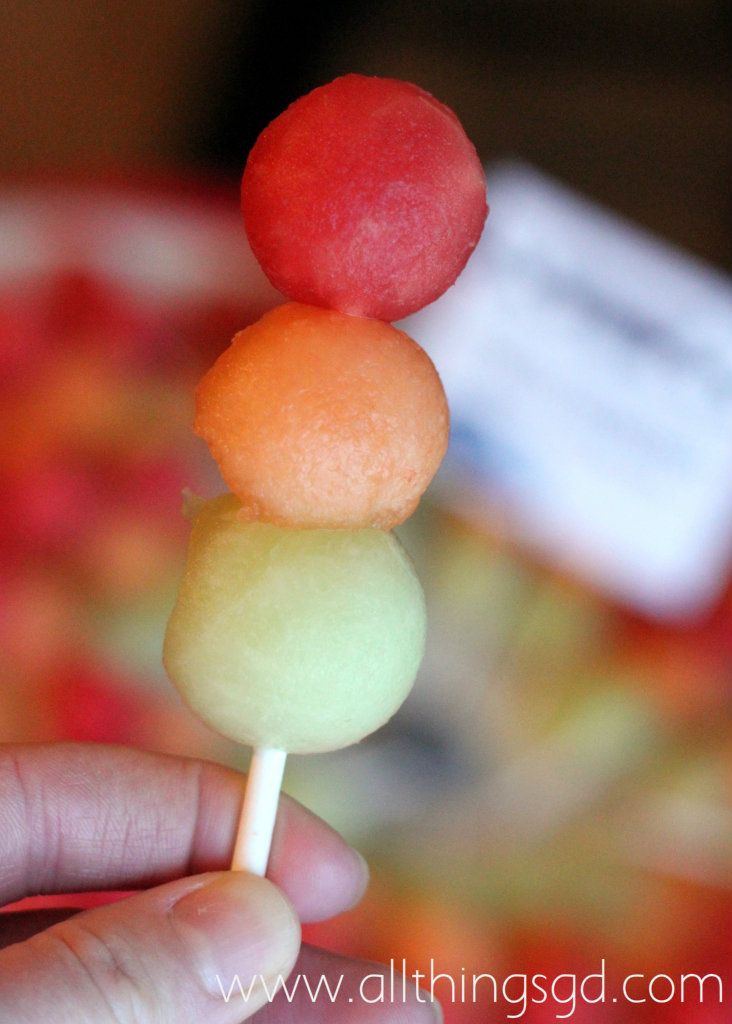 Red light…green light!
Sarge's Surplus Sandwiches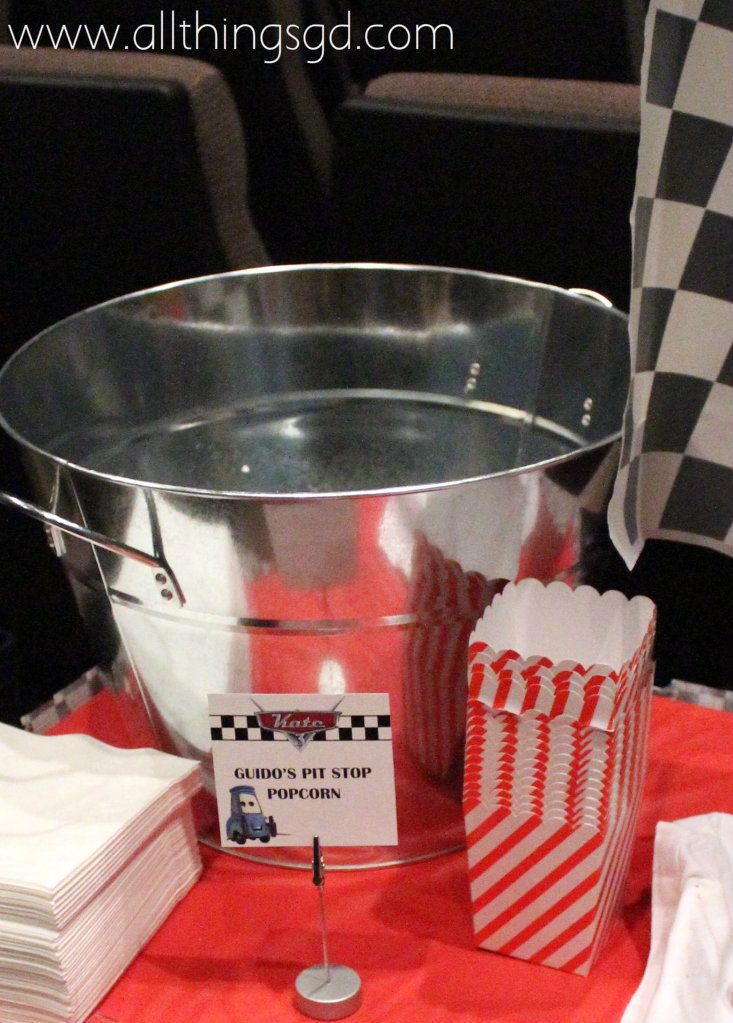 Guido's Pit Stop Popcorn – a spot so hot I wasn't able to get a picture of it until after the party when, sadly, the popcorn was all gone.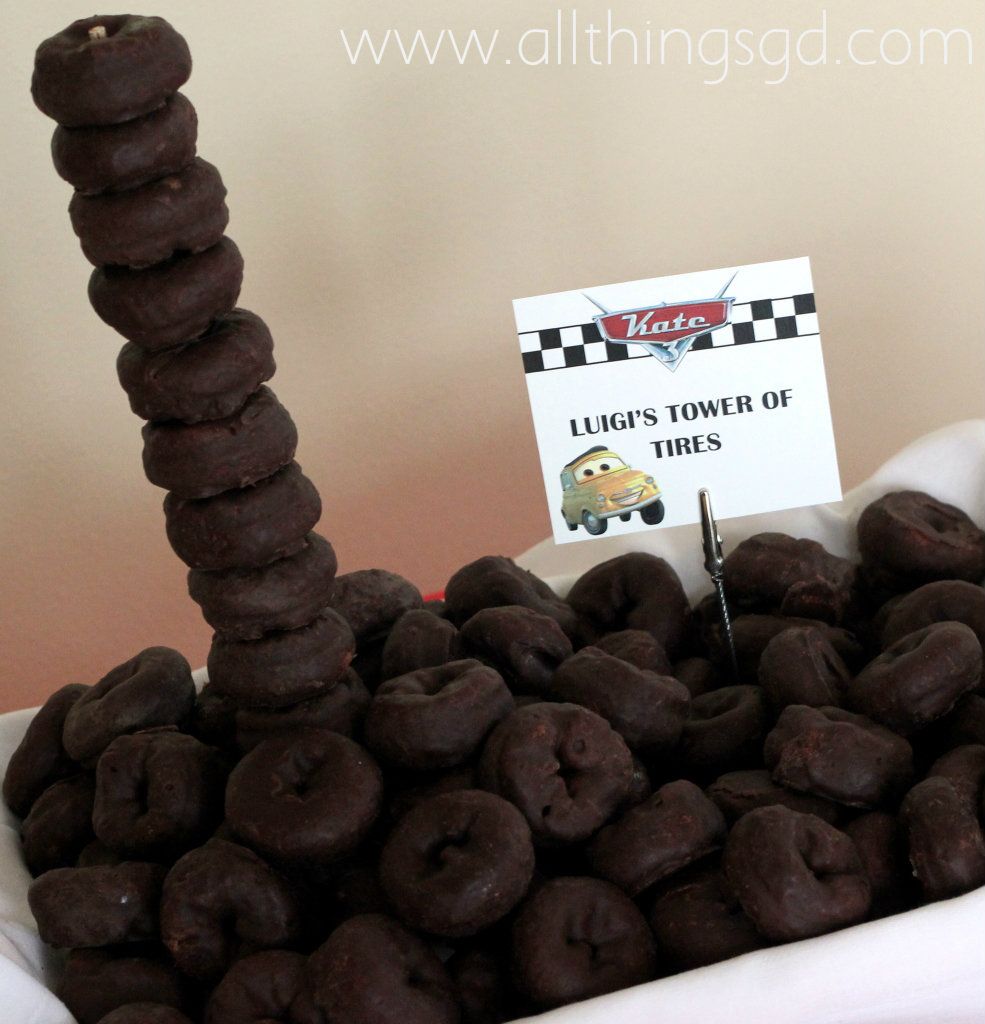 Luigi's Tower of Tires
Fillmore's Organic Flower Power Cake Pops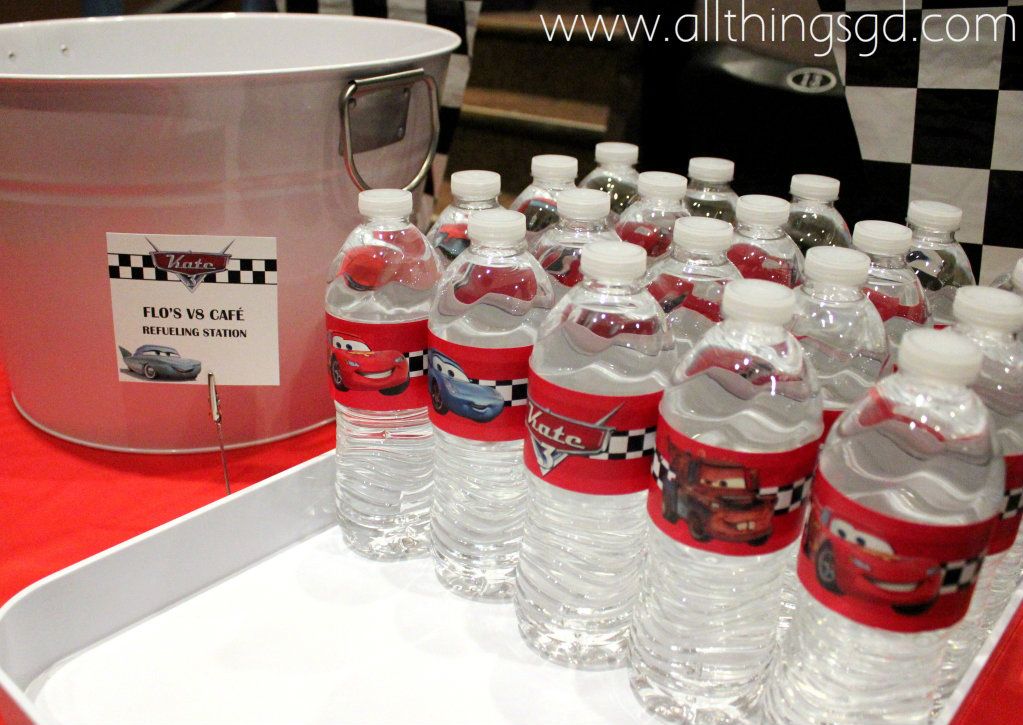 Flo's V8 Cafe Refueling Station – another post-party picture.  That white bin was filled with juice.  You're just going to have to trust me on this.
I set up a little "Car Wash" station across from the food tables for kids to wash up after they "filled up"!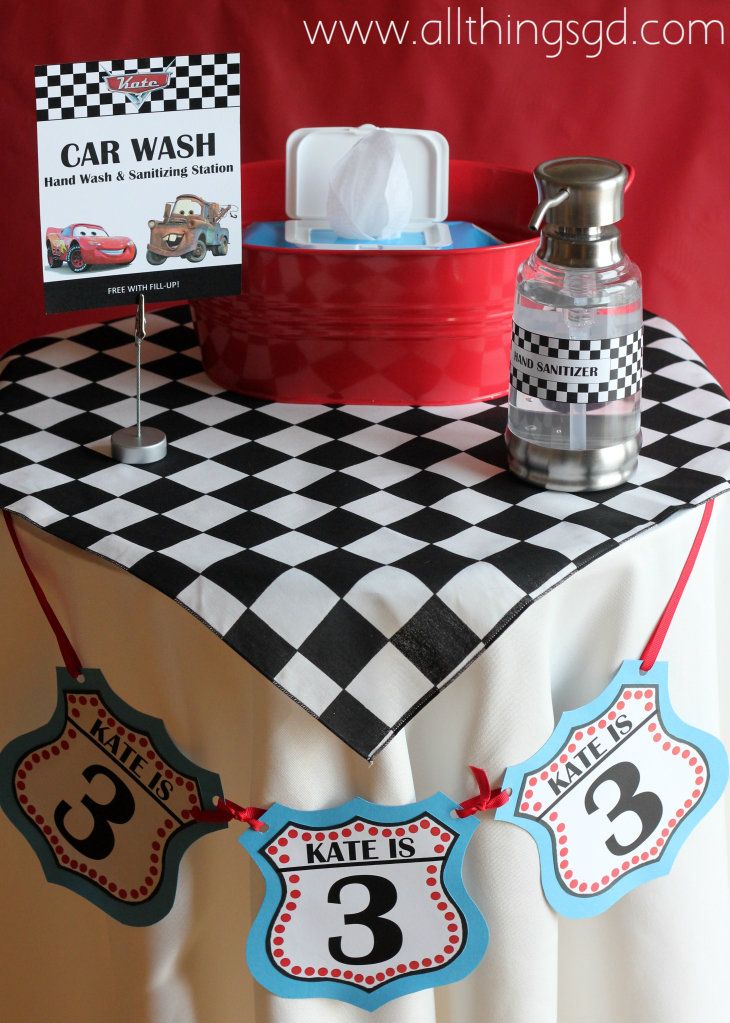 Car Wash Hand Wash & Sanitizing Station – Free with Fill-Up!
Each of the kids left a little Cars lunchbox…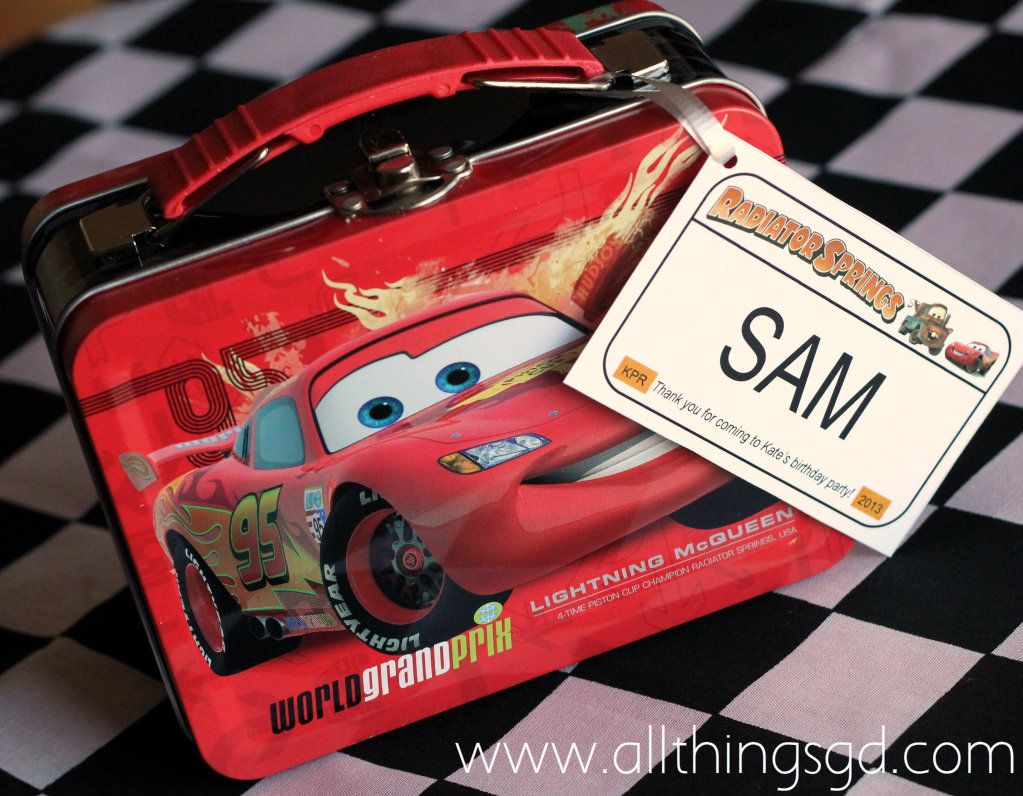 Kate's birthday party favors: a Cars lunch box with a personalized Radiator Springs license plate for each child!
…filled with Cars stickers, a little die-cast race car, and M&M's (one of Kate's favorite treats):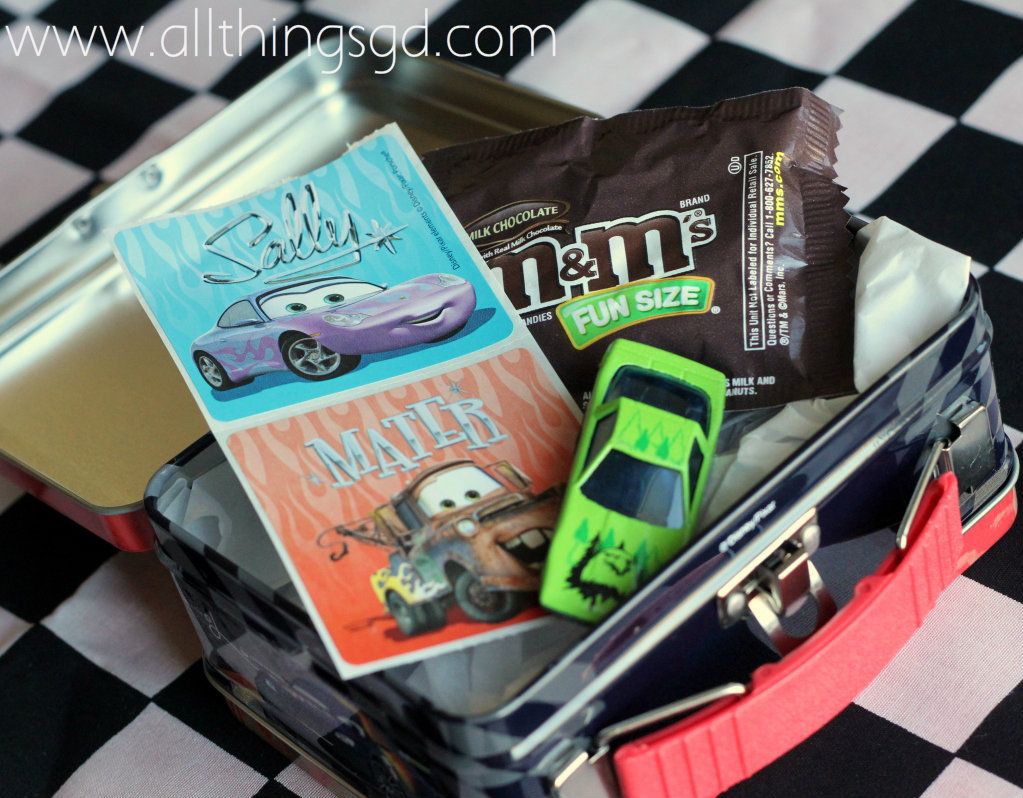 The inside of Kate's birthday party lunch box favors.
Kate's 3rd birthday party was everything we hoped it would be!  Kate was thrilled with all of her decorations, her favorite foods and treats, seeing all of her friends, and, of course, her first movie theater experience!  Just as we hoped, it was a great way for us (and all of our friends with their kids!) to test out if Kate was ready to sit through an entire movie at the theater.  Cars is a two hour movie and she (and many of her friends) started getting antsy around the 90 minute mark. Luckily we had the theater all to ourselves, so they were able to get up and run around!
Even though it was Kate's biggest party to date, it was the most fun to plan – and come party time, it was surprisingly the least stressful and the most enjoyable of the three parties she's had so far!
We are so blessed with such a wonderful little girl to celebrate, and so many great friends and family members to celebrate her with us!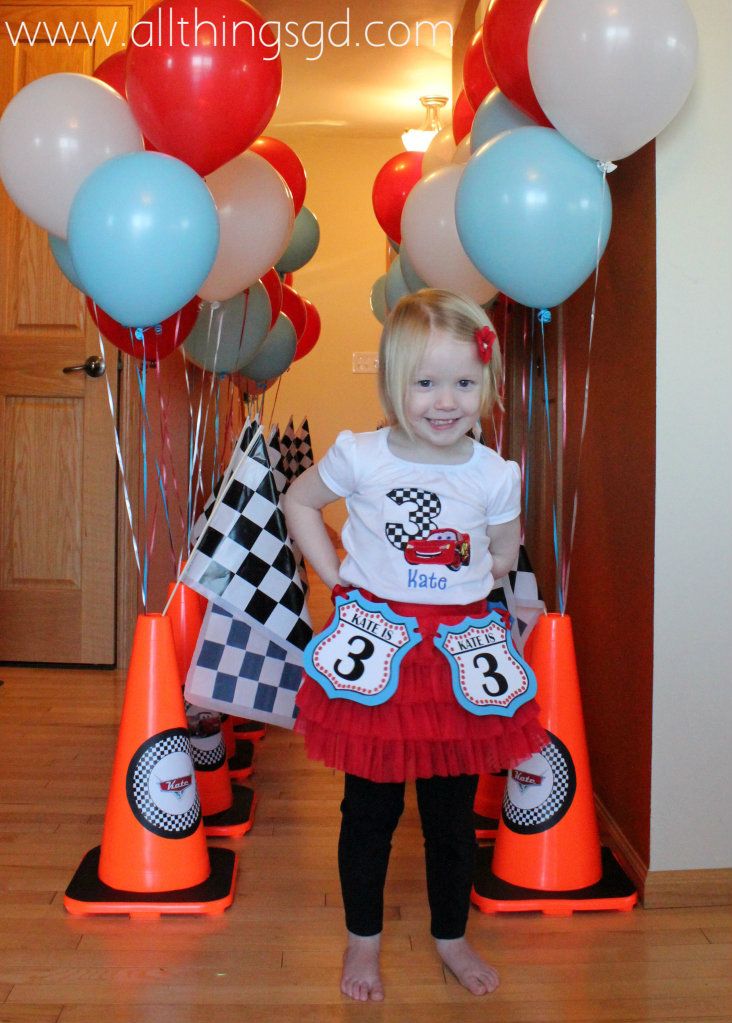 Our wonderful little birthday girl, Kate!
Want to see more?  Check out my The Making of Kate's Cars Themed Birthday Party post and my FREE Cars Birthday Party Printables!

This post contains an affiliate link.