New to this series? Catch up here!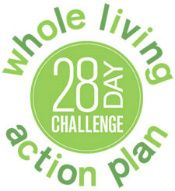 An interesting thing happened during my week 2 of the Whole Living Challenge:
My household got sick.
Kate caught a bug that left her laid-up and miserable with a fever, cough, and congestion, and sadly G wasn't much better off – and that guy never gets sick!
"I really hope you don't get sick too," he croaked to me one morning from bed.  "You're our only hope!"
"Please," I joked.  "I'm a fruit and veggie-loaded MACHINE!  There's no way I'm getting sick."
Hours later as I snuggled nose-to-nose with Kate (while she alternated between coughing in my face and planting me with little wet kisses which she insisted land right on my lips), I wasn't so sure I'd be lucky enough to escape it – but in the end, I did!
Sure, it could've been luck – but I like to think it's a remakable testament to how good a clean and healthy diet is for our bodies!
To recap, the following are off-limits throughout this three week (and bonus 4th week) detox plan: processed foods and beverages, added sugars, dairy, caffeine, alcohol, and gluten. In addition, food options for Week 2 are limited to only the following: fish (except shellfish), fruits, vegetables, beans & lentils, nuts, seeds, plant-based fats/oils, and spices.
One of my overall goals for doing the Challenge this year (and every year) is to push myself to try new foods and recipes. I didn't try any new foods this week (other than trying Cardamom spice), but here are the new recipes I tried:
Pumpkin Seed Zucchini Crackers (really good!)
Broccoli Chickpea Salad (liked; will definitely make again)
Creamy Broccoli Soup (loved at first, but got sick of it quick)
Avocado Black Bean Tacos (LOVE! Was a hit with G too!)
Cardamom Quinoa Porridge (Meh.)
Cauliflower "Rice" Stir Fry (Meh.)
Roasted Vegetables with Quinoa over Baby Spinach (Loved! One of my favorite recipes of this year's Challenge)
Black Bean/Brown Rice Patties (Great smoky, southwest flavor, but crumbly. G liked these, too.)
Just like in Week 1, my friends/coworkers Tiffany and Katie joined me in a recipe swap, so I got to try two extra Challenge-approved recipes that I didn't have to make!  This week Tiffany made Black Bean/Brown Rice Patties, and Katie made the Cauliflower "Rice" Stir Fry.  My contribution to the group was the Broccoli Chickpea Salad, which ended up being a hit with all three of us.

To wrap it up, here's a log of what I ate during Week 2:
DAY 8
8am: Hot water with lemon
8:30am: Mango Coconut Water Smoothie
10am: 1/2 a Grapefruit
11:30am: Detox Salad
3pm: Cashews & Detox Tea
4:30pm: Pumpkin Seed Zucchini Crackers
8:20pm: Cashews
DAY 9
8am: Hot water with lemon
9am (breakfast meeting at work): Orange slices, apple slices, and I brought my own Mango Coconut Water Smoothie
12:45pm: Broccoli Chickpea Salad
1:45pm: Pumpkin Seed Zucchini Crackers
5:30pm: Cashews and Creamy Broccoli Soup
DAY 10
8am: Hot water with lemon
9am: Green Smoothie
11:30am: Creamy Broccoli Soup
1pm: Watermelon Slices
3pm: Orange Slices
5:15pm: Pumpkin Zucchini Crackers
7:45pm: Baked Tilapia, Roasted Asparagus, and a Pumpkin Zucchini Cracker
DAY 11
8am: Hot water w/lemon
8:30am: Ginger Orange Smoothie
9am: Chai Tea Latte made w/Almond Milk
11am: Leftover Baked Tilapia
2:30pm: Watermelon Slices
4:30pm: Apple w/Spiced Cashew Cream Dip
6:30pm: Blue Corn Flaxseed Tortilla Chips
8pm: 2 Avocado Black Bean Tacos w/Tilapia
DAY 12
9am: Hot water w/lemon and Cardamom Quinoa Porridge
11am: 2 Avocado Black Bean Tacos w/Tilapia
2pm: Almonds
4pm: 2 Pumpkin Seed Zucchini Crackers
6:30pm: Roasted Asparagus
DAY 13
9:30am: Hot water w/lemon
10:30am: Cardamom Quinoa Porridge
1pm: Cauliflower "Rice" Stir Fry
3pm: 1 Fish Taco (Avocado Black Bean Taco w/Tilapia)
7pm: Roasted Vegetables (Brussels Sprouts & Squash) w/Quinoa over Baby Spinach
DAY 14
9:3am: Detox Tea
10am: 1/2 a Grapefruit
12:30pm: 1 Fish Taco
3pm: Popcorn at the bowling alley (total cheat!)
4pm: 1/2 a Grapefruit
6pm: Black Bean Burger. It was crumbly, so I ate it as a taco salad over lettuce with salsa.
I had a minor cheat (eating all-natural tortilla chips instead of making my own) and a major cheat (the popcorn at the bowling alley – NOT all-natural at all!) but overall I think I'm still doing well.  Interestingly enough, as much as I love popcorn (especially the popcorn there!), after I ate it I found myself anxious to get home so I could replace the salty, oily taste in my mouth with crisp, refreshing fruit.  That's major progress for this popcorn lover!
These, and other Challenge-friendly recipes can be found on my 2013 Whole Living Challenge Pinterest board. You can also follow along with me on my All Things G&D Facebook page and on Instagram for daily Challenge updates!