I've received probably hundreds of requests for copies of the Sesame Street birthday party printables I made for Kate's Sesame Street Themed 2nd birthday party, and now that I've switched my blog over to WordPress I can easily share them with you all!
These links will open a pdf document for you to print from your computer:
Sesame Street Favor Bag Topper
Crayon Border Thank You Message
First up is the Sesame Street Welcome Sign I made for our front door:
You can use the "Welcome" sign on its own, or recreate the door display I made for Kate's party, by printing out the Sesame Street Welcome Sign in color on white cardstock, and cutting around the outer line.  The personalized signs below the welcome sign are easily made in Microsoft Word or Publisher using a Comic Sans font.  I cut the large "K" and "2" out of foam and covered them in wrapping paper, and then pieced it all together using ribbon taped in back.
Next, is the "Thank You!" favor bag topper I made in the shape of the Sesame Street sign: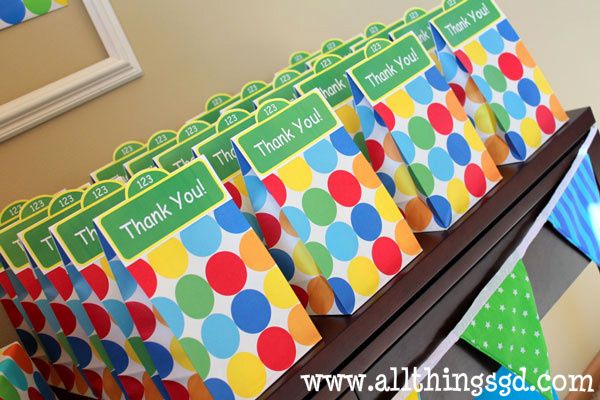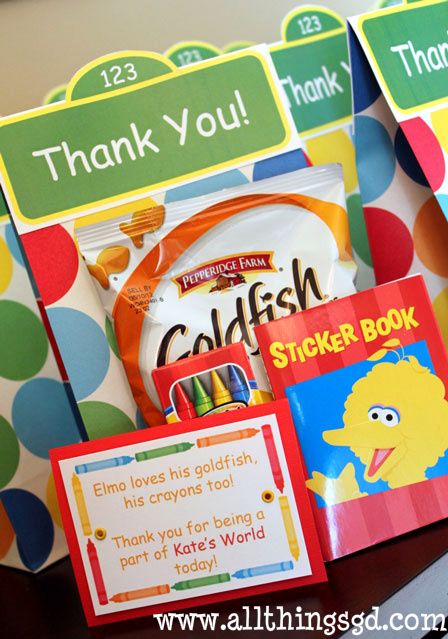 To recreate, print them off my Sesame Street Favor Bag Topper in color on white cardstock.  Cut around the sides and bottom of the rounded rectangle with scissors, and then use an exacto knife to trim around just the oval line on top.  Next, fold the rest of the paper at the top of the rectangle, so that the label is like a little tent that goes over the bag, with the oval top standing up.  I closed the favor bags with one staple in the center and secured the tent on top of the bag using double-stick tape, one piece on each side.
6/13/13 UPDATE:  By popular request, I duplicated the Crayon Border Thank You Message that I used for our favor bags!  Print this document out in color on white cardstock, cut and attach and use as-is, or adhere it to a slightly larger piece of colored cardstock using glue, double-stick tape, brads, or eyelets like the yellow ones I used in the picture above.
I made these name tags for the kids' cups so we could easily keep track of which one was theirs.  Using crayons and Sesame Street stickers added to our theme, but really these practical cup labels could be used for any party!
To use this Kid's Cup Labels printable, simply print this pdf out in color on self-adhesive 2×4″ shipping labels, peel them off and apply to your party cups.  Add stickers to each one for an additional way to help kids to recognize their cups.
I hope these Sesame Street Birthday Party Printables help make your little one's party an even bigger hit!
These free party printables are for personal use only.  Please credit All Things G&D and link back to this post if you use them.  Thank you!
Interested in seeing more of Kate's Sesame Street Themed Birthday Party?  Click on the images below!
This post contains an affiliate link.