Kate's "big girl" room is a big thorn in my side.
Here's how it looked the last time you saw it: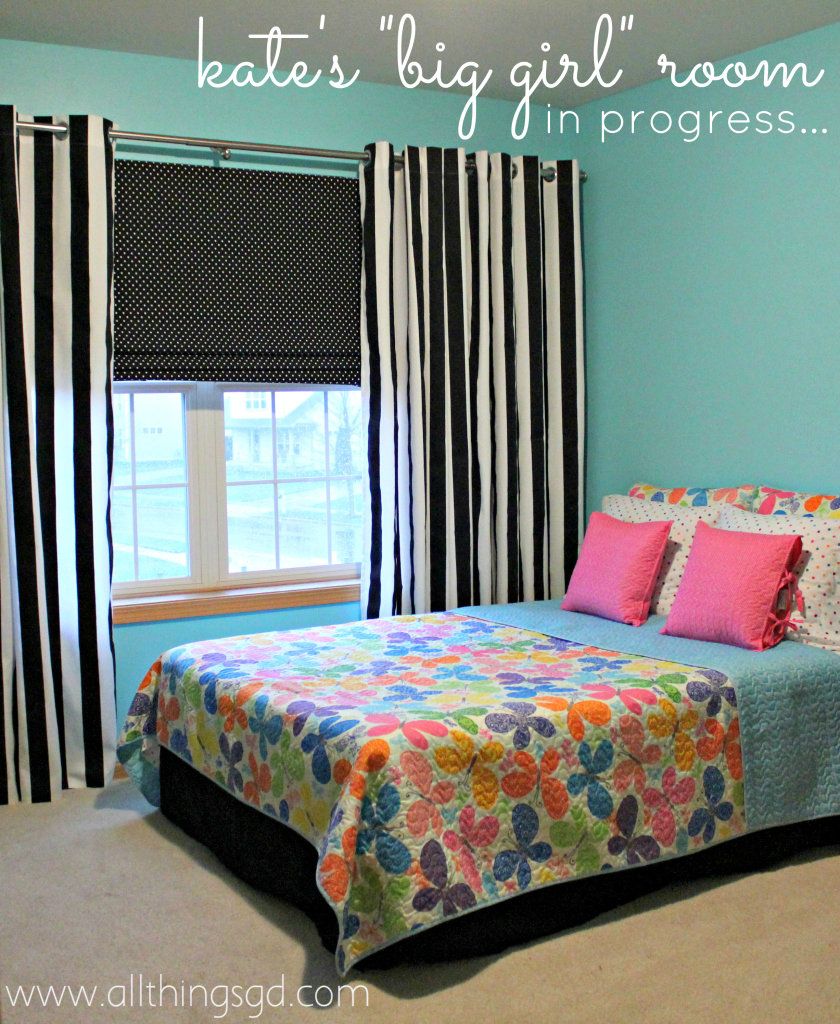 And here's a look back at my proud little before and after of her window treatments, which helped make her room look a little less like a crack house and a little more like a little girl's room:
I was so proud of all the money I saved from repurposing the existing mini-blinds that originally hung in this window, turning them into a cute and functional DIY roman shade, complete with polka dot fabric and black-out liner – until they broke.
One of the cords in back snapped, leading them to look like this whenever you tried to open them and let a little sunshine in:
I could've restrung the cord for a quick fix, but a bad idea is a bad idea no matter how many times you try to put a band-aide over it.  The problem wasn't the cord – the problem was all those tutorials I've seen online and splashed all over Pinterest for "how to make DIY roman shades using mini blinds" were for small windows (here's a great one from Jena at Involving Color if you're interested in checking out my original technique).  I was dealing with a very wide window (57″), and trying to get away with using only 8 flimsy slats in the back for support wasn't working.
I needed to try something new.
I scrapped my original mini-blinds turned "crack house roman shade" and grabbed the last remaining set of untouched mini blinds in our house from our guest room.  During my last trip to IKEA I found some gorgeous black and white polka dot fabric that I knew would look even better in Kate's room than the existing small print polka dots I had used.  An added bonus?  This fabric was a little thicker so it would block more light, which meant I could get away with not adding a black-out liner this time, saving my blinds from that extra weight.
This project was a lot of trial and error (and as fate would have it, I took more pictures of the errors), but eventually I figured out the best way to do it – which, not surprisingly, was also the simplest way to do it!
DIY Roman Shades (for WIDE Windows) Using Mini Blinds
Supplies
Mini-blinds
Fabric
Scissors
Iron
Steam-a-Seam fusible tape
Mod Podge
Small Foam Brush
1.  Start by measuring the width and length of your blinds.  For this step, measure your mini-blinds from the top of the very first slat – not the top of the entire unit.  We will not be covering up the top piece of the blinds that mount to the window in this step – we'll do that at the end with a separate piece of fabric used as a valence.  This will allow you the ability to use the pull cord to lift and lower the blinds without having to move it to the back or cover it with fabric.
The blinds I borrowed from the guest room were actually shorter than the length I needed for the window in Kate's room, but there's an easy work-around for that (detailed in a later step).  If that's the case with the blinds you're using then be sure to measure the length of your window instead, so fabric completely covers your window opening when your blinds are closed.
2.  Iron your fabric and then trim it to fit your blinds/window, allowing extra fabric all around for a seam allowance.  For example, if your window is 55″ wide you'll need to cut your fabric 56″ wide, allowing you to do a 1/2″ hem on each side (adjust measurements according to your hem preferences).
3.  Hem all sides of your fabric using an iron and steam-a-seam fusible tape.
Time Saving Tip:  Consider the selvage edges (the factory finished edges) of your fabric and see if they can save you the trouble of hemming a side or two!  If the width of your fabric matches the width of your window (luck you!) and the sides of your roman shade will be covered by curtains, use the fabric's selvages edges as your sides and there's no need to hem those sides.  Or, use the selvage edge of your fabric at the top of your blinds since that edge will be covered by your valence!
By now you should have one large rectangle of fabric, hemmed (or finished) on all sides, that fits perfectly over your mini-blinds, starting from the top slat.
4.  Decide how many folds you want for your roman shade and how far apart they need to be.  You'll want them to be evenly spaced.  Kate's window is 57″ high from the top slat to the bottom of her window.  I decided to have 5 folds in her roman shade, which meant six sections of fabric total.  57 divided by 6 = 9.5, so I spaced my folds 9.5″ inches from each other:
It's tricky when you're working with all of the mini-blind slats using this method (versus cutting the ladder cord, removing excess slats and placing your remaining slats exactly where your fold needs to be) to determine which slat to use for your fold – but eventually I figured out a pretty fool-proof way!
(Remember:  It's necessary to keep all the slats in your mini-blinds when you're working with wide windows because they need each other for support in order to handle the weight of your fabric.)
5.  Using a ruler and fabric pencil or pen that won't mark through your fabric, measure and draw lines across the back of your fabric at each spot where you want your fold to be.  (In my example, I started at the top and marked my lines every 9.5″.)
6.  Lay your mini-blinds out on a flat surface, face up and pop off the plastic stick piece that turns your slats to let more or less light in; you no longer need this.  If you haven't already done so, give them a good wipe down with a wet cloth to remove all the dust and grime.  You want to have nice clean slats for your fabric to stick to once you start gluing.
7.  Lay your fabric, face up, over your mini-blinds and glue the top of your fabric to the top slat of the blinds, with the rounded up side of the slat facing up.  The picture below shows my first attempt using tacky glue, but that didn't hold up very well.  The next day I re-did it using Mod Podge and a  foam brush and that worked great so that's the technique I recommend).  Be sure not to get any glue on or near the pull cords as you're doing this step! 
8.  With your fabric glued to the the top slat of your mini-blinds, re-hang your mini-blinds in the window and make sure they are fully extended, hanging all the way down as far as they can go, with the rounded up part of each slat facing out.  This will allow you to determine exactly where your fold spacing and slat spacing needs to meet.  Fold your fabric back slightly to match the line you drew across the back of your fabric to its corresponding slat – mark slat on each end of your mini-blinds:
Note:  I used a black marker to mark my blinds, which luckily turned out okay since I was using black fabric, but it definitely would have bled onto a lighter colored fabric once I applied the glue, so learn from my trial!  Your safest best is to use a piece of tape or something you can easily remove and that won't potentially stain your fabric.
9.  Once all your slats are marked to correspond with your fold lines, remove your blinds from the window and return them to a flat surface.  Lay your blinds down fully extended, all rounded up sides of slats facing up.  Starting at the top of your blinds, create your first fold by applying Mod Podge glue (using a little foam brush) to the rounded up part of the first slat you marked, making sure not not to get glue on or near your pull cords.  Once the glue is applied, quickly smooth your fabric over the slats, adhering it to the newly glued slat.  You want to take care at this part to make sure your fabric is nice and smooth and even across your blinds.  Continue working your way down, gluing each marked slat and smoothing your fabric over it, until all marked slats are adhered with fabric.
Don't worry about slats peeking out from the sides as you're working like you see in the picture above.  As you'll quickly discover once you start this project, mini-blind slats move around A LOT.  It's hard to keep them lined up when you're working on a flat surface, but as long as you've followed all of my steps, and the slats and fabric ends that you're gluing match up, your blinds will hang perfectly and be covered completely by your fabric.
To finish this step, you can either glue the end of your fabric to the bottom bar, or let it hang – the choice is yours.  If you're working with a mini-blind that's shorter than your window (like I was), simply let your extra fabric hang down to cover the rest of the window when the blind is fully extended.  (My blinds were quite a bit shorter than the window, so I actually used the bottom bar as one of my fold slats and let the remaining several inches of fabric hang.)
10.  Lastly, cut and hem a strip of fabric for your valence (mine is the width of the blinds and about 10″ tall), and adhere it to the top bar of the mini blinds using Mod Podge and a foam brush.
And that's all there is to it!  You now have a beautiful new set of DIY roman shades using plain old mini-blinds, that will work for your wide window!
This post contains an affiliate link.