Once again we had a blank slate to work with when it came to our living room. This "before" picture shows the living room in the foreground, the dining room in the background, and the arch separating the two spaces.

Below is my first draft of our living room–I painted the arch a medium green color and the side walls a very light sage green. The sofa and loveseat are actually a cream/khaki color although they look a little pastel in some pictures. This look lasted a couple of months until I decided I wasn't in love with it. Back to the drawing board.
In true "accessorize first, paint second" fashion, I decided to start the room re-do by choosing new throw pillows. This is a good time to note–there are times when I can see something and know instantly that it will look great in the house and I will love it. However, my usual process is to purchase items I think might work, bring it all home, see it in the actual space, make my decision, and return the rest. I'm a big fan of the in-store return. They know me by name at half the customer service desks in town…and you'll soon see why.
Pillowgate 2006 all started out innocently enough. A stop at Pier 1 over my lunch break led to might as well go to Target while I'm over here. Swing by the mall after work (hello JCPenny, Kohls, & Pottery Barn) and before I know it I'm doing the equivalent of the "suitcase sit" to get my car doors closed. Purchasing 64 throw pillows in one day has got to be a record. Why 64 pillows, you ask? I drive a Ford Focus. Sixty-five pillows simply wouldn't have fit.
And what's a scandal without pics? Presenting the evidence:
Narrowing down my throw pillow options was not an easy task. Here are some finalists that didn't make the cut (click on pics to enlarge):
And the winners! The lumbar pillow in the center is the same fabric as the drapes in the dining room. I wanted to tie the two spaces together so I really wanted to make this pillow work.

Next up–paint colors. In the end I decided to paint both the living room and dining room (in the background) a wheat color–Sherwin Williams Whole Wheat, and both sides of the arch a dark brown–Benjamin Moore Branchport Brown.
A work in progress…
…and paint job completed!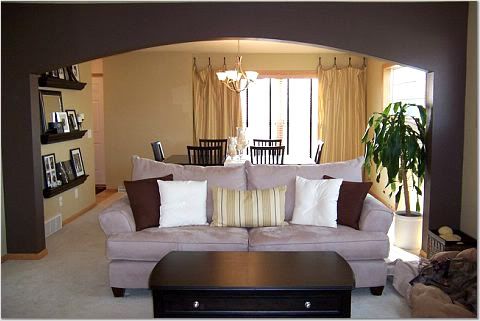 I got these Victoria Hagen cross-back chairs and matching accent table (perfect for our DVD player and TiVo) at Target. The lamp and oversized clock by the loveseat are also from Target.
And would you believe it?? I went nearly two years before buying another throw pillow! (Well…for the living room anyway.) I just picked up these new ivory pillows from Pottery Barn. Unlike the previous ivory pillows, these have a removable cover and are washable so they're a little more practical. Another new addition is this fabulous overlapping squares rug from West Elm.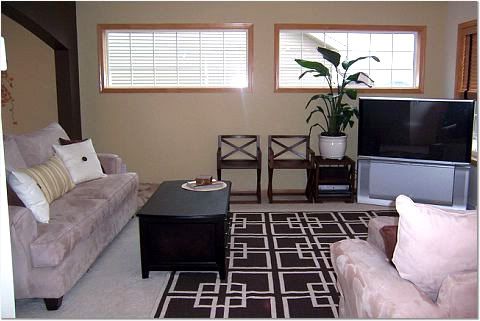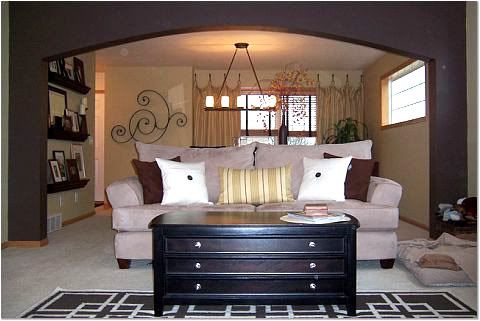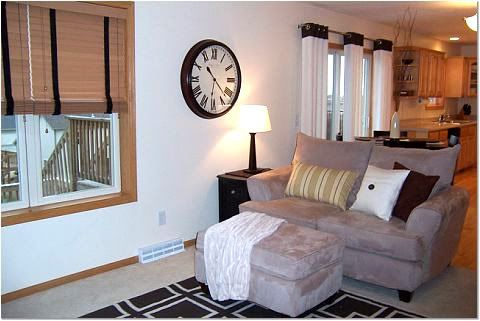 Related Posts:
Anatomy of Our Dining Room
Finishing Up The Kitchen
Parade of Homes–Fabulous 2-Story Living Room