Just so we're clear–I am not a chef. But I am going to share with you my favorite broiled shrimp recipe because it's quick, easy, and delicious. (And the last time I made it I was tipsy enough to take pictures.) So here goes!
What You Need
Chilled White Wine
Uncooked Shrimp
Olive Oil
Minced Garlic
Parsley
Oregano
Red Pepper Flakes
Ritz Crackers
I'd love to tell you where I found this recipe, but I can't remember. I love it so much that I've made it enough to stop referencing the recipe. Which is also why I don't have exact measurements. I just wing it. But hey–if I can wing it, so can you! Any idiot can follow a recipe–it's in the "winging it" that the true chefs (reminder: not me) are born.
Okay, let's get started. First thing's first–open the bottle of white wine and pour yourself a glass. This is how the true "winging it" magic happens.
Now, drink your wine while peeling your thawed, uncooked shrimp (however many shrimpies you want–I'd say I use about a half-pound of medium-sized shrimp for 2 entrees). Rinse those bad boys and throw them in a bowl.

Time to preheat your broiler and flavor up your shrimp. Pour a little olive oil in the bowl and stir. No, I don't know exactly how much olive oil you need, but put in just enough to lightly coat the shrimp so the spices we'll be adding will stick to them. No need overdo it–we're not making olive oil shrimp soup here.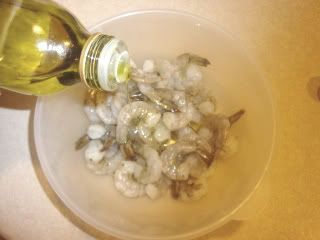 Time for garlic! Don't worry about chopping up your own fresh garlic cloves. Save time by buying the pre-minced garlic in a jar. Don't feel guilty about it–you're not Emeril. And besides, you've been drinking. You shouldn't be wielding knives anyway.
Only you know how much garlic you like in your food–not me. I don't even know you. (Unless this is my friend Beth reading. Beth, you'd probably like about 1 heaping teaspoon of garlic. And go ahead and pour yourself another glass of wine–you're empty.)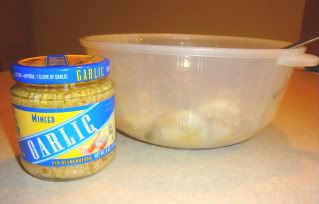 Add your spices–a dash of oregano, and anywhere from a dash to a couple shakes of red pepper flakes. I personally like a couple shakes for the extra kick–or "heat" as Rachel Ray would say. Then add your parsley. I use about a small palm full. We all know parsley is just for looks anyway, so just use as much as you think you need to put enough green speckles on your shrimp to look like you're gourmet trained. Stir.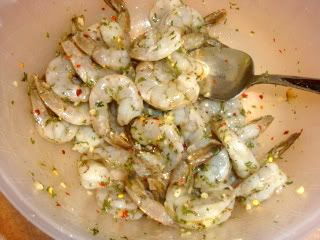 Last, crush up a few Ritz crackers and add them to the bowl. What! You don't have Ritz crackers on hand? What is wrong with you? Did you not have a childhood?? Never mind. Just use breadcrumbs or break up some croutons. You're just looking to give a little crunch to your broiled shrimp–not to coat them. I think I use about 4 Ritz crackers, just to give you an idea. But we're winging it, remember? Go ahead and march to your own drummer boy. And while you're at it–pour yourself a second glass of wine (except for me and Beth who are already on our third).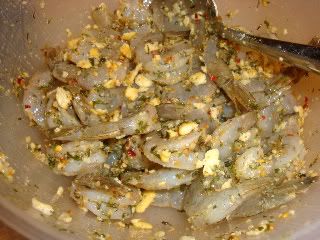 Stir it all up and spread the shrimp out on a foil-lined baking sheet (because really, you're not going to want to wash this when we're done).

Broil your shrimp. I broil for 3 minutes, then turn, and put them back in for another 3 minutes or so. But sometimes I get sidetracked opening another bottle of wine so I really don't know how long I broil them. Good rule of thumb: If the smoke alarm goes off, they're probably done.
I like to serve my broiled shrimp over wild rice. From a box. See–told you I wasn't a chef.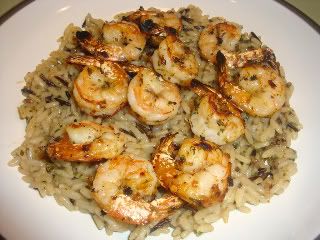 So that's my little cooking tutorial–try it out at your own risk. And if you do, I'd love to hear what you think!
Related Posts:
Caution: Alcohol & Infomercials Do Not Mix
Talk Dirty To Me
More DIY Headboards