Look out Vanity Fair–I'm pretty sure my first annual Oscar Party may have upstaged yours! No–I may not have had a Kate or Meryl, but I did have a Drew, Kristen, Beth, Jill, and Tappa! Got any Tappas in Hollywood? Ha! I didn't think so. D: 1. Vanity Fair: 0.
The night kicked off with a little red carpet action greeting my guests at the front door–lovingly arranged by G while I tried to slap on some last minute makeup (thanks baby!). What I did have time to set up was my candy buffet of favorite movie theatre candy–complete with Junior Mints, Mike & Ikes, Gummi Bears, Twizzlers, Peanut M&Ms, and some homemade (eat your heart out Wolfgang Puck) caramel corn.
I also made Oreo truffles, ham & cheese pinwheels, and each guest brought some delicious appetizers to share. Notice that beverage dispenser in the picture below? That would be the pineapple-infused vodka
"I Forgot My Dream Martinis"
my friend Jill and I started several weeks ago. We had the pleasure of enjoying our concoction for the
first time
that evening–as well as drinking lots of wine!
In addition to the red carpet roll-out and candy buffet, I thought it would be fun to have some Oscar Party games! The first one being an Oscar Ballot, with each guest taking their best guess at who was going to take home the golden boy. Here are the girls casting their votes before the show began!
In true pre-awards show fashion, we HAD to have a red carpet walk off–with plenty of paparazzi snapping pics and calling out, "Who are you wearing?" "Look this way!" "Who needs another drink?"
Oh wait. That last one might've been just us.
Here's sassy Drew kicking off the show, wearing her gorgeous wedding gown!
Next up, gorgeous Sara (aka Tappa)–and her fabulous pink taffeta ruffle sleeves. I'm pretty sure those sleeves–and my hair–both got bigger as the night progressed!
The glamorous Kristen with her glamorous black gloves and you-can't-ignore-
this
bling!
Beautiful Beth and her beautiful cinnamon and champagne (yum!) gown.
Jill
owns
the red carpet in her stunning wedding gown and her smooth straight hair! Jill's hair is naturally curly and she straightened it for the event–she would like to thank Tappa's CHI.
And last up–moi. I bought this dress for $30 on clearance at JC Penney a couple years ago to wear on formal night for a cruise, and thought it would be perfect to wear to wear on Hollywood's
golden
night of the year!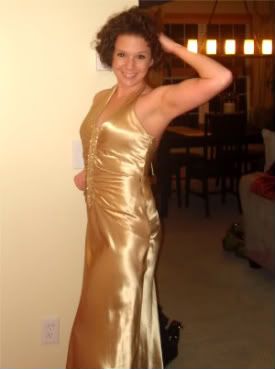 And since it was the
Oscars
, I decided to style my naturally straight hair super
curly
for the event!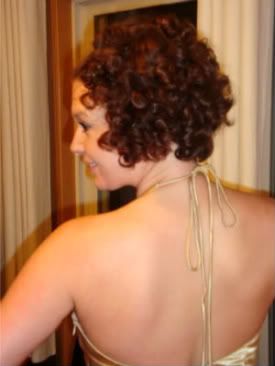 Even our little diva Chase got in on the red carpet action!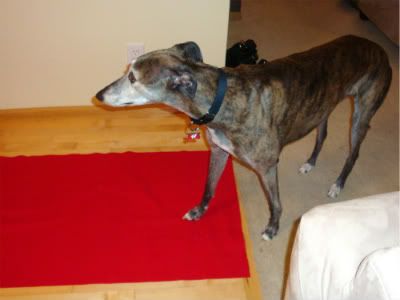 Then it was time for the Academy Awards to start, so we left the red carpet for the living room and settled in for the next 5 hours the show.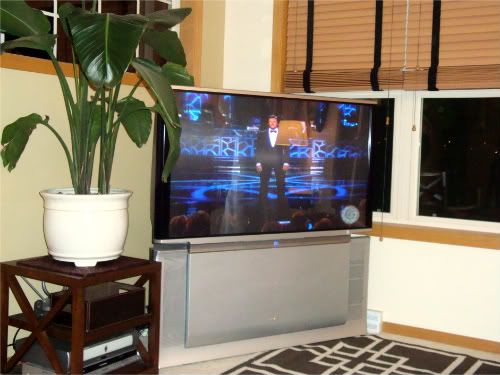 To keep things interesting I made an Oscar Bingo game where each of us needed to get 5 in a row of various potential Oscar events of the night such as: winner trips going on stage, acceptance speech gets cut off by music, presenter mangles nominee's name, Sean Penn goes off on someone, etc. Here I am–one "winner praises other nominees" away from winning!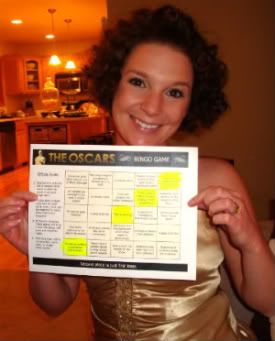 My favorite part of Oscar Bingo (other than winning) was my tag line on the bottom of the page: "Second place is just first loser." The game winners–both Jill (she won the Oscar Ballot and was the runner-up for Oscar Bingo–I didn't think the host should take a prize) went home with prizes of DVDs of previous Oscar winning movies. And other guests went home with grab bags of candy. All-in-all we had a ton of laughs, zero wardrobe malfunctions, and lots of fun cheering on our Oscar favorites (and maybe cheering for some Oscar winner trips).
Here are all my gorgeous glamour girls–ready for their close-ups! From left to right: Drew, Sara (aka Tappa), Jill, Kristen, Beth, and me.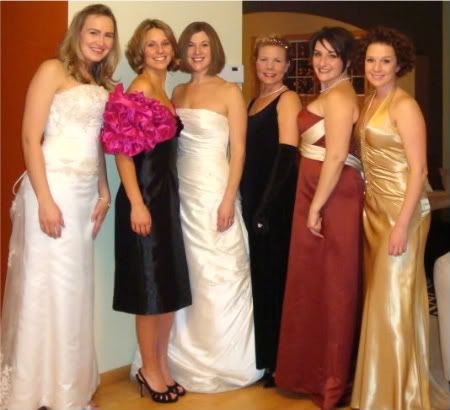 It was such a fun night–I'm already looking forward to next year!
Related Posts:
The 2009 Academy Awards
The 2009 SAG Awards
Countdown to the Academy Awards!