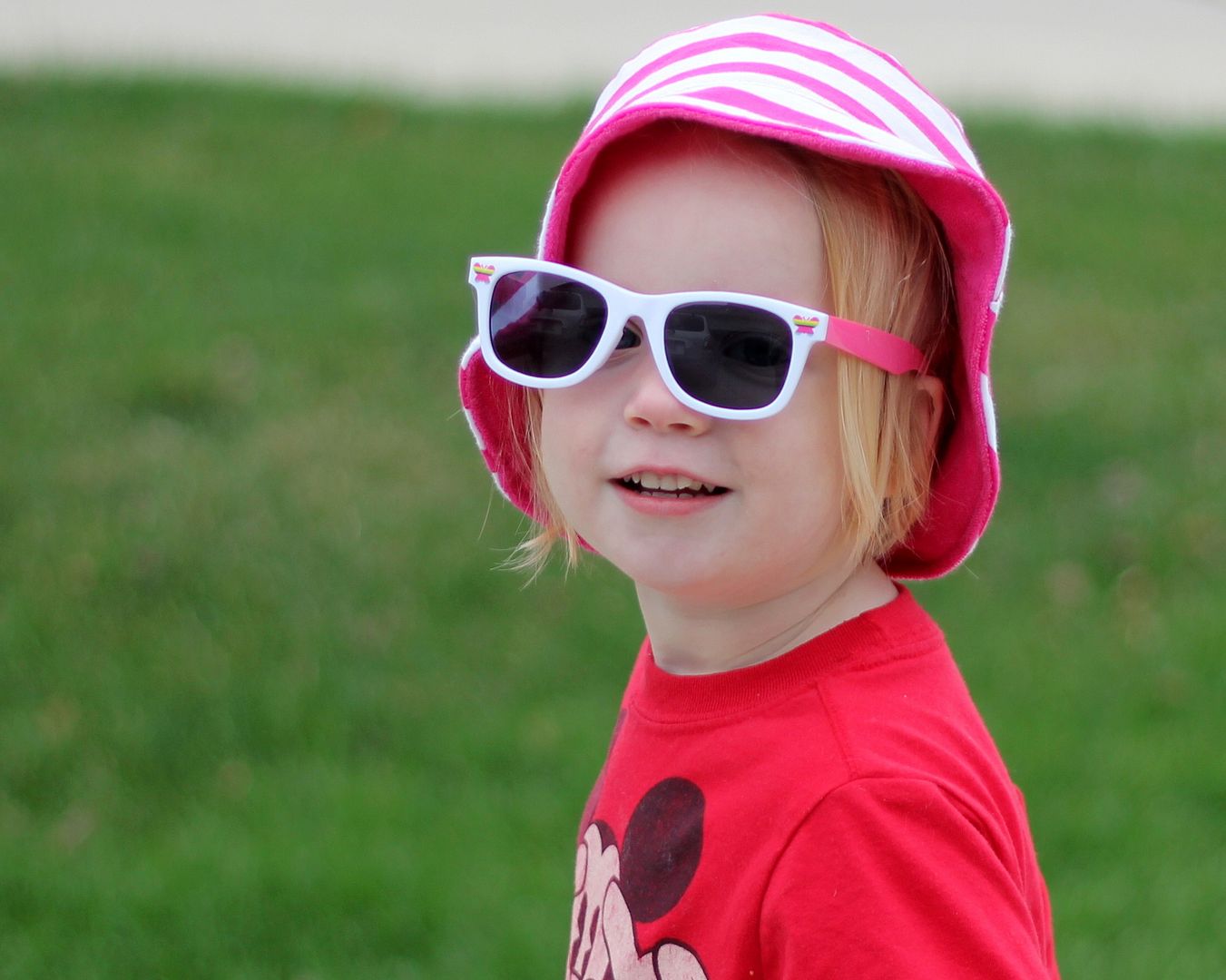 Kate: 26 Months
I've been feeling like a Mom Fail over how far behind I am with Kate's monthly posts (case in point – Kate turned 26 months old back in March!) but then my friend Crystal reminded me that most people with two-year-olds haven't even started their child's baby book yet, so frankly I'm ahead of the game.
I'm going with her theory.
Know what makes me feel like less of a Mom Fail? How often Kate tells me she loves me.
"I love you very much, Mommy."
Oh how it melts my heart!
She also asks, "How's your day?" when G or I get home from work, and "How was your workout?" when we get home from the gym. She's obviously picked up on how often G and I say these exact things to each other, and now she wants in on the conversation too!
She has turned into quite the little chatterbox and it is so much fun to hear her train of thought: "Look at Mommy's toes! Mommy's toes are red! I like them. I like Mommy's red toes. Look at Kate's toes. Kate's toes are little. I don't have any sockies on!"
Kate picks up on new concepts so quickly that she's already decided she's smarter than us, and she will correct us if she thinks we're wrong. For example, I asked her if she wanted "bow-tie pasta" for lunch, and she replied, "That's butterfly pasta."
She also likes to "quiz" me (like we've always done with her) when we read her books. We have a lift-the-flap farm book that she loves and just before she lifts the flap for the bees she quizzes…
Kate: "Bees make…?"
Me: "Honey."
Kate: "That's right!! Yay Mommy!"
As amazed as I am over how she turns the tables on us, I'm even more in awe of her imagination! One day she was tapping her comb along the table and she looked up at me and cheerfully exclaimed, "Look! My comb is tap dancing!"
Some big news at 26 months is that Kate's overprotective safety-conscious mom finally turned her convertible car seat to forward facing. Kate can now see out the front window when we drive, and I can finally stop getting teased by my friends!
Another first – Kate had her very first play date with a friend from daycare! Ever since Kate started at her current daycare (at 14 months old), she and this little girl Gwen (who is one day older than Kate) have been drawn to each other. The staff at daycare are always telling us how cute they are together, always playing and talking. Kate and Gwen were both talking at a much earlier age than their peers, and daycare staff think this may be why they've been best friends from the start – they could talk to each other!
Now all the kids in their class talk, but Kate and Gwen are still inseparable. We see Gwen's parents at pick-up and drop-off and we often chat about how well our girls get along and how much they talk about each other at home – and we finally made a play date happen! (Bonus: We discovered they only live a block away from us!) Gwen is the first child that Kate started to really play with (versus just parallel playing next to her), and as a parent it was so neat to witness this first-hand. They even held hands when we went to the park – something we've never seen Kate do with another child before! It was such a fun day for all of us (Gwen's parents came over too). We loved watching our girls interact!
In addition to her best friend Gwen, Kate also loves her new bike helmet (I posted a picture of it on my Facebook page) and the beanie baby seahorse she got along with it, watching the flowers coming up from the ground, and riding her bike around the neighborhood.  She's loved her riding toys up to this point, but toward the end of this month she's really taken to her bike and has now figured out how to pedal and steer!  You can check out a clip of her pedaling around our neighborhood HERE.
Another one of Kate's favorite activities is stopping by the flower section on our weekly trips to Target and Whole Foods.  She points out bouquets of flowers that catch her eye and I pull them out of the bin, hold them up to her nose and we take turns smelling and admiring them.  We do this little ritual every time we go to Target and Whole Foods now – it's such a treat!
I shared in Kate's 24 month post how she had learned almost all of her lowercase letters (and why we began referring to them as "baby" letters) and now she has all of her baby letters down.  Here she is spelling "fish" and "bus" with her favorite Melissa and Doug "baby letters" puzzle!
One of Kate's favorite books right now is The Ear Book by Al Perkins.  After about a week of reading this book to her she had it memorized and now insists on "reading" it back to us before she goes to bed.  Here's a video of her reading it to G – the text I added to the video is the text from the book so you can see how close she gets!
On the potty training front, Kate got her first pair of "big girl" undies this month, and she absolutely loves wearing them! We give her a choice to wear her undies or her diaper when we're home (she usually opts for her undies) but we still put a diaper on her for naps, bedtime, and when we leave the house. Our biggest success on the potty has been right when Kate wakes up. She goes poop and pee on the potty 90% of the time first thing in the morning after she wakes up. (The other 10% of the time she either sits on the potty and doesn't go, or she refuses to sit on the potty.) We continue to put her on the potty here and there throughout the day (or at least ask her if she needs to go) and that's always pretty hit or miss. She's had a few accidents while wearing her big girl undies, but she's learning!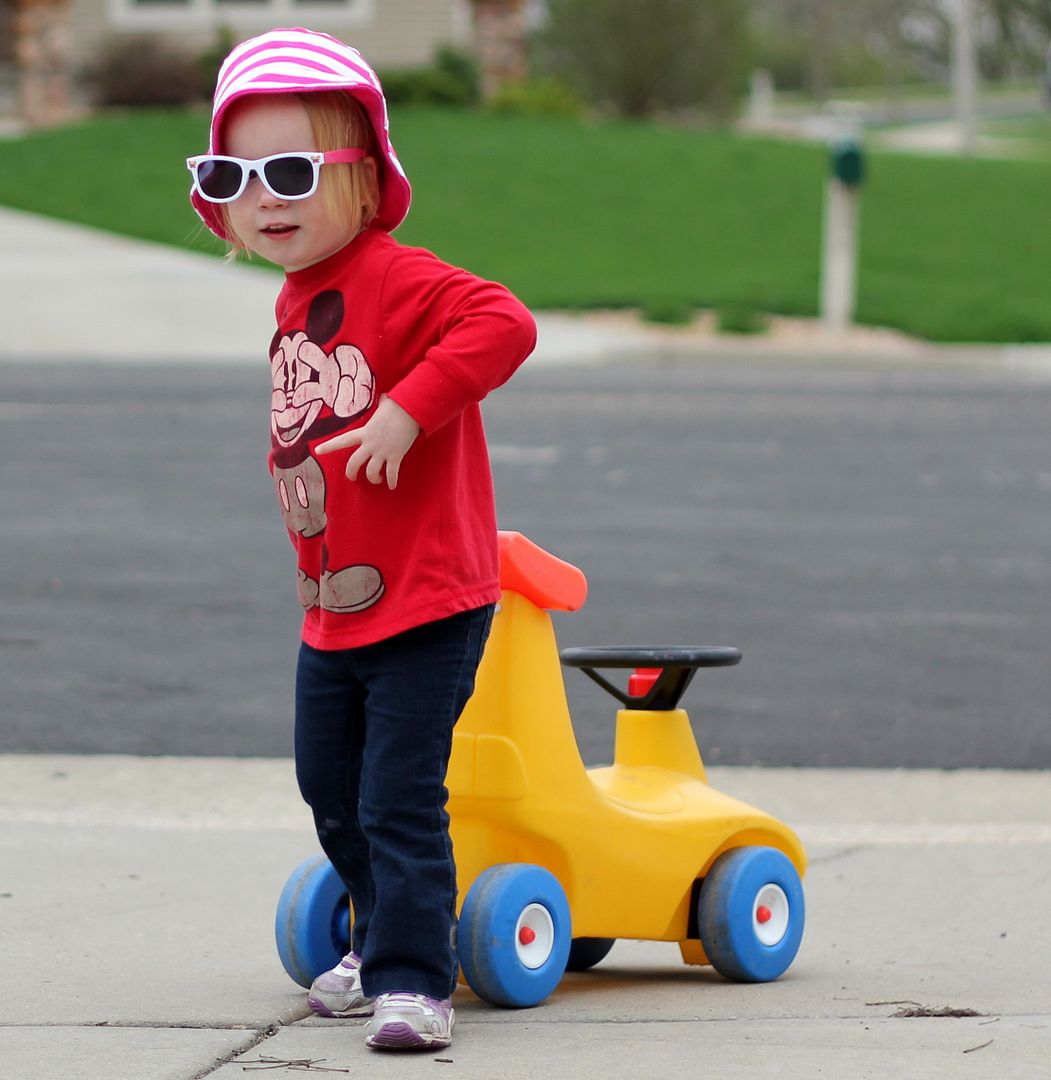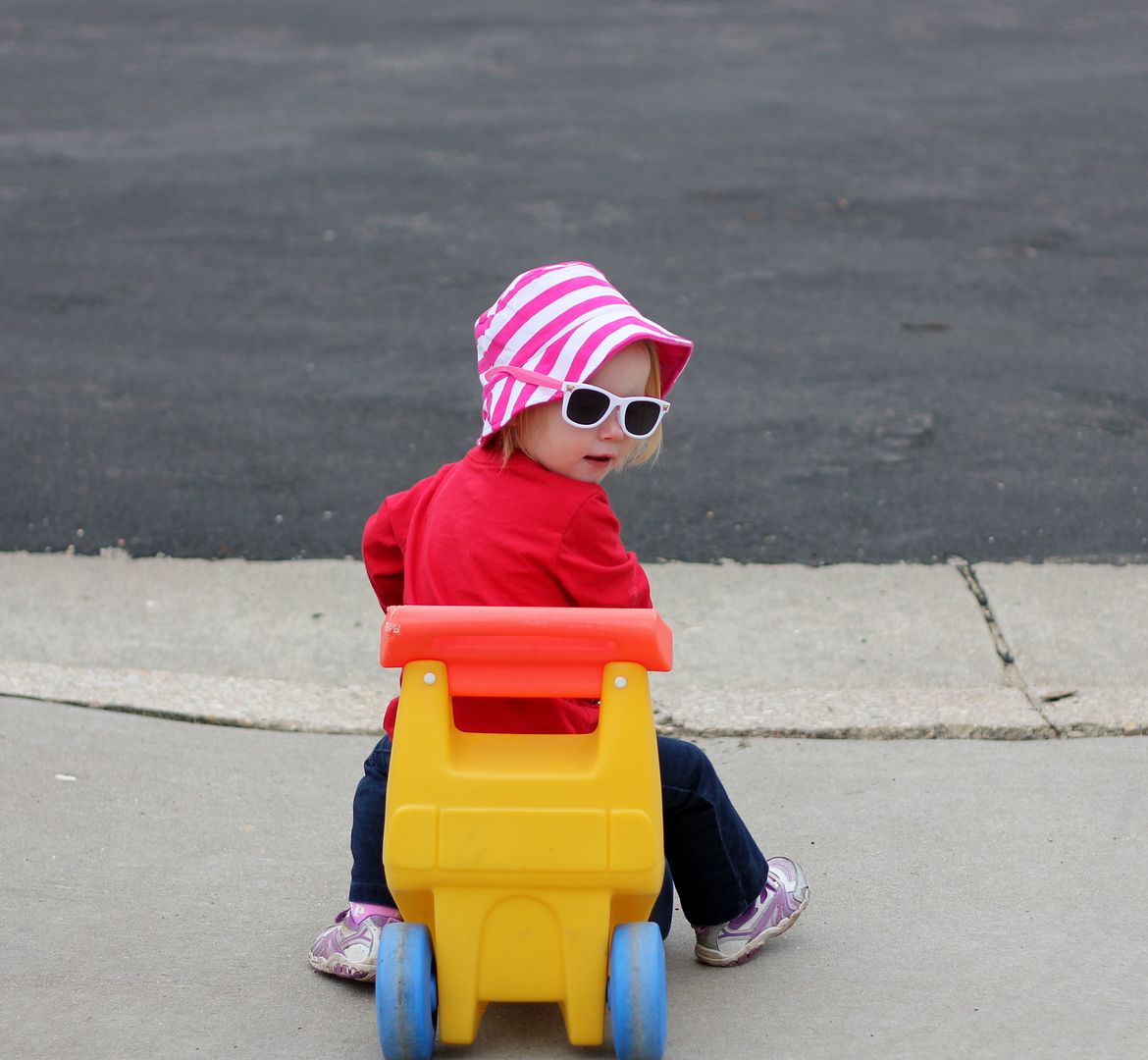 Additional Kate 26 Months Posts:
That's What She Said
Easter 2012
This post contains affiliate links.