Kate has totally been picking on the things we say and mimicking them back to us.  I swear I hear myself in her nearly every day:
"No problem, Mom.  No problem."
"Yeah, sure."
"That sounds like a great idea!"
And the kicker:  "Just a second, Mom.  My hands are busy."
Something else she says that always brings a smile to my face is "I'm are" instead of saying "I am."  (You can hear an example of it in the scissors video below: "I'm are teaching her how to cut.")  Kate usually has such good grammar, so I can't help but savor this innocent little misstep while it lasts.  It's an adorable reminder that she's still so young and has so much learning ahead of her.
Speaking of learning, Kate has been really interested in the sounds letters make and how they form words.  She will often ask me what a word starts with, and is also beginning to try and figure it out herself.  For example, she'll say, "Bath.  B-b-b-bath…  Does 'bath' start with B, Mom?"
Kate has such a great memory that it hasn't taken her long to learn the sounds of all the letters, and she's even beginning to understand sounds two letters make together (like, S + N makes the "sn" sound).  You can see an example of this (and her incredible memory!) in this video that I snagged of her reading, "Are You My Mother?" to her dolls and animals when I went in to get her after nap time.  To my surprise, Kate had this book almost entirely memorized after us reading it to her only a few times!
Kate might be nearly three years old, but she's not too young to still have some firsts!  This month marked her first canoe ride: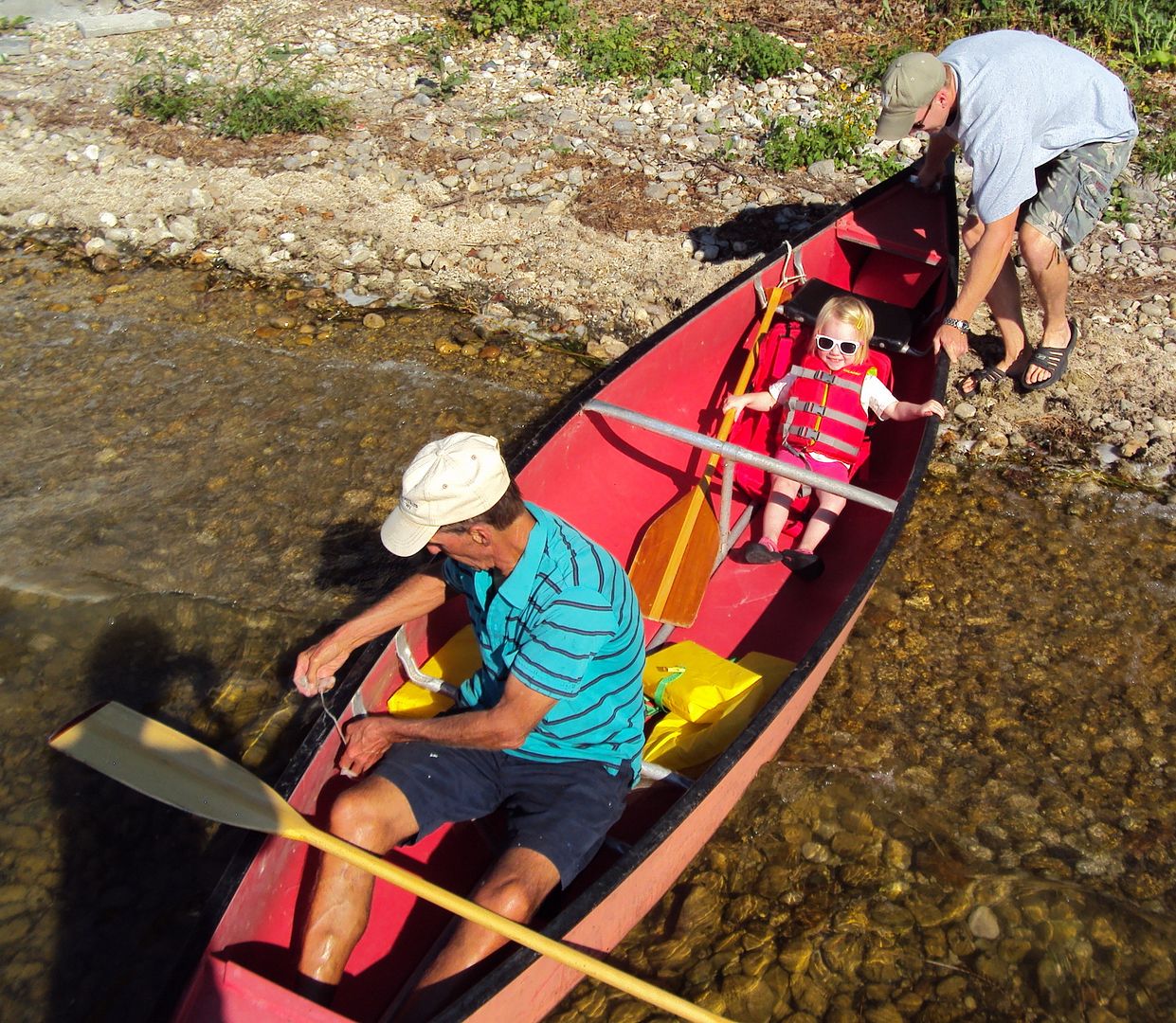 Kate's first canoe ride with Grandma Steve and Daddy.
Her first time on a horse: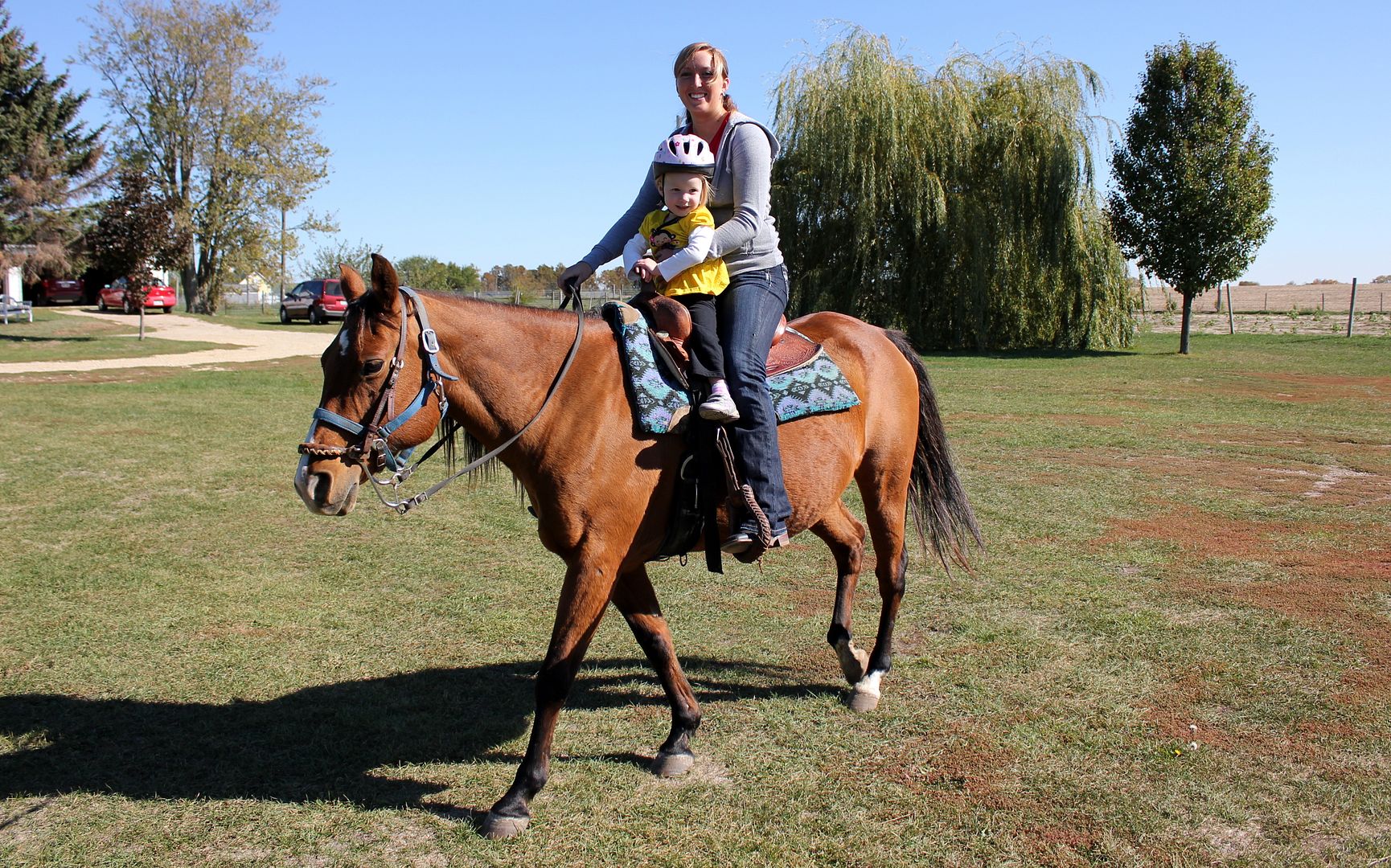 Kate's first horseback ride with Aunt Amanda.
Her first time driving a motor vehicle:
Who needs a permit?
Playing her first board game (the Super Why! ABC Letter Game):
And using scissors for the first time:
Even amongst all that excitement, my favorite development this month is how affectionate Kate is becoming!  She's always been super cuddly and loves to snuggle, but up until this point, Kate's idea of giving a formal hug has basically been her allowing you to hug her.  If you ask her for a hug and she doesn't bolt, it's a go.  If she leans in to get a little closer to you so you can hug her it's a damn good sign you're one of her favorite people.  We've always found this characteristic of hers to be incredibly endearing, but now that she's actually beginning to hug us back we all melt into puddles.  She's even initiating hugs!  She is starting to give kisses more regularly, too, which of course we are all just eating up!
How much time do we have before she realizes she can pretty much get anything out of us with just a simple hug and a kiss?
Additional Kate 32 Months Posts:
Things Loved in September
A Week in My Life: Monday
A Week in My Life: Tuesday
A Week in My Life: Wednesday
A Week in My Life: Thursday
A Week in My Life: Friday
A Week in My Life: Saturday 
A Week in My Life: Sunday
Non-Scary Halloween Decorations