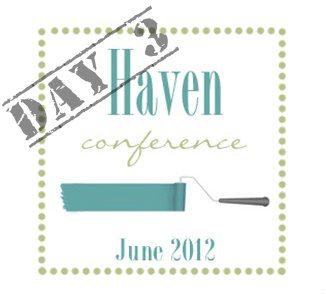 Haven is like Las Vegas.
Time ceases to exist when you're there.
I was originally thinking I got about 4 hours of sleep the night before the last day of the Haven Conference, but after reading my friend Beth's recap I realized that we didn't get back to the hotel room until nearly 3:00am.
I woke up at 5:00am.
This means – at best – I only got two hours of sleep that night!
Luckily there's this little thing I like to call "a Haven high" and it means that as long as you're in brightly florescent lit rooms full of  inspiring, and uber-chatty women, you simply don't need sleep.  You just sip your latte (compliments of Haven's Home Depot cafe), force your eyelids to stay open, and remind yourself not to ask embarrassing questions like, "Should I use oil or water-based paint on my pool noodle?"
My first session on this day was "Beginning Paint & Stain" presented by my lovely friend Kate from Centsational Girl, my newest girl crush Chris from Just a Girl, and Bruce from Minwax.  I was a little late to the class because my brain wasn't functioning right and I was registering the time as my local time instead of Atlanta time, which is one hour ahead.  (Two hours of sleep will do that to a girl.)  I walked in as Bruce was demonstrating the importance of brushing conditioner on wood prior to staining.  I have to admit this is a step I would've never bothered with had I not seen the difference it makes first-hand!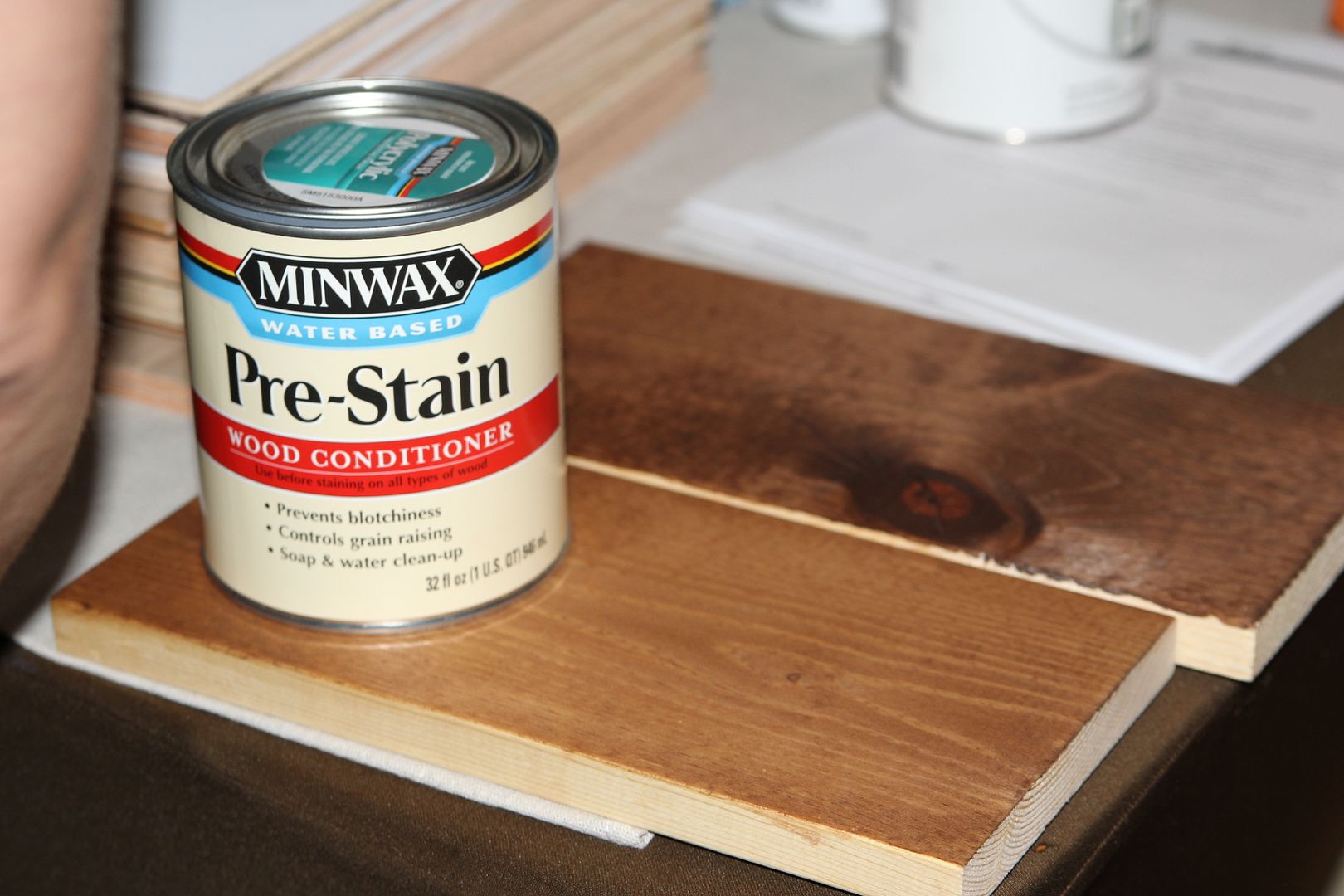 Minwax Pre-Stain Wood Conditioner.
Photo above courtesy of Beth Bryan.
In the picture above, the front board is pre-treated with wood conditioner prior to staining and the back board is not.  Seem how nice and uniform the front board looks, and how uneven and splotchy the back board looks?  I couldn't believe the difference!  I'm sold on this wood conditioner stuff and will definitely be using it on my next staining project.
In addition to the benefits of wood conditioner, I also learned about the benefits of water-based paints and stains versus oil-based, the best kinds of brushes to use, all about primer and paint conditioners, protective finishes, and waxes.  For someone who's been painting for nearly half her life, I have to admit I didn't think I'd get a whole lot out of this "beginners" class, but boy was I wrong!  I left with two pages of notes and a much better understanding of how to tackle future projects to get the best results.  Kate, Chris, and Bruce put on an excellent class!
After class I enjoyed a delicious lunch with my friend Beth (Unskinny Boppy) and met Erin from DIY on the Cheap, and LeAnn from This Southern Girl – two very friendly ladies!
After lunch I walked around to check out vendor booths and was impressed by so many great products and people!  I met Nathan from Fish Window Cleaning, watched the boys from Kreg show me how to use my new Kreg Jig they tossed in our swag bag, chatted with Chelsea and her team from Oreck, swooned over Lisa and Amy's MirrorMate Frames presentation, said hello to Gillian from Homes.com, watched a demonstration on what makes Frog Tape so great (it's their Paint Block Technology – very cool!), talked about DIY safety precautions with 3M TEKK Protection (and received some awesome safety goggles that look more like sunglasses than goggles!), spun the Annie Sloan prize wheel to try and win some chalk paint (no luck), drooled over the rugs and hardwood floor samples from HGTV Home & Shaw Floors, said hello to the Home Depot girls, and learned about what makes PureBond plywood so fantastic.  There were so many great Haven vendors and so many wonderful products that my Haven tote bag was almost as full as my brain was with DIY ideas!
My first session of the afternoon was "Advanced Painting" presented by Marian from Miss Mustard Seed, and Shaunna from Perfectly Imperfect.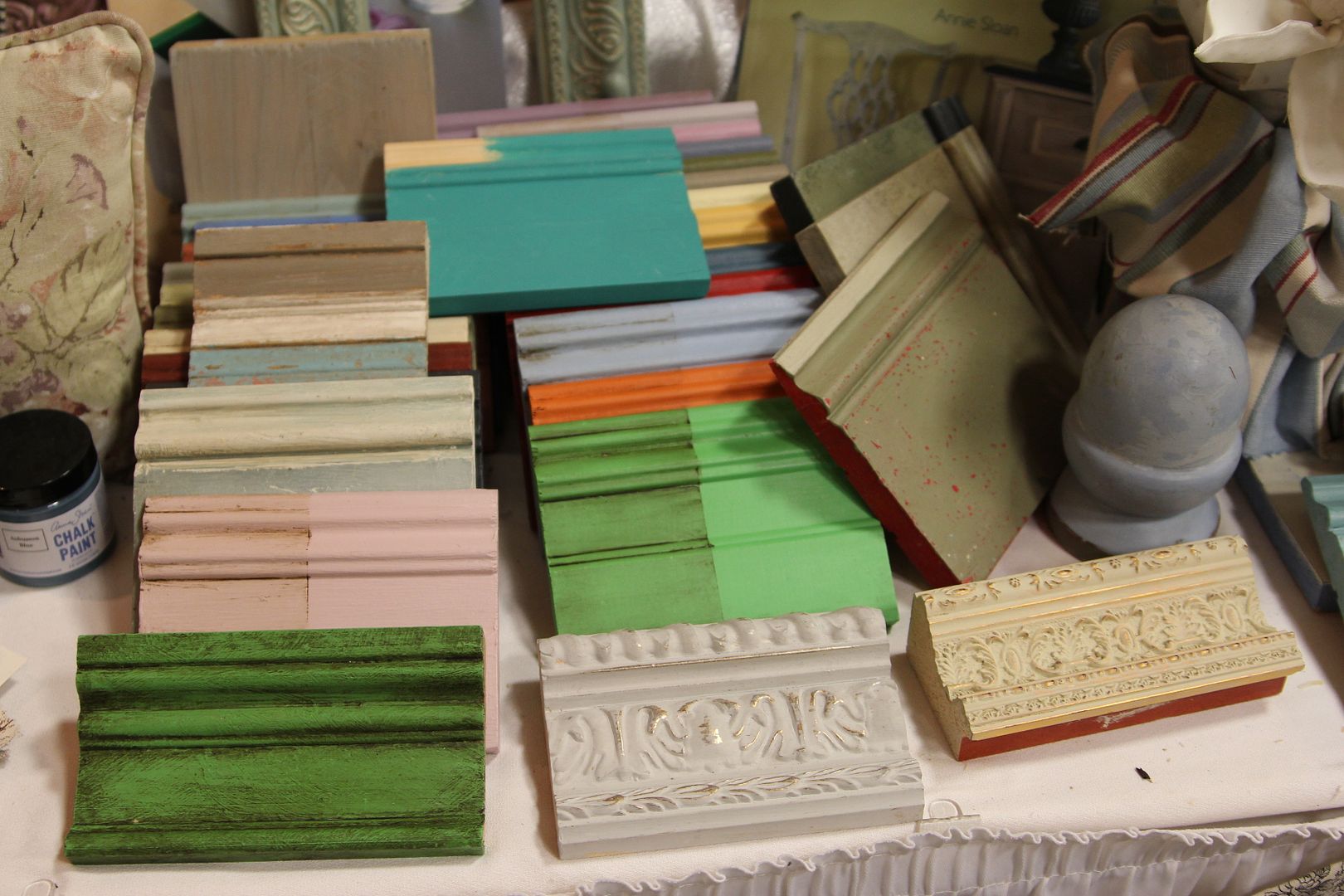 Advanced Painting – Haven Conference 2012
Photo above courtesy of Beth Bryan.
I thought I may have learned all I could about painting from my morning session with Kate, Chris, and Bruce, but these girls had plenty more to share! I got the low-down on paint sprayers, sandpaper, chalk paint, and milk paint – which I've actually used before on the secretary desk I finished for our entryway.  I think my favorite part of this session was admiring all of their gorgeous before and after pictures of furniture they've painted.  What a skill!
My last session of Haven 2012 was "All About Advertising" presented by Beckie from Infarrantly Creative, Julia from Hooked on Houses, and Sarah from Thrifty Decor Chick.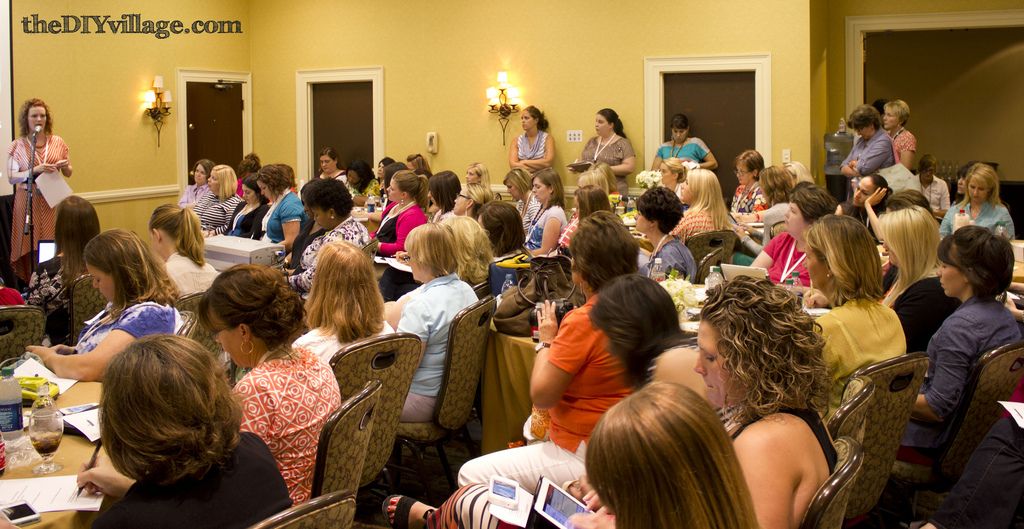 All About Advertising – Haven Conference 2012
Photo above courtesy of TheDIYVillage.
I walked away from this session realizing two things:
1.  My head was about to explode from the onslaught of unbelievably brilliant advertising knowledge it had just received.
2.  I have a major girl crush on Beckie. (Smart girls do it for me.  What can I say?)
I took over four pages of notes and I'm still not even sure I understand it all, but it was such a fantastic presentation, jam-packed with so much helpful information.  I can't even get into it all on my blog, but if you're interested I highly recommend you follow Beckie's blog and keep an eye out for(/pressure her to do) an upcoming webinar on everything that is her brilliance with all things advertising.
Haven 2012 wrapped up with a Q&A session with the Haven Team – the women who have been working so hard over the past year and who did such a phenomenal job of pulling this fun-filled, informative, and welcoming conference together.  And here they are!
Following the Q&A, we all made mad dashes to get last minute photos with all of our favorite people.  Here are mine with the two ladies I embarrassingly admit I was unfamiliar with before coming to Haven…and now I stalk.  That's right – my two girl crushes of Haven 2012: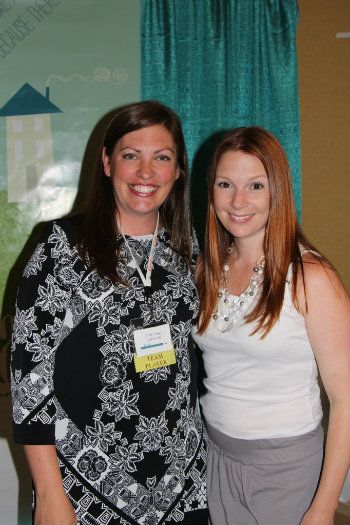 Me and Chris from Just a Girl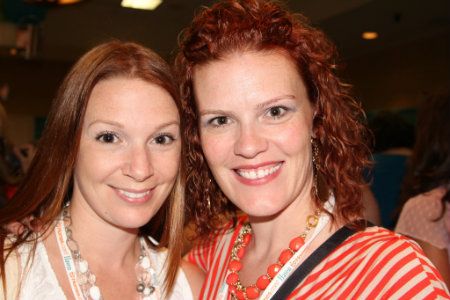 Me and Beckie from Infarrantly Creative.  (We kind of look alike, right?  Tell me you see it too

and I'm not just taking my girl crush to crazy girl level

.)
It was our running joke of the weekend that Beth and I could not for the life of us manage to get a good picture of just the two of us together.  Here is our last attempt: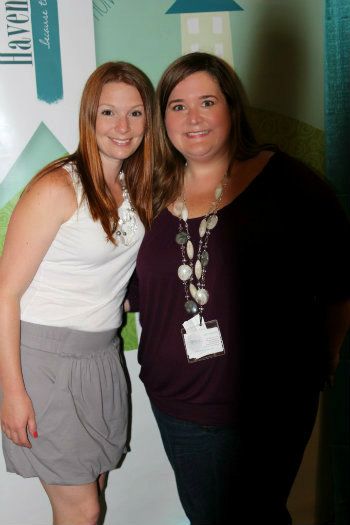 Photo Fail
WTF is up with that random dark shadow along the right side?!
After this we gave up.  We were also both hungry and exhausted, so we decide to have a low-key evening and just grab dinner at the hotel, and – who knows? – maybe even make it bed before tomorrow.
Famous last words.
We end up partying the night away in the hotel bar – seeing many of our same friends from last night:  KariAnne from Thistlewood Farm,  Anna from Ask Anna, Heather from At the Picket Fence – plus a few newer faces to our party, including Amanda from Serenity Now (who joined us when she Tweeted, "Anyone still at the hotel?" and I responded, "At the bar downstairs – come on down, girl!"), Deneen from Dreaming in Color, Karah from The Space Between (I'm crashing her house in Aruba at some point to sleep in that fabulous rooftop bedroom of hers!), and the hilarious Kerry of HouseTalkN.
Me and Deneen from Dreaming in Color – love her!
One highlight of this evening – in addition to nonstop laughs! – was being a part of Kari's first time saying, "I'd like to buy a round of drinks…ON ME!"  Oh it was the cutest, funniest thing and I so wish we had caught it on video.  I am absolutely smitten with this girl!  (So much so that the night before I showed her both my Beyonce and Carmen Electra dance impressions – that doesn't happen for just anybody, people).
Here are Beth, myself, and Kari trying to take a group photo – we can't even stop laughing long enough to pose – that's when you know you're having a good time!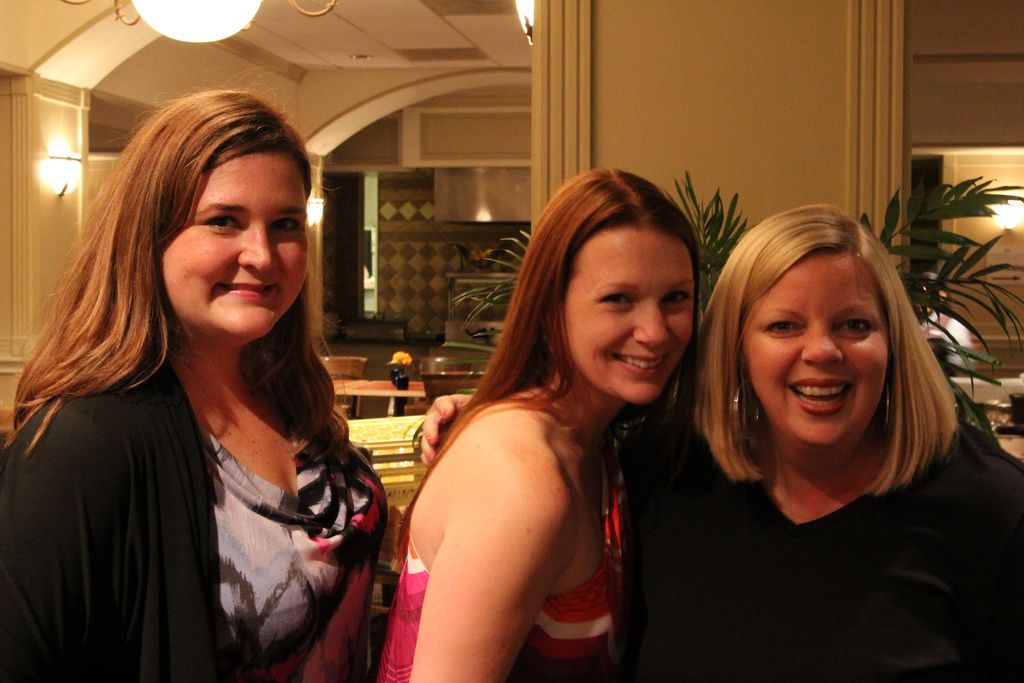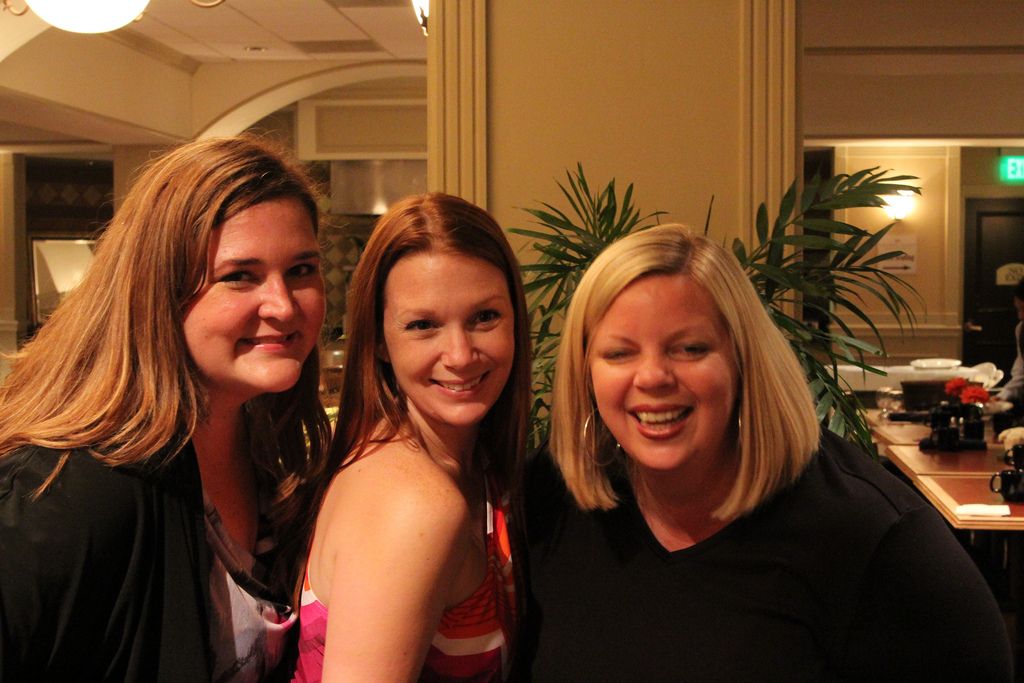 My other highlight of the night was talking to Heather from At the Picket Fence about her experience blogging.  Heather is such a talented blogger, and a wealth of information, and I learned so much from our conversation – it was practically a bonus Haven session!
Once again, Beth and I not only closed the place down, but we followed it up with another night of staying up way too late while we packed and talked.  I think we maybe squeezed in 3 hours of sleep before having to wake up and head to the airport on Saturday morning, but oh my goodness it was worth it.  I said it at the start of my Haven: Day 1 overview and I think by now you'll agree:
I honestly made the most out of every second of Haven 2012.
Thank you for following along with me!
Related Posts:
The Haven Conference: Day 1
The Haven Conference: Day 2
Things Loved in June