Kate has been asking how many day there are until Christmas since about June, so I thought it'd be fun to make a little Christmas countdown chalkboard ornament!
To make, I used this small wooden hanging frame, chalkboard craft paint, plaid washi tape, a white craft marker, ribbon and chalk.  (All materials pictured below are from Michaels.)
Tape around the center square with painter's tape and use a foam brush to paint the inside of the square with chalkboard paint. I used three coats of chalkboard paint, waiting one hour between each coat, and allowing the paint to cure 24 hours before writing on it.
As I shared last week, I'm mad about plaid, so I covered the chalkboard ornament frame in plaid washi tape to give it a little Christmas color. I then used this chalkboard lettering tutorial to add the chalkboard lettering.
I used a white oil based paint pen (seen in the picture above) to letter the "days until Christmas" text so it would look like chalk pen, but be permanent and never smudge.  I then used a standard piece of chalk to letter on the "39" which can easily be wiped off and changed each day as we get closer to Christmas!
Here are the rest of our handmade ornaments for Day 5 of our 12 Days of Handmade Christmas Ornaments – click around and enjoy!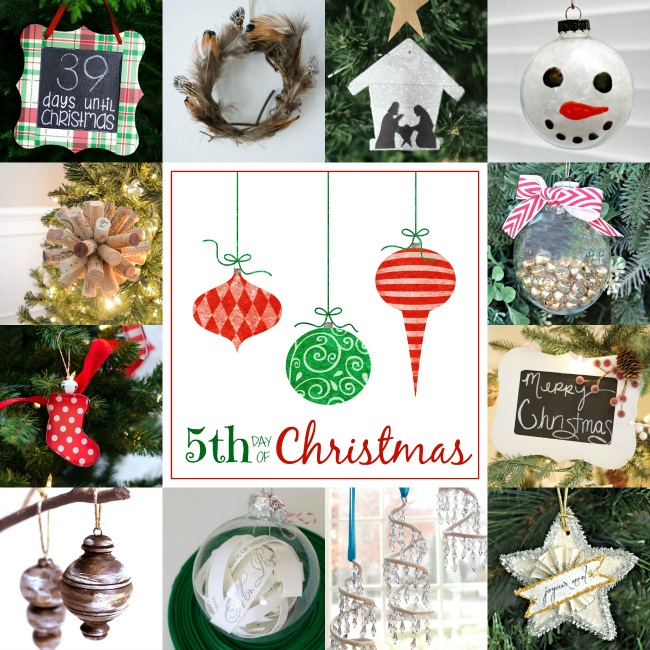 "Days Until Christmas" Chalkboard Ornament | All Things G&D
Feather Wreath Ornament | Bigger Than The Three Of Us
Nativity Silhouette Ornament | Lovely Etc.
Snowman Glass Ornament | Mom 4 Real
Cork Ball Ornament | Whats Ur Home Story
Easy Bell Filled Ornament | The Happier Homemaker
Cookie Cutter Ornaments | It All Started With Paint
Chalkboard Holiday Sign | Thrifty and Chic
A great big THANK YOU to Linda from It All Started with Paint for organizing this DIY ornament series and to Michaels for providing a gift card to cover the cost of some of the products.