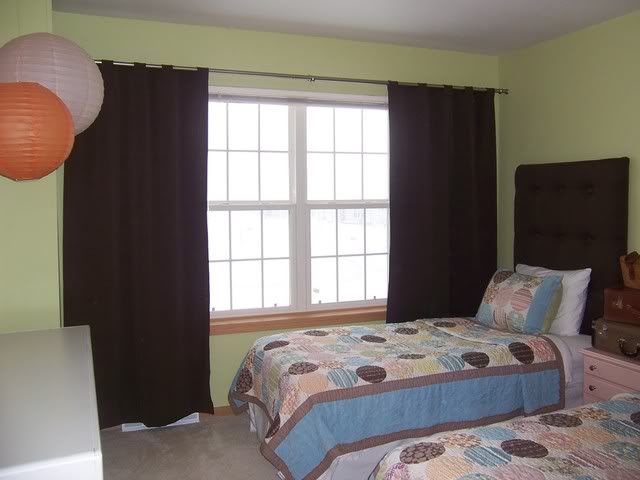 The basics of the Circle Room (one of our guest bedrooms) is completed, it's just down to the details at this point. And since we've already learned that I suck at accessorizing, it might be awhile before this room is actually finished. But let's go back to the beginning–here's what we had to start with:
Since we were going from a 3 bedroom 1,800 square foot home, to a 4+ bedroom, 3,000 square foot home, we were far from having enough furniture to fill the place. So my fabulous in-laws gave us these 2 twin beds and bedding to get us started. The antique green chair you see in the first pic was actually my childhood highchair. I love it so much.  (Update:  I refinished my childhood high chair and it now lives in Kate's nursery.)
Then one day while tooling through Bed Bath & Beyond I spotted these adorable quilts. I loved their mix of traditional (the quilting) and contemporary (the circle pattern) so I had to snatch them up. They became my starting off point for this space and the start of it being called "the circle room."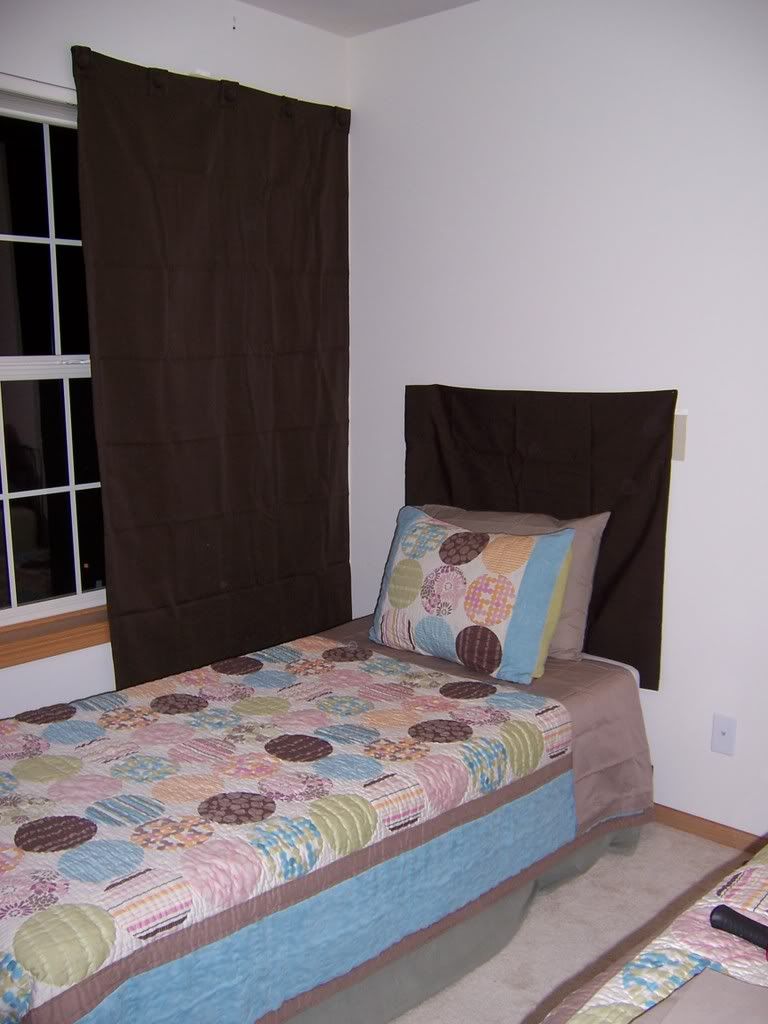 I decided I wanted to do the room in browns–shocker, right? But in my defense I have to say–at this time our entire downstairs was green. Green living room, green dining room, and green entryway. And I hadn't even started on the bedrooms yet. So I had yet to enter the brown phase I'm currently in.
I found these brown curtain panels at Linens & Things and tacked them to the wall to see how they'd look. I loved them so much I quickly decided I wanted to make matching upholstered headboards out of them as well, so I tacked them up behind the bed to get an idea of the full effect. I was originally planning to paint the room a light cappuccino color to match the brown border in the quilt (see the paint swatch taped by the faux headboard?).
Next, I found some paper lanterns online and couldn't resist bringing a pop of orange and pink (and more circles) into the room.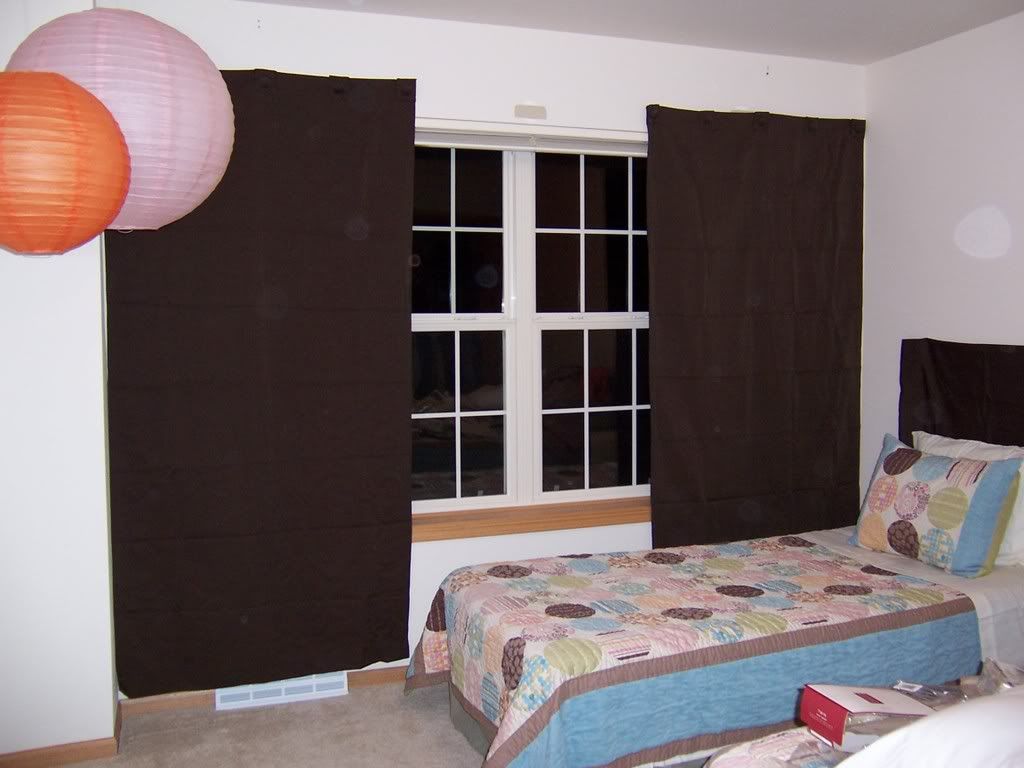 So I hung the curtains and got to work on making the tufted, upholstered headboards. I really love how they turned out.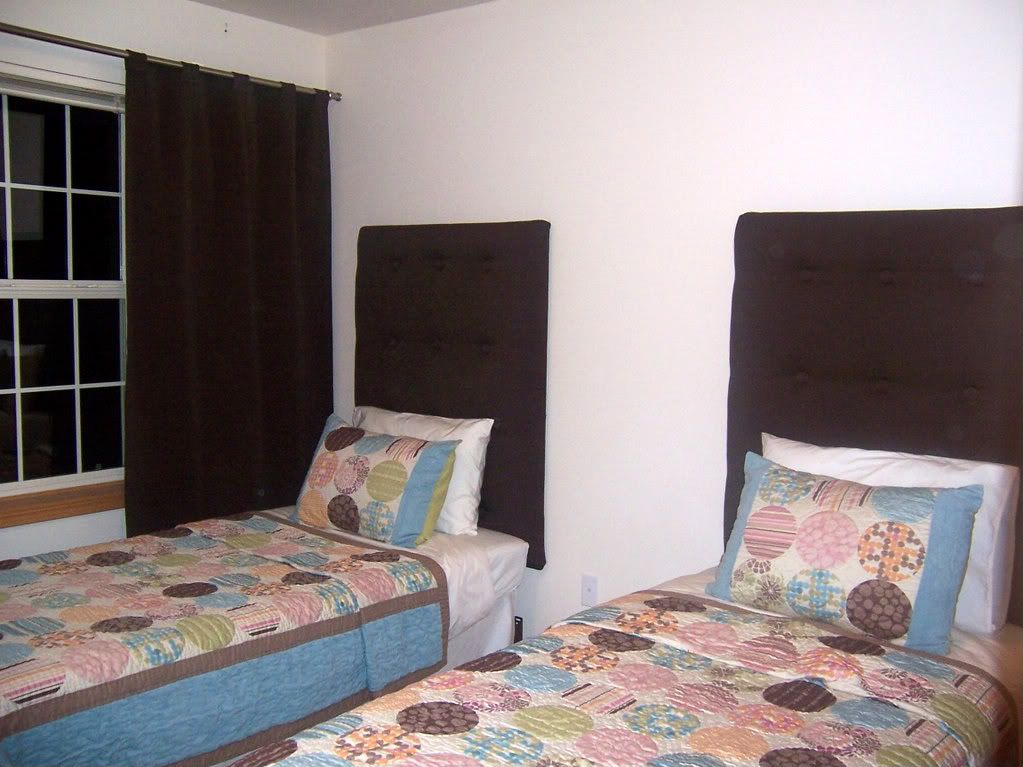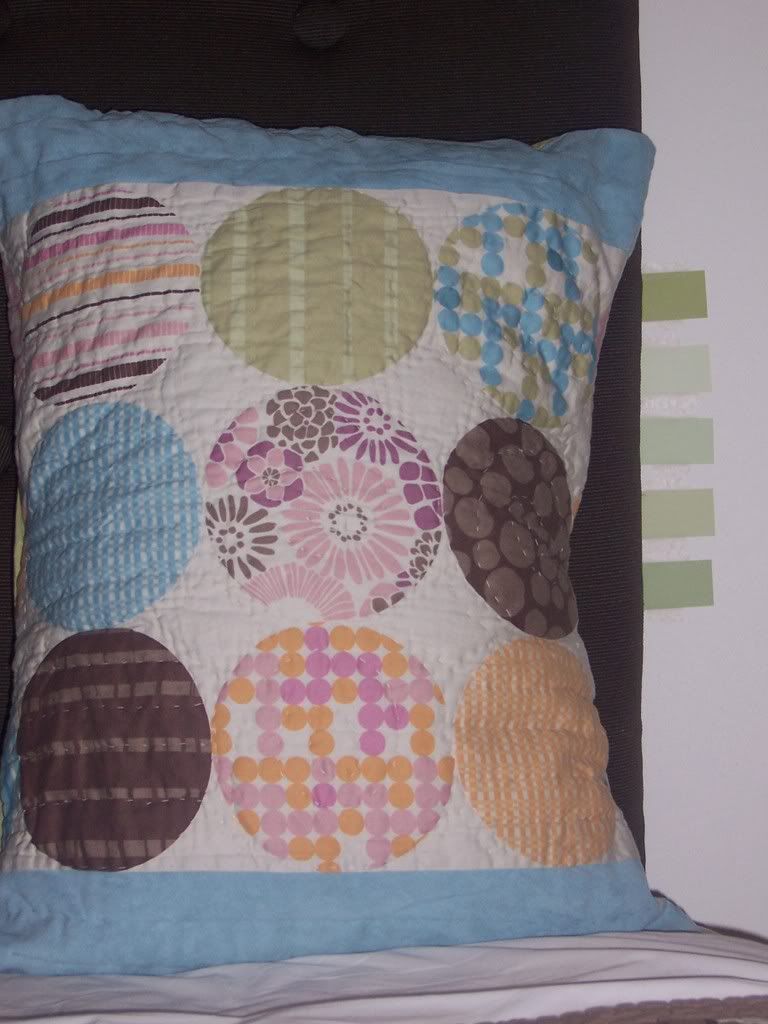 It was right around this time I started thinking I'd like to see something more colorful on the wall than light brown. I tossed around the idea of doing pink on the walls, but G vetoed that in a heartbeat. And then I thought orange, but by now I was already harboring a deep desire to repaint my entryway orange so I nixed that idea. The only color that stuck? Green. (When I go through a green phase, I don't mess around.) I chose Ground Ginger by Behr–which looked a heck of a lot more green (not to mention darker) when it was taped to a white wall. It's the color swatch second from the bottom in this pic to the right.
So here was the first draft of the room, painted Behr's Ground Ginger. And I still managed to sneak a little bit of pink in there. This small chest was another hand-me-down from the in-laws. My mother-in-law had already painted it pink, so I decided to keep it that way and just switched out the knobs.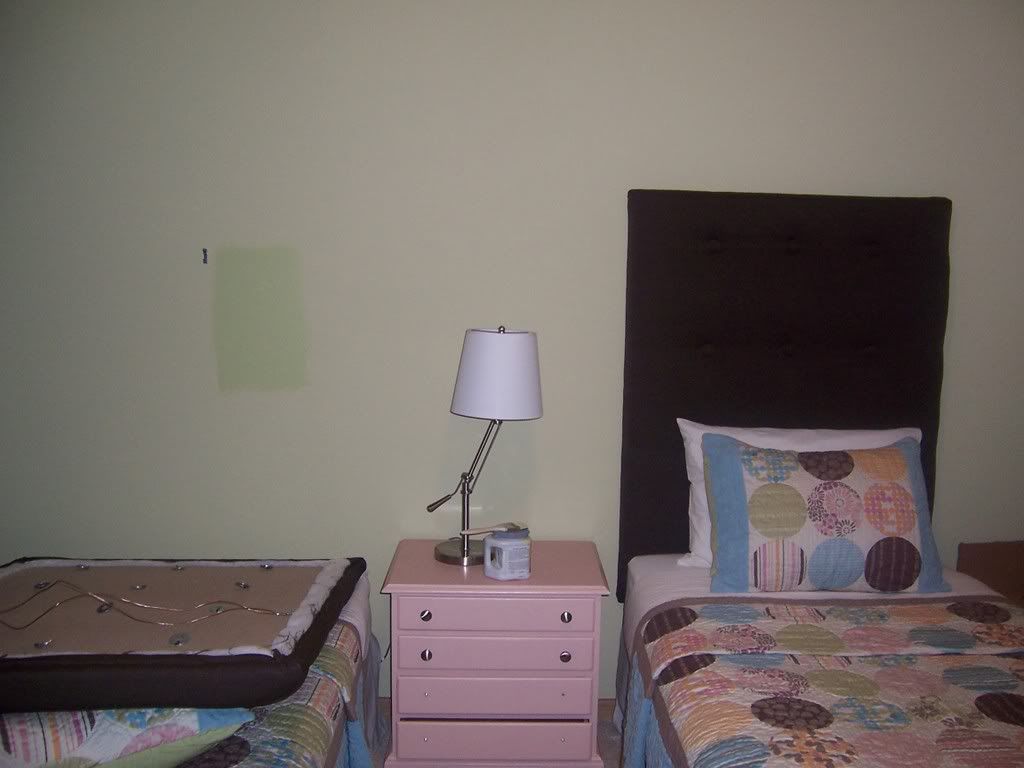 But in true averaging 2 paint jobs per room fashion, I decided I just couldn't live with this green. It just wasn't green enough. So armed with my wine and my roller, I pulled an all-nighter and greened it up a bit more. This time I chose Hearts Of Palm by Sherwin Williams, and did a little test spot to make sure I liked it.
I also played around with the idea of adding circles to the lamp shade. In the end I went with a row of circles along the bottom (4th pic–which also shows the new paint color), but this lamp is no longer in this space. It just wasn't working for me. So now it sits on my office desk at work and looks adorable!
The new & improved Circle Room–painted Sherwin William's Hearts of Palm.
I later added this desk, which was a charming garage sale find.
But G wasn't feeling the desk, and it wasn't serving much purpose other than decorative. So we replaced it with this dresser, which was originally golden oak, but G stripped it down and painted it an off-white color. We still need to add knobs and pulls–not to mention accessories (grr!) but I think it looks nice in this spot. And the extra storage is great.
The Circle Room Today: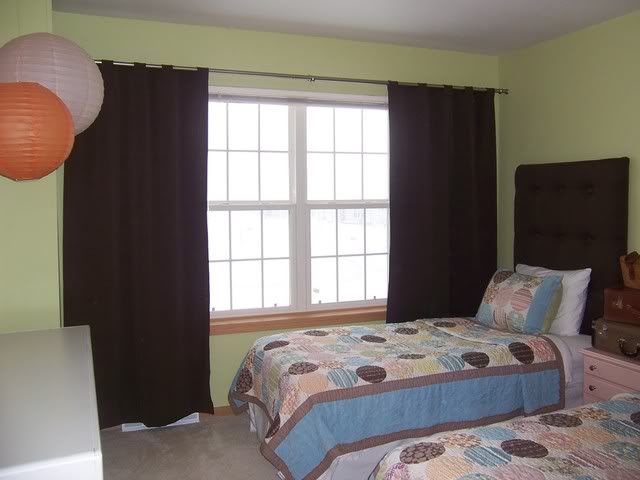 Related Posts:
DIY Tufted Upholstered Headboard
The Night the Circle Room Took One for the Team
Parade of Homes–Indoor Basketball Court