I went to Starbucks this morning, but decided not to get my weekly Pumpkin Spice Latte–for a few reasons:
I forgot to print out my friend Beth's detailed instructions on how to order the perfect Starbucks Pumpkin Spice Latte.
My pumpkin craving is currently (albeit temporarily) satiated after indulging in some delicious pumpkin beer over the weekend.
Sometimes I like to mix things up to keep The Man (i.e. Starbucks) guessing.
I have a sore throat.
What's #4 got to do with the price of tea in China? Well I'll tell you. I started coming down with a sore throat late last week. By Saturday morning my voice was virtually nonexistent. It's now Monday and I still sound worse than the Crypt Keeper. What little sound I can push out from my vocal chords is very scratchy, and wispy, and deep, and scary. People who have smoked Marlboro Reds for 60 years sound better than I do right now. I'm terrifying small children everywhere I go–which is the only perk.
In hopes of returning my voice back to normal I've been gargling salt water like a fish, chugging sore throat medicine, sucking on throat lozenges, and drinking tea. I'm not sure if that last one (or any of them, honestly) really works, but it can't hurt, right?
Well this morning at Starbucks I decided a little chai might be good for my chi, which is clearly unbalanced at this point. So I ordered it–or more accurately, I wheezed it with my scratchy scrapey voice:
"I'd like a Chai Tea Latte, small, skinny."
"Hot."
"…Chai Latte"
"…Skinny."
I have no clue which order all the words are supposed to be in so I figure if I get them in there at the beginning and the end I'm covered.
And does ordering something "skinny" magically transcend your beverage and somehow enter your being making YOU–in fact–skinny? Yes. I do believe it does. But maybe that's my getting healthier with each sip chai-infused chi talking.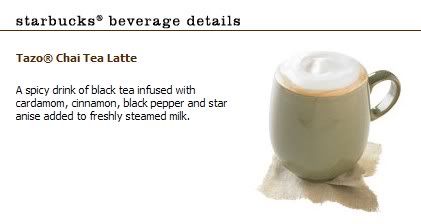 Related Posts:
The Last Starbucks Virgin?
Weekly Starbucks Adventure–Take 2
Wine Cures All, Right?