Even before Kate was born G told me he didn't want to have a party for her first birthday–his argument being that she'd never remember it anyway.
"But we'll remember it!" I pleaded.
"She'll see the pictures someday!" I added.
"The 1st birthday party is really a celebration of us making it through the first year of parenting," I tried reasoning.
Nothing I said helped so I backed off thinking, Once she's here he'll totally change his mind.
He didn't.
I brought the topic up again when Kate was about six months old, and again he said he didn't want to make a fuss out of her first birthday.  I tried all my powers of persuasion but the man didn't budge.  "Fine," I finally huffed. "But I'm still going to make her a cake and put up birthday decorations–even if it is only going to be a party of three!"
When G makes up his mind there's no changing it, so I didn't bring it up again.
One afternoon in November, when Kate was almost eleven months old and finally nearing the end of her Horrible Awful Recovery from her cleft palate repair, G turned to me and said, "I've changed my mind about Kate's first birthday.  I think we should have a party.  After everything she's been through she deserves a party.  We all deserve a party.  Kate is such a strong, loving, and incredible little girl, and her life is a precious gift that should be celebrated!  What better way than on her very first birthday?!  P.S.  You're the most amazing mom ever.  Let's have ten more babies."
Okay, fine, he didn't really say that.    But I'm pretty sure he was thinking it.  What he actually said was this:  "I've changed my mind about Kate's first birthday.  I think we should have a party."  And then he futilely added:
"Just don't go overboard."
HA!  Famous last words.
Welcome to the party!
Kate's first birthday was on a Sunday so we had the party on her actual birthday.  I made a video slideshow of photos from Kate's first year to play at the party, and wanted to add a birthday picture at the end so we had a little photo shoot that morning.
The birthday girl!
I made Kate's polka-dot highchair cover out of a pillowcase, and used the matching sheet as a tablecloth for the kitchen table.
Large tissue paper poms hung over the kitchen island:
This "K" was a last-minute addition that I decoupaged with leftover scraps of paper:
Kate's monthly onesies on display:
I made cupcakes for the guests…
…and a matching smash cake for Kate:
We decided to make Kate's party one huge "playdate" for her (and we had a ton of kids there!) so I wanted the food to be geared more toward kids, but with things parents would like as well. I made mini pigs in a blanket, homemade macaroni and cheese, apple crisp, a veggie tray, and fruit salad.
A big hit was this "kiddie" snack tray filled with baby puffs, animal crackers, Goldfish crackers, and bunny-shaped graham crackers:
We had juice boxes and water for the kids…
…and wine and champagne cocktails for the adults:
Kate, enjoying a snack:
A couple of very proud parents (and one squirmy little girl)!
Kate & Mama:
Kate loved her birthday cake!
It meant a lot to me to make as much as I could for Kate's first birthday party and I did it all in just one week–including taking down all of our Christmas decorations first!  I was so excited to give Kate a personalized party, and it was gladly worth all the time and effort.  The day was truly everything I hoped it would be–a fun and festive celebration of Kate's first year!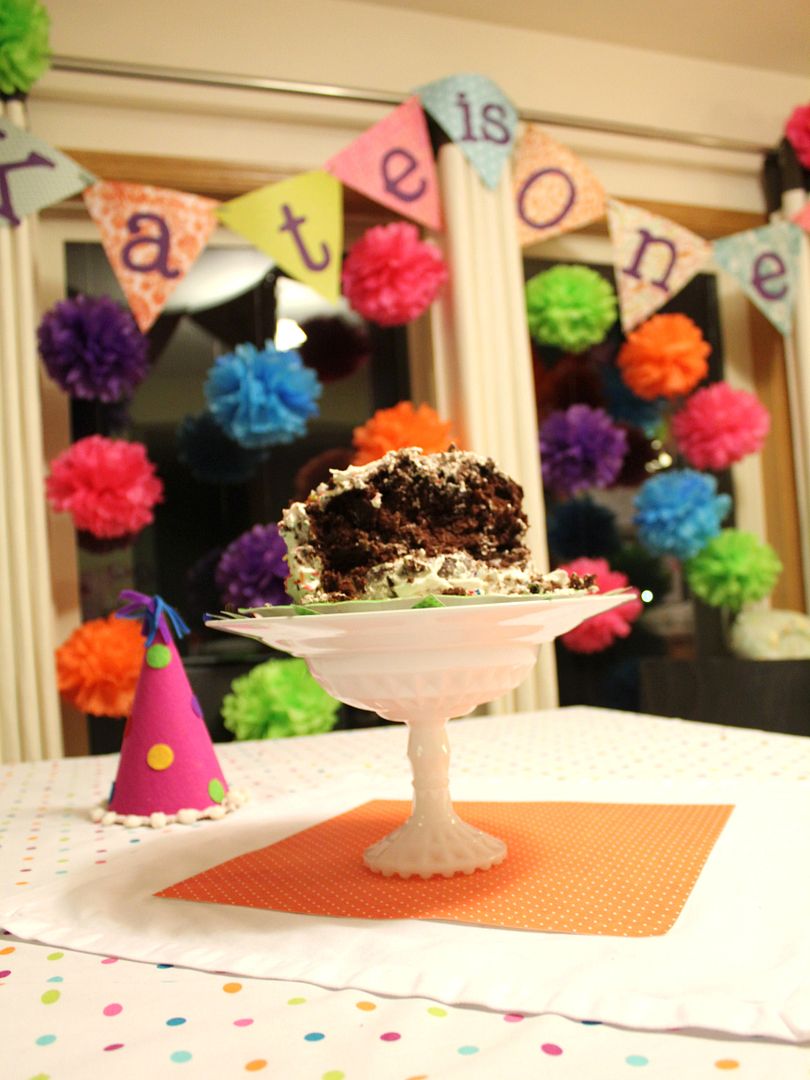 Party's over.  Bedtime for this tired Mama!
Check out Kate's Room Revisited to see how I reused decorations from her birthday party in her bedroom!