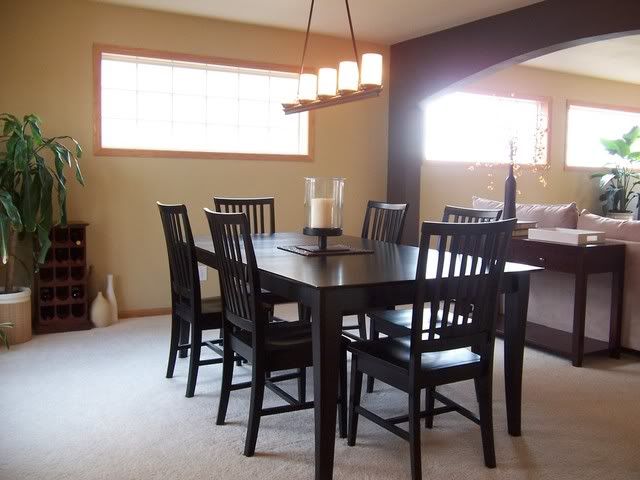 I once went two weeks without talking to G because I was mad at him for scratching our dining room table.
EAT
Here's the thing you need to know about our dining room table:  it is, without question, my most prized possession in our home.
When we first bought this house and I decided to make the front half of our great room a formal dining room, I had a vision–a vision that started with the perfect table.
My envisioned dining room table was made of solid wood, had a rich black finish, clean lines, and the ability to stretch to the far ends of the room and seat everyone in my family both now and for generations to come. I spent months searching for this perfect table and disappointed many furniture sales people when I refused to compromise with a table whose lines, finish, or size just weren't quite right.
I had a vision.
I was bound and determined to have the table of my dreams and had convinced myself that our house would not be a home without it.  Eventually, I reluctantly realized that my dream table did not yet exist.
So I had it made.
Finally my perfectly pictured and long sought after table became a reality and took its proper place in our home.
My vision had begun.
My vision that started with the perfect dining room table continued with decades of home-cooked family meals, and ended with this table being passed down to my children and their children and their children–a family heirloom around which countless amounts of wine, conversation, love, and butter were devoured. In my mind I was going to be my generation's Nora Walker* and all my future children and grandchildren would flock to this table on a regular basis–our family's touchstone–and not one single problem would go unsolved once elbows were resting on that perfectly polished jet black wood…
PRAY
My relationship with God has historically been once of convenience. Unless there was a missed period, a spider, or the police involved, I pretty much had no use for the guy. Occasionally conversations about religion would come up and I'd be asked, "Do you believe in God?"
"Of course," I'd automatically reply, just like I'd reply "The Packers" if someone asked me to name my favorite football team, even though I'm not a football fan.  I live in Wisconsin.  That is the expected answer, and the truth is I never cared enough to give it more thought than that.
My feelings about spirituality changed dramatically once Kate was born. For me, it became absolutely impossible to be gifted a child and not believe in a higher power.
My ongoing dialogue with God began the day she was born and hasn't stopped since. I thank Him every single day for her and ask for guidance to be the best parents we can be.  When it comes to praying, I try to be genuinely thoughtful and ask for support in specific areas depending on how our day went–patience, energy, perseverance, a sense of humor–whatever we seem to be most in need of at the time.  But there is one thing I ask for each and every single time I pray: knowledge and understanding.
I like to pray with Kate in my arms as I rock her before bedtime. I was doing just that one night when Kate was about six months old as we (among other things) prayed: "Please give Mommy and Daddy the patience…energy…sense of humor…and knowledge and understanding that we need to be the kind of parents Kate deserves."
A couple of hours later as I was settling into my own bed, lights off and thoughts focused solely on the softness of my comforter and the coolness of my pillow, I heard it.
I heard it as clear as day.
I heard it as strongly as if someone was standing next to my bed and speaking directly into my ear.
"Sell the dining room table. Kate needs room to play."
Not since the night before I took my pregnancy test, when I already knew–even after months of failed results–that I was pregnant before the test told me so had I ever been so certain of anything in my life.
Prior to that moment, selling our dining room table was something I had not once considered–and certainly not something I ever thought I'd do!  Yet suddenly it made perfect sense. As Kate was growing increasingly mobile she was already running out of space in our living room.  Kate needs room to play more than I need a formal dining room, I realized.
My urge to get rid of our table so Kate would have extra room to play was suddenly so strong that it was all I could do not to jump out of bed and list it on Craigslist that instant!
So that's what I did.
I sold my beloved table (for a fraction of its worth) on Craigslist.
Because God told me to.
Love
When news got out that I'd sold our dining room table my friends were astounded.  "But Dusty, you love that table!" they exclaimed.
"Not as much as I love Kate," I replied all zen-like and assured.
That table had represented my vision of the perfect family life…but not anymore.  I realized that having ample room for my child to move around was more important to me than perfect meals around a perfect table.  Room for Kate's toys in the space where we spend most of our time as a family easily became more important than the ability to seat up to 12 people for a once-a-year holiday meal.
Now I had a new vision.
A vision of a home that proudly says "children live here" the moment you walk in the door.
A vision of rooms where kids can laugh and play and be kids and not have to worry about off-limit items.
A vision where people hold more value than things, and I never again go two weeks without speaking to someone I love over a stupid scratch in a table.
Thank you God, for teaching me this lesson.
*Nora Walker is the smothering yet lovable mother of five (played by Sally Field) in the TV series Brothers & Sisters who I idolize for her endless supply of wine and her ability to whip together gourmet meals at a moment's notice when all five of her kids just so happen to drop by for dinner…every week.