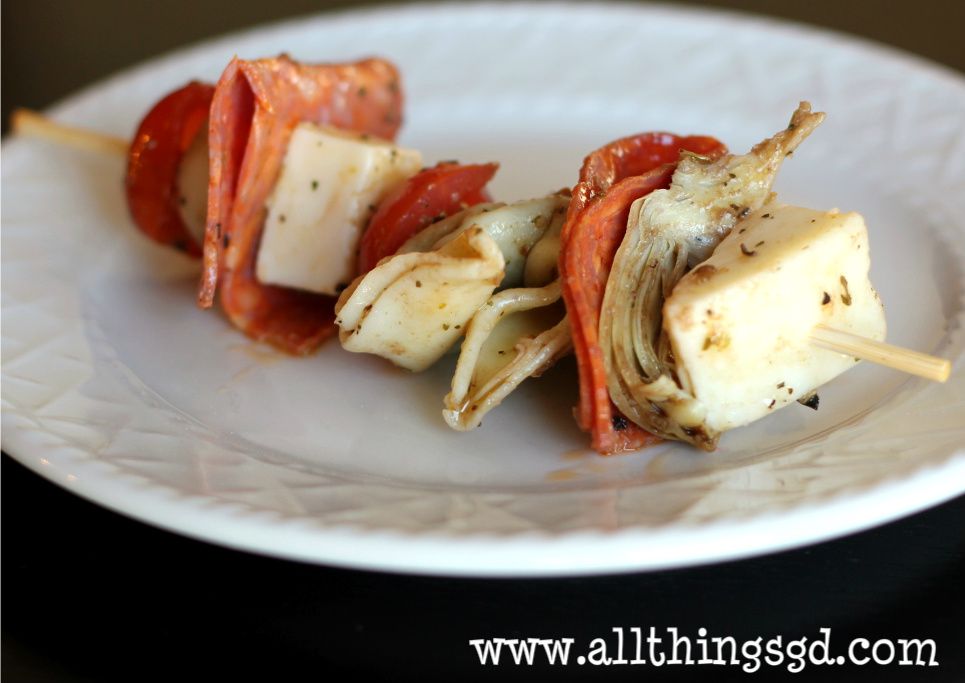 Who doesn't love food on a stick?
Um, I'm pretty sure no one.
You know why?  Because food on a stick is fun! It makes you feel like a kid again! These Mediterranean Antipasto Skewers that I created for my Oscar party are my grown-up equivalent to corn dogs at the county fair.
Could these ingredients have just as easily been tossed into a bowl and called a "pasta salad"? Yes. But where's the fun in that?!  Skewers are much more fun than forks.  Save your forks for the Grammys.  This is the Oscars, people.
Ingredients
1 package of tortellini (I used pesto-filled tortellini)
4 oz pepperoni, sliced in half (I get mine freshly sliced from the deli counter)
1 jar marinated artichoke hearts, drained
1 jar hearts of palm, drained and sliced
1 package cherry tomatoes, halved
6 oz mozzarella cheese, cubed
1/3 c. extra-virgin olive oil
2 T. balsamic vinegar
2 T. white vinegar
2 t. dried Italian herb seasoning
salt and black pepper to taste
Directions
1.  Cook tortellini according to package directions.  Drain, and rinse in cold water.
2.  Place tortellini, pepperoni, artichoke hearts, hearts of palm, cherry tomatoes, and mozzarella in a large bowl.
3.  Whisk together olive oil, balsamic vinegar, white vinegar, Italian seasoning, salt and pepper in small bowl, and pour over antipasto ingredients in large bowl.  Gently stir to combine, and refrigerate to chill at least 2 hours before serving (I chilled mine overnight, gently stirring occasionally).
4.  Thread ingredients onto skewers, place on a platter, and enjoy!
Adapted from this recipe.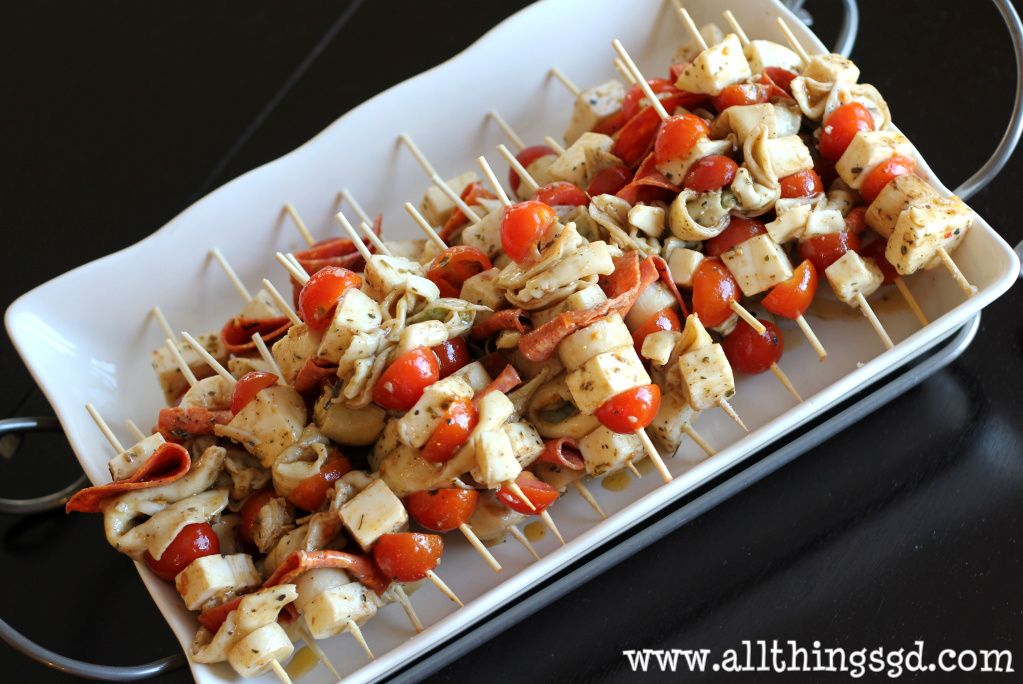 Check back tomorrow for pictures from my 2012 Oscar Party, including photos from our red carpet!