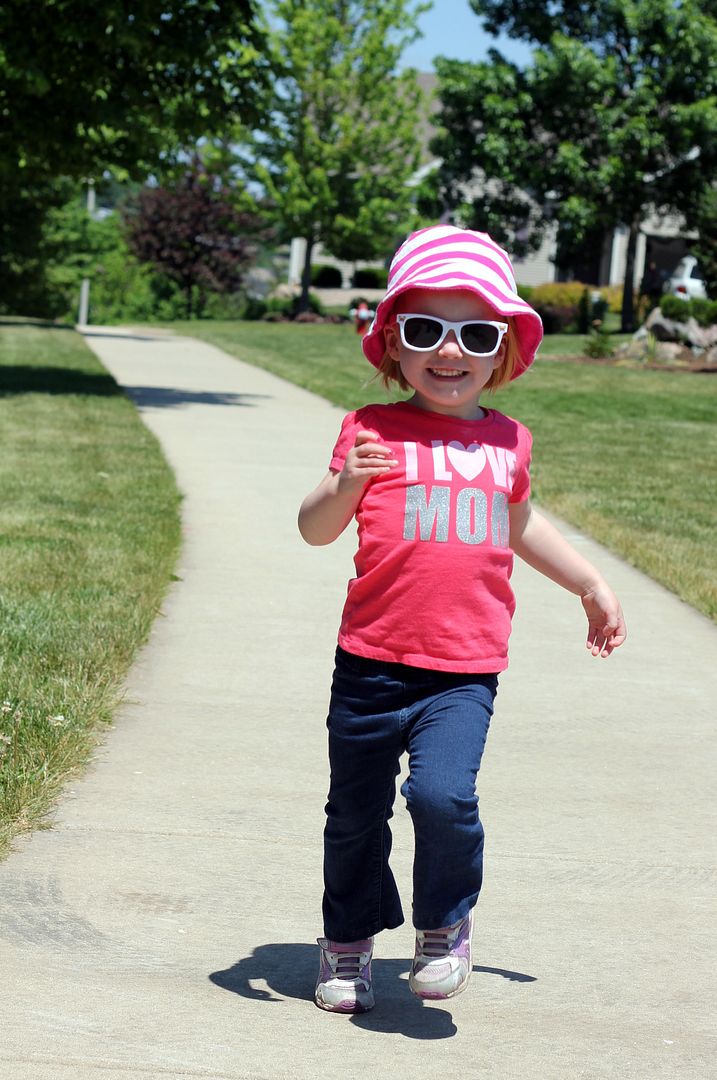 Kate: 28 Months
Kate's 28th month was a big one! For starters, she changed bedrooms, moving from her tiny nursery to a larger bedroom down the hall, complete with her first "big girl bed!" Kate talked me into purchasing a full-sized mattress set (instead of a twin) for her new bedroom, and she could not be more in love with it! She insists on showing off her new bed to anyone who comes to the house, and even checks on it periodically to make sure it's still there.
G and I were concerned, of course, about how well Kate would sleep in a bed (versus her crib) but she did great from the very beginning! We started with just her mattress on the floor for a few nights so she'd be close to the ground and wouldn't get hurt if she rolled off. Next we added the box spring for a few nights, and then finally we raised the bed up onto a frame. She's done great with this transition! Not only does she stay in her bed (and her bedroom), she's also sleeping really well! She was so proud of herself the morning after her first night in her big girl bed that she woke up and exclaimed, "I sleeped!"
"You did?" I replied with a laugh.
"Yes," she declared. "I slept very well."
She's also been taking more naps since moving to her big bed, which has been a welcome surprise! She's been dropping her afternoon nap since turning two-years-old (napping only about 25-30% of the time over the past couple of months) but so far we're having success with consistent naps in her new bed!
In addition to the big girl bed news, our "big girl" is also getting more consistent with using the potty! She definitely understands what it feels like when she needs to use the potty, will tell us when she needs to go, and holds it until she gets on the potty. We've started rewarding her with an M&M each time she uses the potty to reinforce her. She is doing such a great job of using the potty that now she only wears her diaper when she sleeps and when she goes to daycare!
Speaking of being a "big girl," G recently remarked to her, "Kate is soooo big!" – a reference to one of her favorite games to play when she was a baby.
Kate's response to G?
"No I'm not. I'm tiny. You're big."
She has such a great imagination, but she can also be so matter-of-fact about things sometimes!
Here's another example: We were sitting on the floor of her nursery (which we're converting into an upstairs playroom), playing with a mirror. I was holding it at different angles and showing Kate how you can use it to see various things around the room. "I see. . .the colorful tissue poms on the celing," I remarked as I held it at one angle. "Now I see. . .the dishes on your play kitchen," I added. "Ooh, now I see the tree outside!"
"What do you see?" I asked, handing the mirror over to Kate.
She took one look at it and responded:  "My reflection."
When she's not moonlighting as a deadpan comedian, she's continuing to notice everything. One day, I had to make a quick stop at Target to get one thing. (Yeah right.) I left with my one thing. . .and a brand new sun hat that was so super cute I had to wear it out of the store.
"Hopefully G doesn't tease me about going to Target for a gallon of milk and walking out with a new sun hat," I thought to myself as I drove home. "Meh, he won't even notice. Especially since I'm wearing it. I wear hats all the time. He'll just think it's one I already had."
G and Kate were sitting at the kitchen table when I got home. Kate turned to greet me and immediately exclaimed:
"Ooh, Mommy's got a new hat!"
Busted by my two-year-old.
I'll end with my favorite Kate conversations from this month.  It happened one morning when we went for a walk to Walgreens to pick up a prescription. I told her that we're going to the pharmacy and she replied, "We're going to go to the farm and see…the tractors!"
"No, silly goose," I laughed in reply.  "Not 'farm and see' – the 'pharmacy.' The name of the place where we're going is called 'the pharmacy.'"
"We're going to the farm and see. . .some cows!" she insisted with a cheer.
"Maybe we'll just call it the drugstore."
Additional Kate 28 Month Posts:
You Know You Love Your Child's Cuddles When…
Kate's Room v2.0
A Life Update