Our main guest room continues to be a work in progress, but I'm slowly chipping away at it!
My starting off point for this room was the bedding. I found this beautiful duvet cover at Pottery Barn and it was love at first sight! I originally wanted to use this bedding in our master bedroom, but unfortunately G wasn't feeling the love. He thought the pattern and colors were too "girly" and quickly vetoed it. But I wasn't giving up that easily–one way or another, this bedding was going to find its way into our home! I decided if we couldn't have it in our master bedroom then it would go in our main guest room.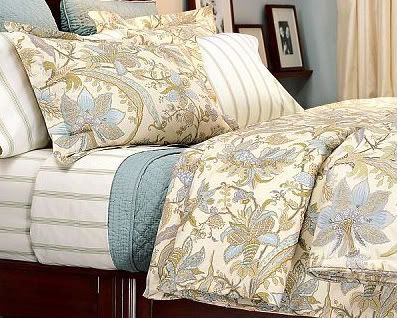 Next–the paint color. Since I'd already painted the Circle Room (and by this time, half the house) green, I forbid myself to even look at green paint swatches, and instead went for the blues. I narrowed it down to Behr's River Rock (top swatch) and Behr's Rocky Mountain Sky (bottom swatch). In the end, Sky beat Rock and I chose the darker hue.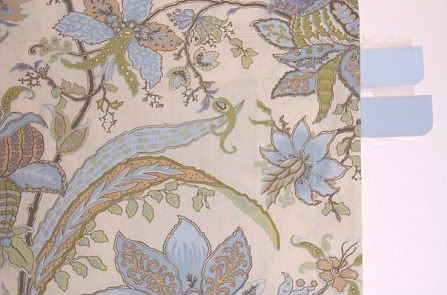 The room painted Behr's Rocky Mountain Sky: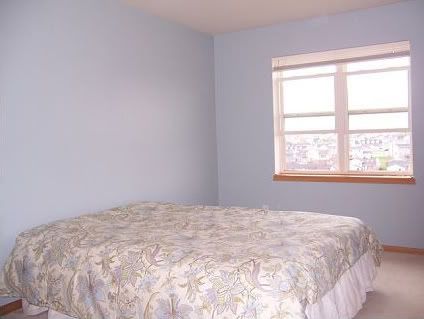 This headboard was not only G's headboard growing up–it was also his mom's headboard when she was growing up! We used it in our master bedroom until we got our new furniture, and then I moved it in here. It had been a dark burgundy color for years, but I primed it and painted it a light cream color for this space. I also got a new bed skirt that was less ruffled than the one we originally had.
Since the headboard is so low, I decided to do a very tall wall arrangement to give the space some height. And since I suck at accessorizing, I also wanted to make it wide enough so there would be no need for anything else on this wall. I decided to do hooks since it was something I hadn't done anywhere in our house yet.
To keep it cheap–and to get the width I wanted–I decided to make it myself. I bought this 8' long board and the 7 brushed nickel knobs from Home Depot. I measured out where I wanted to the knobs to go so they'd be evenly spaced, and then drilled the holes for them to later screw into. Next, I painted the board the same light cream color as the headboard. Then I screwed the knobs on, installed D-rings on the back for hanging, and then mounted this sucker to the wall. The project was really cheap and easy–the knobs were by far the bulk of the expense. And the actual hanging of this beast (all by myself, thank you very much) was by far the bulk of the sweat equity.
I tossed around the idea of hanging mixed prints and pictures from the hooks but I couldn't find anything I liked. Everything I considered ended competing with the bedspread or looked too busy for the space.  I wanted to keep this room really light and serene so I shifted gears and decided to do something monochromatic–sticking with my light cream color. I had 2 large prints my mom had given me back when we bought our first house. The prints were definitely not my style, but I couldn't bear to toss them because I loved their large wooden frames (even though they were bright gold at the time) and I knew I would find a use for them one day. So, while rummaging through my very short list of things I won't get rid of even though I'm not currently using them–I came across these frames again, and the idea was born! I decided to do a wall of empty overlapping frames–all painted cream–with some hanging from the hooks, and some mounted right to the wall. The frames from the 2 large prints my mom had given me became my starting off point: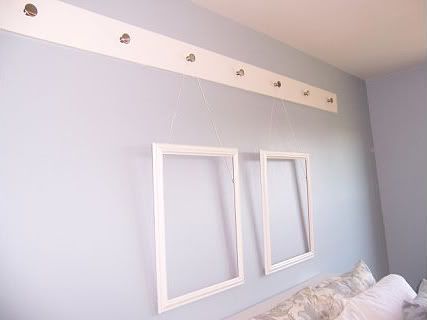 Lastly, I added a cheap little side table topped with candle holders filled with raffia for some quick, easy, and temporary accessories, and a couple of light blue throw pillows to the room.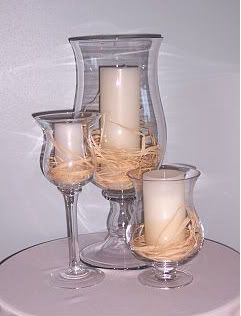 And this is how far I got before taking about a year-long break from this room:

Now let me tell ya–during this break it was quite amusing to have guests over. They'd take one look at the 2 large empty hanging frames and say, "I don't get it." To which I'd reply, "I have a vision!" And then I'd explain my vision, hoping that would clarify things. Nope. Nothing but blank faces staring back at me and an occasional polite nod.
So in the spirit of laboring over Labor Day weekend–and with my first ever Nestie sleepover coming up (the fabulous & adorable halfofvamh–Eee!!) I decided now was the perfect time to pick my wall arrangement project back up. I couldn't bear to see a blank stare and an "I don't get it" face coming from a fellow D&R Nestie!
So I went to Goodwill and chose various frames I thought would work well. Then I popped out their prints and glass (so long puppies, cardinals, and metallic church landscape–I'm sure you were once loved) to get just an empty frame. Then I turned to my best friend (spray paint) and transformed them all to my beautiful light cream color.
I traced the frames onto sheets of notebook paper, cut my "paper frames" out, and taped them to the wall to get an idea of an arrangement I liked. (See the dresser to the right? I moved it there to see if I liked it–which I do–so now I'm currently painting that bad boy, too!)
UPDATE:  Here's my finished DIY Decal Dresser – a fantastic addition to this room!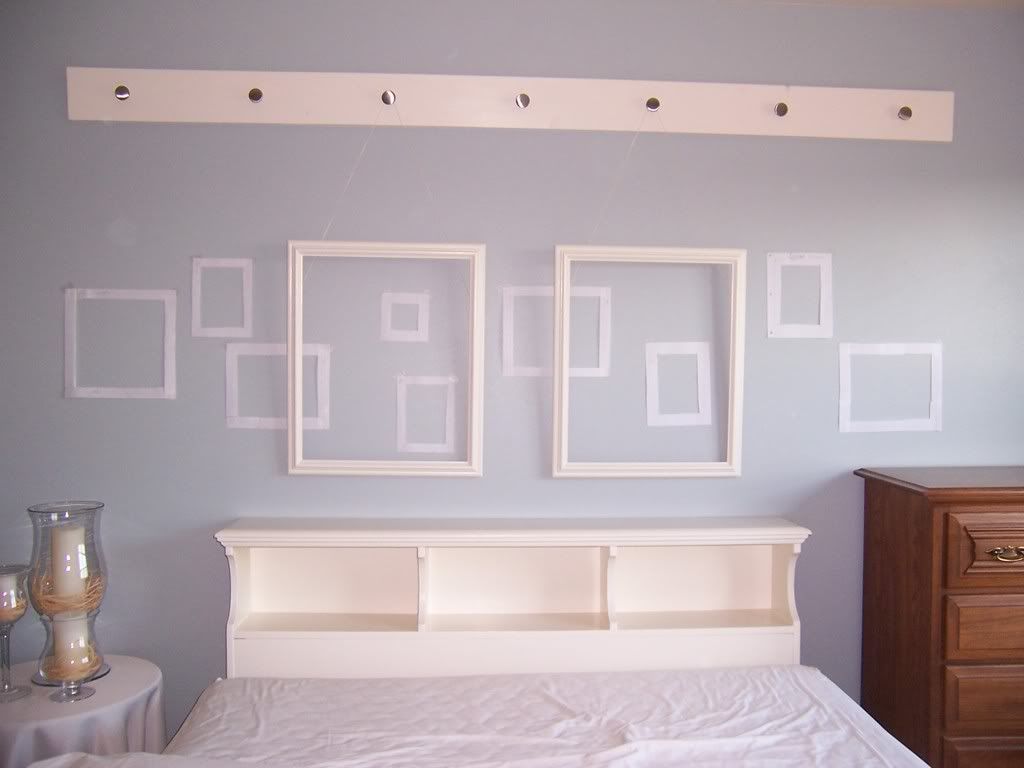 And now for the finished result! An arrangement of empty cream frames–some hanging from the hooks, some mounted on the wall, and some overlapping. My vision has been realized!
(Half–as my next guest in this room, if you don't "get it" when you're here for your visit, feel free to just give the polite nod. I think I can handle it. On second thought–better wait until I have a little wine in me.)
I still need to do window treatments, and I'm currently painting the dresser in the above picture, but here's the space today: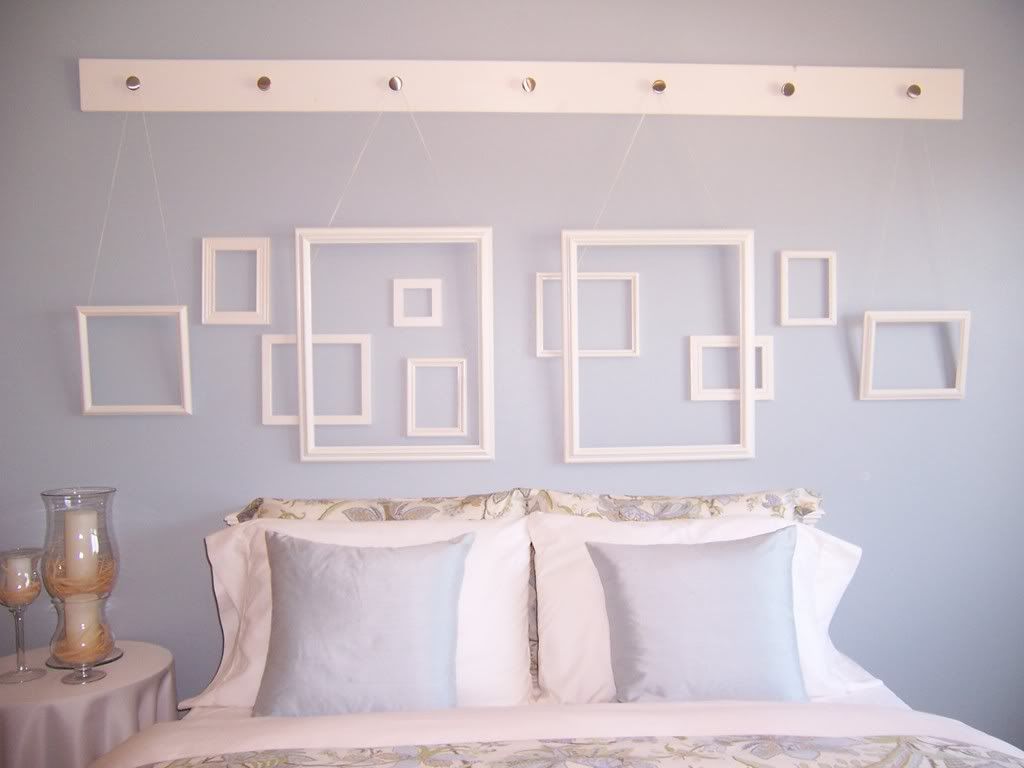 So what do you think of it so far? Is it guest worthy? How about D&R Nestie guest worthy??
UPDATE:  Check out our "I Don't Get It" Guest Room 5 years later in this post: DIY Decal Dresser
Related Posts:
My Summer Vacation–Day 8
A Bed That Could Break My Arm
Adorable Black & White Guest Room
DIY Tufted Upholstered Headboard