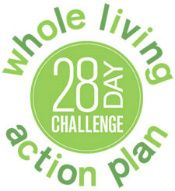 I start my 2nd annual Whole Living Challenge on Monday, and if I learned anything from doing it last year, it's that preparation is key.
My recipe for success is to chop as many ingredients ahead of time as I can, make a batch or two of soup on the weekend to have on-hand throughout the week, and always, always, always have all my food planned out and prepared for the next day before I go to bed at night.
The following are off-limits throughout this three week (and bonus 4th week) detox plan:  processed foods and beverages, added sugar, dairy, caffeine, and alcohol.  In addition, food options for Week 1 are limited to only the following:  fruits, vegetables, nuts, seeds, plant-based fats/oils, and spices.  Week 1 is by far the hardest…but getting through it is also the most rewarding.
My Week 1 meal and snack choices are listed below.  My plan is to start off every morning with a cup of hot water with a squeeze of lemon (it stimulates the liver and releases digestive enzymes), stick to liquids in the morning, and try to go raw until dinner.  I also plan to drink Yogi's DeTox herbal tea throughout the month (sold at Target, Whole Foods, etc.).  This was the first kind of tea I tried when I did this detox last year and I really liked it.
I don't have a juicer so I'm sticking to smoothies for breakfasts.  I really liked the green smoothie from the 2011 Whole Living Challenge so that's on my list, along with a few other green smoothies I'd like to try now that I'm no longer scared of them.  The trick is to blend them really well so they're as smooth as possible.
The Garlicky Butternut Squash recipe I have listed under my dinner options is AH-MAZING.  I'd never eaten butternut squash before, and the first time I made this recipe (as a side dish) I ate almost the entire squash and didn't even want my main dish!  The recipe calls for a little bit of Parmesan cheese, which I'll have to omit during the Challenge (no dairy), but I don't think I'll miss it.
The Carrot Ginger soup recipe I added under my dinner options is something my friend Jill made for me right after I had Kate.  It's loaded with nutritious vegetables, but everything's pureed which makes eating it a lot less intimidating for first-time veggie eaters like I was at the time.  Don't let the ingredients scare you–once it's all blended together you don't realize you're eating an onion or a carrot!  It's just a smooth and flavorful soup.  I haven't tried the other soups on my dinner list, but they're all pureed as well, so I'm willing to give them a shot.  Bring on that nutritious goodness!
My Breakfast Options:
Green Smoothie*
Green Machine Smoothie
Avocado, Apple, Celery Green Smoothie**
Mixed Green Smoothie (for Vibrant Skin)
Ginger Orange Smoothie
Mango Coconut Water Smoothie
Beet & Carrot Smoothie
My Lunch Options:
Lettuce Salad loaded with veggies, seeds, etc, topped with avocado dressing***
Sweet Potato, Apple, Celery Salad
Celery Root, Kale, Avocado Slaw
Kale Slaw with Red Cabbage & Carrots
My Dinner Options:
Garlicky Baked Butternut Squash* (without the Parmesan)
Carrot Ginger Soup* (sans garnish)
Roasted mixed veggies in olive oil (broccoli, cauliflower, etc.)
Spiced Butternut Squash & Apple Soup
Roasted Garlic Beet Soup (I'm so nervous to try this one!)
My Snack Options:
Smoothies from my breakfast list
Sesame Kale Chips
Minty Pea Dip
Dried Fruit & Nut Bites
Almonds*
Sunflower Seeds*
Trail mix*
Oranges/Clementines*
Apple slices*
Sliced veggie sticks*
Almond Butter*
*Things I've already tried that I know I'll like.
**1/2 an avocado, 1/2 a Granny Smith apple, 1 celery stalk (makes 1 smoothie)
***1 avocado, juice from 1 lemon, 1/4 t. lemon zest, 4 basil leaves.  Blend or process until smooth and creamy.  Add salt & pepper to taste.
Like All Things G&D on Facebook to follow along with my Whole Living Challenge!  I'll be posting there about what I'm eating each day, how I'm feeling, and my overall progress.  If you're doing this challenge along with me I'd love to hear from you, too!