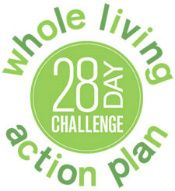 During Week 3 of the Whole Living Challenge I get to add eggs and gluten-free grains (like brown rice, quinoa, and millet) back into my diet. WooHoo, welcome back carbs!
As of this Monday here is list of things I can eat:
Vegetables
Fruits
Nuts & Seeds
Plant-Based Oils
Seafood
Beans & Lentils
Tofu
Gluten-Free Grains
Eggs
Still on the list of things I cannot eat are all processed foods, sugar, gluten, dairy, beef, poultry, caffeine, alcohol and Starbucks…although, I have a confession to make: I have a "Cheat Day" planned for Week 3.
I know, I know, it is SO NAUGHTY of me!!
Here's the deal: The 84th Annual Academy Awards air on Sunday night…which also means I'm hosting my 3rd annual Oscar Party!  Wine must be drank, people.  It must.
Besides, it's the very last day of Week 3, which also means–technically, it could be the very last day of my Challenge if I wanted it to be (It's a "21 Day Challenge" this year with an optional bonus week added to make it 28 days).  I could guzzle wine all day on Monday if I wanted to! What difference does a handful of measly hours make?!
(I can justify nearly anything–especially when it comes to wine.)
Although I will be cheating on my green smoothies with (organic!) chardonnay, I still plan to eat healthily and not go on an all-out binge fest.  That sounds like a good compromise, right?
Here's what I'll be eating (when I'm not cheating) during Week 3:
My Breakfast Options
Scrambled Eggs (no dairy added)
Green Smoothie*
Green Machine Smoothie*
Avocado, Apple, Celery Green Smoothie**
Mixed Green Smoothie (for Vibrant Skin)
Ginger Orange Smoothie
Mango Coconut Water Smoothie*
Beet & Carrot Smoothie
My Lunch Options
Leftovers from dinner
Lettuce Salad loaded with veggies, hard-boiled egg, seeds, etc, topped with avocado dressing***
Chickpeas/Brown Rice Veggie Burger
Black Bean & Millet Bowl
Sweet Potato, Apple, Celery Salad*
Kale Slaw with Red Cabbage & Carrots
Spicy Black Bean Salad
My Dinner Options
Rice Noodles with Broccoli-Almond Pesto
Halibut with Sweet Potato Fries & Lime
Broiled Shrimp* (without the breadcrumbs)
Garlicky Baked Butternut Squash* (without the Parmesan)
Carrot Ginger Soup* (sans garnish)
Spiced Butternut Squash & Apple Soup
Baked Sweet Potatoes with Citrus
Roasted Winter Vegetables with Cannellini Beans
Grilled Salmon with Orange Avocado Salsa
Salt & Pepper Tofu*
Roasted mixed veggies in olive oil (broccoli, cauliflower, etc.)*
My Snack Options
Smoothies from my breakfast list
Scrambled Eggs
Sesame Kale Chips
Roasted Spiced Chickpeas*
Any Bean Dip
Hummus*
Almonds*
Sunflower Seeds*
Oranges/Clementines*
Apple slices*
Sliced veggie sticks*
Almond Butter*
*Things I've already tried that I know I'll like.
**1/2 an avocado, 1/2 a Granny Smith apple, 1 celery stalk (makes 1 smoothie)
***1 avocado, juice from 1 lemon, 1/4 t. lemon zest, 4 basil leaves.  Blend or process until smooth and creamy.  Add salt & pepper to taste.
Join me, Jenna, Frances, Karyn, Jennifer, Sara, Marlena, Andrea, Christy, Melissa, Katie, Kerri, and others on All Things G&D on Facebook as we discuss our ups and downs of the Challenge and share our favorite recipes!  I'm also posting my meals and snacks each day for reference.  We'd love to hear from you, too!