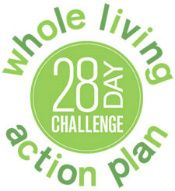 If you learn nothing else from following me during this year's Whole Living Challenge let it be this:
CHEATING IS NOT WORTH IT!
Ugh.
My pudgy sodium-swollen fingers are still throbbing even as I type this–a cruel reminder that I make poor decisions when surrounded by friends, Chardonnay, and chips & dip.
I also blame the Oscars.  This never would've happened if the Academy of Motion Picture Arts & Sciences had consulted me and my Whole Living Challenge timeline before scheduling their event.
Assholes.
Here's the problem with having a planned "Cheat Day" like I did last week.  You're mentally prepared for making a poor choice, and once you carve out that little exception for yourself, the lines start getting blurry.
I originally negotiated with my willpower that I would only drink my (organic!) Chardonnay on my Cheat Day and not eat anything that wasn't Week 3 Challenge-friendly.  That line then faded into, "Ooh, I should make this (not Challenge-friendly) appetizer for the party…and I have to taste-test it first, of course."  Which then blurred into, "Screw it.  I'm going to eat whatever I want during Sunday night's party.  I've been good for almost 3 weeks–I deserve it!"  Then Saturday hits and you rationalize that you've already planned on cheating on your detox tomorrow night, so what's wrong with having just one little bite of two of something you shouldn't be eating today too?!
Before you know it your brussels sprouts are rotting in the fridge and you have a contract with your local grocery store to deliver a crate of Junior Mints to your house every Monday morning.
It's a slippery slope, people.  Avoid it at all costs!
Alright, let's talk about the shameful end to my Week 3.  To recap, the following are off-limits throughout this detox plan:  processed foods and beverages, added sugar, dairy, gluten (found in wheat, barley, and rye), caffeine, and alcohol.  In addition, food options for Week 3 are limited to the following:  gluten-free grains, eggs, seafood, tofu, beans, lentils, fruits, vegetables, nuts, seeds, plant-based fats/oils, and spices.
One of my overall goals for doing this Challenge is to push myself to try new foods and recipes.  The following are the new foods I tried for the first time during Week 3:
And these are the new recipes I tried:
Lastly, here is a log of what I ate (and drank) during Week 3:
DAY 15
8am: Hot water with lemon
9am: Green Machine Smoothie (kale, parsley, pineapple & mango)
11am: Roasted veggies with hummus
5pm: The rest of my Green Machine Smoothie
I have a habit of OD'ing on hummus and that happened again today.  I overate at lunch and wasn't hungry for the rest of the day.  I also play volleyball on Monday nights, so fitting in a real dinner can be a challenge.  Thank goodness for smoothies!
DAY 16
8am: Tea with soy milk (I've decided I'm not a fan of the soy milk)
9am: Green Smoothie (kale, parsley, banana, green apple)
10:30am: Clementine
12:30pm: Black Bean & Millet Bowl (my favorite recipe from last year's Whole Living Challenge)
5pm: 3 eggs (scrambled, no dairy), sweet potato chips and hummus
7:45pm: Rice Noodles with Broccoli-Almond Pesto
I had a training all day at work today and they provided breakfast and lunch for everyone. Of course I was surrounded by all sorts of delicious food options that I normally wouldn't hesitate to enjoy, but today I had to hold back. I packed my own breakfast and lunch and resisted the granola bars, pastries, pasta, cheese, and cookies. By the time I got home I was SO HUNGRY and I overate a little bit. I should've packed some nuts to tide off my afternoon hunger–grr! I was looking forward to trying the Rice Noodles with Broccoli Almond Pesto recipe for dinner, so even though I wasn't very hungry after my 5pm "snack" I still made the dish and tried a little bit. It was fantastic! I've never had rice noodles before, but if you're missing pasta (like I was!) you've got to give this recipe a try. The flavor is pretty mild too, so don't be scared off by the broccoli!
DAY 17
7:30am: Cup of detox tea and a small Green Machine Smoothie (kale, parsley, mango, pineapple)
9am: Green Smoothie (kale, parsley, banana, green apple)
10:30am: Clementine
12pm: Quinoa Salad (quinoa, black beans, tomato, corn, avocado)
6pm: Mixed green salad with pine nuts and balsamic vinaigrette, smoked Steelhead Trout w/steamed broccolini, roasted fingerling potatoes, and garnished with a caper-egg aioli
Day 17 was another training day at work with breakfast and lunch provided, so just like on Day 16, I had to pack my own foods (just in case) and resist all the yummy goodies I'd normally enjoy (and some that would normally not even turn my head!) if I wasn't doing the Challenge. Lunch provided by my agency was a variety of wraps and one of them was a Quinoa Salad Wrap (see ingredients above) that I decided to give a try (sans the flatbread "wrap" part). It was so delicious! I am definitely going to try to duplicate this recipe ASAP. I loved it!
The evening was another challenge in that I joined my boss in taking our trainer out for dinner at a nice steakhouse restaurant. I scoped out the menu ahead of time for an entree that was "Challenge-friendly" and decided on the trout. I thought I'd be seething with jealous watching everyone around me enjoying their perfectly prepared steaks, but my dinner was amazing! It was also incredibly satisfying knowing that I managed to "eat out" all day and still stick to the Challenge guidelines. It IS possible!
DAY 18
7:30am: 3 eggs, scrambled (no dairy)
8:30am: Tea
12:30pm: Millet & Black Bean Bowl
4:30pm: A handful of nuts
5:30pm: Rice Noodles with Broccoli-Almond Pesto
This was the first day of the Challenge that I didn't have a smoothie.  It seemed so strange.  I loved starting my day off with some eggs, though–yum!
DAY 19
8am: Tea
10am: Mango Coconut Water Smoothie
12pm: Roasted veggies and hummus
8pm: Rice Noodles with Broccoli-Almond Pesto
DAY 20
8:30am: Mango Coconut Water Smoothie, and 2 eggs (scrambled, no dairy)
12pm: Tortellini, mozzarella, artichoke hearts, and sweet potato chips and veggies with hummus
7:30pm: Salt and Pepper Tofu
This was the day before my "Cheat Day."  See how the line was blurred already?! After breakfast I went grocery shopping and started prepping food for my Oscar party the next day. During this time I had a few bites of tortellini (gluten) and mozzarella (dairy) from the appetizer I was prepping–two off limit things during the Challenge–but I recovered and had some sweet potato chips and veggies with hummus to round out my lunch.
In the afternoon I made chocolate-covered strawberries and Oreo truffles for my party.  Full disclosure: I had a couple licks of chocolate and a couple Oreo cookies. (Shame on me!)
DAY 21
Now before you read this, let's all keep in mind that this was my planned "Cheat Day" since I was hosting my 3rd annual Oscar Party. No judging!
8am: Beet & Carrot Smoothie
The rest of the day was pretty much a blur of me eating all sorts of crap with little to no thought of sticking to the Challenge. I nibbled on tortellini, mozzarella, pepperoni, and artichoke hearts as I assembled pasta skewers for the party, then I "taste tested" the caramel corn I made and a few pieces of candy as I set up the candy buffet. Once the party started, I very much enjoyed sipping on my Chardonnay (yay!) and munching on the goodies my friends brought (I'm pretty sure I devoured all of my friend Erica's creamy spinach dip). I certainly made the most of my "Cheat Day." No doubt about it.
…and I paid for it, too.
By the time I went to bed I felt so gross and bloated, my fingers were swollen, and my stomach felt WRETCHED. I wanted to puke, but couldn't. It was awful.
I slept like crap that night, and the next day stomach still felt yucky and my fingers were still ridiculously swollen.
Okay. Now you can judge.
Join myself, Jenna, Frances, Karyn, Jennifer, Sara, Marlena, Andrea, Christy, Melissa, Katie, Kerri, Tori, Rebeca, and others on All Things G&D on Facebook as we discuss our ups and downs of the Challenge and share our favorite recipes!  I'm also posting each of my meals and snacks for reference.  We'd love to hear from you, too!