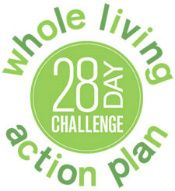 My Week 2 of the Whole Living Challenge is over and done, and I'm currently in the middle of Week 3.  As you know, this is my second year doing the Challenge and the most common question I've been getting is, "Is it easier for you this time around?"
My response is, "Mostly, yes."
Last year this Challenge introduced such a drastic change to the way I ate.  I liked almost none of the ingredients in the selected recipes when I began the Challenge and had to force myself to try all sorts of new flavors and textures and keep an open mind.  It was stressful!  And way out of my comfort zone!  I had awful headaches during the first few days and felt fatigued during much of Week 1 last year…but once I adjusted, I have to admit I'd never felt better.  The positive changes I noticed in how I felt and looked were so dramatic that sticking with the Challenge for the next 3 weeks was surprisingly easy for me to do.  I didn't want anything to disrupt how good I was feeling!
This year, despite some early anxieties, I'm finding that repeating this experience isn't quite as stressful and overwhelming as it was for me last year.  I had continued many of the changes I made during last year's Challenge throughout the year, so attempting another version of the Challenge this year wasn't as big of a stretch.  I was already familiar with–and even liked!–many of the allowed foods, so in that regard things were much easier for me this time around.
On the flip side, I haven't experienced those same dramatic changes in how I feel this year like I did last year.  In fact, short of having to resist a few temptations here and there, I haven't really felt that much differently during this year's Challenge as I normally do.  On one hand that's a good thing because it tells me that I've actually been doing a pretty good job of eating healthily and making good choices for my body.  But on the other hand, it makes it so much harder for me to resist my vices–wine and Starbucks!
To recap, the following are off-limits throughout this three week (and bonus 4th week) detox plan:  processed foods and beverages, added sugar, dairy, gluten (found in wheat, barley, and rye), caffeine, and alcohol.  In addition, food options for Week 2 are limited to only the following:  seafood, tofu, beans, lentils, fruits, vegetables, nuts, seeds, plant-based fats/oils, and spices.
One of my overall goals for doing this Challenge is to push myself to try new foods and recipes.  The following is a list of new foods I tried for the first time during Week 2:
Currants
Red Pepper
Red Onion
Cucumber
And these are the new recipes I tried:
Lastly, here is a log of what I ate (and drank) during Week 2:
DAY 8
7am: Hot water with lemon
8:30am: Green Machine Smoothie (kale, parsley, pineapple & mango)
9am: Cup of detox tea
11am: Detox Salad from the Whole Foods salad bar (broccoli, cauliflower, carrots, raisins, currants, sunflower seeds, lemon juice, water, parsley, kelp granules, sea salt, and pepper)
2:30pm: Salt & Pepper Tofu, homemade hummus and sweet potato chips
(My Day 8 ended with a surprise from G–he booked an appointment for me to have 90 minute hot stone massage in honor of completing Week 1! It was the best surprise!)
DAY 9
7am: Hot water with lemon
8:30am: The other half of my Green Machine Smoothie from yesterday (kale, parsley, pineapple & mango), and a cup of tea
12:30am: Leftover Salt & Pepper Tofu
3pm: Clementine
5pm: Handful of nuts
8pm: Roasted broccoli, and sweet potato chips with hummus
DAY 10
7am: Hot tea with lemon
8:30am: Cup of detox tea
9:30am: Blue Smoothie (blueberries, banana, and orange juice)
12pm: Lettuce salad topped with carrots, red cabbage, sunflower seeds, chia seeds, and avocado dressing on the side
5:30pm: Green Smoothie (kale, parsley, banana, green apple)
8pm: Broiled Shrimp and Roasted Spiced Chickpeas
DAY 11
7am: Hot water with lemon
8:30am: Tea with soy milk
11am: Leftover Broiled Shrimp
12pm: A handful of nuts
3pm: Carrot sticks with Minty Pea Dip
5:45pm: Roasted Chickpeas
7:45pm:  Spicy Black Bean Salad
DAY 12
7am: Cup of hot water with lemon
8:30am: Blue Smoothie (blueberries, banana & orange juice) and a cup of tea
10:30am: Green Smoothie (kale, parsley, banana & green apple) & a clementine
12:30pm: Spicy Black Bean Salad & Tofu Eggless Salad from my local co-op's deli
5pm: Sweet potato chips and hummus
7:45pm: Salmon with Orange-Avocado Salsa (I broiled the salmon and left out the bok choy)
DAY 13
8am: Ginger Orange Smoothie with chia seeds
9am: Tea
10am: Handful of almonds and cashews
11:30pm: Carrot Ginger Soup
2:30pm: Homemade sweet potato chips and hummus
6pm: Carrot sticks, celery sticks, cucumber slices, steamed shrimp, and (look away!) chardonnay
We had a friend's birthday party this night, and all things considered I think I did SUPER well. I avoided the birthday cake, apple strudel, hamburgers, cheese & sausage platter, crackers, chips, taco dip, fried chicken wings, reuben bites, bacon-wrapped water chestnuts, etc…and stuck to the veggie tray (sans dip) and the shrimp cocktail (sans sauce) which was supposed to be an appetizer but I made it my entree. But yeah. I had some chardonnay to go with it all. Wine is my Achilles heel!
DAY 14
8am: Cup of hot water with lemon
9am: Green Machine Smoothie (kale, parsley, pineapple, mango)
12pm: Spicy Black Bean Salad with 1/2 an avocado added
2pm: Carrot Ginger Soup
3:30pm: Veggies (cauliflower, broccoli, red pepper) with hummus
5:30pm: Leftover Salmon with Orange-Avocado Salsa, (nondairy) mashed potatoes, and broccoli with hummus.
For those of you still considering trying the Whole Living Challenge, I'm happy to answer any questions you may have!
Join myself, Jenna, Frances, Karyn, Jennifer, Sara, Marlena, Andrea, Christy, Melissa, Katie, Kerri, and others on All Things G&D on Facebook as we discuss our ups and downs of the Challenge and share our favorite recipes!  I'm also posting each of my meals and snacks for reference.  We'd love to hear from you, too!