It all started back when I attended the Haven Conference in June.
I toured the vendor booths on Day 3 of the conference, met some great people from Oreck, sat down for a little couch cushion video-taped interview with Chelsea Smith (Oreck's Social Media Specialist), shook hands, exchanged business cards, and thought nothing further of it.
A few weeks later I received an email from Chelsea stating that Oreck is launching a new product and I was on their "short list" of bloggers they were considering working with for some promotional TV spots.  Am I interested?
I say yes.
(No. . . first I ward off an anxiety attack/heart attack killer combo. . . then I say yes.)
They send me their new product (the VersaVac – a steam mop and vacuum cleaner in one) and ask me to shoot a home video of me demoing the product to see how I talk about it and how I come off on camera.
I do.
(No. . . first I beg and plead for G to appear in the video so I can tell the story I'd instantly envisioned for the demo, then I stress myself out and consider giving up, and then I finally email my submission.)
A couple of weeks later – on a Monday afternoon during Kate's nap time – I found myself on a conference call with Chelsea and additional Oreck representatives.  They tell me how much they love the home video I submitted, we laugh about a scene where I'm lounging around drinking chardonnay while G steam mops the kitchen barefoot in the background, they think Kate is so cute – they love it all.
I listen and wait for the "but. . ."
It doesn't come.
Instead they say (crazy casually, like we're discussing the weather), "So. . .we'd like to fly a camera crew out there to shoot footage of you using the product in your house for a national television commercial.  How does next week sound?"
"Sure.  Next week sounds great," I reply.
(No. . . first I down the glass of Chardonnay I poured in anticipation of this phone call, then I resist the urge to hurl expletives, and then I say (crazy casually, like shit like this happens to me every day), "Sure.  Next week sounds great."
After all that, the most unexpected thing happened:
They showed up.
It was a hot Wisconsin Wednesday when a mix of New Yorkers and Oreck-ers pulled up to my house in two rental cars, remarking about how crisp and fresh our air is while carrying in their equipment.
I resisted having chardonnay for breakfast, shook off that moment of dread when I wanted to tell them all to please go home and leave me alone, took a deep breath, and said something inappropriate yet so me (perhaps in hopes that I'd scare them away?). . . and they laughed.  Without hesitation.
That's when I realized two things:
These are my kind of people.
The only way I'm going to survive today is by being 100% myself.
There were six of them:
Jack – the main man (and G's man crush) from Oreck's marketing agency.
Doug – the main man from Oreck.
Gary – At first I thought he was just the guy in charge of making the fake messes on our floor but I soon found out at that he's actually Oreck's video production manager.
Chris – the camera and lighting guy.
Mike – the sound guy, who had his hand down my shirt more than every guy I'd ever dated in college, combined.
Becca – wardrobe and makeup.
(These are not their official titles; just the ones I'm making up.  There's no way Mike can fit all that on his business card.)
The first shot of the day was an hour-long interview of me talking about the VersVac's features. This is what they'll use for my testimonial clips for the commercial – and the part of the day I was most nervous about – but according to them I knocked it out of the park!
Shortly after I got started, Jack turned to Doug and jokingly asked, "Did you feed her a script?!"
Doug laughed and replied, "No, I swear!"
I was all, "Umm…what's up guys?" and Jack responded, "You are nailing this!"
They said they loved how succinct I was with describing the product's features, and that I wasn't using a whole lot of extra words and fluff. They thought I was very clear and direct – perfect for a 1-2 minute commercial.
WooHoo!!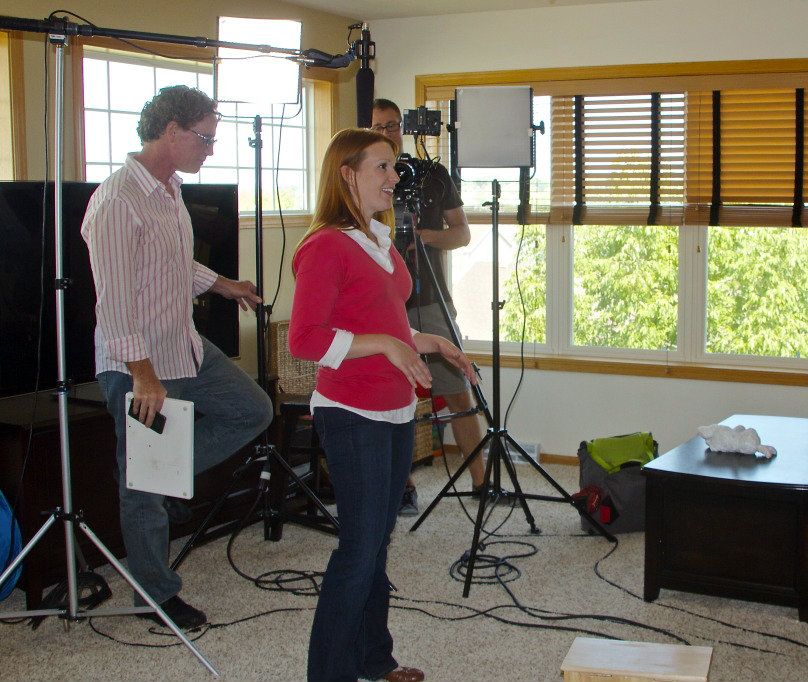 Setting up for the interview in my living room.
Allow me to set this up for you.  See those two big white rectangles – one lit, one unlit?  Both were lit (and emitting heat) just inches from my face during my hour-long interview. . .while I was standing. . .in heels. . .for an hour in my living room.
I knew they were going to put me in layers, and quite likely a sweater, for the commercial – I just knew it!
Here's the thing, people: I sweat like a politician getting a background check.
I can't help it.  When I'm hot, I sweat.
When I'm hot, and wearing layers (one of them being a sweater), and it's 85 degrees outside, and there are two massive lighting units inches from my face, and a video camera lens right in front of my face, and a huge microphone about two inches from my forehead – not to mention the fact that this is quite likely going to be seen by millions of people. . .um, yeah. . .Becca and her HD matte powder brush were working overtime with this sweaty chick!
In an attempt to account for my potential sweatiness I'd cranked our AC up before the Oreck crew arrived (because I knew they were going to put me in a sweater and layers – I just knew it!), but unfortunately it didn't do me much good. The microphones were so sensitive to sound that they had to turn our AC off during the interview so they wouldn't hear it running! They even turned our refrigerator off, too – and the interview was shot in our living room!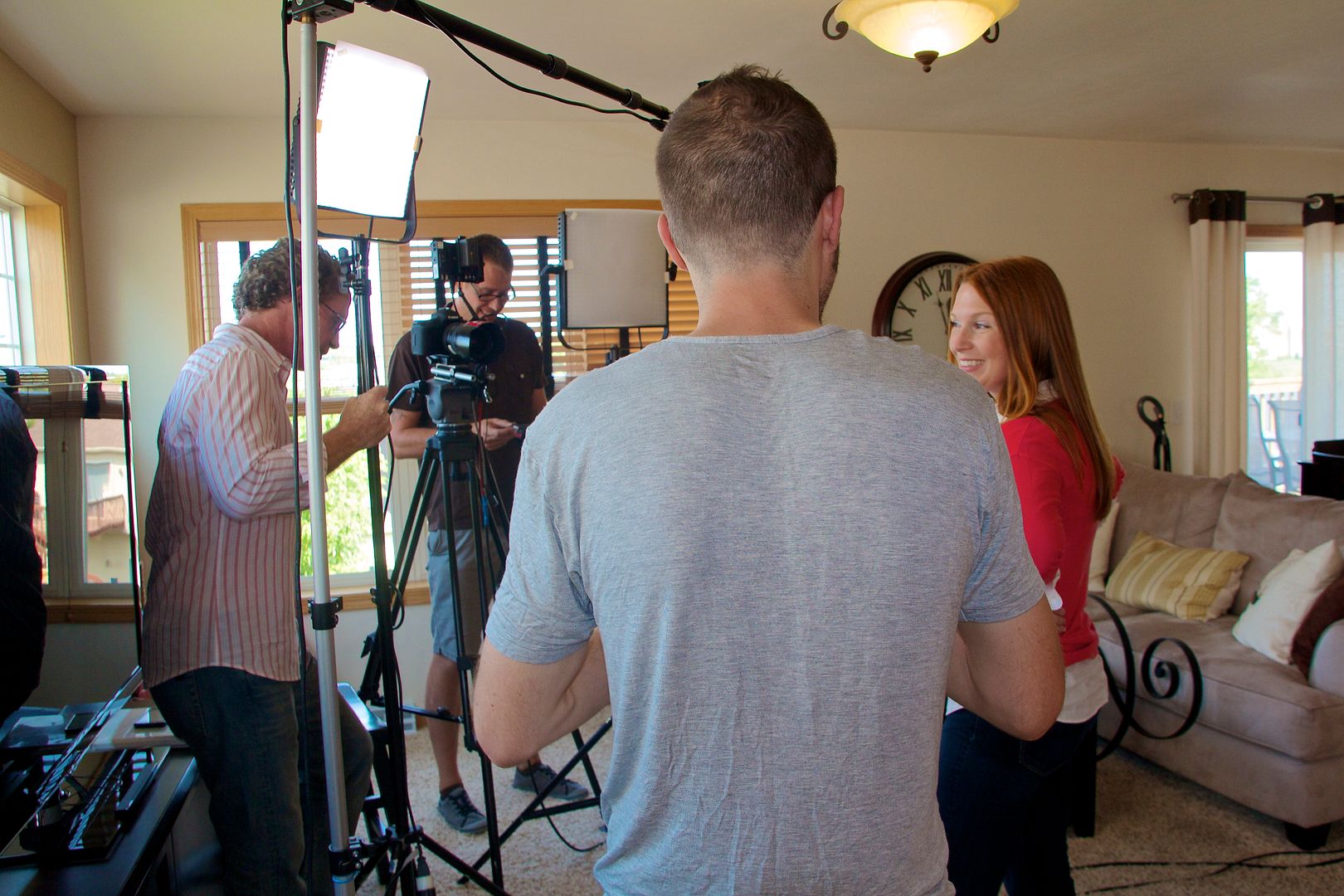 Trying to stay cool despite layers, lights, and no AC.
After the interview they changed me into something "more casual" and the rest of the day was spent setting up and shooting clips of me using the VersaVac in our kitchen and our spare bedroom.
Gary, making a Fruity Pebble mess underneath my kitchen table for me to vacuum up.
Setting up for the kitchen vacuuming shot.  From left to right: Doug, Jack, Chris, Becca, Mike, and Gary.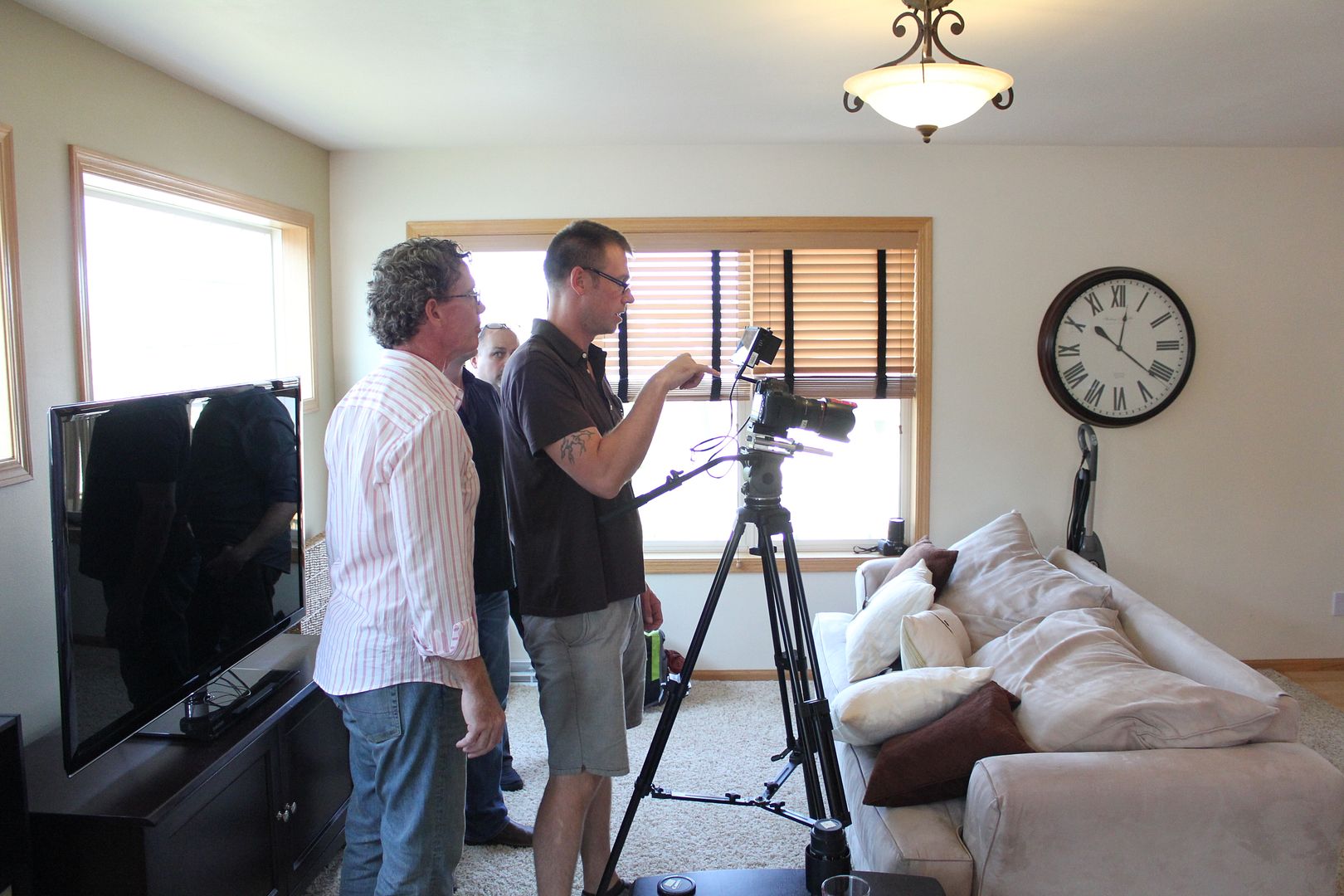 Jack & Chris perfecting the shot.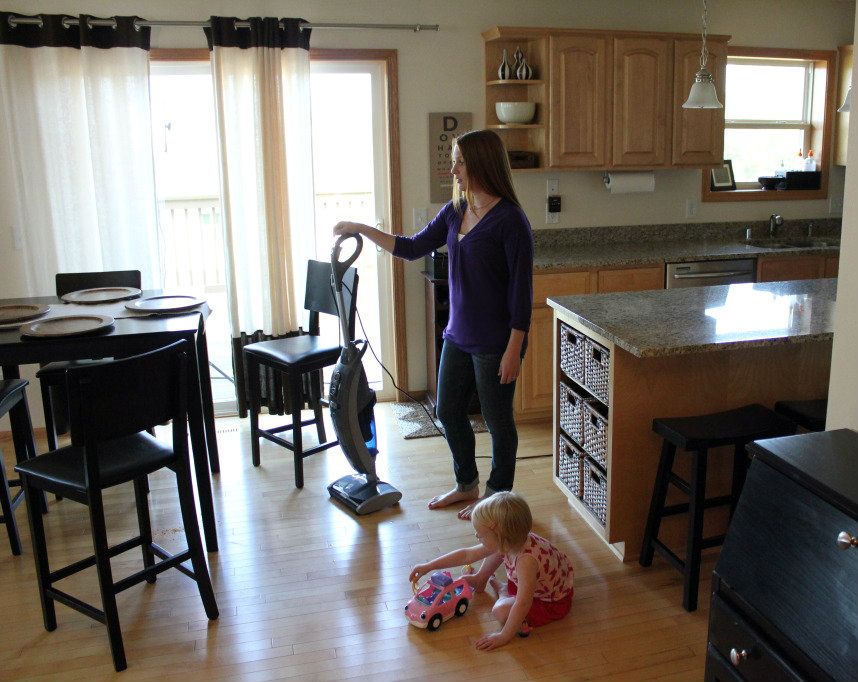 Kate and I, waiting for the cue to roll.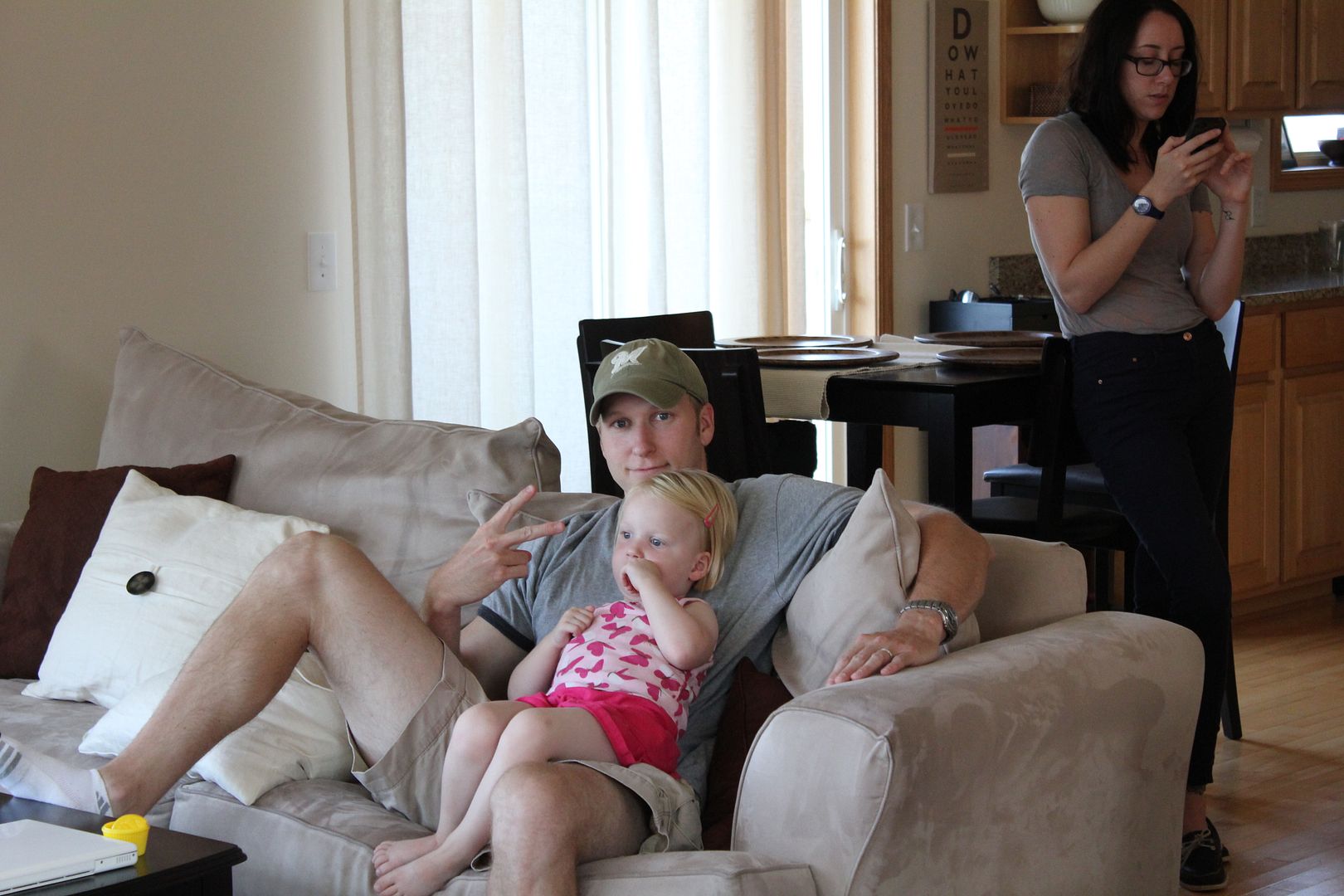 G, Kate, and Becca, killing some time.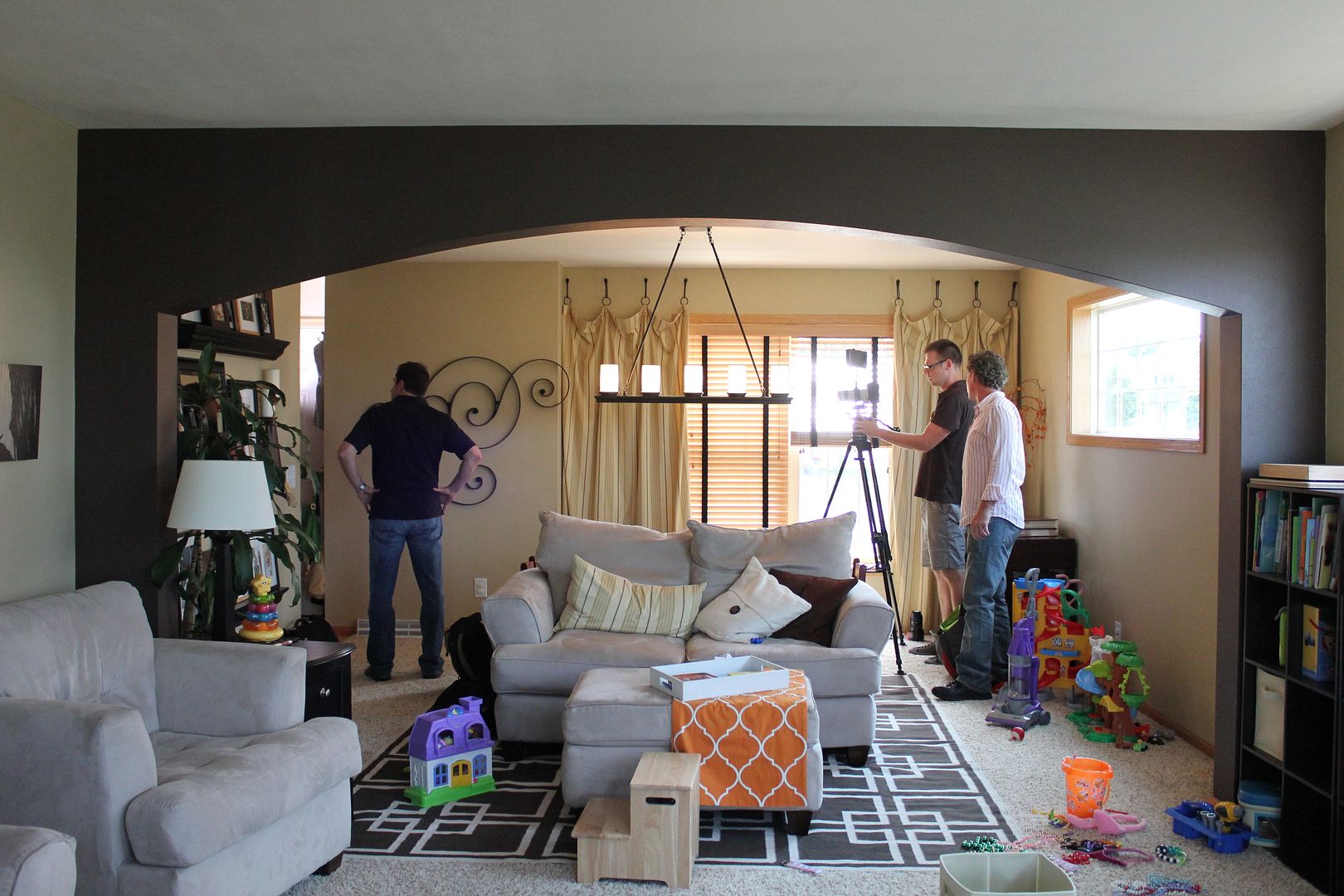 What do you get when you combine a 2-year-old home from daycare with a NYC camera crew?  An incredibly disheveled house!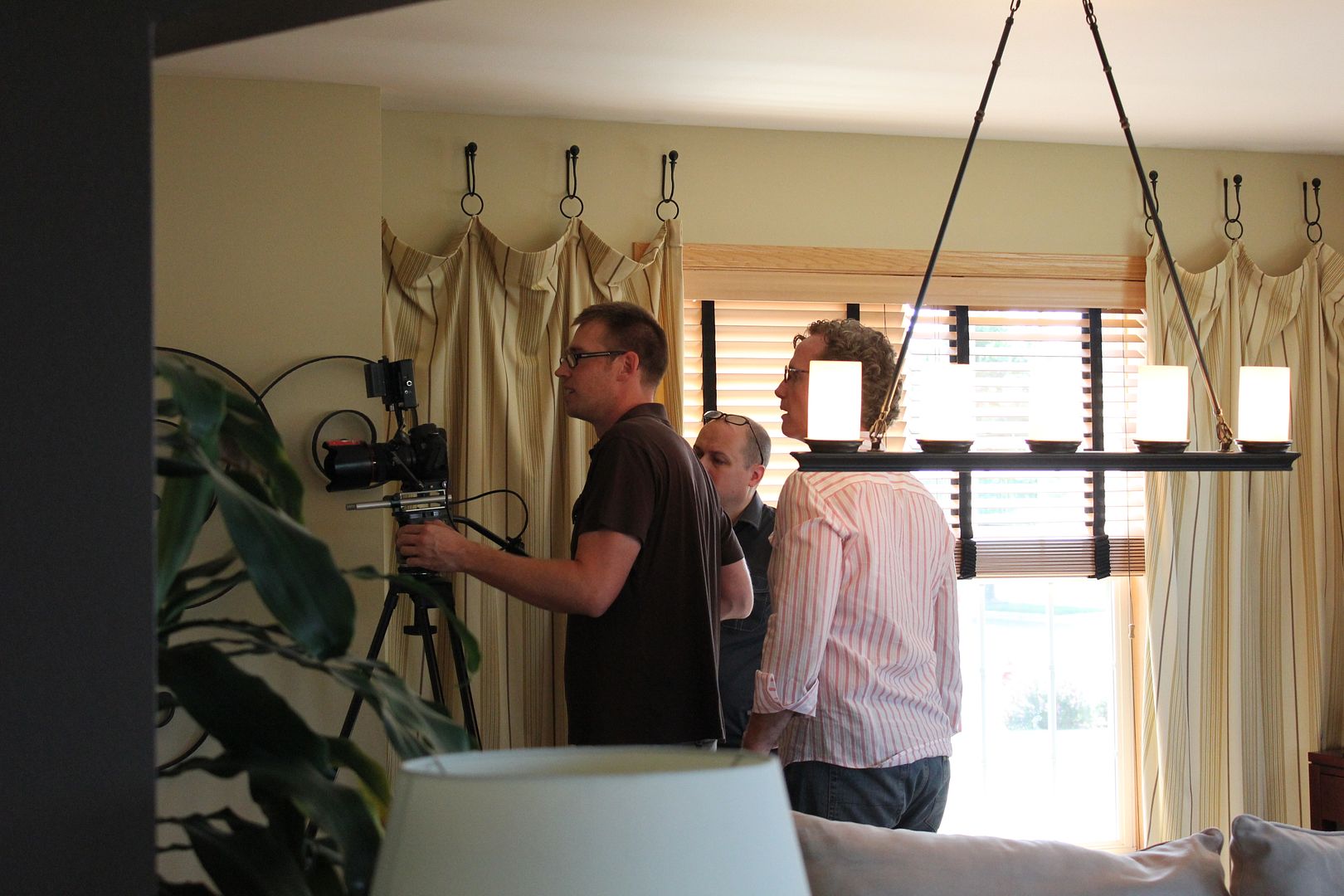 Chris, Gary, and Jack setting up for a stairway shot.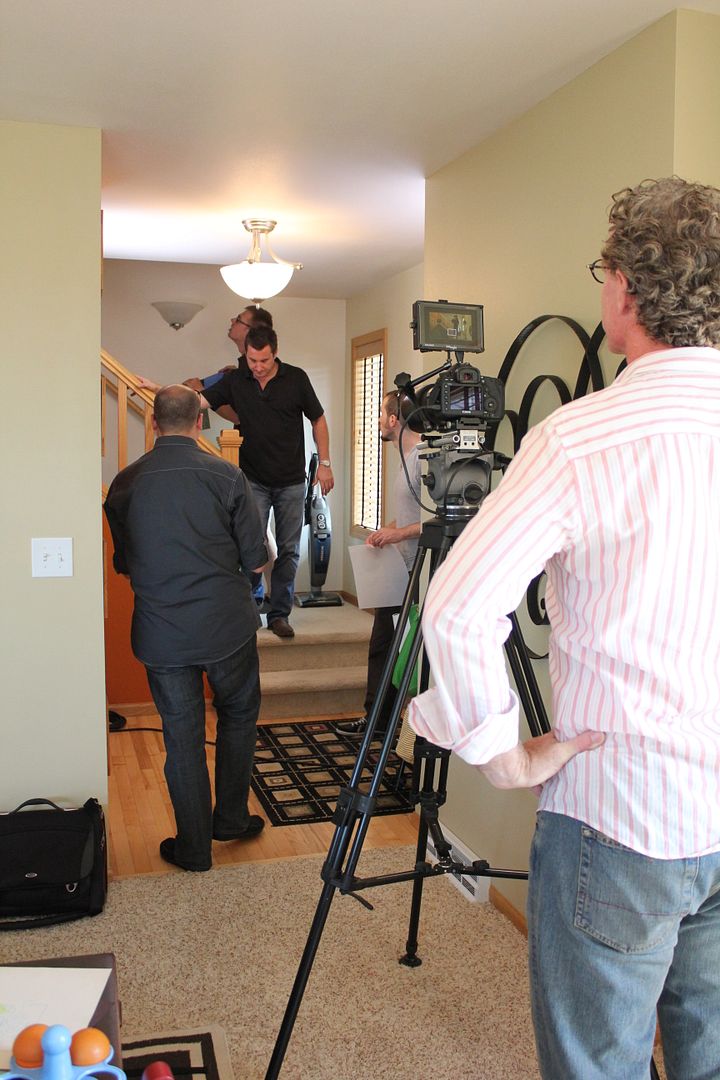 Chris was here.
They also shot a clip of a "delivery guy" arriving at my doorstep with my new VersaVac – and we talked G into being the delivery guy!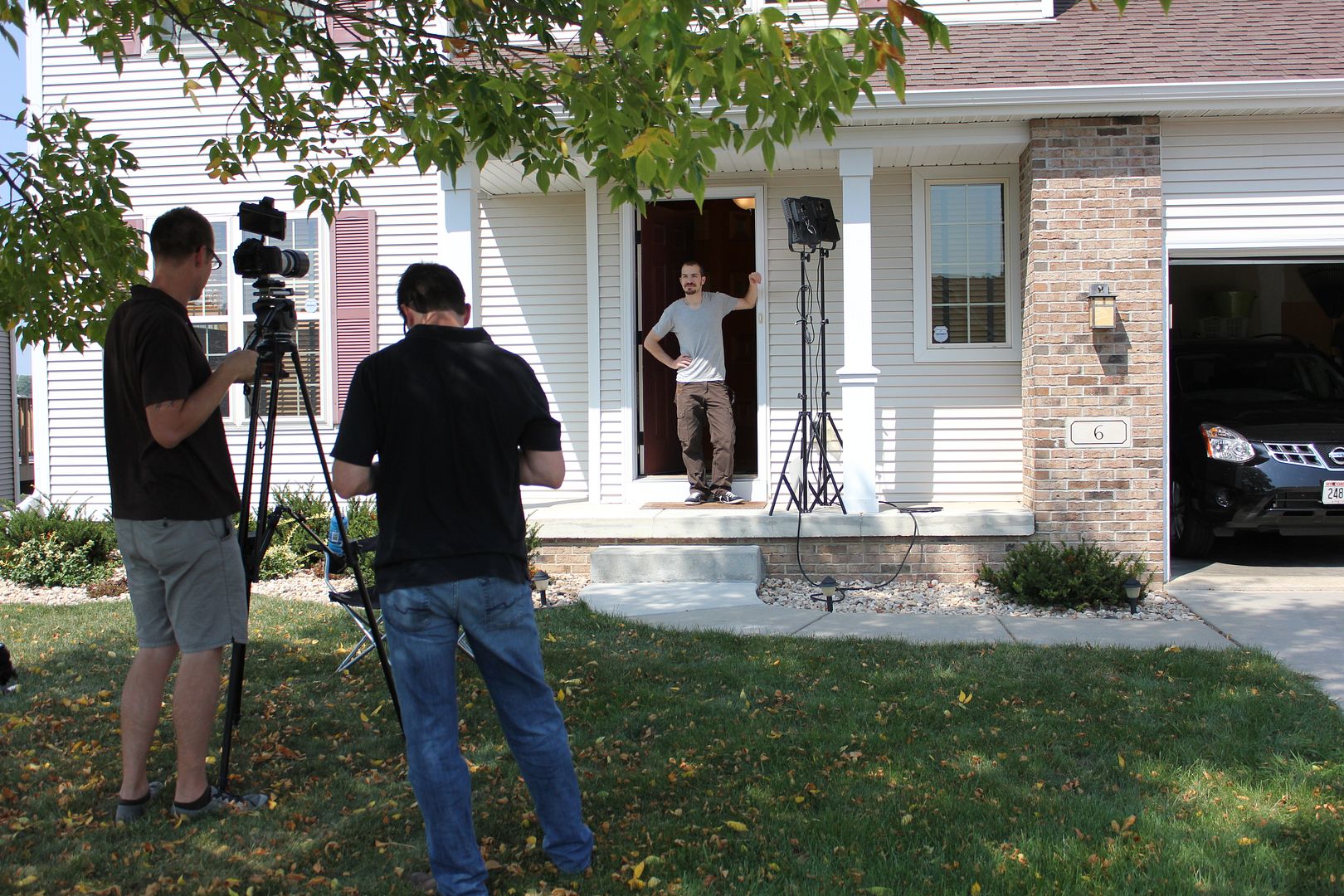 Setting up for G's delivery guy scene.
Overall it was SO MUCH FUN and the Oreck team raved about how well they thought it went, so I think it's safe to say it was a success!  It was a long day of shooting and we were all tired and hungry, but this mama just has to say – Kate was so well-behaved the whole day. We were so proud of her! We were all really hoping to get a clip with her either running through a scene or playing in the background, but I'm not sure if they were able to get her in a shot.  I guess we'll have to wait and see when the commercial airs on October 8th!
While this may not be my national television debut (ahem, remember when I was on Oprah?), I'm still super excited for my first national television commerical!
(No. . .first I'm nervous as hell, then I want to vomit thinking about it. . .and then I get excited!)
Look for me coming to your small screen soon!