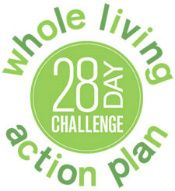 Who's ready to change their life?!
Alright, alright…before you barf in your mouth, allow me to go first:
I am.
Maybe not to change my life, per say, but I am in SERIOUS need of getting my ass back on track with taking care of my body.  With the holidays, the excitement and planning of Kate's 3rd birthday party, followed closely by getting ready for our photo shoot with The Tile Shop (more on this coming soon!) I have run myself into the ground.  I've been various levels of sleep deprived, sick, and cold-sore-infested for the past few weeks, and since I'm never one to go to a doctor my remedies have been caffeine, wine, cheese, and salt.
Remember how I had the best intentions to use this week to prep for next week?
Yeah.
That hasn't happened.
On Tuesday (just one day before my photo shoot for ads that will appear all across the country…yep) I ate enough pasta to satisfyingly feed a family of 4.
Linebackers.
Four linebackers.
For some reason, almost immediately after that I decided I needed something crunchy.  Potato chips!  But we don't have potato chips.  What could I make to scratch my potato chip urge?!  I know!  How about a pound of hashbrowns, pan-fried on the stovetop in a quarter pound of butter, doused with salt, and topped with a bag of cheese?
Yep.
Fried, buttered, salted, cheesed, and – Katie Bower as my witness – devoured in less than a minute.
Then I ate 10 bags of M&Ms.
They were the "fun size" bags, leftover from Kate's party favors, but at this point does it even matter?!  My point is: eating like crap is a slippery slope, and I'm on that slippery slope and I want to get off of it (need to get off of it!) but it's cold outside and I don't feel like running, and I've got 2,504 things to do, and dammitall eating massive quantities of food is my culture and it tastes so good!
I'm in major need of a course correction.*
That course correction starts next week.
Considering I'm on said slippery slope, I know that starting this year's Whole Living Challenge to eat clean, limit my food intake, and detoxify my body next week is going to be particularly hard.
Like, crazy hard.
Maybe even harder than my first year of doing it – but I know that I can do this!
So here's the plan.  The following are off-limits throughout this three week (and optional 4th week) detox plan:  processed foods and beverages, added sugar, dairy, gluten, caffeine, and alcohol.  In addition, food options for Week 1 are limited to only the following:  lentils, fruits, vegetables, nuts, seeds, oils, and seasonings.  I said this after my first time doing the Whole Living Challenge and I'm pretty sure I'll be feeling the same way again this year:  Week 1 is by far the hardest…but getting through it is also the most rewarding.
Also worth bolding: Preparation is key!  If you don't know what you're going to have for breakfast the next day by the time you go to bed at night, you're sunk.  If you don't know what you're having for lunch tomorrow by the time you go to bed – check mate.  If you don't know what you're going to have for dinner the next day by the time you go to bed…well, by now you should be picking up on my subtle cues:
Preparation is key!
Shop today.  Peel and chop this weekend.  Start Monday.
My Week 1 meal and snack choices are listed below.  My plan is to start off every morning with a cup of hot water with a squeeze of lemon (it stimulates the liver and releases digestive enzymes).  I also plan to drink Yogi's DeTox herbal tea (sold at Target, Whole Foods, etc.) and non-caffeinated green and black teas throughout the month.
I don't have a juicer so I'm sticking to smoothies for breakfasts.  I have a hard time with the textures of my food, so I've found that the trick to handling smoothies (if this is new to you) is to blend them really well so they're as liquidy as possible.
One thing I'm particularly excited about this year is that my friends/coworkers Katie and Tiffany are joining me on a weekly recipe swap!  Each week during the Challenge each of us is going to prepare a Challenge-approved recipe to bring it to work and share with the other two.  It's a great way to try out new recipes without all the grocery expense and prep time!
My Breakfast Options:
Green Smoothie**
Green Machine Smoothie
Avocado, Apple, Celery Green Smoothie***
Mixed Green Smoothie (for Vibrant Skin)
Ginger Orange Smoothie
Mango Coconut Water Smoothie**
Mango Tahini Smoothie 
Blueberry Mint Smoothie
My Lunch Options:
Sweet Potato, Apple, Celery Salad**
French Lentil Salad
Creamy Broccoli Soup
Red Lentil and Sweet Potato Stew
Celery Root, Kale, Avocado Slaw
Kale Slaw with Red Cabbage & Carrots
My Dinner Options:
Cauliflower "Rice" Stir Fry
Creamy Broccoli Soup
Red Lentil and Sweet Potato Stew
Carrot Ginger Soup** (sans garnish)
Roasted mixed veggies in olive oil (broccoli, cauliflower, etc.)
Spiced Butternut Squash & Apple Soup
My Snack Options:
Smoothies from my breakfast list
Sesame Kale Chips
Dried Fruit & Nut Bites
Steamed Green Beans with Lemon
Creamy Mango Pops
Almonds**
Sunflower Seeds**
Oranges/Clementines**
Apple slices**
Sliced veggie sticks**
Alright, I've got to ask it again:  Who's ready to change their life?!  (I can't be the only one walking the slippery slope with my hand in the air and butter running down her chin, here.)
Let's do this!
*Or more all-spandex pants options. 
**Things I've already tried that I know I'll like.
***1/2 an avocado, 1/2 a Granny Smith apple, 1 celery stalk (makes 1 smoothie)
Like All Things G&D on Facebook to follow along with my Whole Living Challenge!  I'll be posting there about what I'm eating each day, how I'm feeling, and my overall progress.  If you're doing this challenge along with me I'd love to hear from you, too!