1. My new car!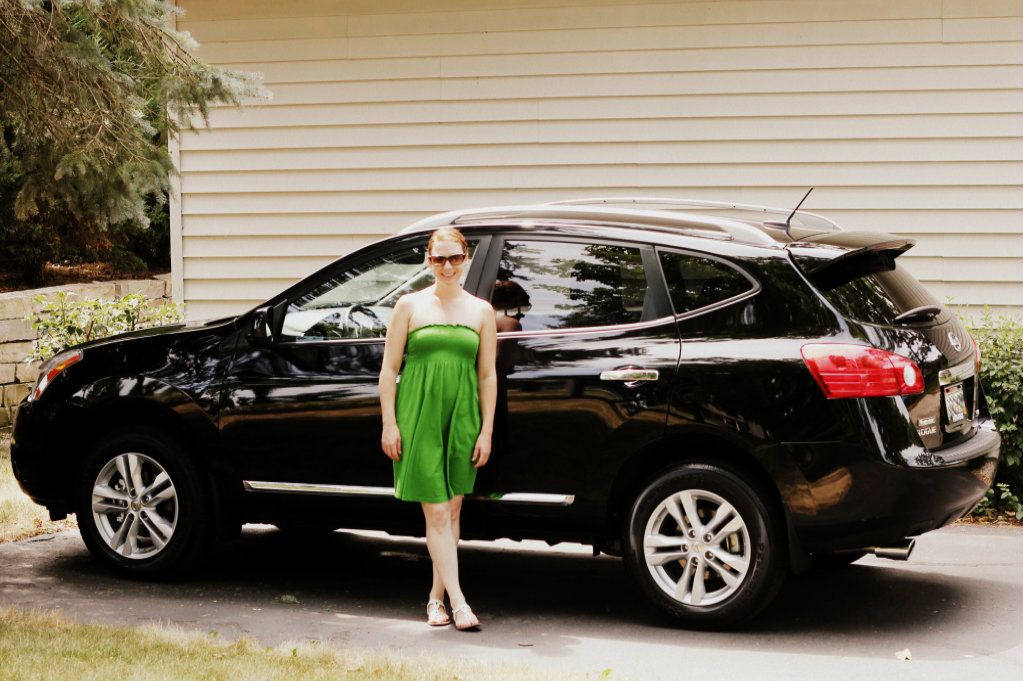 After 8 years of driving around in my trusty old Ford Focus it was time to trade her in for a 2012 Nissan Rogue!
I'm not sure what I'm more proud of in July – my new car…or my mad negotiating skills.
Who's ready for a story?
I decided to go car shopping on my first solo day of my Staycation since it was something I couldn't easily do with a toddler in tow and not something I wanted to hassle with on a weekend. My heart had been set on a Nissan Rogue for quite awhile (based on outside looks alone, of course; I'd never driven one, and up until this summer I'd never even been in one) so the Nissan dealership was my first stop.
I knew two things walking onto that car lot: (1) I was interested in the SV model because of its additional features, and (2) I wanted a used car because I think brand new cars are a waste of money.
It would take more words than you'd care to read to give you all the details of how I had more than one car salesman sweating in his khakis, but allow me to give you some of the highlights . . .
[Background info: I'd found a used Rogue SV with premium upgrades at the Nissan dealership on my side of town (we'll call that Dealership #1) that was in my budget and at the top of my list. To be thorough, I went to the second Nissan dealership in town (Dealership #2) to see if they had any used Rogues on their lot. They didn't, so instead the sales guy tried talking me into buying a brand new SV minus the premium upgrades. At his urging, I decided to sit down with him for a little chat. The following are some snippets from our conversation.]
SALES GUY (incredulous look on his face): You want me to sell you a brand new Rogue for LESS than the used Rogue you're looking at across town?!
ME (smiling sweetly): Yes. That's exactly what I'm saying.
SALES GUY (reeling): But my car is new! Theirs is used!
ME (shrugging): Honestly, that doesn't matter to me. Five years from now I'm not going to care about the extra miles that used Rogue has on it…but I will still be enjoying those premium upgrades.
SALES GUY: But if you buy new you can pick whatever color you want.
ME (laughing): Hey now, don't play that chick card with me. Next thing you know you'll be telling about all the great spots it has for my purse!
[Later in the conversation…]
SALES GUY (returning from the back room where he and his manager were crunching numbers, huge smile on his face): Alright, we got a number you're going to be happy with! The used Rogue across town is $XX,XXX.00 . . . plus tax, title, and license, of course–
ME (interrupting): Actually, that price had tax, title, and license already figured into it.
(At this point Sales Guy literally throws his arms up in the air and bangs his head on his desk.)
ME (smiling sympathetically): I'm sorry this is turning out to be such a hard day for you.
SALES GUY (regaining composure): No. It's okay. We WILL make this happen.
ME (waving my finger to his manager's office): Why don't you head back there and run those numbers again.
[And the exciting conclusion of our conversation…]
SALES GUY: Okay, we're under the used Rogue's price. Do we have a deal?
ME: I'll have to think about it.
SALES GUY: What's left to think about?!
ME: I need to decide which means more to me – having a brand new car, or having a used car with the premium upgrades.
SALES GUY: (speechless)
ME (giving my best smile): I do like those premium upgrades…
SALES GUY (handing me the key to the brand new Rogue): Here – take the car home with you so you can get a better feel for it while you make your decision.
ME: I don't need to take it home with me. I already test drove one this morning and I know it's what I want.
SALES GUY (shoving the key in my hand): Take the car for the night.
ME: No, really, it's okay. There's no need.
SALES GUY (takes a deep breath): I need you to take this car and leave so we can be done talking. [And I'm pretty sure he added something in there about not wanting to look at me anymore.]
ME (laughing): Fair enough.
So I took that brand new Rogue SV (sans premium upgrades) from Dealership #2 and drove it back to Dealership #1 (parking it out in front where all the sales guys could see it) to get them in an "I can beat their price!" war, with the intention of negotiating down the price of their used Rogue SV with premium upgrades – the car I had now decided I wanted.
After all was said and done, I drove off with a brand new Rogue SV with premium upgrades (the best of both worlds!) for only $100 more than the used option I had been considering.
Hell. Yeah.
I think it's safe to say I have now been blacklisted at every car dealership in the Madison area – but on behalf of every woman out there who has ever been talked down to, ignored, or taken advantage of while shopping for a vehicle let me also say. . . it'd be worth it if I was.
Generally I do a list of 5 things loved in this monthly feature, but this time I'm sticking with just one. Sure there are plenty of other things I adored and enjoyed last month, but nothing tops that new car smell, the thrill of an amazing deal, and the satisfaction of showing the Big Boys they better think twice before underestimating a woman in high heels.