Over the past week I've given you an up close look at some of my favorite Christmas decorations for this year, and now here's a look at how it all comes together in our home!
I've been thinking ever since I made it that our DIY monogram front door "wreath" wrapped in greenery needed a little something extra.  Well, the 20 inches of snow that shut down our city last week took care of that!  Dusted with snow, it is now holiday perfection!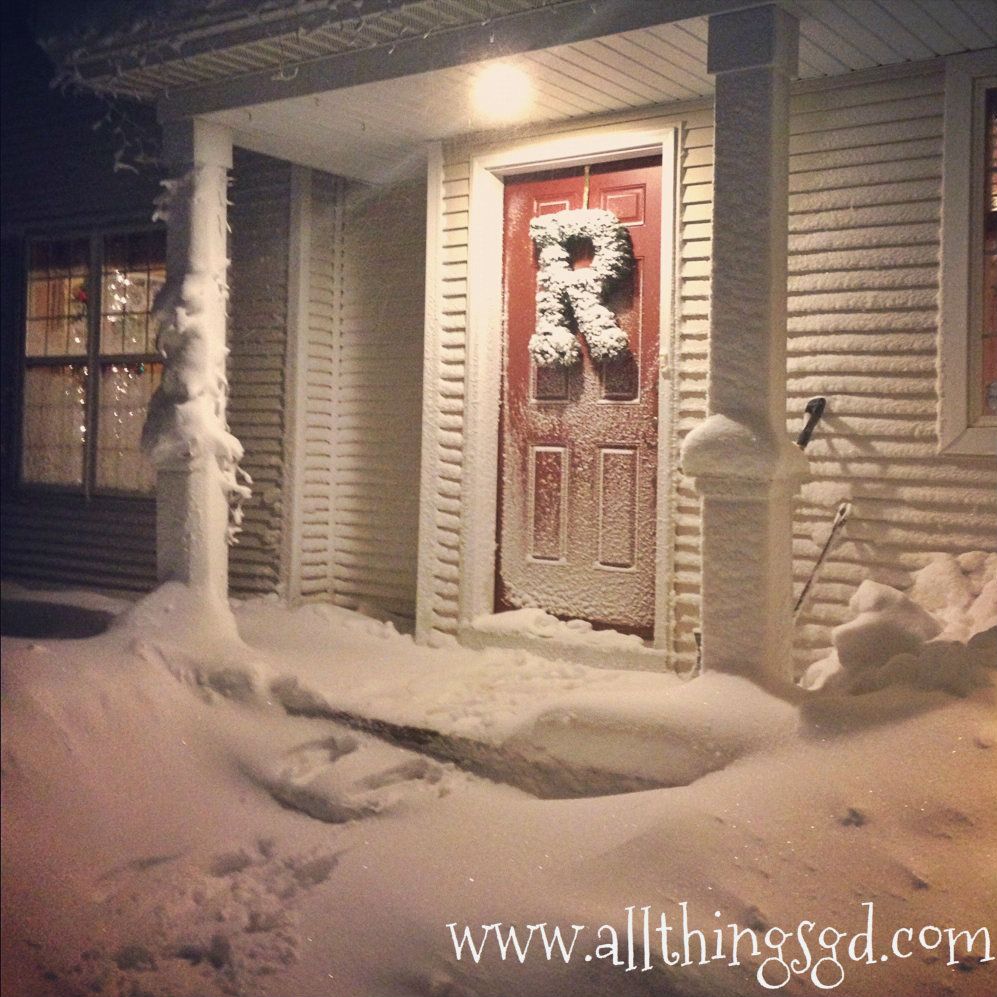 Welcome to Our Holiday Home
Colorful Christmas ornaments hanging from mirrors in our entryway greet our holiday guests. (See more details of our entryway decor in this post!)
Our Entryway
To the left of our entryway is our great room/family room…
And our Christmas tree!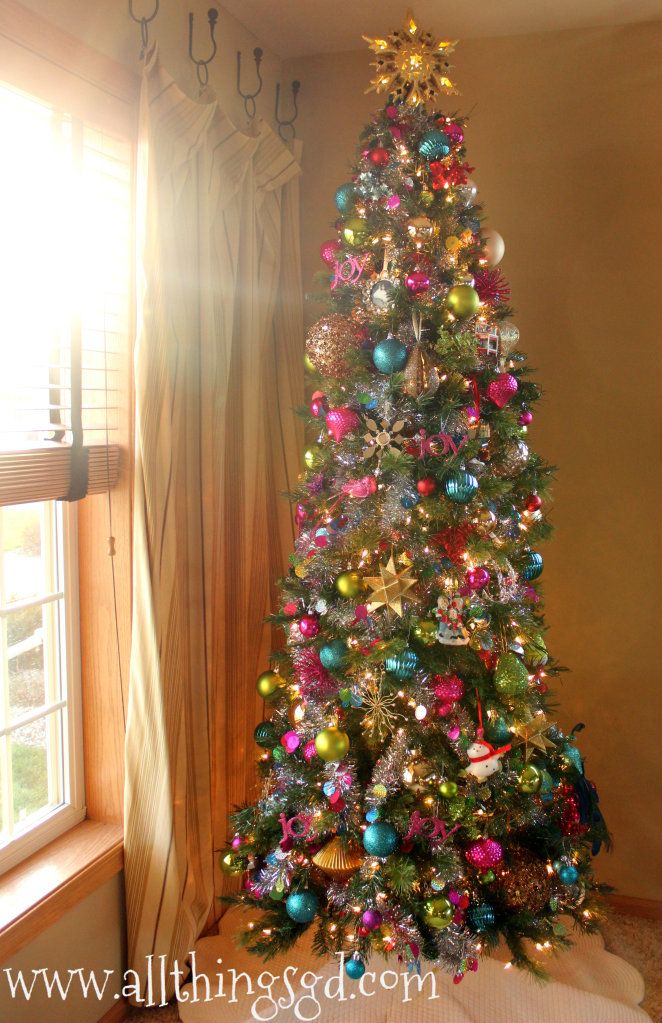 Our 2012 Christmas Tree
(See more of our colorful Christmas tree here!)
I used a lot of metallic curling ribbon in our holiday decorations this year.  First, I used it to add some color to these glittery Christmas tree decorations:
…wrapping presents:
Metallic ribbon tassels adding a little extra flair to this gift!
Adding some extra color and shine to the candelabra hanging over Kate's train table:
Metallic ribbon-wrapped candelabra shades.
And last but not least – metallic ribbon-wrapped holiday letters hanging in our windows…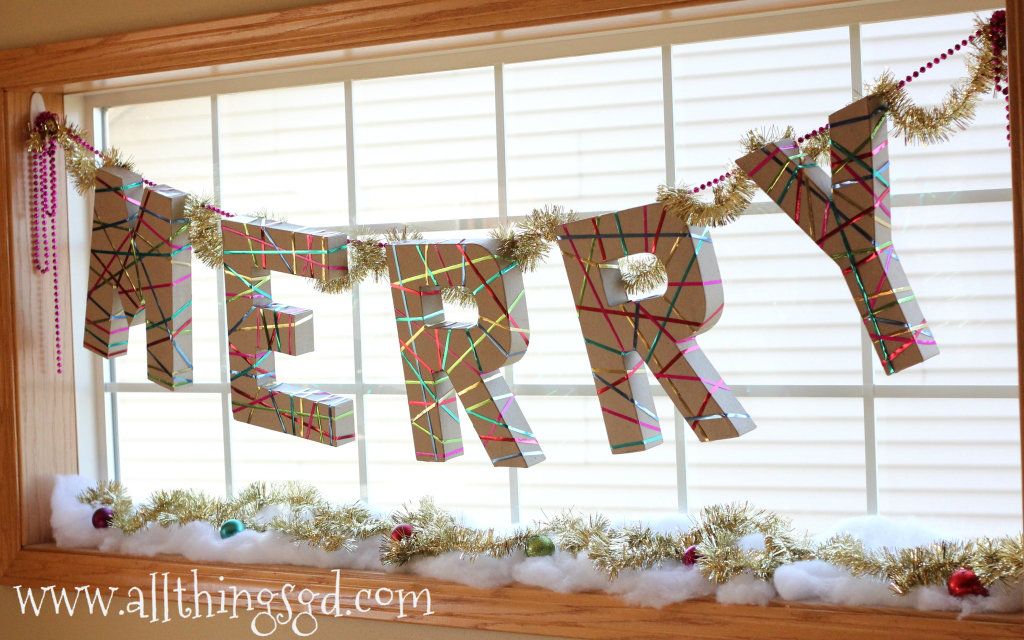 Metallic ribbon-wrapped holiday letters.
…spelling out "MERRY, HAPPY CHEER"!
Our Christmas-decorated Family Room
(See more of our metallic ribbon-wrapped holiday letters here.)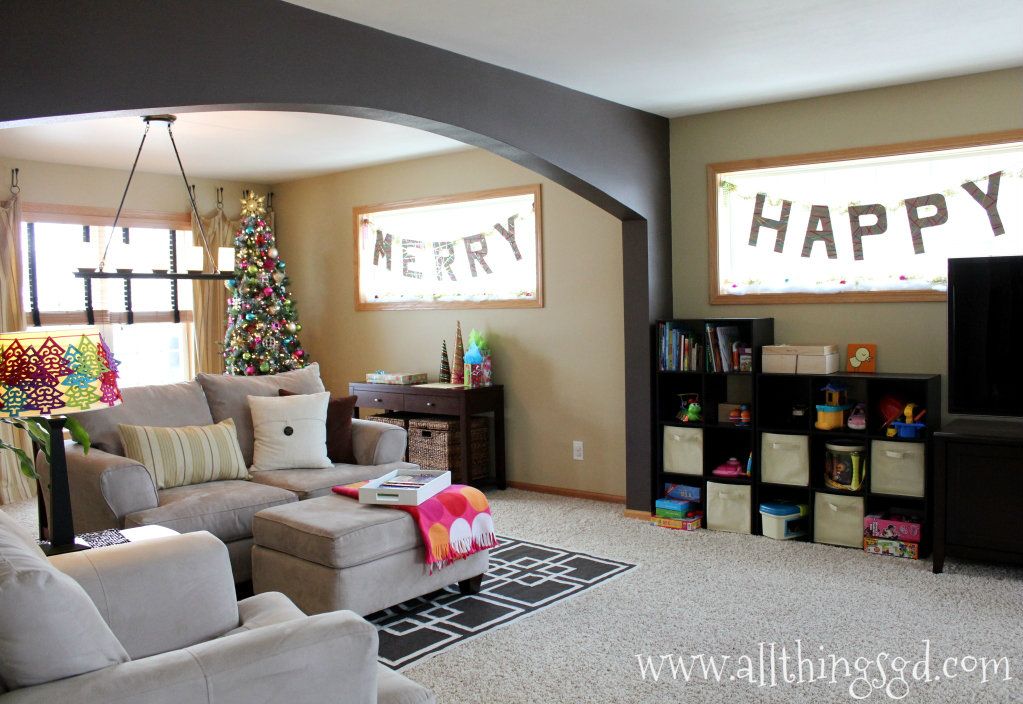 Our Family Room
Hanging holiday wreaths.
I re-used our colorful felt Christmas trees from last year to dress us our lamp shade: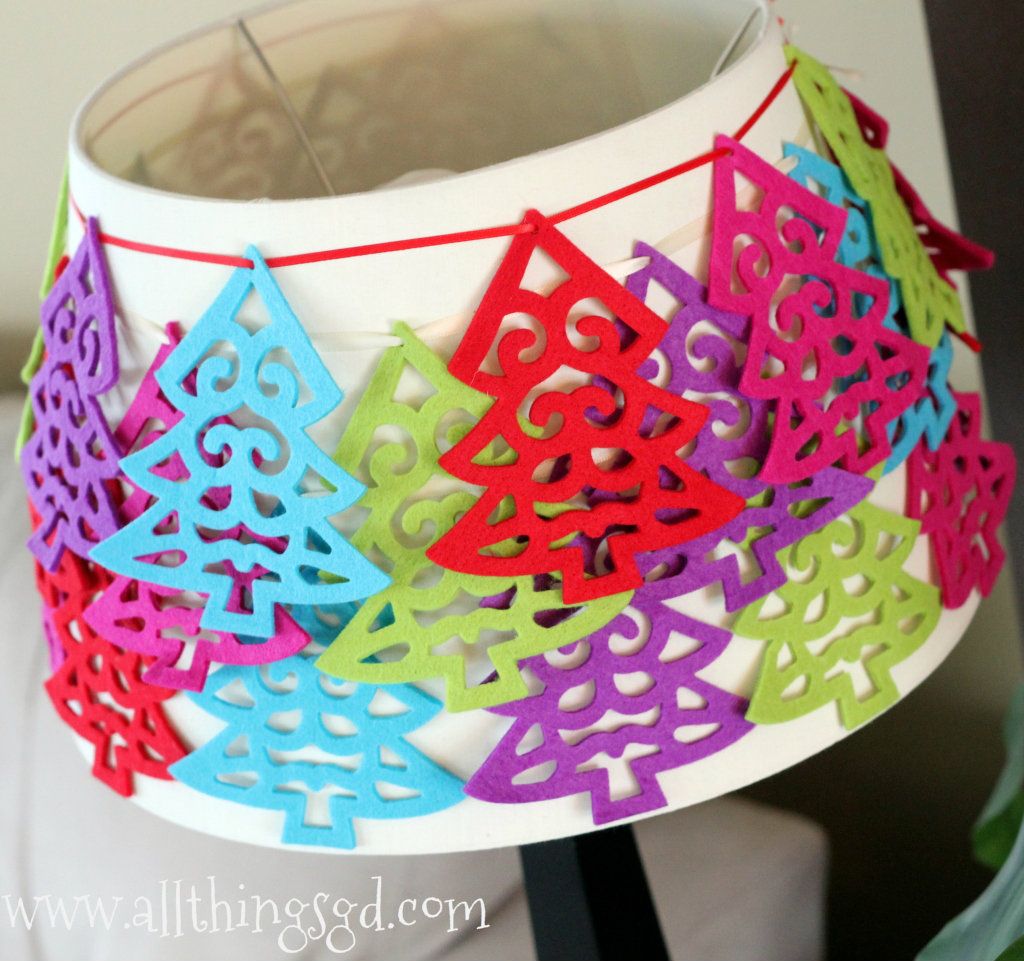 Layered felt Christmas trees make this lamp shade extra festive!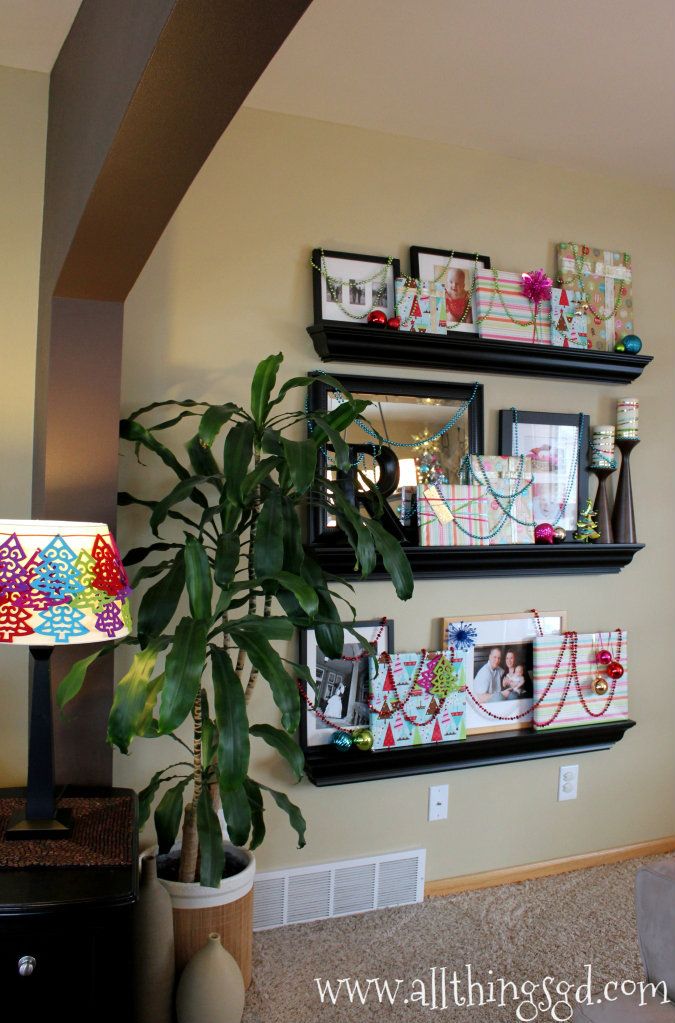 Floor to ceiling gift-wrapped photo gallery wall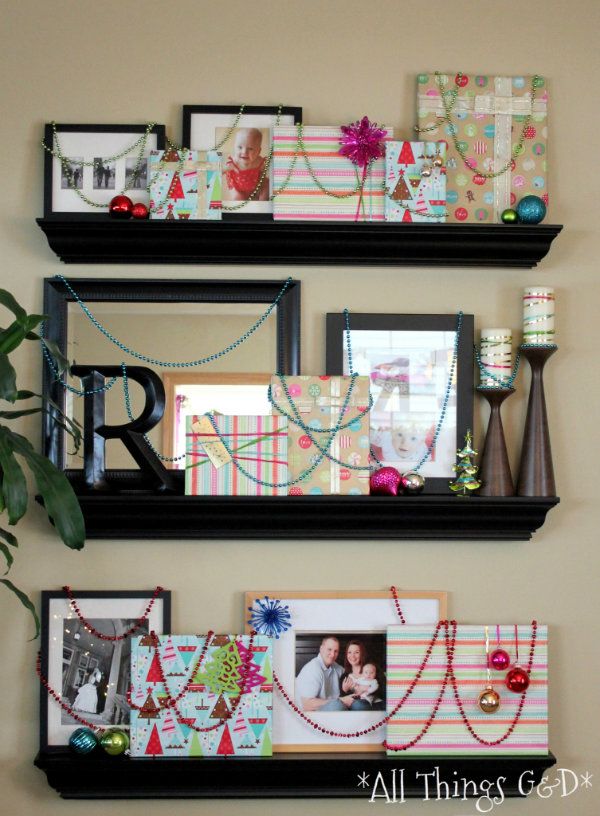 Picture frames wrapped to look like gifts on our photo gallery wall.
(See more of our gift-wrapped photo gallery wall here!)
Now that we've gone all the way around our family room, we're back to our entryway – the other side of which is decorated with our Christmas stockings, hanging from the staircase: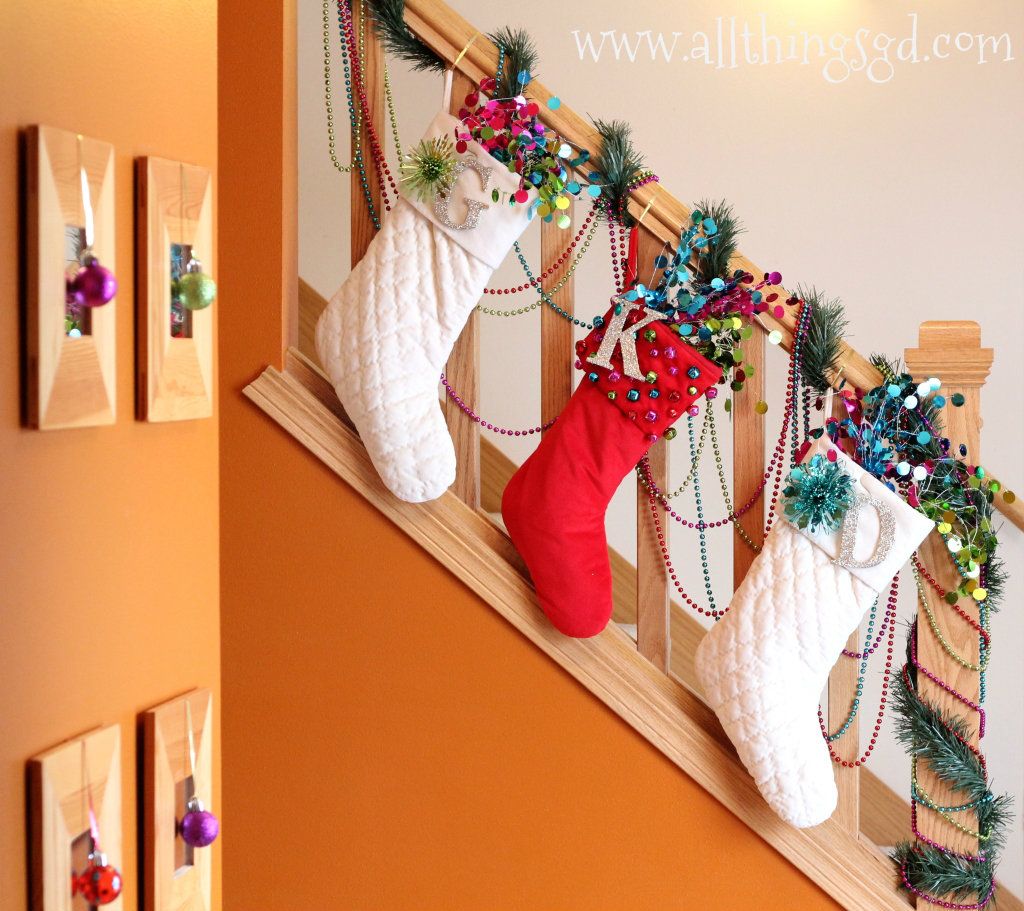 Christmas stockings hanging from the staircase in our entryway.
(See more of our 2012 Christmas stockings here!)
I hope you enjoyed this year's tour of our house all decked out for Christmas!  Happy Christmas Eve, everyone!