By now you've noticed that no cable knit sweater is safe around me.  (New to All Things G&D?  Find proof here, here, and here.)
Guess what else isn't safe.
The poor tree in my front yard.
So far I've plucked, trimmed, and clipped from it to make this vase, these napkins, our thankful tree…and now, this ornament!
Supplies:
Stick
Ribbon
Scissors
Quick drying glue
Screw eye
I used two different widths of green grosgrain ribbon to give my stick Christmas tree ornament some depth and to taper the width of it as I got to the top.  For quick drying glue I love Beacon 3-In-1 Advanced Craft Glue
.  It grabs almost instantly and dries quickly so you don't have to hold things in place for more than a second or two before it's set.
To make, cut small strips of ribbon and loop them as shown in the picture below, applying a dap of glue in between the loop to close it, and at the back to secure it to the stick.
Start by gluing your ribbon loops to the bottom of your stick and work your way up to top (I started with one loop at the top as you can see in the picture, and then quickly realized that was dumb. I'm sure Martha has these moments as well.)
I used ribbon pieces that were slightly shorter than the rest for my very first row at the bottom to make the row above it puff out a little bit to give my tree more of a triangular shape. Be sure to stagger your loops so they overlap slightly.  I started working loops from the thinner ribbon in about a quarter of the way up my stick, gradually increasing the amount of thinner ribboned loops I was using until I got to the top and used only thin loops.
Finish it off with a screw eye added to the top and a ribbon for hanging and you're all set – your very own Ribbon & Stick Christmas Tree Ornament!
Here are the rest of our handmade ornaments for Day 3 of our 12 Days of Handmade Christmas Ornaments – click around and enjoy!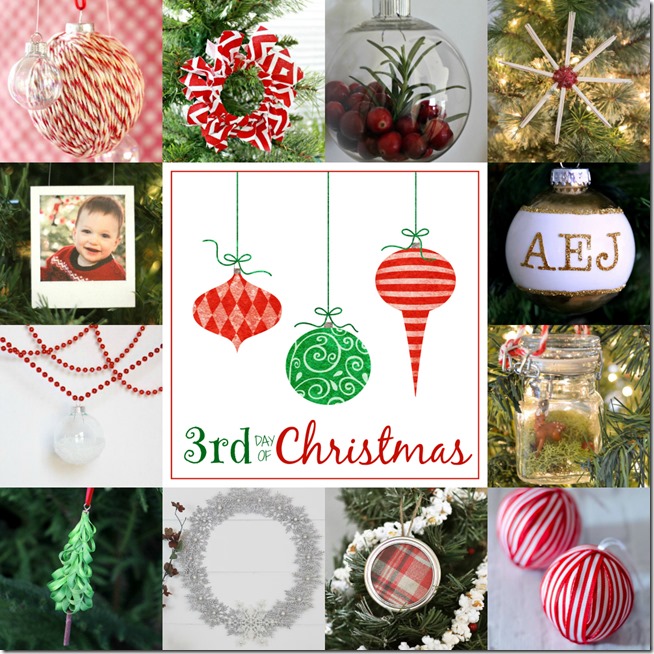 Yarn Ball Ornament by Remodelando la Casa | Mason Jar Ring Fabric Ornament by Mom 4 Real | Cranberry Rosemary Glass Ornament by The Happier Homemaker | DIY Wire Star Ornament by Bigger Than The Three Of Us | DIY Polaroid Photo Ornament by Lovely Etc. | Glitter Monogram Glass Ball by Serendipity Refined | "Snow" Dipped Glass Ball Ornament by May Richer Fuller Be | Terrarium Ornament by Whats Ur Home Story | Ribbon & Stick Christmas Tree Ornament by All Things G&D | Snowflake Christmas Wreath by Thrifty and Chic | Plaid Mason Jar Lid Ornament by Cherished Bliss | Red & White Ribbon Wrapped Ornaments by It All Started With Paint
A great big THANK YOU to Linda from It All Started with Paint for organizing this DIY ornament series and to Michaels for providing a gift card to cover the cost of some of the products.
This post contains an affiliate link.