My Day 2 of the Haven Conference technically started at midnight with my roommate/fabulous friend Beth from Unskinny Boppy and I enjoying a little after-party and lots of girl talk in the 701 (our room number). Eventually we called it a night and got a whopping 4 hours of sleep before it was time to rise and shine.
Truth be told, however, I wasn't doing much shining.
After my second night in a row of getting only 4 hours of sleep (*cough* not to mention all that Chardonnay I had *cough*) my shine was more like a matte finish. To offset this I broke my "no caffeine" rule and had not one but (gasp!) two cups of coffee, and I applied eyeliner about 5″ thick to my upper eyelids.
(That's about the extent of my problem-solving when I'm jet-lagged, sleep deprived, and slightly hungover.)
The first full day of the Haven Conference kicked off with a welcome by Rhoda from Southern Hospitality and her fabulous team of Havenistas, followed by an amazeballs keynote presentation by John & Sherry from Young House Love.
For those of you itching to know, John & Sherry really are the sweetest, funniest, most genuine people, and it showed through in their presentation.  It was the perfect mix of experience and education,  humor, and humility, and I especially loved seeing how they played off of each other.  We may have been sitting in a crowded conference room with nearly 300 other people, but it felt like we were sitting in their living room shooting the breeze.  They are truly that personable and welcoming.  To meet them is to love them.  Simple as that.
You know who else is instantly loveable?
Katie Bower.
I had the pleasure of meeting my blogging buddy Katie Bower from Bower Power immediately following John & Sherry's keynote speech, and within seconds of our hello we were doing booty shakes in the hallway of the Crowne Plaza.  (Little did I know this was a sign of things to come!)  Katie is one of those girls who manages to be refreshingly laid back and effortlessly funny – all while carrying a toddler (or two!) on her hip and sporting the most adorable little baby bump!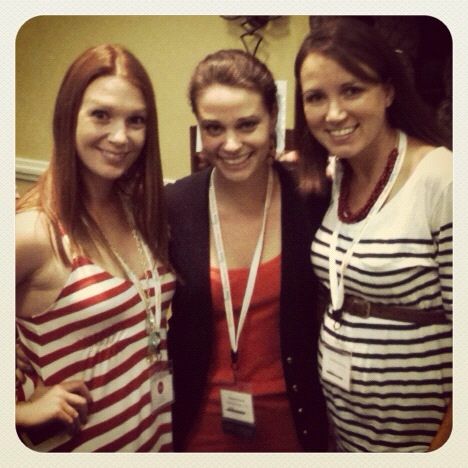 Me, Sherry from YHL, Katie from Bower Power, and a grainy iPhone photo – winning!
The first workshop I attended was titled "I Like Big Blogs" (hence the spontaneous Bower Power/ATG&D booty shake), put on by Rhoda, Sarah from Thrifty Decor Chick, Myra from My Blessed Life, Beth from Home Stories A to Z, and Traci from Beneath My Heart. They shared tips on how to grow your blog, and I learned about link parties, SEO, keywords, Google+, and "no follow" links – all things I knew nothing about before this workshop, so I found it really helpful.
"I Like Big Blogs" Workshop
At lunchtime I joined a fabulous table of women – most of whom I had yet to meet – although I only got one person's business card (Beckie from Infarrantly Creative – love her!) so unfortunately I can't tell you who they all were.  I have a terrible, awful memory, and it only gets worse when I'm sleep-deprived and over-eyelined!
We had a nice long break between sessions, so after lunch I wandered outside (in the spirit of networking and friend-making) and joined another table of fabulous women.  This time I did get their business cards so I can tell you with absolute certainty the lovely ladies whose company I enjoyed were Kim from Sand & Sisal, Ann Marie from White House Black Shutters,  Angie from Angie in the Thick of It, and Pamela from PB&J Stories.
I then joined Sherry, Katie, and Katie's adorable son Will at another table, and we quickly fell into nonstop girl talk about everything under the (hot Atlanta) sun.  I absolutely adore these girls – I cannot say it enough!  About an hour passed before I realized I was once again being the Queen of Rudeness and totally busting into their BFF time.  They assured me they didn't mind one bit, and although I'm pretty certain they were lying, I kept my ass planted in my seat because, again, I have no boundaries.  (And it was very sweaty.  I didn't need people seeing that if I stood up.)
After lunch my friend Beth and I attended the "Blogging PR" session put on by Amy Flurry, author of Recipe for Press, Ashley Walters and Rachael Powell from Powerhouse Factories, Tauni Everett, and Reni from Bliss and Tell.  This jam-packed session was all about how to build relationships with your favorite brands, and how to pitch yourself to brands you're interested in – again, something I knew nothing about, so I found it super interesting!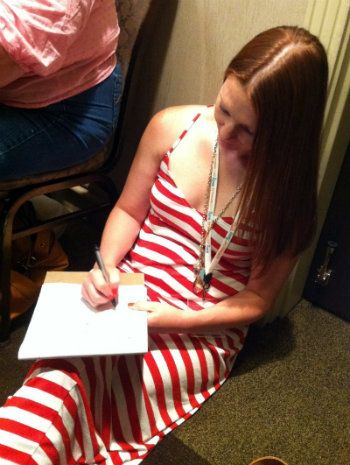 The "Blogging PR session" – I parked my sweaty ass on the floor and was a note-taking fool!
My last session of the day was "Basic Photography & Photo Styling" with Kevin and Layla Palmer of The Lettered Cottage, and Josh Moates from Indie Film Lab (with Katie Bower adding the laugh track).
Kevin from The Lettered Cottage talking about aperature in the "Basic Photography/Photo Styling" session.
This was one of my favorite sessions of the entire conference and I learned so much that frankly I'm counting it as my 2nd college degree.  For starters, I learned that my recently posted kitchen pictures (which I thought looked pretty damn good last week when I took them) actually look like hell.
I will also never look at a Pottery Barn catalog the same way again.  Guess what, boys and girls – that glossy catalog is more than just eye candy for the home-decor obsessed.  It's an education!
Pretty soon I will hold all three of these degrees:
1.  Bachelor of Science in Criminal Justice and Psychology
2.  Bachelor of Arts in Taking Awesome Pictures
3.  Masters in Pottery Barn Catalog Analysis
And I'll owe it all to four years of college and one Haven Conference.
After the Photog Session That Changed My Life, I grabbed a quick pic with my three favorite bloggers…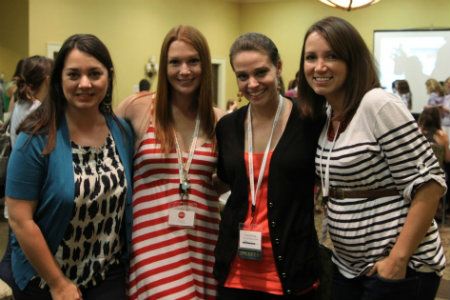 Me, and my beautiful blog friends:  Kate from Centsational Girl, Sherry from Young House Love, and Katie from Bower Power.
…was the center of a Dusty Hump Sandwich that had been months in the making: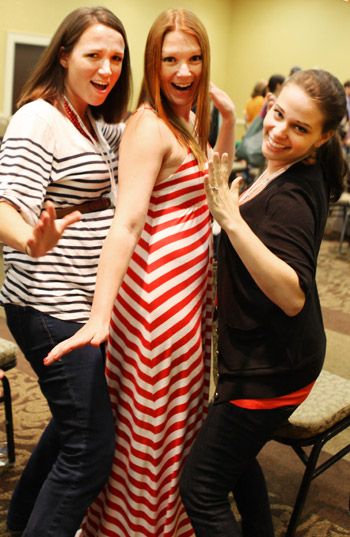 BP/ATG&D/YHL Hump Fest!
Photo above shoplifted from Sherry's Haven post, and courtesy of Katie Bower.
…and then raced upstairs to our hotel room for a quick outfit change and an attempt to calm my eyeliner down before heading to the cocktail party.
This night's cocktail party, sponsored by Rust-Oleum, was a blast!  The first new person I met at the party was Colleen from The Restarter Home.  We struck up a conversation while waiting in line for Chardonnay.  Thirty-five seconds later I ran into her again as we were both back in line for our 2nd glass of Chardonnay!
Could this really be happening?
Have I actually met someone who keeps the same Chardonnay guzzling pace that I do?!
Yes, and yes.
Colleen & I – leaving no bottle of Chardonnay unfinished!
We took a break from our wine guzzling (no, that's a lie; we just slowed down) to get to know each other, and the three of us (me, Beth, and Colleen) soon realized that we're soulmates.  We were meant to meet at this conference and I forsee a lifetime of friendship ahead of us!
Here are more party fun pics:
Catching up with Angie from In the Thick of It, who I'd met earlier in the day.  Angie is just as fun-loving as I am, an in my mind this second meeting was essentially our second date, so…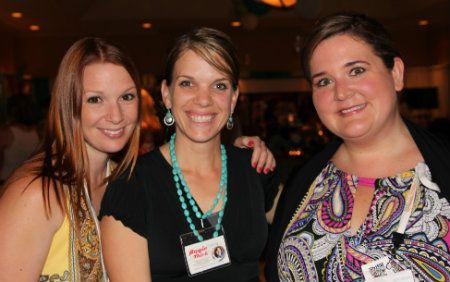 …commence party humping!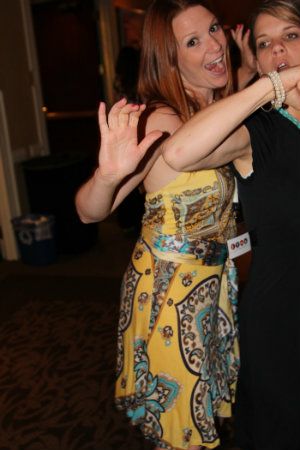 Once it's turned on, it can't be turned off.  My apologies to the saxophone player.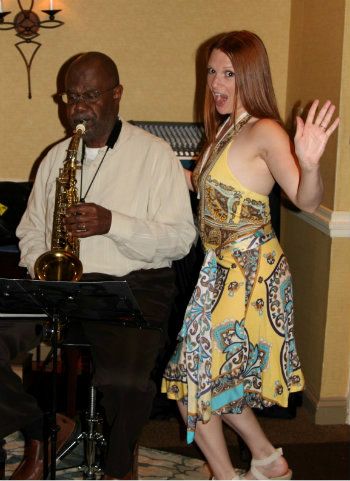 People should know better than to dare me.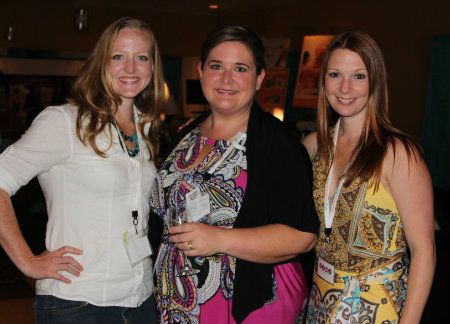 Colleen, Beth, and I
As the cocktail party trickled down I was so excited to see my friend Kent – a longtime friend of mine and Beth's (and a member of my group of friends lovingly refered to as The Whores) who lives in Atlanta!  Kent arrived at the hotel to meet us for dinner, and I was having such a hard time saying goodbye to Katie, Sherry, and Colleen, that we invited them all to join us!
We enjoyed a wonderful meal and fantastic service (our poor waiter!) at Atlanta's Paper Mill Grill where Sherry was recognized by a total stranger mere seconds after walking in – so fun to see!  Put six outgoing women from all walks of life at one table together and the hours will go by like seconds.  At 11pm, as we were paying our bill, we realized it was getting late and asked our waiter, "When do you close?"
"9:30," he replied.
We had no idea!
Lucky for us, our waiter was absolutely fantastic, and not only did he not kick us out, but he also snapped pictures for us before we left.  A fantastic meal and phenomenal service – I would definitely check out The Paper Mill Grill the next time you're in Atlanta!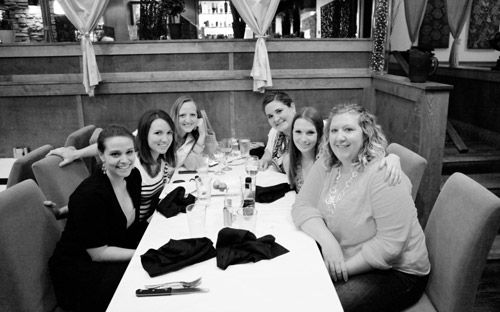 Paper Mill Grill, Party of 6
L to R: Sherry (Young House Love), Katie (Bower Power), Colleen (The Restarter Home), Beth (Unskinny Boppy), Me, and Kent.
Photo above shoplifted from Sherry's Haven post, and courtesy of Katie Bower.
After chasing two toddlers around all morning, and being on her feet all day, Katie was a total rockstar.
True Story.
Not only did she drive all of us back to the hotel, she also hosted Dance Party 2012 in her SUV (with a little help from Flo Rida).  Some dance parties are just too big to be contained to the insides of cars and ours was one of them.  Once parked, "we hit the floor…next thing you know…shorty got low, low, low…" dancing like wild women in the carport of Atlanta's Crowne Plaza.  Don't believe me?  Ask the security guard who got it all on video.  Katie's "Milking the Cow" move is sure to be the next biggest thing on Dancing with the Stars.  Somebody get that mama some Apple Bottom jeans!
Our dance party ended the way all dance parties should – with a prom pose: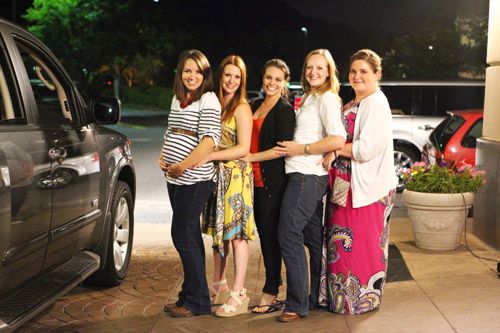 The Haven Conference: Just like prom – only Katie wasn't knocked up back then.
(That we know of.)
Photo above shoplifted from Sherry's Haven post, and courtesy of Katie Bower.
By now it was nearly midnight so we sadly said goodbye to Sherry and Katie and headed back into the hotel.  You'd think after a day that full it'd be time to call it a night, right?
Hi, I'm Dusty.  Have we met?
The last thing on my mind was sleep!  We were pleasantly surprised to find that several other Havenistas agreed as we joined them at the hotel bar.  I met Cindy from Living on the Bliss and her husband, who swore I was a girl from the reality TV show Love in the Wild.  After several attempts and a lot of laughs, I finally convinced her I wasn't!  I also had the pleasure of meeting Gillian from Homes.com, KariAnne from Thistlewood Farm,  Anna from Ask Anna, Heather and Vanessa from At the Picket Fence, and many other fabulous women!
After we closed down that place (two for two on the night) Beth and I ended Day 2 exactly how we started it – staying up ridiculously late talking about nothing and everything.
I'm so grateful for everything I learned and all the new friendships I made on this day.  Haven, Day 2 was certainly a full and fun-filled experience!
Read my Haven Conference Day 1 recap here, and Day 3 here!