As you're reading this I am probably lounging on a beach in Florida, sipping on a cool, refreshing drink.
It doesn't matter what time of day you read this.
That's what I'm doing.
Yesterday kicked off my annual girls' weekend getaway (which I so lovingly refer to as "Whorecation") so it's high time I get around to recapping last year's trip!
Every year a group of my girlfriends from all around the country (a.k.a. my "Whores" – our self-proclaimed nickname that's a throwback to our "attention whoring" days on TheNest.com's decorating message board where we first met), put our busy lives on hold and come together from a long weekend of fun in the sun and loads of laughs – and Whorecation 2011 was no exception!
Here are all the girls that made it last year (along with where they're from):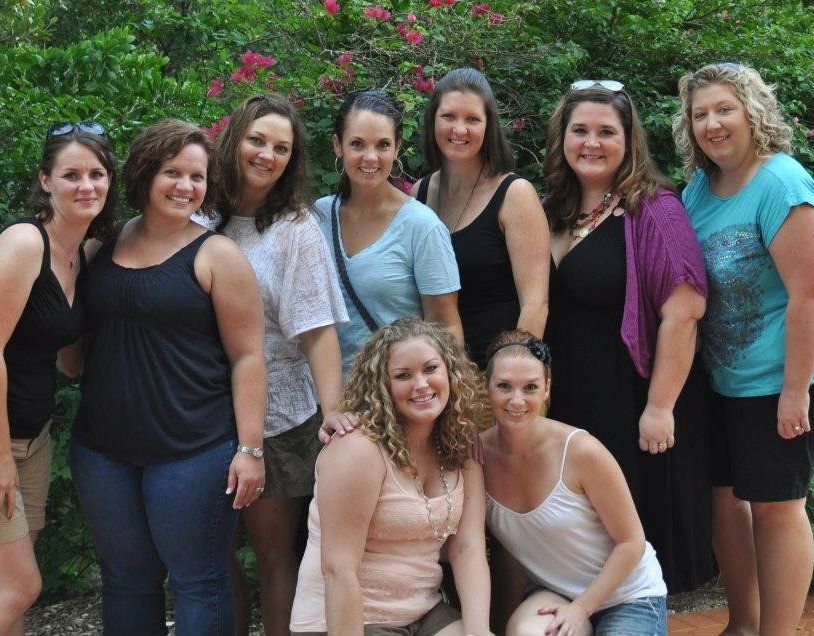 Back row, L to R: Steph (from Ohio), Kelly (from Georgia), Marcia (from New York), Allison (from Minnesota), Aly (from Florida), Beth (from Alabama), and Kent (from Georgia).
Front row: Emily (from Maryland) and me (from Wisconsin).
We met in Ft. Myers, Florida for the second year in a row, enjoying G's parents' condo located in a fabulous spot on the beach (complete with pools and an outdoor bar) just before the bridge to Sanibel Island.  Our weekend was pretty much this:  pool, drink and eat, beach, drink and eat . . . repeat.
On Day 1 we hit the local grocery store and stocked the condo with enough booze and snacks to host a frat party. 
With drinks in one hand and our pool noodles in the other, it was time to hit the water!
Day 2 was spent back at the pool for the day!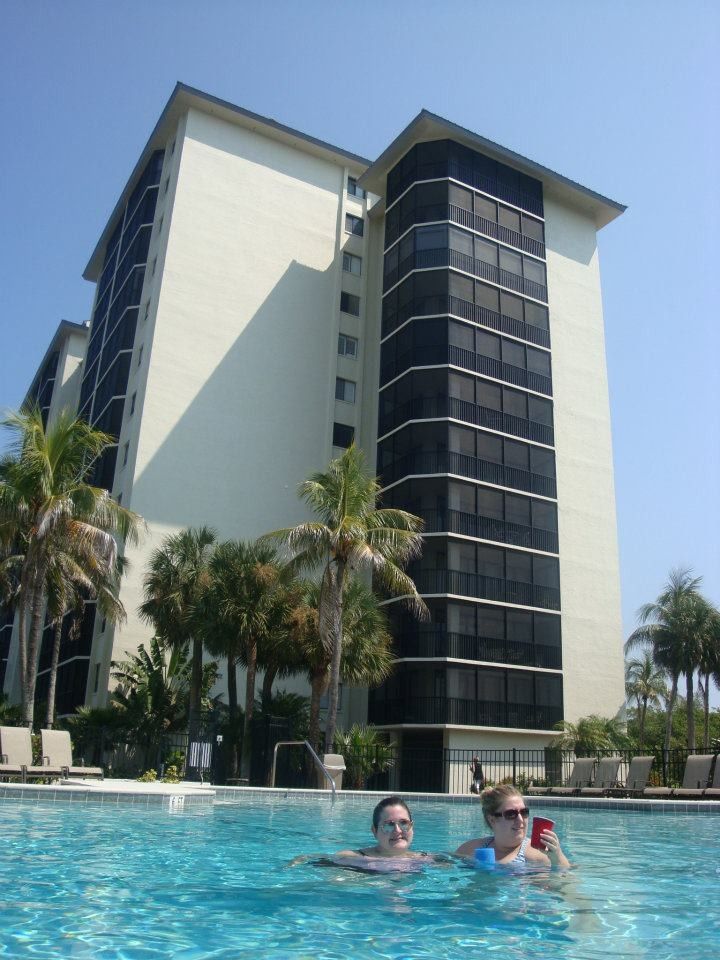 G's family's condo (where we stayed) in the background.
Emily, me, and Allison
After a second day of chilaxing poolside, we headed out for a delicious seafood dinner at Doc Ford's Rum Bar & Grille:
Then we hit the bar downstairs where our favorite bartender, Keil, served us up plenty of shots and drinks!
Lots of drinks leads to loads of fun on the dance floor once we relocated to another bar on the beach!
Steph & Allison
Me, Emily, Kent, Allison, and Beth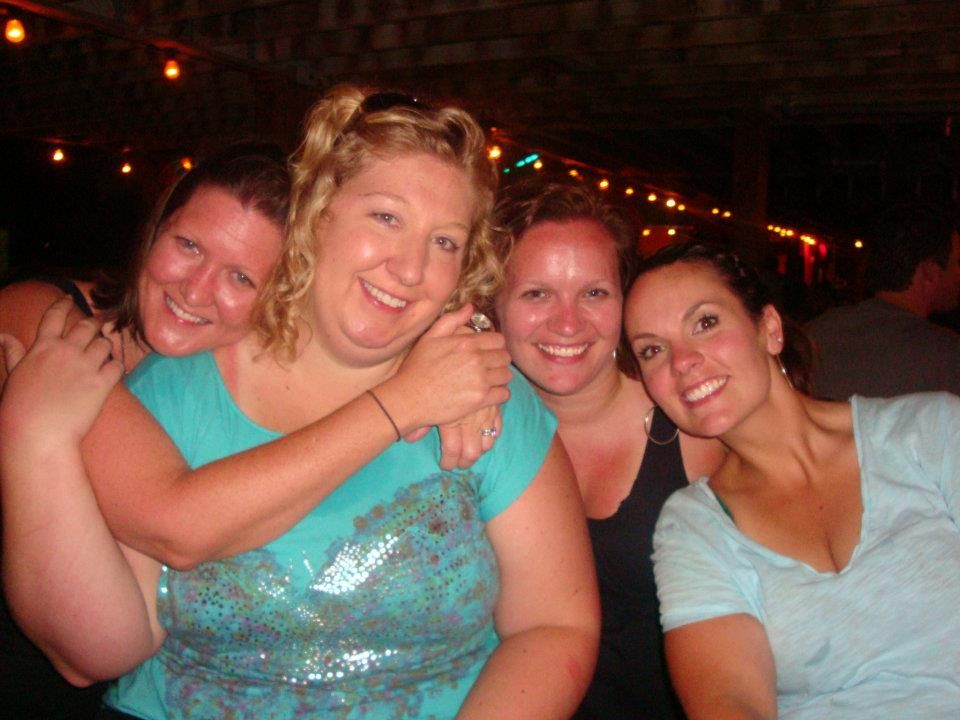 Aly, Kent, Kelly, and Allison
No night is complete with the limbo: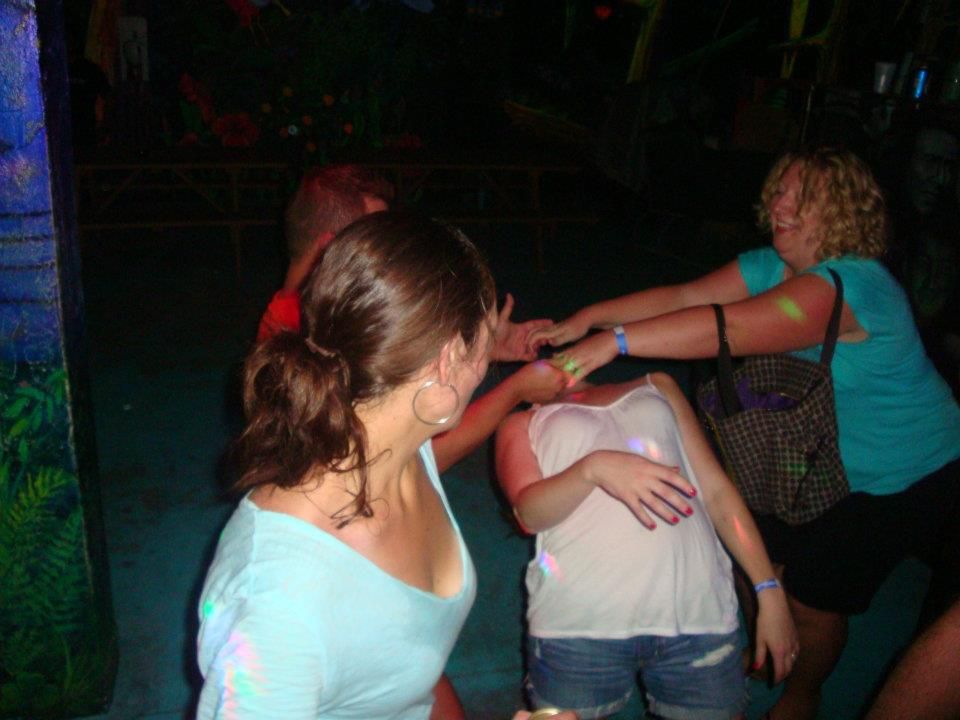 Allison, me, and Kent
Later that night (cough*bar-time*cough) we walked out onto the beach to enjoy the soft sand, the sound of the waves, and some chance encounter with a guy named Mike whom we later decided was a drug smuggler.  We know a cue to call it a night when we meet one,* so we decided to head back up to the street, hail a cab, and call it a night. 
But wait.
Before I get to the cab ride, I have to show you my absolute favorite picture of the entire Whorecation: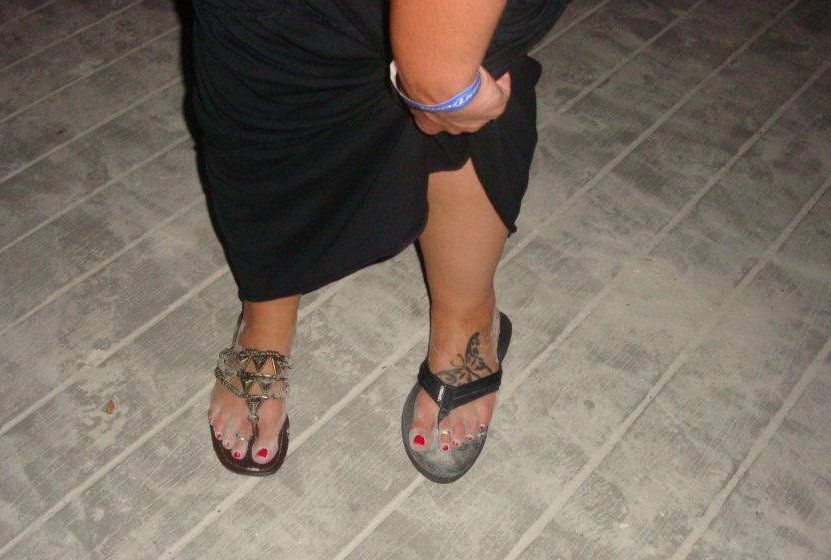 Those are Allison's feet – however, those are NOT both Allison's shoes.
As we stepped off the beach and on to concrete, brushing the sand off our feet, Emily said something I cannot repeat on the blog, so instead I will paraphrase:
"Where is my other shoe?!  I think somebody stole my other shoe!"**
Upon hearing this I instantly realized what probably happened and thought to myself, "Who is the drunkest one here?"
Allison!
Sure enough, once I tracked her down I discovered that she was the one who "stole" Emily's missing shoe.  I was laughing so hard over the fact that she didn't even realize she put two different shoes on that I just had to take a picture!
Andplusalso – take another look at that picture . . . did you notice that she's actually wearing two right shoes versus one right and one left?
Best. Picture. Ever.
This brings me to . . . the cab ride home: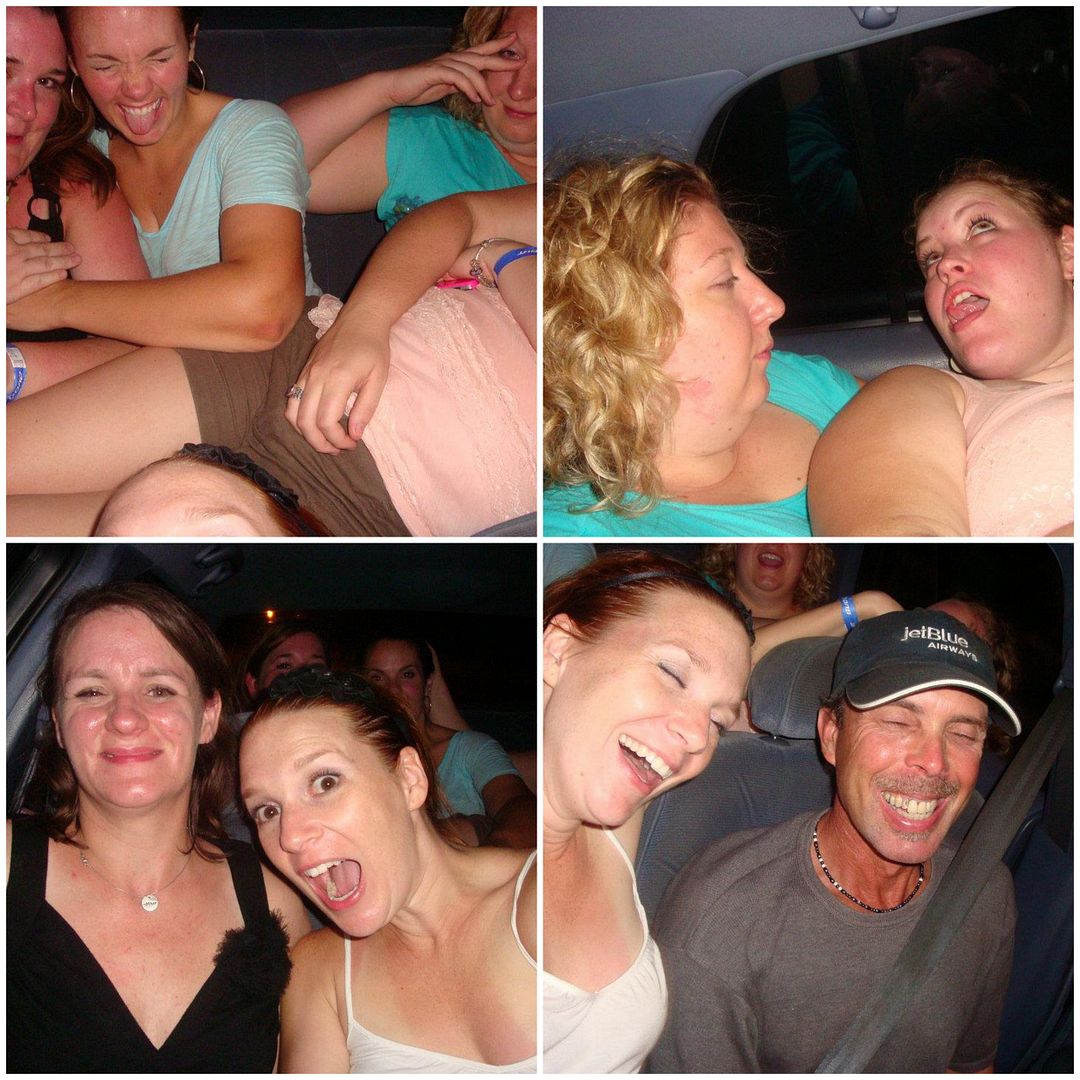 'nuf said
The next day, we hit the beach on Sanibel Island, which was beautiful!
Those damn noodles are A MUST for girls like me who can't swim!
On our last night there we got all dolled up for a nice dinner:
. . . and then returned to the condo for packing and crashing.  We were spent!
As always, we made the most out of every minute we had together and it was a trip that none of us will ever forget!
Curious about our previous get-togethers?  Catch up on them with the links below!
Getting ready for my first Whorecation
Whorecation 2008
Whorecation 2009 (The Pregnancy Edition) found here and here.
Whorecation 2010
(Whorecation 2011 recapped in this post)
And last but not least, a mini Whorecation surprise in early 2012!
Now consider yourself caught up, and stay tuned for a Whorecation 2012 recap coming as soon as I recover from all this time spent lounging (and sipping) at the beach!
*We don't, actually.  We literally had to get kicked off the beach.
**Anyone who knows Emily knows she had many more words in there, but this is as close as I can get to paraphrasing without the FCC getting involved.