Which do you think is longer: your work week, or my detailed recaps for 2012's "A Week in My Life" series?  We're up to Day 5!
7:00am: I was supposed to run 5 miles this morning, but after my late bedtime last night I totally slept in. I wake up now, greet Kate with hugs and kisses, and get ready for the day.
I skip the shower (don't judge) and pull on some jeans but they feel gross and constricting.
Ew.
I peel them off.
I just want to wear my pajamas to work!
I decide I need soft cotton and an elastic waistband. Hello leggings!  I top them with a t-shirt dress, a cardi, and a scarf, and not only is it the most comfortable outfit I've worn all week, I later get a bunch of compliments on it from my coworkers when I arrive at work.  Funny how that works out sometimes.
7:30am: I come downstairs and say goodbye to my sister Brittny (who's on her way out the door for her drill weekend) and hello to Grandma Pam (who's recently arrived to take care of Kate for the day). Pam and I chat and catch up on each others' week since she was last here. 
8:00am: I brew myself a cup of coffee, toast a bagel, get Kate set up with her favorite water play at the kitchen sink, give hugs and kisses, and then I'm out the door and on my way to work.
8:30am: I randomly decide to get my car washed before coming to work. I pretty much never wash my car, but it needs it, and apparently I need a few more minutes before my work day starts.
8:45am: I arrive at work with a clean, sparkly car and begin doing work things.
9:40am: Dammit! I just realized I forgot my lunch at home. GRR!!
So far today is not shaping out to be my day.
I need chips.
12:00pm:  I ask my friend Tiffany if she wants to do lunch and she's in.  We consider going somewhere to get salads for about twelve seconds before we decide on Mexican food.
Lunch with TSK at Tex Tubb's Taco Palace.  I got a BBQ pork taco topped with a fried avocado, and a tilapia fish taco with slaw (and ate a whole basket full of chips).  LOVE!
12:09pm: I receive an email update from Pam about her morning with Kate:
Subject: Kate is so good

We got to Costco before it opened so we went to Starbucks for a granola bar to kill a little time.
Kate was so good…we looked at lots of toys and she never whined or begged to take one home.
I did buy a kiddie laptop for her and she is enjoying it.
But she was so well behaved….love it!
This was our first big outing to a store besides Target.

Hoping she will nap.
Love,
Grandma
I'm always so excited to hear from Pam about her and Kate's day – she gives the best updates!  I send her the following reply:
What a wonderful update – thank you Pam! I'm so happy to hear she was good for you in Costco. She usually is such a good girl when we run errands. Sometimes I let her play with something she's interested in as we shop, but she's always really good about putting it back when I tell her it's time for us to leave. I'm so happy to hear you two had a fun time!

Thank you for the laptop toy – I bet that's a hit! 
Love, Dusty
12:45pm: Tiffany and I stop at our nearby grocery co-op for a coffee break.  I pick up a chai tea latte and some lemons for a meal I plan to make this weekend.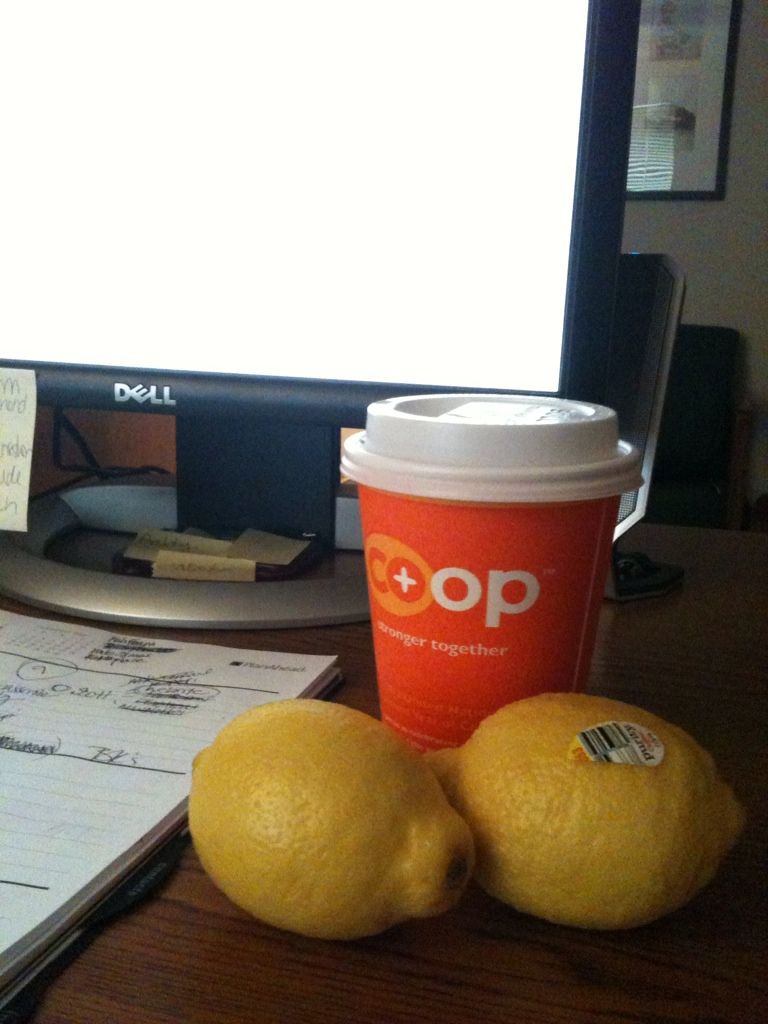 Lemons & chai from the Co-op.
1:00pm: Back at work, back to doing work things.
1:40pm: I receive another email update from Pam:  
No nap…we are dancing!
5:00pm: I leave to go home.  I am so ready for the weekend.
5:30pm: Kate is already at the table eating dinner when I get home so I heat up leftovers (breakfast casserole) and sit down to eat with her and ask her about her day. G and I catch up on each others' days, too, and I'm happy to hear his presentation that he needed to "suit and tie" up for went well!
6:00pm: After dinner Kate shows us the new laptop Grandma Pam bought her – a Vtech Tote & Go Laptop which she loves!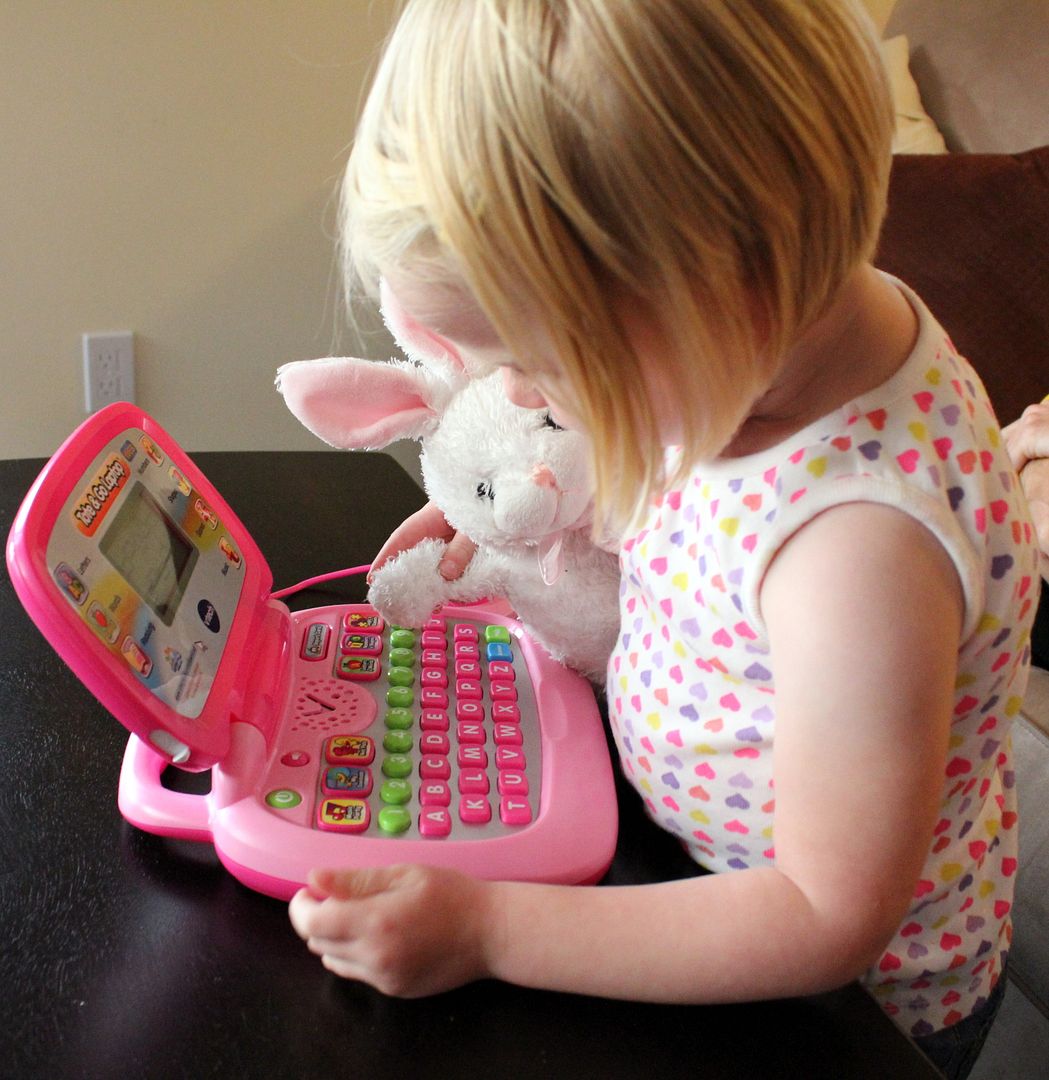 Looks like it's Bunny's turn to press the buttons on Kate's new laptop.
There are a ton of different learning game options on there and so far her favorite is counting shapes, seen here:
6:30pm: It's bedtime for Kate, and she totally tries to stall me:
"I need to get a cup of water for Bunny."
"I want to pick out another soft blanket."
"I want to take a bubble bath."
"I don't want to wear these pajamas."
This is a new thing for Kate, and I'm not going to lie – I don't have a whole lot of patience for it.
I finally get her settled into bed and we snuggle up together to read a book (she picked out Is There Really a Human Race? tonight; one of my favorites).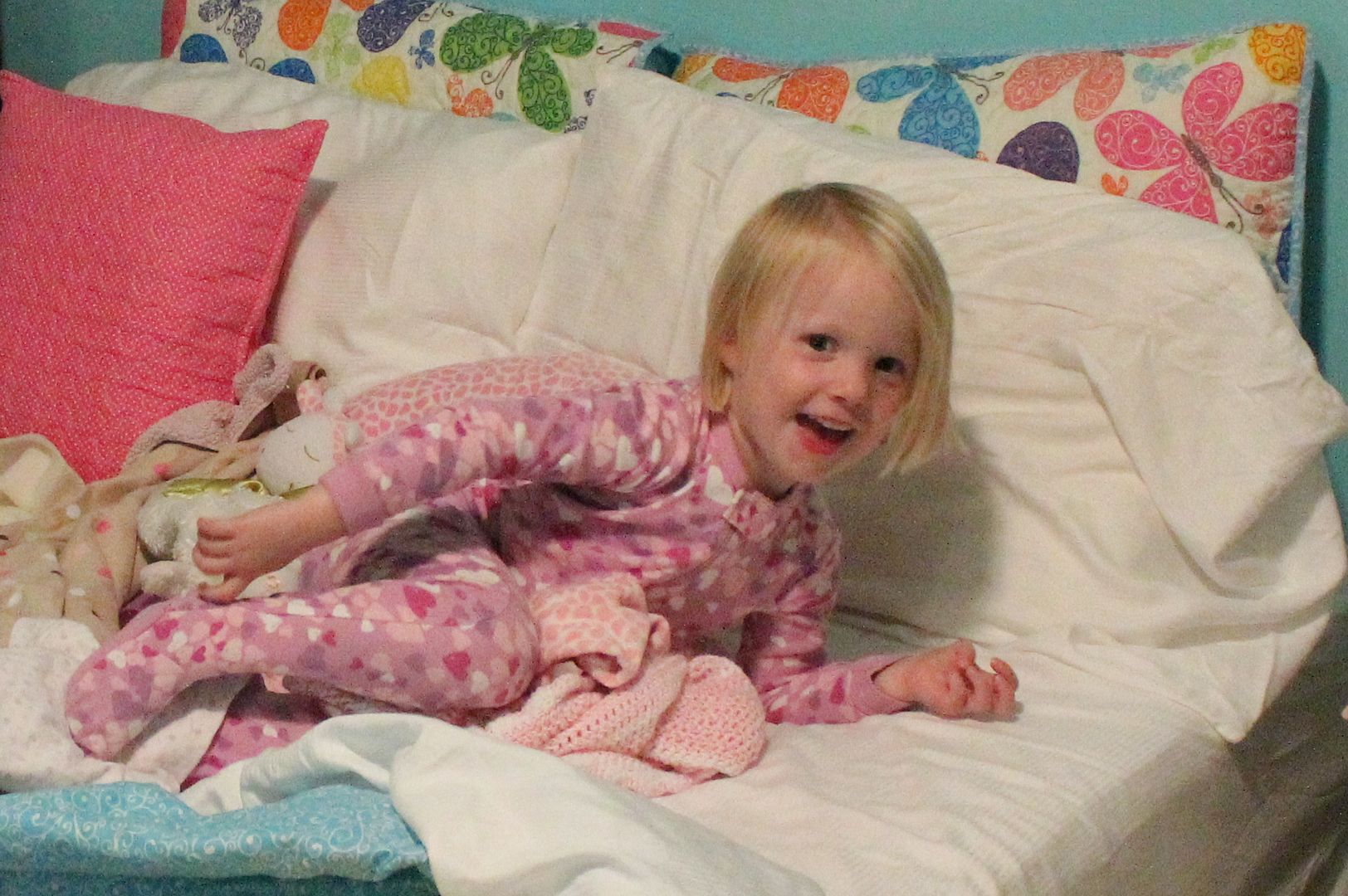 Bedtime for this little stinker!
After we finish the book I turn out the lights and Kate turns on her air purifier.  We have an Oreck AirInstinct Air Purifier and I think it's Kate's most favorite thing in her bedroom.  It provides some light white noise while she sleeps, which is great, but our favorite feature is the mood light which changes colors, and also doubles as her nightlight: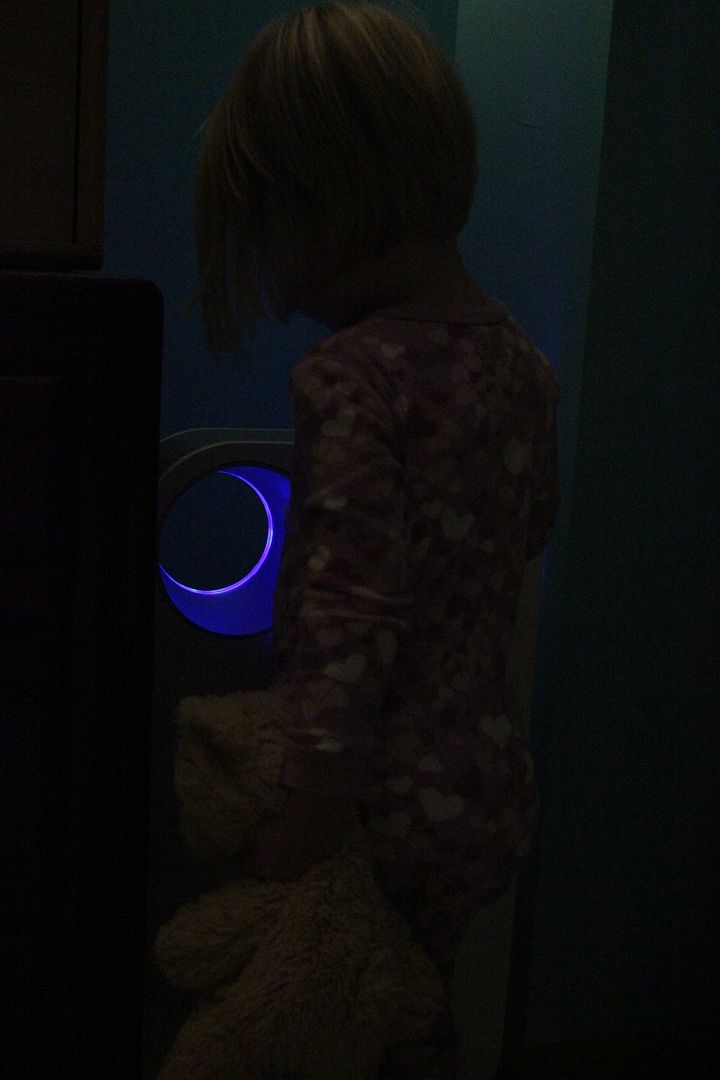 Kate, turning on her Oreck AirInstinct and adjusting the settings for it's mood light.
Once Kate's satisfied that her beloved air purifier is all set, she crawls back into bed and we cuddle up to watch the colors of the mood light change.  She snuggles into the crook of my arm whispering, "Look Mommy! Watch for it…" as we watch the glowing ring change from blue to pink to purple and back to blue again.  I brush her hair away from her face, smile, and think to myself: This is my favorite moment of my day.
7:00pm: Kate is all tucked in and now I need to get my run in since I didn't go this morning.  I average an 8:55 min/mile pace over my 5 miles.
8:00pm: Home from my run.  Time to stretch out and shower.
After my shower I try on a sweater skirt that arrived in the mail today from LOFT and I am IN LOVE with it!  It's so soft and comfortable and has a cute little exposed zipper up the back.  I'll be wearing this all winter!
8:45pm: I put my pajamas on, go back downstairs, and type up notes for the day.
9:00pm: G and I both sit down in the living room to relax and watch last night's Grey's Anatomy – one of the few shows on television that we both really like.
10:00pm: Bedtime for us – goodnight!