Day 4 of my 2012 "A Week in My Life" series.  Enjoy!
6:00am: My alarm goes off, and I can't remember why I even set it this morning since today is my day off from running.
Oh well. I'm up now. I'll find something to do.
I remember that my sister Brittny is spending the night tonight so I go down to our main guest room (which Kate calls "Aunt Brittny's room"), clear off the bed and tidy up.
Afterwards I go downstairs and sort through a bag of miscellaneous things I had tossed in the guest bedroom and realize there's something in the pile that I need to bring to work—
WORK!
That's why I set my alarm! I have work to do!
6:30am: I get on the laptop and try to get my work stuff finished before Kate wakes up. I also put the breakfast casseroles in the oven for my meeting at the office this morning.
6:45am: It sounds like G is now awake, so I go upstairs to say good morning and I start getting ready for the day.
7:00am: Kate's awake! I shower her with morning hugs and kisses before G takes her downstairs to get her dressed and fed while I finish getting ready.
7:30am: I come downstairs, take the breakfast casseroles out of the oven, iron my shirt, and give G a kiss as he leaves for work. Usually Kate watches an episode of Super Why (her favorite cartoon on PBS about spelling and reading) in the morning, but this morning she is playing on the iPad instead. I groan to myself because I know that getting her off the iPad is going to be a problem. I start foreshadowing with her our sequence of things we need to do before it's time to turn off the iPad and leave.
I clean up after Kate's breakfast, comb her hair, and load up the car, and now she and I both know it's time for our iPad stand-off.
"Okay, Peanut!" I say cheerfully. "It's time to close up the iPad so we can leave for [daycare]."
"I don't want to…" she whines.
"I know sweetie, but we have to. It's time to go."
She gives me a resistant grunt and keeps playing.
Time to use the old "I'm going to count the three…" I keep my voice casual and lighthearted because this really isn't about sounding intimidating or engaging in a power struggle – it's about Kate having a choice (or at least the illusion of a choice) and a time limit in which she can make her choice either through her action or inaction. Simple as that.
"Mommy's going to count to three and either you can close the iPad or I'll do it for you. One…two…three."
She keeps playing.
"Okay," I respond lightheartedly. "It looks like Mommy's going to close the iPad this morning."
She steps aside to let me do it, but I know she's not happy about it. I can tell she's upset and feeling helpless over her lack of control when it came to my decision about continuing to play with the iPad (something that was nonnegotiable since we had to leave), so I attempt to ward off a meltdown by giving her back a sense of control. I do this by offering her options for things that can be 100% up to her:
"Do you want to wear your pink hoodie with pockets or your bunny hoodie?"
"Do you want to wear your Nikes or your sparkle shoes?"
"Do you want the music in the car to be on or off on our way to daycare?"
It works. Her sense that she does have a say about some things in life is re-established and she's quickly back to being her usual, cheerful self.
7:55am: Kate and I are out the door and she has a great drop off at daycare.
8:30am: I arrive at work and do work things.
Want to see what my office looks like this year?  It actually looks pretty similar to how it did last year – only now it's even more plastered with pictures of Kate.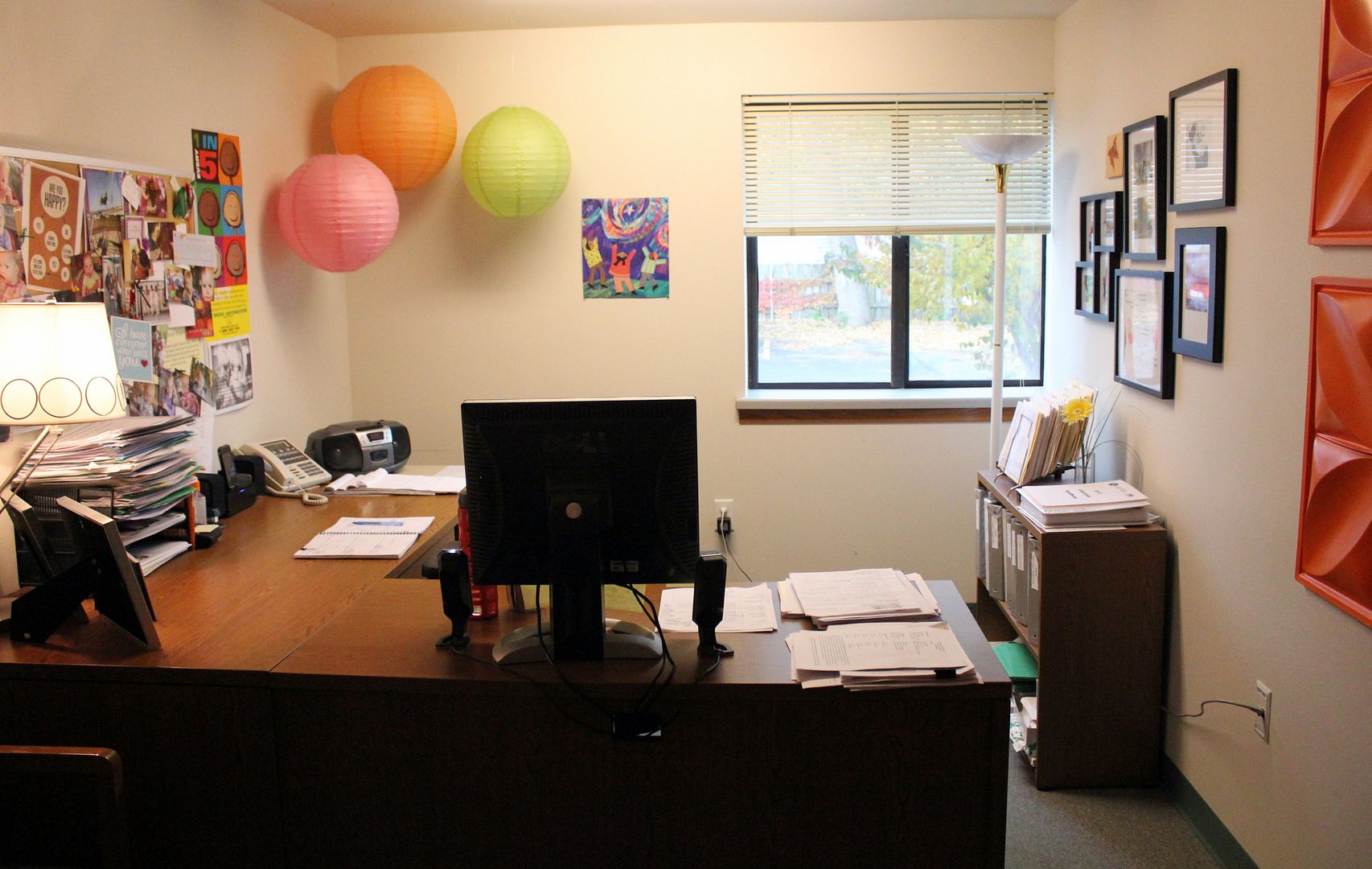 The view when you enter.  I really must do something about that window.
There are four Empire West ceiling tiles that I painted orange to the wall on the right when you walk in, but I forgot to take a picture of them.  They add so much color to the space, which I love!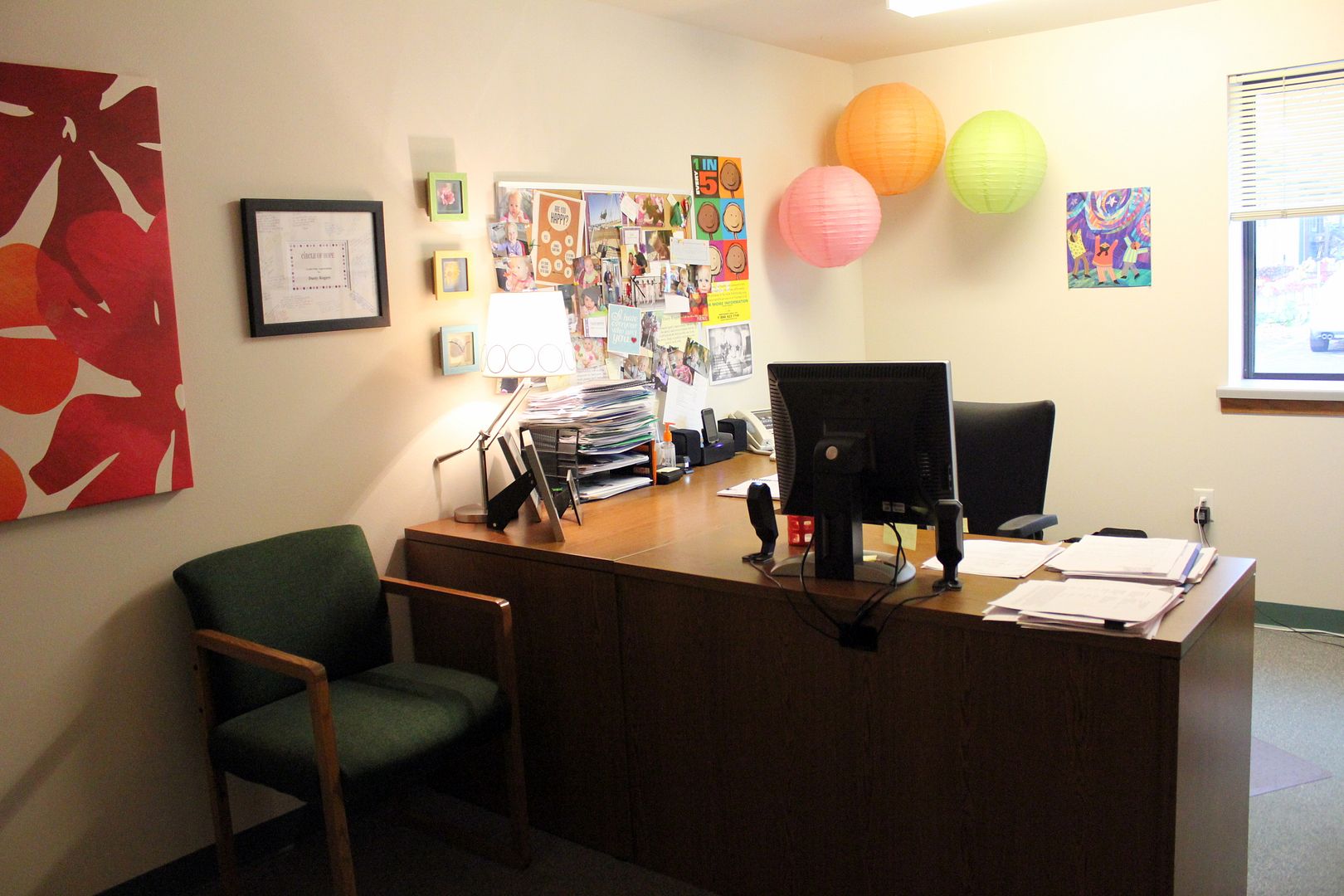 Brilliant ideas, happening here daily.
The bulletin board above my desk used to hold work-related documents only.
Then I had a kid.
Now I can't even find the number for the crisis line without having to look under two layers of photos of Kate.
It may be hard to see, but there's a bulletin board under all that cuteness!
One of my favorite additions this year: G asked Kate his Father's Day gift interview questions to capture what she'd say about me, and surprised me with this print in the lower right corner.  So sweet!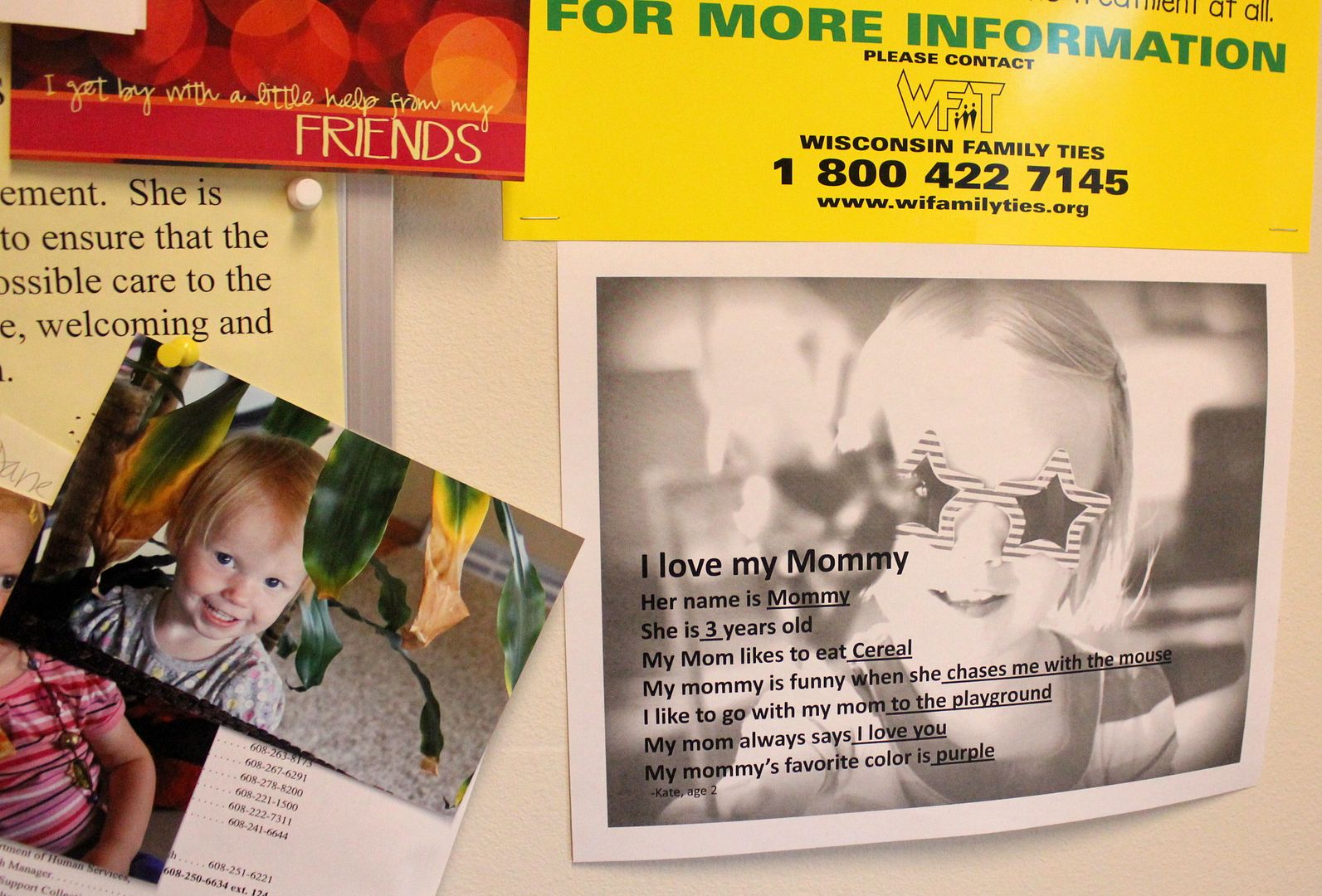 Kate's responses when G interviewed her about me a few months ago.
The wall above my desk last year versus this year.  Not much has changed other than Kate's photos multiplying faster than bunnies and the very obvious fact that I clearly haven't filed in a year: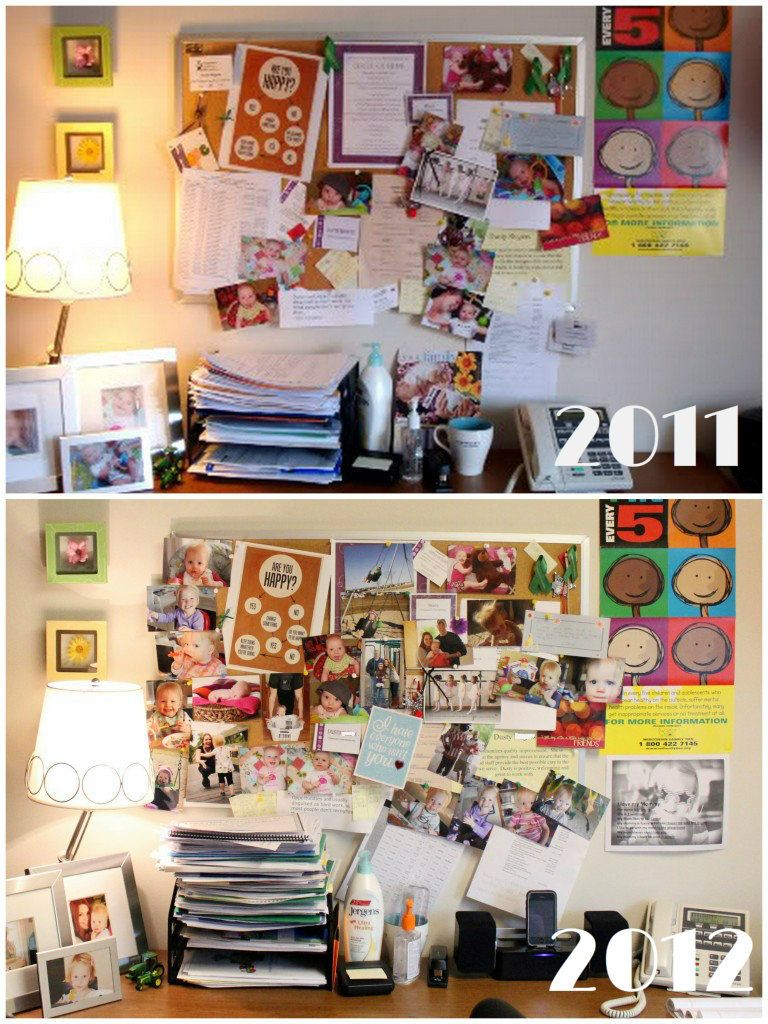 2011 vs. 2012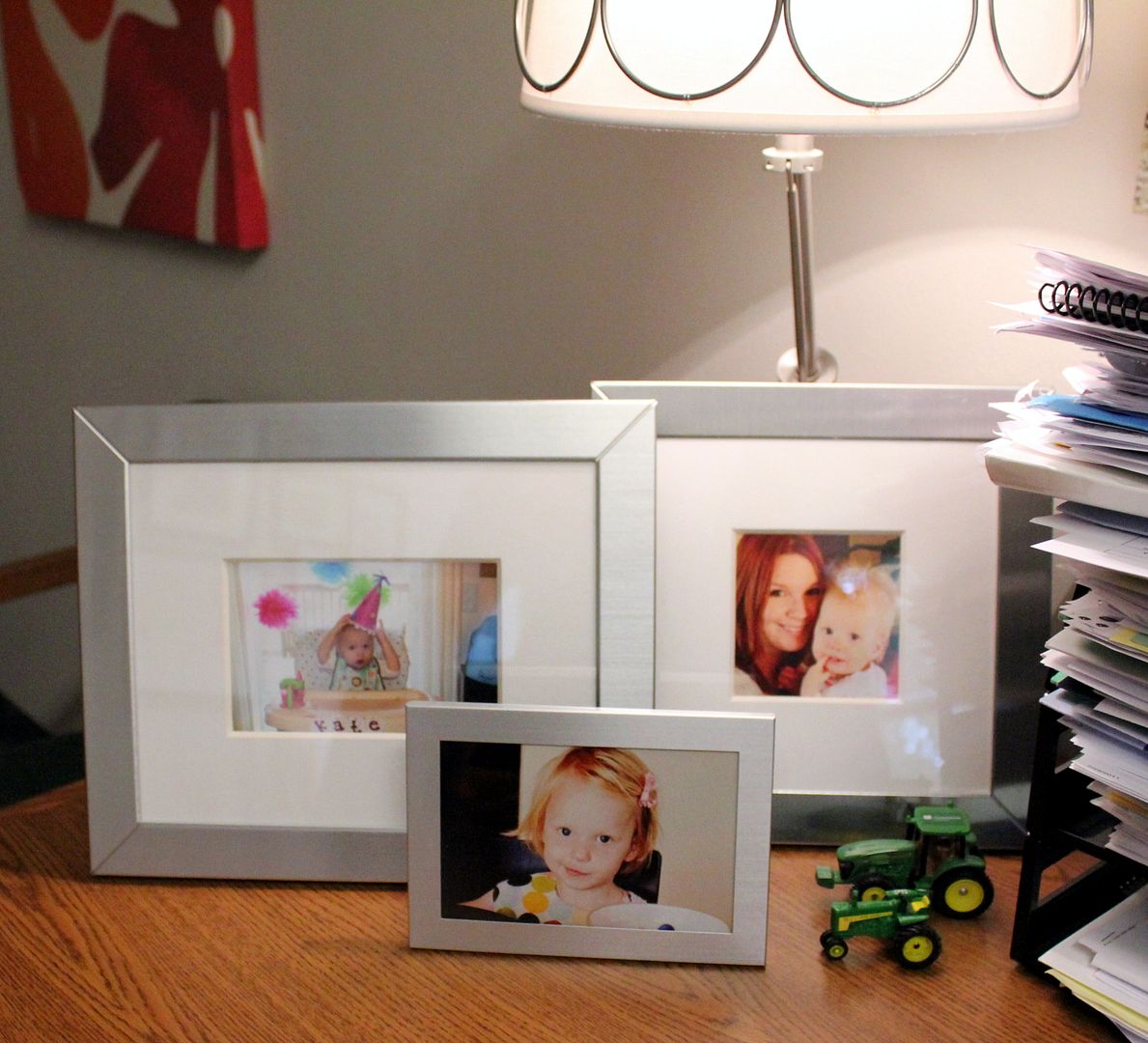 Pictures of KPR and G's tractors on my desktop.
Another Kate shrine to the right of my desk above my bookshelf.  A collage of photos from her 6 month photo shoot, her hand prints and a Mother's Day poem from 2011, a picture of her doing her first finger painting, with a piece of the painting framed below it, and one of my favorite pictures of us, taken at Kate's one-year photo shoot.  The butterfly in the upper left corner is an ink on cloth drawing made by and given to me by my dear coworker, Kay.  And lastly, the print in the lower left corner is one of my favorites from Curly Girl Designs.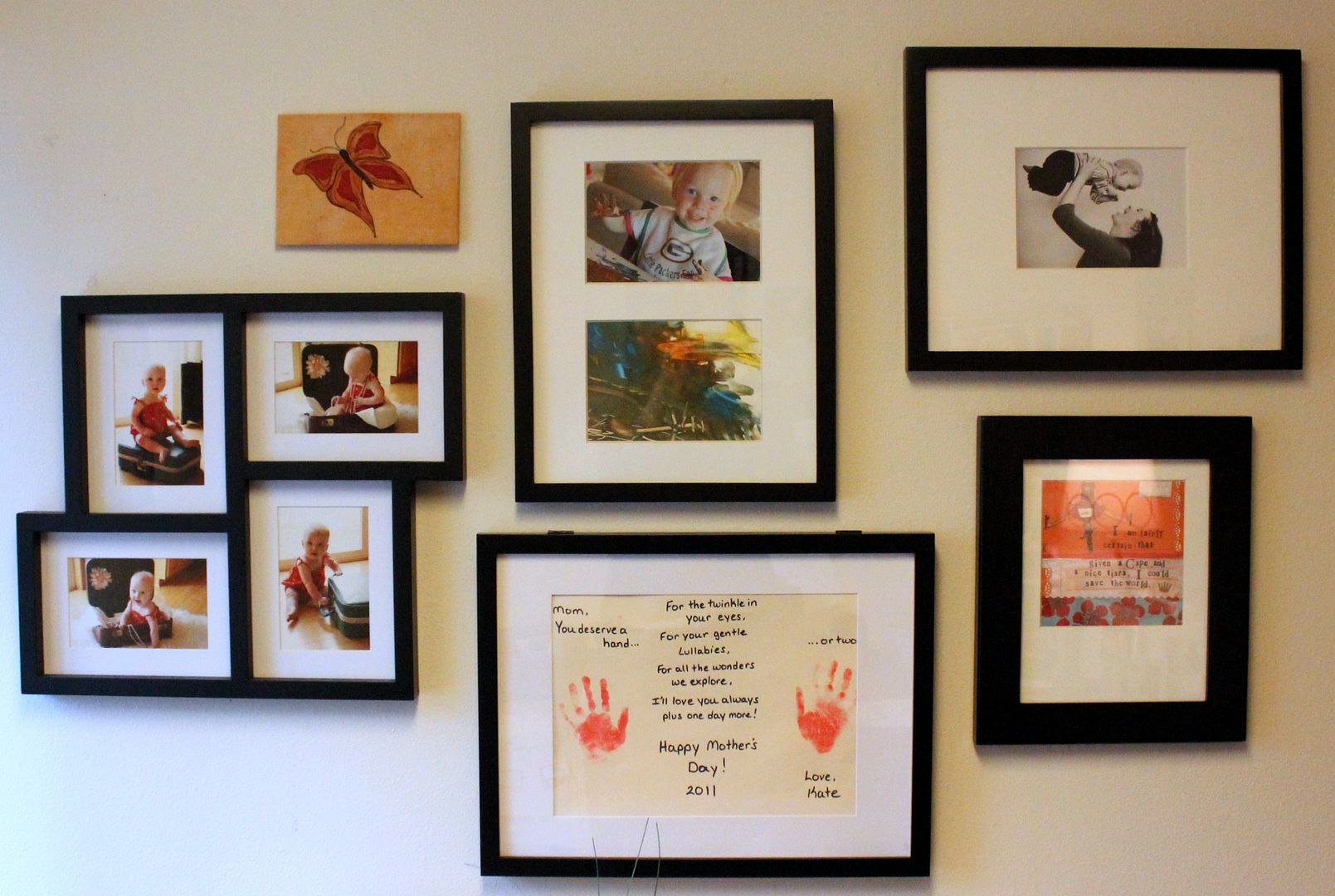 A collage of mementos (mostly Kate-related) above my bookshelf.
The other half of my office, looking back toward the door: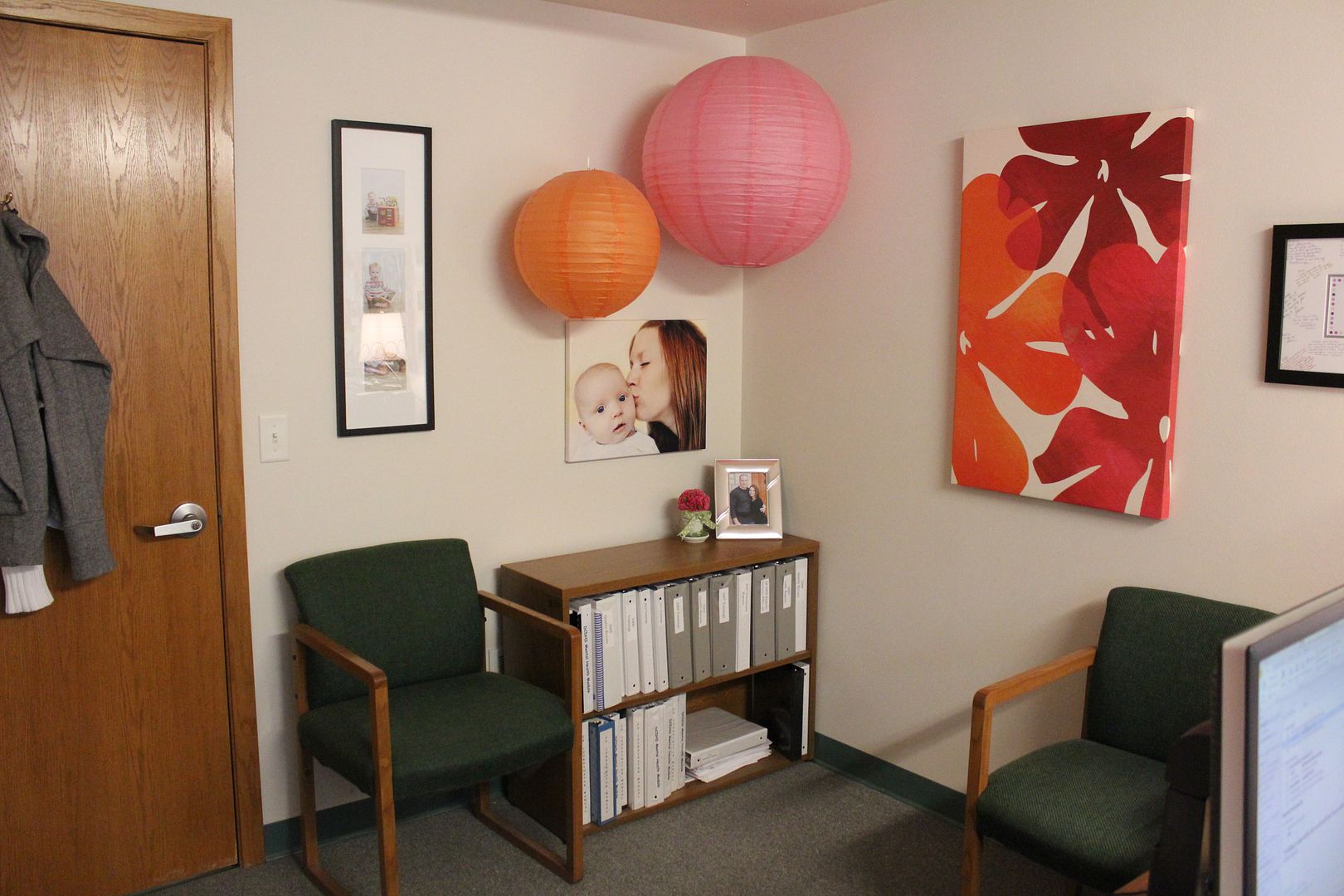 Oh look!  Even more kid pictures.  Can you tell this is a mom's office?
9:00am: Everyone loves the breakfast casseroles I made for my 9am meeting!
12:00pm: I realize I forgot to bring my lunch so I heat up some of the leftover breakfast casserole from this morning. I see my friend Katie in the kitchen and it looks like she's in the middle of some Very Serious Business. She tells me she's in the process of rearranging her office and she's moving her gigantic L-shaped desk – all by herself!
Um, no.
I bring my lunch into her office and take bites in between helping shove that beast into its new spot. At one point a section of the desk gets caught on the carpet and the only way to get it unstuck is to lift the desk up. Katie and I stand at opposite ends of the desk and try with all our might to lift it but it doesn't budge. I think for a second and decide to try another technique. I crawl under Katie's desk, get on all fours, and then pop my back up to lift her desk up off the carpet – it was kind of like a yoga cat pose, only think more popping and less graceful breathing.
Hey, it worked!
After a series of pushes and pulls and back-pops, Katie's desk finds a new home and her office gets a facelift:
My coworker Katie's office got a fresh new layout once we put our backs into it!
5:00pm: I have plans to visit my friend Tiffany tonight to see her new house, so I leave work and head her way.
5:30pm: I arrive at TSK's (my nickname for Tiffany; they're her initials) and get a tour of her fabulous new first house. (And I can't believe I forgot to take pictures!)
We sit in her living room and enjoy girl talk while drinking wine and snacking on crackers, hummus, and these awesome pumpkin muffins that she made using only two ingredients – a spice cake mix and a can of pumpkin. They were SO GOOD!
I was supposed to leave TSK's at 8:00pm (my self-imposed curfew so I can get to bed early and get up at 5am for my run) but I don't actually leave until 8:45pm.
9:15pm: I arrive home, greet G and we catch up on each other's day.
"I feel like I have so much to tell you!" he says to me with surprise.
"Me, too!" I laugh in reply.
Neither one of us had a particularly eventful day, but for some reason we sure do have a lot to talk about this evening!
My sister Brittny has arrived, too, and the three of sink deeper into conversation as we chat about her upcoming National Guard drill weekend, her grad school classes, her dating life, etc. As we talk, I pick up where I left off last night with my tile project.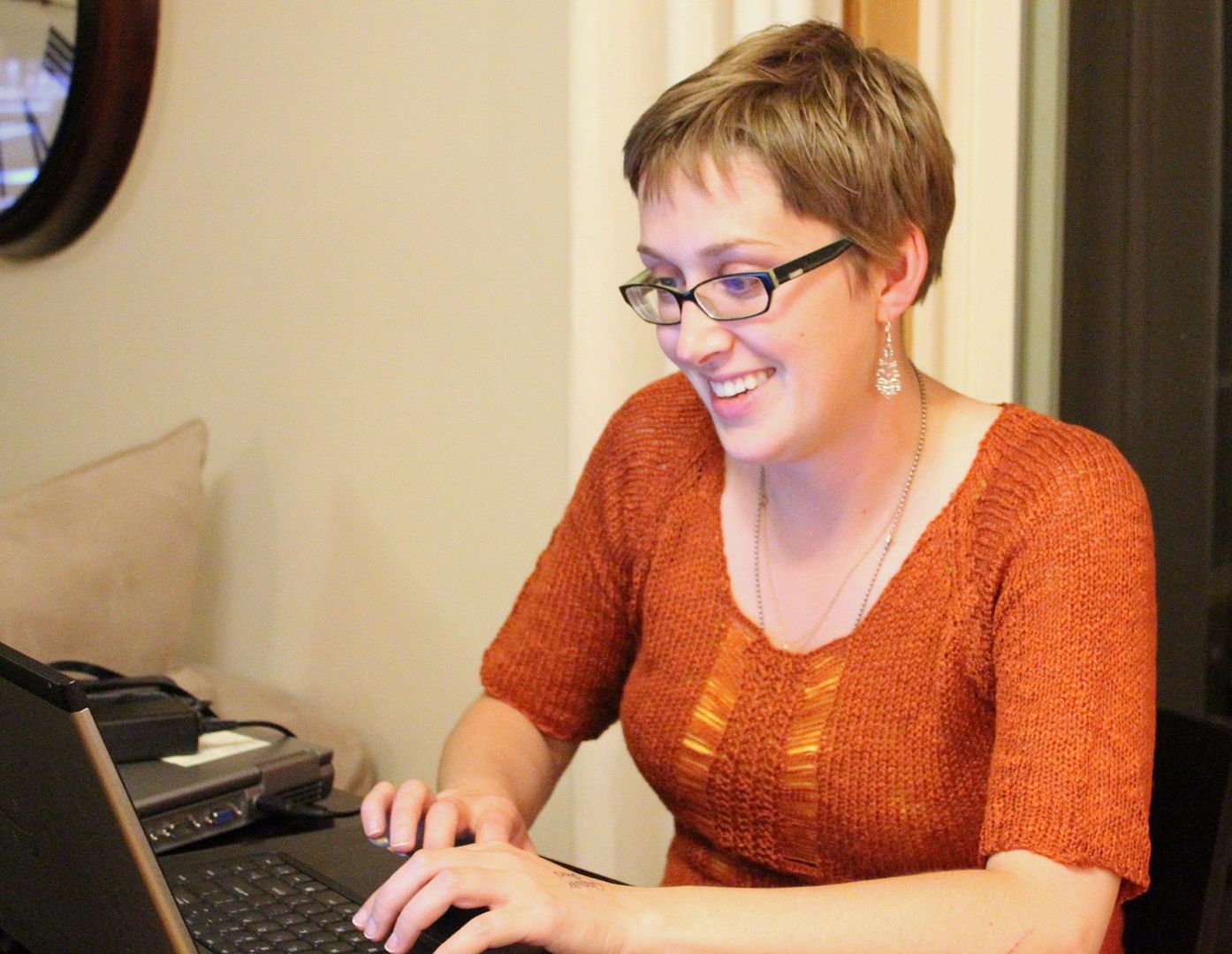 My sister Brittny, also multi-tasking as we catch up.
10:30pm: G and I go upstairs so I can help him pick out a suit and tie for a presentation he has to give at work tomorrow and while we're up there he remembers that my new iPhone arrived today!
G pre-ordered the new iPhone 5 for me for my birthday and now it's here! I say goodnight to G and go back downstairs to open the box and charge it up.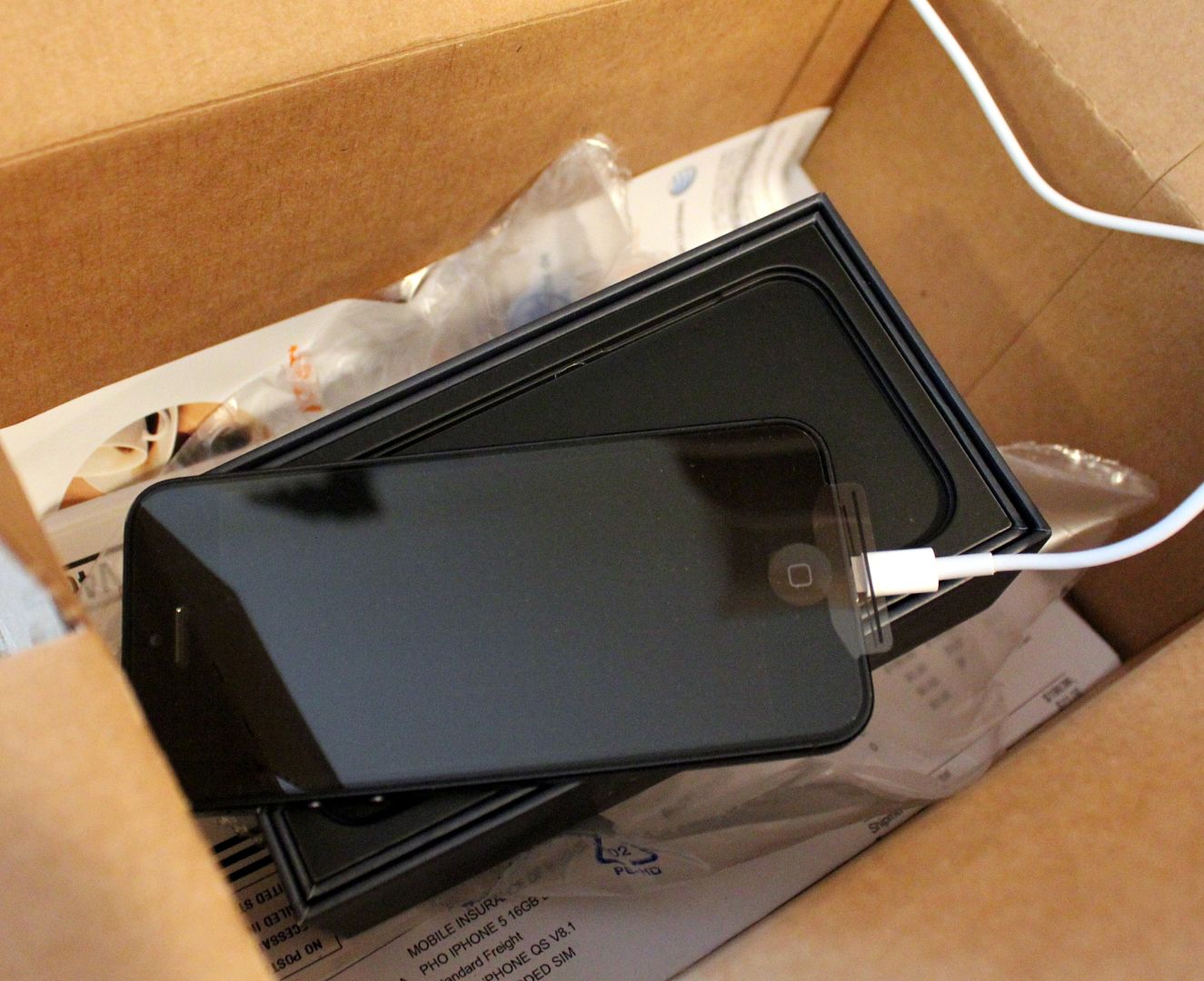 My new iPhone – Woot!
I should have been in bed hours ago, but Brittny's a bit of a night owl and this is one of my few chances to see her while she's here since she's going out of town for drill all weekend. We continue catching up while I work on the tiles, and eventually she's ready to call it a night as well.
11:45pm: I'm so tired! We head upstairs, I check on Kate, and then gratefully tuck myself into bed.
I'm not so sure I'll be seeing 5am tomorrow morning…