Last weekend I finished my second half marathon of this year (my third half marathon total).  You may think after running three half marathons in 16 months that the thrill of the accomplishment has lost a little bit of its luster, but I assure you that's not the case.
This race has been haunting me for the past five years.
Last weekend's race was the Tyranena Beer Run, and five years ago it was all I could think about.  I ate, hydrated, slept, and ran my ass off, thinking of little else but this course and this race.  It was 2007, and this was going to be my first half marathon ever.  Nothing else mattered but crossing that finish line.  I ignored the pain that started in my lower back and creeped into my hip.  I ignored the fact that I couldn't walk without pain for days following a long run, and instead laced up my running shoes and told myself, "Just get out there and start running, you won't even feel it after a mile or so."  I ignored the advice of medical professionals who said, "You need to stop running," and stubbornly replied, "Get me through race day, and then I'll stop."
I made it to race day like I had hoped, and smiled for pictures as I posed with my friend and running partner, Jill, prior to the race, and ignored the pain I felt before I even crossed the starting line.
"Mind over matter," I kept telling myself.  "Just 13 more miles and then you can recover."
I had over-trained – something I didn't even realize was possible at the time, but am now well aware that it is.  I couldn't even make it a quarter of the way through the race before needing to stop and stretch in futile hope that it would help.  I knew my stops were holding Jill back, so finally, around the six mile mark, I told her to go on without me.
I'll never forget that long, straight stretch of trail on that route that I then attempted to run on my own.
I had long since decided that my time didn't matter; I just wanted to finish.  I shuffled along, tears streaming down my face and racers rushing past me when, before long, my left leg – the victim of my pain – decided it had had enough.  Every few steps it would give out, refusing to let me put weight on it.  Soon every few steps turned into every other step, and very quickly I was no longer able to put weight on it at all.  I had no choice but to stop running, and limp the rest of the way.
And cry.
I cried so hard.
I cried and cursed my body for giving up on me – for not being strong enough.  I cried for this goal that I had worked so long and hard for that I would not accomplish.  And I cried the hardest when I noticed someone walking down that long, straight stretch of trail wearing jeans, a black coat, and a determined stride – the only person heading toward me as everyone else ran past me.
My husband.
He had been waiting (with his parents, my sister Brittny, and some of my friends) to cheer me on at a clearing up ahead, and when Jill ran by without me she told him I had to stop.  G instantly knew it was my injury and took off down the trail to find me.
I cried on his shoulder for what felt like hours, thinking I'd never get over this and wondering if I'd ever run again. It was weeks before I could walk without pain, and months before I could do anything beyond walking without pain.
I had called it dedication at the time.
Now I call it stupidity.
I relived all of those moments last weekend.  Even after five years, the memories still bring tears to my eyes and I blinked them back as I hit that same long, straight stretch of trail I had limped along in 2007, knowing that once again G, his parents, my sister Brittny – and this time, Kate, too! – were all waiting at that same clearing along the 7th mile (along with Jill's husband Shane, their kids, our friend Erica and her kids) to cheer us on.  I hit the halfway mark of our race feeling strong, and minutes later ran excitedly past our friends and family – making a quick stop to hug and kiss G and Kate and exclaim, "I'm still going!"
My running felt so strong the entire time – it was my strongest race yet!  G exclaimed afterwards that every time he saw me it looked like I had just started I was doing so well!  Each time I saw our incredible cheering section I couldn't help but beam, and each time I saw Kate I could help but scoop her up into my arms for a big hug and kiss!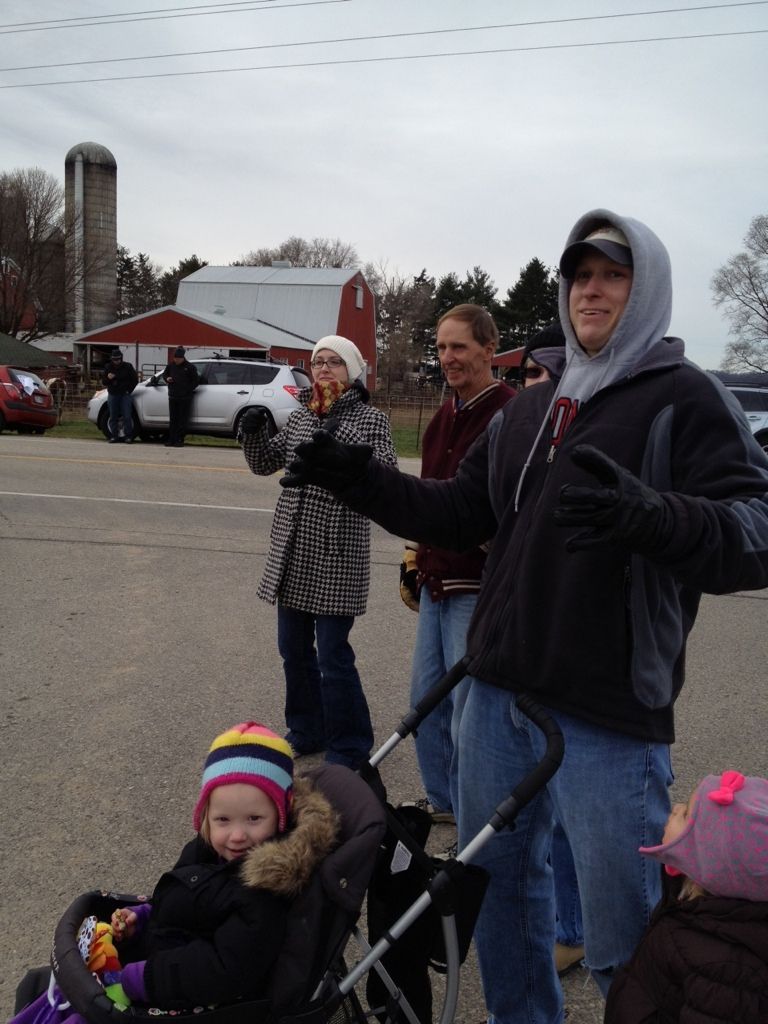 Some of my awesome cheering section – from back to front: my sister Brittny, my FIL Steve, my MIL Pam, G, Kate, and my friend Erica's daughter Taylor in the corner looking up at G.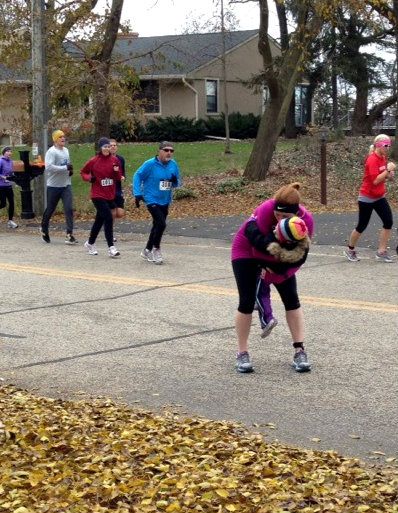 Scooping up Kate for a hug and a kiss after making it up a big hill.
Five years ago Jill had finished this race in just over two hours – missing her goal of a sub-2 hour finish by only a couple of minutes.  That's something else that has weighed on me all this time.  I know I was the reason for Jill not meeting her goal in 2007, and this year I was bound and determined to make it up to her.  She started losing steam around the 10 mile mark, so we slowed our pace and I gave Jill some pep talks reminding her that she's strong and she CAN do this!  By the time we hit the 12 mile mark I knew it was going to be close but I was still hopeful we'd make it.  When we were about a half mile from the finish line she dug deep and gave it all she had.  We crossed the finish line at 1:59:05.  
I was so proud!!
I was so proud to run with my friend and help her reach her goal!  I was so proud to see G and my sister Brittny cheering us on so close to the finish line that I stopped to give them high fives just before I crossed it!  I was so proud to feel so strong and healthy the entire race!
It may have taken me five years, one hour, fifty-nine minutes, and five seconds. . .but I had finally finished it.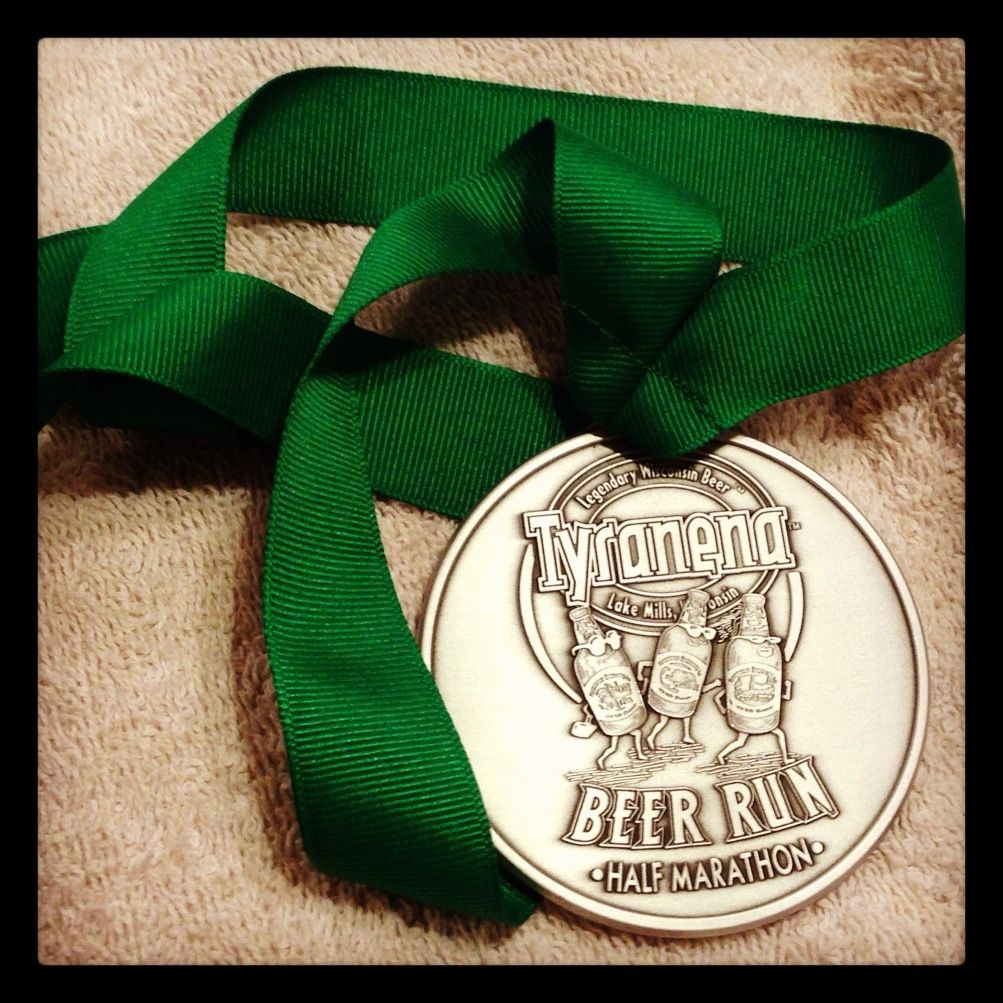 My finisher's medal.
Me and Jill, keeping warm after finishing the Tyranena Beer Run half marathon.