Day 3 of "A Week in My Life" series, the 2012 version!
5:00am: My alarm goes off – time for 5 at 5.
(That's what I call my midweek runs: 5 miles at 5am – get it?)
I am such a piddler in the morning! I piddle around the house, taking 20 minutes to do what should really only take me two.  My mom used to call this "piddle farting."
"Quit piddle-farting around – let's go!" she'd say.
Weird right?
(My mom was a hippie.)
All I really need to do between my alarm clock going off and getting out the door for my run is get dressed and tie my running shoes, but this morning I also decide to do a load of laundry and sort through the mail.
See?  Piddling.
6:20am: I'm back from run. Five miles at an 8:54 min/mile pace; that's pretty good for me!  Time to shower and get ready for work.
Kate wakes up and I take a break from getting ready to give her hugs and kisses before G takes her downstairs to get her dressed.
7:15am: I come downstairs and get breakfast for Kate (a harvest spice breakfast cookie, milk, and a green smoothie) and myself (steel cut oats and a protein/coffee recovery drink) while G goes upstairs to get ready for work.
7:45am:  Kisses for G as he leaves for work, and then Kate and I are also out the door on our way to her daycare.  Kate didn't eat much for breakfast so I offer her a homemade granola bar to eat in the car on our way.
8:30am:  I arrive at work and am so surprised to see a gift from my friend Katie on my desk!  A hysterical card (so Katie) and a beautiful necklace from Francesca's Collection, one of my favorite stores: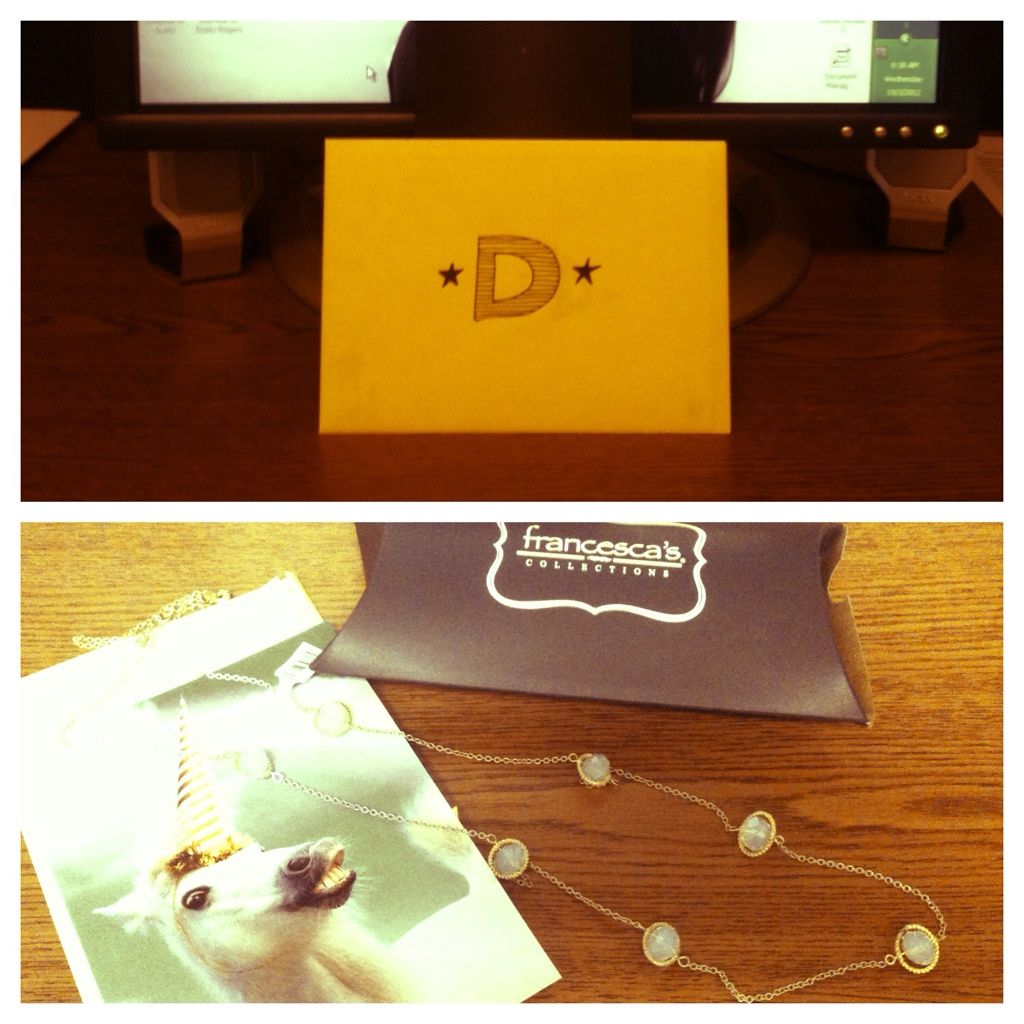 My work day stars with a gift from my friend Katie leaning up against my computer monitor.  LOVE!
10:23am:  What the hell?!  I thought I was looking all super cute today, but I just looked down and noticed a damn hole in my cheap ass shoes:
A busted seam in the middle of my shoe.  Not cool.
11:00am:  I eat lunch early (leftover shrimp and pasta from Monday night) because I have a meeting over lunch today from 11:30am-1pm.
1:30pm:  I need an office break, so I grab my co-worker Tiffany and we walk to one of our favorite local coffee shops where I get a chai tea latte made with almond milk, to go. (I tip!)
I return to the office for an afternoon of work meetings.
4:45pm:  Time to leave the office and head home.  I check my rear-view mirror as I'm about to back out of our parking lot and nearly have a heart attack – I totally forgot I had a the top half of a mini papasan chair crammed in my trunk!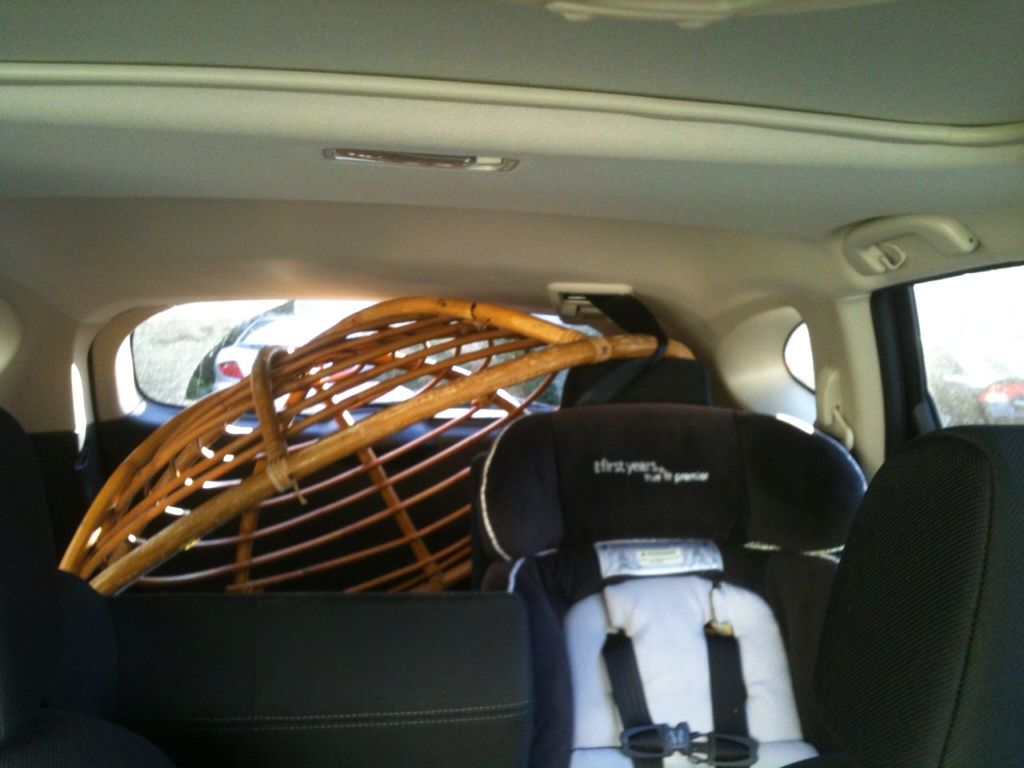 I have no problem re-purposing other people's trash!
Here's the deal:  I spotted this bad boy sitting out on the curb about a block from my office yesterday and didn't think anything of it – but then last night it popped back into my head and I had a really fun idea of something I could maybe use it for!  I was so excited to see it was still out on the curb during my commute to work this morning, so I pulled over, threw the seats down, and crammed that baby in there.  I hope my idea works out!
5:30pm: I'm home!  Traffic was ridiculous so it took me longer than usual to get home. I greet Kate and G who are already home and we catch up on our days.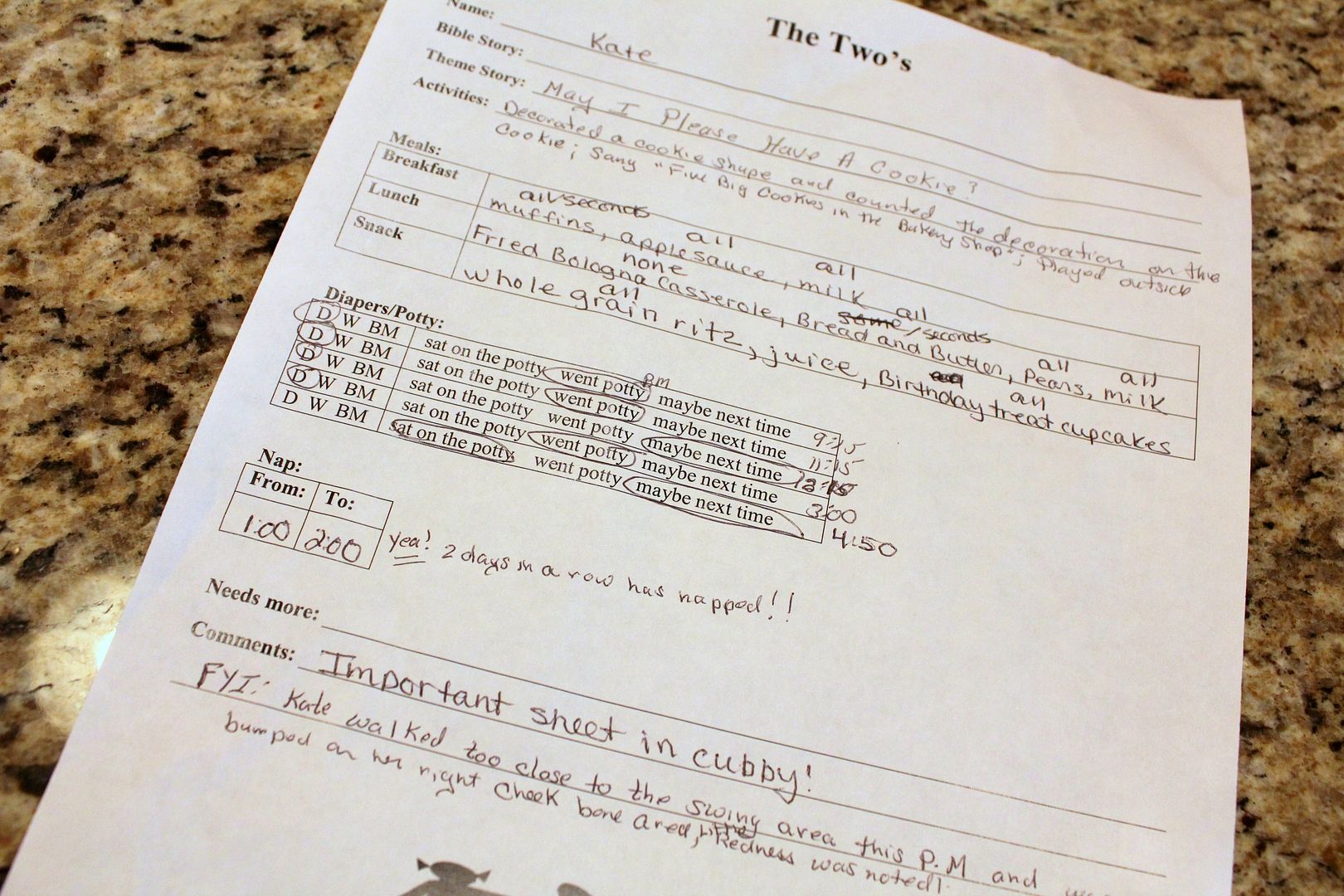 Kate's daily sheet from daycare – other than a bump at the playground, she had a great day!
It's leftovers for dinner tonight.  I prep tuna with mayonnaise, and Sun Chips on the side for Kate.  (I caved; she hardly ever gets chips although she asks for them every day.)  She's so sweet and so happy to get Sun Chips for dinner that she surprsies me by saying, "I want to kiss you!" (Which she does.) She then adds, "I want to hug you!" (Which she does.)
Awwww! I die!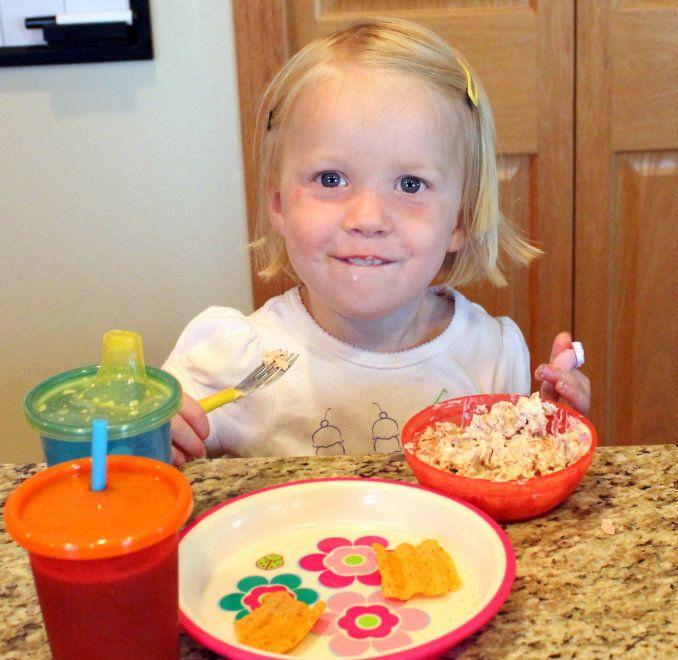 Kate, 32 months and such a sweetie!
Once I've got Kate served up, I prep my own dinner (a leftover triple cheese panini from Monday and a green smoothie) and sit down at the kitchen island to eat with Kate.  (G prefers to eat dinner later and since I didn't prep a family meal for tonight he relaxes in the living room while Kate and I eat; he'll eat later.)
6:30pm: G says goodnight to Kate and she and I go upstairs for bath and bedtime.  I recently bought Yes To Baby Carrots all-natural bubble bath for Kate and she loves taking a bubble bath!  After bath time I help her get dressed in her pajamas, comb her hair, and then we brush her teeth (she gets to brush first and then it's Mommy's turn to make sure we get them all), and then Kate flosses.
Kate's personal hygiene is taken care of so now it's time for cuddles!  We return to Kate's room and snuggle up in her bed together while I read her a book (she chooses Goodnight Moon tonight) and we say prayers, and then snuggle and talk.  Kate's bedtime routine usually only takes about 30 minutes, but I'm enjoying our time together so much that I linger longer than usual.  Finally, I give her kisses, say "I love you" and "goodnight" and then remind her, as I do every night that I do bedtime, "Mommy will be right here in the morning when you wake up."
7:15pm: I come downstairs and clean up the kitchen.
7:30pm: G and I start a Netflix movie:  One for the Money – a total chick flick.  G is Master of the Netflix Queue and usually blocks my chick flicks like Hope Solo blocking penalty kicks, but somehow this one slipped past the goalie.
I have a super hard time just sitting on the couch and watching a movie, and not doing anything else.  It seems like such a waste of time!  I'd much rather keep busy while I watch so I sit down at the laptop to multitask and type up notes from the day.
I'm facilitating a 9:00am meeting at work tomorrow morning and I promised my group a home-cooked breakfast in exchange for agreeing to meet first thing in the day, so once my notes are typed up I start grilling up sausage for a breakfast casserole.  In the meantime, I exchange text messages with my sister Brittny about a date she had tonight (fun!), and it reminds me that I need to get a date night on the books for me and G.  A few texts later with the teenage daughter of the woman who was Kate's first daycare provider and G and I have a babysitter lined up next weekend – woohoo!
8:30pm: Breakfast casseroles are prepped and in the fridge, and the movie is still going, so I continue my piddling multitasking.  I'm currently working on a super awesome tile project – part of my partnership with The Tile Shop! – so I decide to do some work on that.
10:30pm: The movie is over and my shoulder feels like it's about to fall off.  Time for bed!