I always over-plan, over-buy, and over-prepare for the Whole Living Challenge, so this year I've decided to keep a detailed account of what I buy, plan to make, and what I actually make (and eat) so I'm better able to gauge what I need when I do this again next year.  Here's my (slightly pared down since Friday) menu list for Week 1:
My Breakfast Options:
Green Smoothie**
Green Machine Smoothie
Avocado, Apple, Celery Green Smoothie***
Mixed Green Smoothie (for Vibrant Skin)
Ginger Orange Smoothie
Mango Coconut Water Smoothie**
Blueberry Smoothie
My Lunch Options:
Sweet Potato, Apple, Celery Salad**
French Lentil Salad
Celery Root, Kale, Avocado Slaw
Kale Slaw with Red Cabbage & Carrots
Red Lentil and Sweet Potato Stew
Roasted Portobellos with Kale
Detox Salad (forgot to link to this one last week – you can DIY or buy it already made at Whole Foods salad bar)
My Dinner Options:
Cauliflower "Rice" Stir Fry
Creamy Broccoli Soup
Red Lentil and Sweet Potato Stew
Roasted veggies (carrots, broccoli, asparagus, cauliflower)
Salads and slaws from my lunch list
My Snack Options:
Smoothies from my breakfast list
Creamy Mango Pops
Almonds**
Sunflower Seeds**
Oranges/Clementines**
Apple slices**
Sliced veggie sticks**
Cucumber slices
My friend Katie is making the Red Lentil and Sweet Potato Stew, and my friend Tiffany is making the Roasted Portobellos with Kale for this week's recipe swap so I'll get to try a serving (or less if I gag) of each of those recipes thanks to them.  I already have some ingredients for my menu list on hand, and in reality I'll probably only make one of the kale slaw's this week, but I bought ingredients for both, so one of them can carry over into next week. With all this in mind, it was time to shop!
My friend Beth is doing this year's challenge with me, so she and I hit up Whole Foods on Saturday afternoon.  With grocery lists longer than our wish lists, this was a shopping trip I think neither of us will soon forgot.  At one point Beth looked at me over the display of cantaloupe and pineapple, sighed and exclaimed, "We've been here for an hour and haven't even gotten 100 feet from the door!"  It was true.  We barely shopped beyond their bulk and produce section – but that's what eating clean is all about!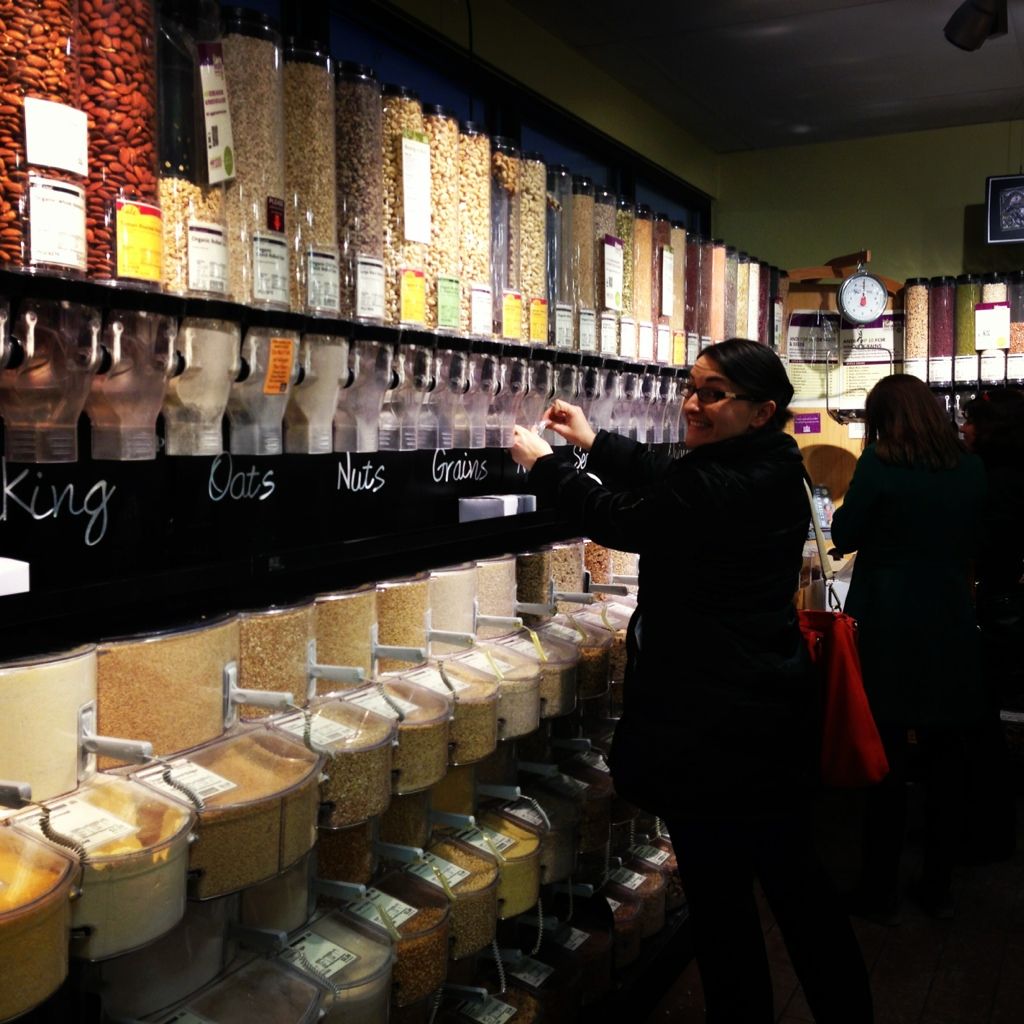 Beth, loading up on lentils in Whole Foods' bulk section.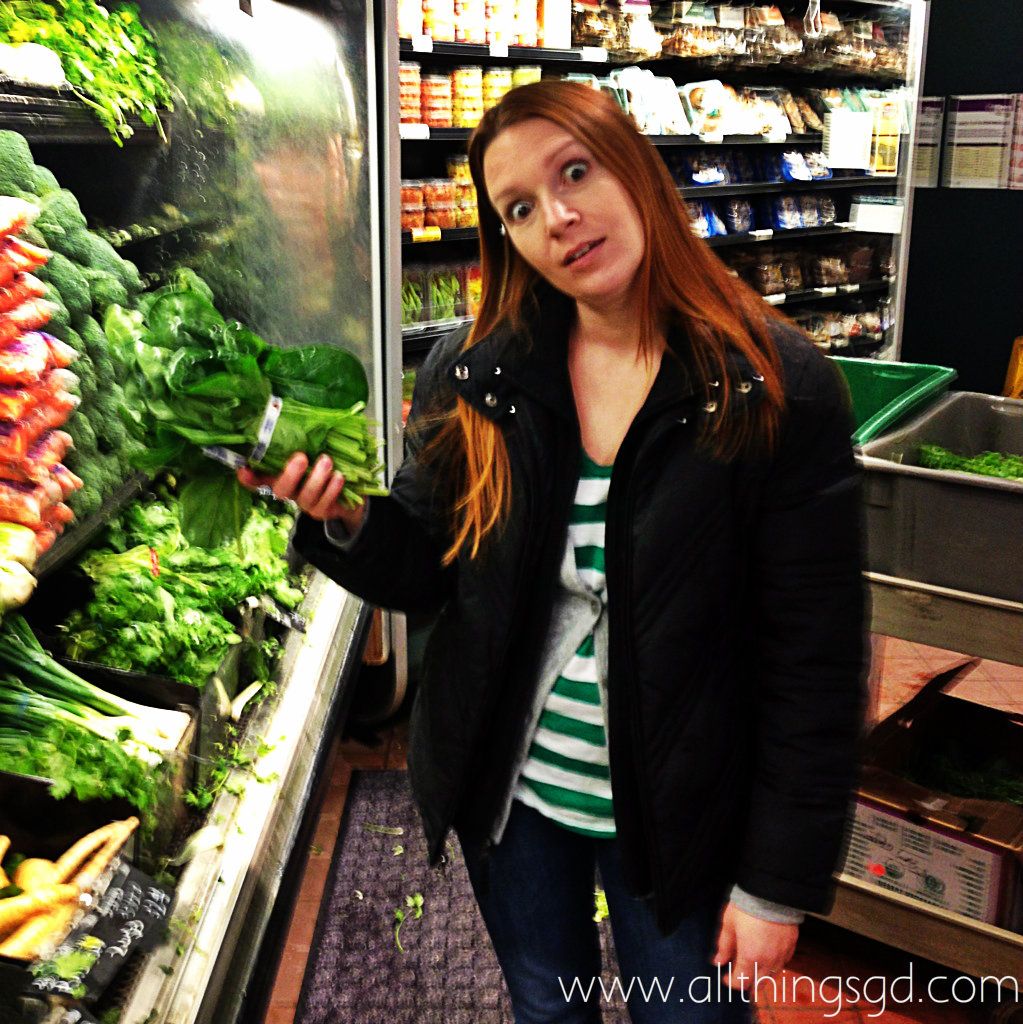 More green shit?  AGH!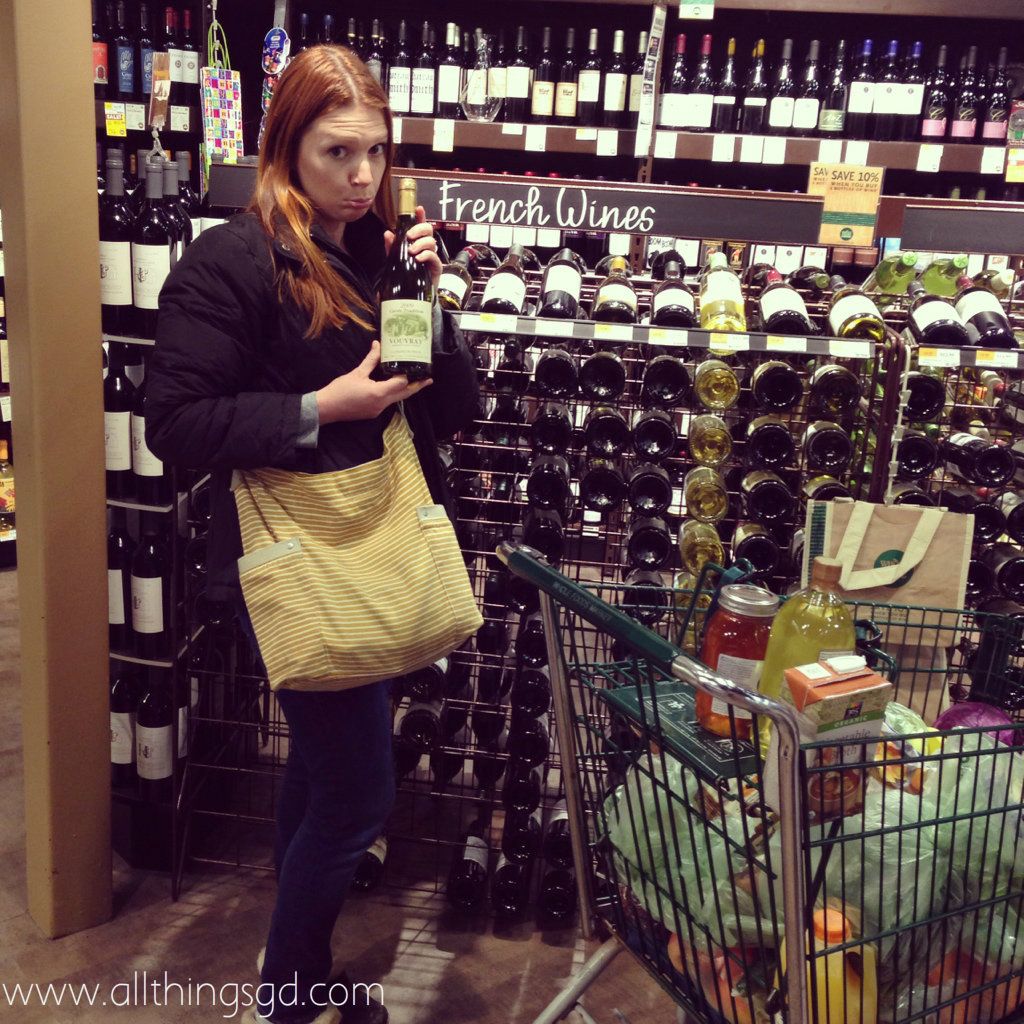 Me, pouting over no wine (my vice) for 28 days.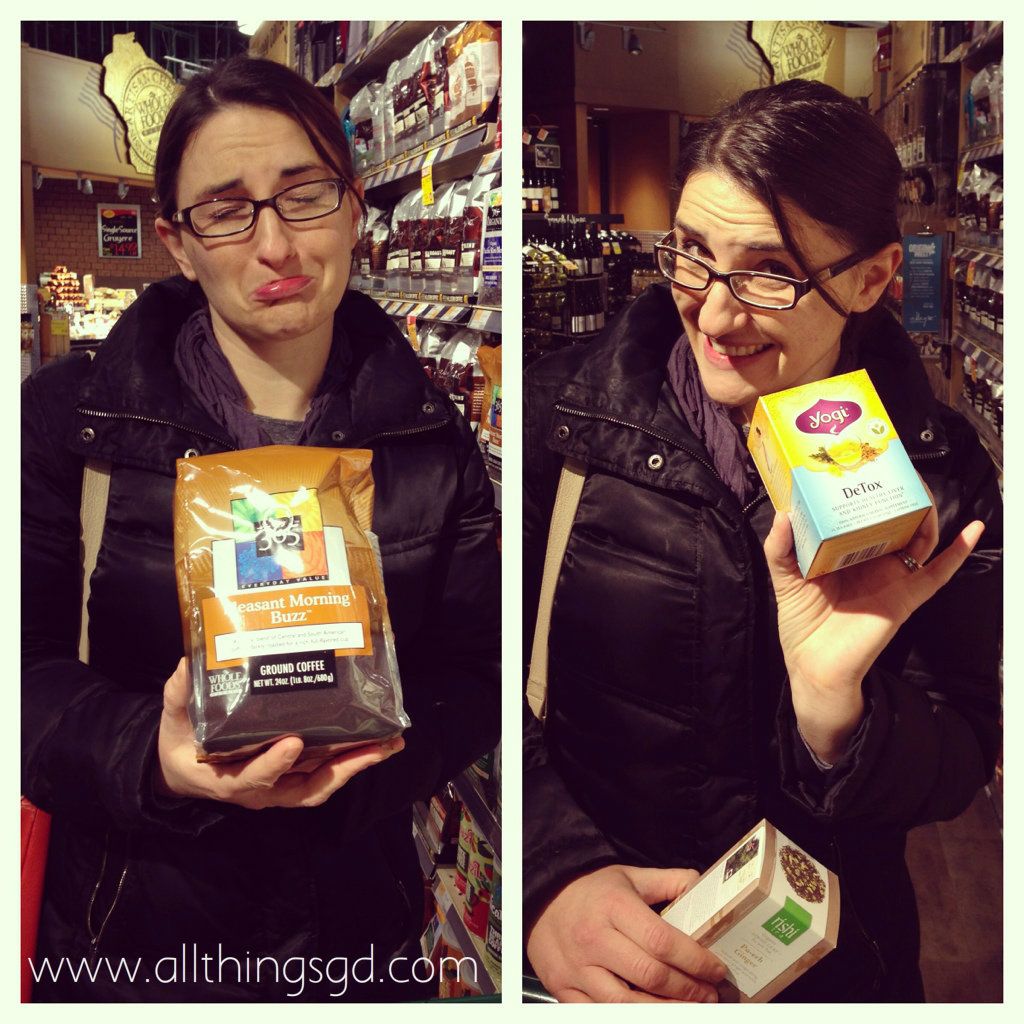 Beth, pouting over no coffee (her vice) for 28 days – but she can have detox tea!
In the end, our Whole Foods Saga ended with grocery bills that may require therapy, each of us needing two shopping carts to get everything out to my Rogue, and an even stronger commitment from the two of us that, "Dammit, we're eating every last thing we just paid for!"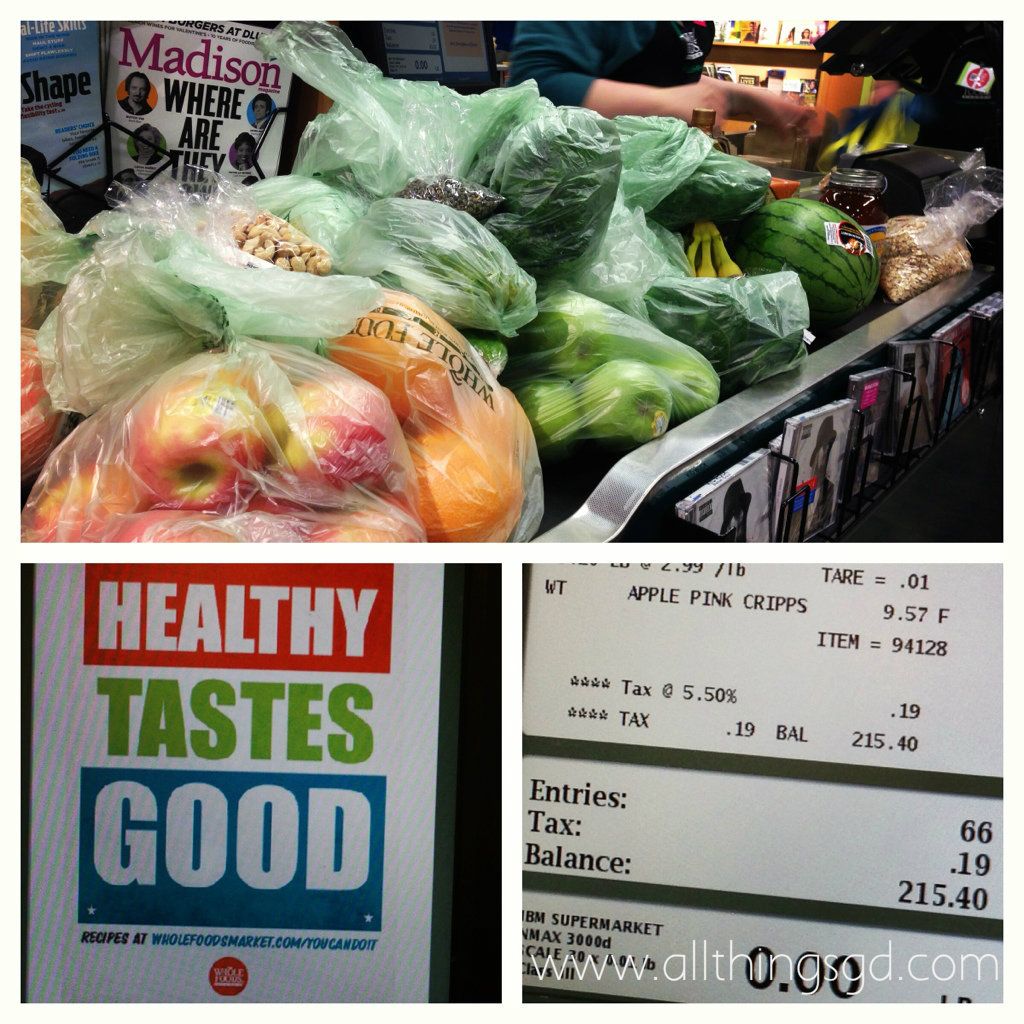 My groceries…and my bill.
After shopping I came home, unloaded on G, stocked our fridge, and poured a glass of wine.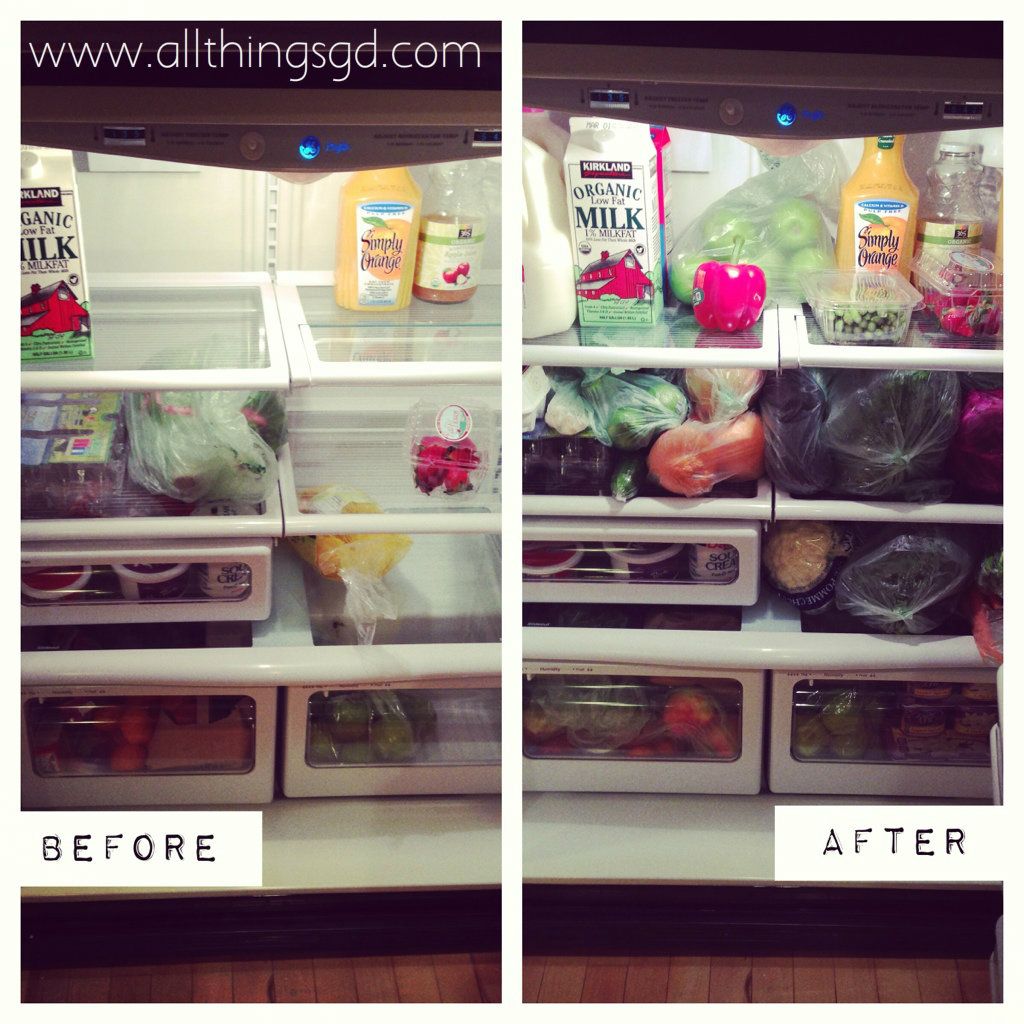 Our refrigerator.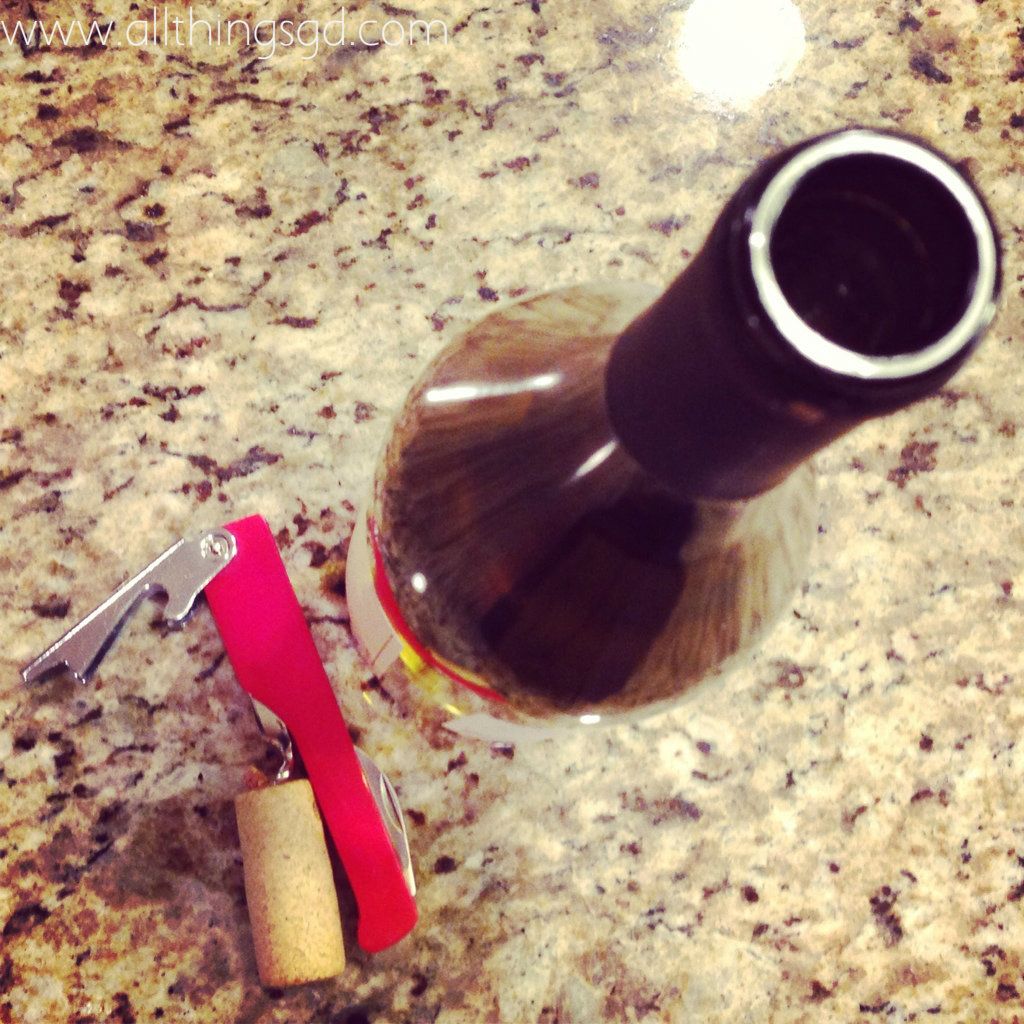 Enjoying it while I still can!
So here's my breakdown for Week 1, minus the breakdown I had at the register, the ingredients I already had on-hand, and my co-workers recipe swap:
Week 1 Purchases
Lettuce (1 bunch) – $3.31
Baby Spinach (1 bunch) – $2.99
Celery Root (2) – $3.89
Kale (1 bunch) – $2.69
Parsley (1 bunch) – $2.00
Cilantro (1 bunch) – $1.50
Carrots (3lbs) – $3.07
Red Cabbage (1 head) – $3.99
Asparagus (pre-cut bunch) – $4.55
Bananas (1 bunch) – $2.18
Watermelon (1 small, seedless) – $4.99
Navel Oranges (4lbs) – $7.60
Grapefruit (1) – $1.55
Pink Lady Apples (3.2lbs) – $9.57
Red Bell Pepper (1) – $1.88
Red Pepper (1) – $0.20
Seedless Cucumber (1) – $2.99
Ginger (1 large root) – $1.08
Cauliflower (2) – $9.98
Broccoli (2 heads) – $6.90
Celery (1 bunch) – $2.53
Avocados (4) – $6.00
Sweet Potatoes (5) – $4.62
Scallions (1 bunch) – $1.50
Limes (5) – $2.00
Red Onion (1) – $1.09
Yellow Onion(1) – $1.18
Roasted Almonds (from bulk section) – $6.23
Currants (from bulk section) –  $0.40
Kelp Granules (from bulk section) – $0.92
French Green Lentils (from bulk section) – $1.17
Pumpkin Seeds (from bulk section) – $0.84
Vegetable Broth (32oz) – $1.99
Fresh-squeezed OJ (64oz) – $6.99
Coconut Water (4 liters) – $14.00
Detox Tea (1 box) – $3.50
Frozen Blueberries (20oz) – $7.89
Frozen Mango (32oz) – $5.98
Frozen Pineapple (16oz) – $2.49
TOTAL:  $148.23
Are you joining me for this year's Whole Living Challenge? If so, I'd love to hear from you! Let me know how your shopping experience compared, and what you plan to eat this week – plus, follow me on Facebook and Instagram to see what goes into my pie hole!
(PS. It won't be pie.)