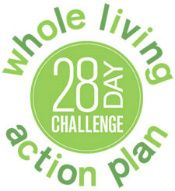 Today is Day 5 of my 2013 Whole Living Challenge and so far it's going well and I'm feeling great! I'm looking ahead at preparing for Week 2 when I can add fish (except shellfish), all legumes and beans, and gluten-free grains back into my diet (welcome back, quinoa!). As of next week, these are the allowed Challenge foods:
Fish (not shellfish)
All legumes and beans
Gluten-free grains
Fruits
Vegetables
Nuts and seeds
Oils and seasonings
The following are off-limits throughout the entire Challenge: anything processed, dairy, caffeine, alcohol, added sugars, and gluten.
After my massive shopping trip last week, I still have a lot of groceries left in my fridge so my plan is to use up as much of that as I can for Week 2. With that in mind, plus other ingredients I already have on hand, here's what I'm planning to enjoy during Week 2:
My Breakfast Options:
Banana Oat Pancakes
Cardamom Quinoa Porridge
Green Smoothie*
Green Machine Smoothie
Mixed Green Smoothie (for Vibrant Skin)
Ginger Orange Smoothie
Mango Coconut Water Smoothie*
Blueberry Smoothie
My Lunch Options:
Broccoli & Chickpea Salad
Celery Root, Kale, Avocado Slaw
Kale Slaw with Red Cabbage & Carrots
Detox Salad *
My Dinner Options:
Black Bean Brown Rice Patties
Roasted Vegetables with Quinoa
Roasted or Broiled Fish (Salmon, Halibut, etc.)*
Roasted Winter Vegetables with Cannellini Beans*
Grilled Salmon with Orange Avocado Salsa*
Cauliflower "Rice" Stir Fry
Avocado Black Bean Tacos
Roasted veggies (carrots, broccoli, asparagus, cauliflower)*
Salads and slaws from my lunch list
My Snack Options:
Smoothies from my breakfast list
Pumpkin Seed Zucchini Crackers
Creamy Cashew Dip*
Creamy Mango Pops
Almonds*
Oranges *
Apple slices*
Sliced veggie sticks*
Hummus*
Roasted Spiced Chickpeas*
*Things I've already tried that I know I'll like.
These, and other Challenge-friendly recipes can be found on my 2013 Whole Living Challenge Pinterest board.  You can also follow along with me on my All Things G&D Facebook page and Instagram for daily Challenge updates!