As first time parents, G and I were incredibly overwhelmed with all the baby products on the market, and since we both tend to be minimalists (G hates spending money and I hate clutter) we really didn't want to end up with things we didn't need.  I've been asked over and over again to recommend baby products* that we found the most useful during Kate's first year, so I started taking notes of our favorite must-have items.  Since Kate's needs changed so quickly as she grew, I'll be doing a series of posts highlighting our favorite items at various stages of her first year.  I hope this helps other first-time parents out there!   
Video Monitor

At first I wondered if this was an unnecessary luxury, but once Kate arrived we couldn't imagine not having a video baby monitor. Like sound monitors, we're able to hear if Kate wakes up and starts fussing, but instead of running up to her room to check on her, all we need to do is glance at the camera to view live video feed of her. We can see if she's just repositioning herself, if she's looking for a lovey, or if she really does need our assistance. It even has night vision!  This has saved us from endless trips up and down our stairs and nonstop peaks into Kate's room which could potentially interrupt her sleep.  The one we have is Bebe Sounds
and it's been great!
Bottle Warmer

Blame it on having a baby born in January in Wisconsin, but Greg and I were pretty diligent about making sure Kate had a warm bottle to drink when she was a newborn.
The stripe on the Pampers diapers
Pampers Swaddlers Sensitive
newborn diapers have a light yellow line that runs down the center of the outside of the diaper, and it turns blue when it gets wet. Brilliant! I have to laugh about it now that we're experts at diaper changes and knowing when Kate's wet, but as first-time parents we were thrilled to have the guess-work taken out of it for us during those first few weeks.
Pack N Play
with a built-in bassinet and elevated changing table
Kate's Pack N Play
was probably the hardest working piece of furniture in our house for the first few months of Kate's life. We have a two-story house with the nursery being upstairs, so we set up the Pack N Play downstairs in the living room. We had intended to use it for naps and diaper changes when Kate was first born, but we ended up using it for all of Kate's sleep during her first two months. When we came home from the hospital I quickly realized that getting in and out of our tall bed and going up and down our stairs were two things that were pretty painful to do while recovering from my C-section. At the time, Kate was bottle-feeding (and I was pumping) every 2-3 hours around the clock, so I decided it would be a lot easier for me to sleep downstairs on the couch and have Kate sleep next to me in the Pack N Play…just until I healed. Well I had no idea it would be two months before I could manage the stairs without pain! Luckily our Pack N Play had everything we needed–a bassinette insert so I didn't have to bend down far to get Kate in and out of it, an elevated changing table which was much easier on our backs than a regular changing table, plus a little diaper and storage caddy on the side.
The Bump Input/Output sheets
We found these sheets extremely helpful for tracking Kate's fluid intake to make sure she was getting enough to eat–especially once her issues with reflux began, her weight percentiles dropped, and every single ounce mattered. Grandma Pam also found these sheets helpful to track Kate's bottles and activities on days she took care of Kate during those early months, and it was nice for us to be able to see on paper how Kate's day went.
Sassy Look Book
This was the first toy that Kate took an interest in. At only three weeks old, I'd hold the book in front of her and she would stare at the black and white images on its pages. When babies are this young there isn't a whole lot you can do with them when it comes to activities, so it was nice to find something she enjoyed so much. (Interestingly enough, Kate was 7 months old when I wrote this review and this book was still one of her favorite toys!)
Activity Play Mat
Kate didn't seem to care much for her bouncy chair, and she didn't take to her swing right away, but the one thing she enjoyed from the start was her Activity Play Mat. She loved laying on it and kicking her feet and waving her hands. I didn't care for the lights and music in the mat, so I took that insert out and I really don't think Kate missed it at all. Just the pieces on the mat itself (especially the flaps that make the crinkle sound!) and the toys hanging from the top were all she needed.
Miracle Blanket
We tried a few different swaddle methods when Kate was first born, including swaddling with receiving blankets, muslin, and sleep sacks with Velcro wraps, but the Miracle Blanket was without question the best swaddle method we found. You can find my original review of it here.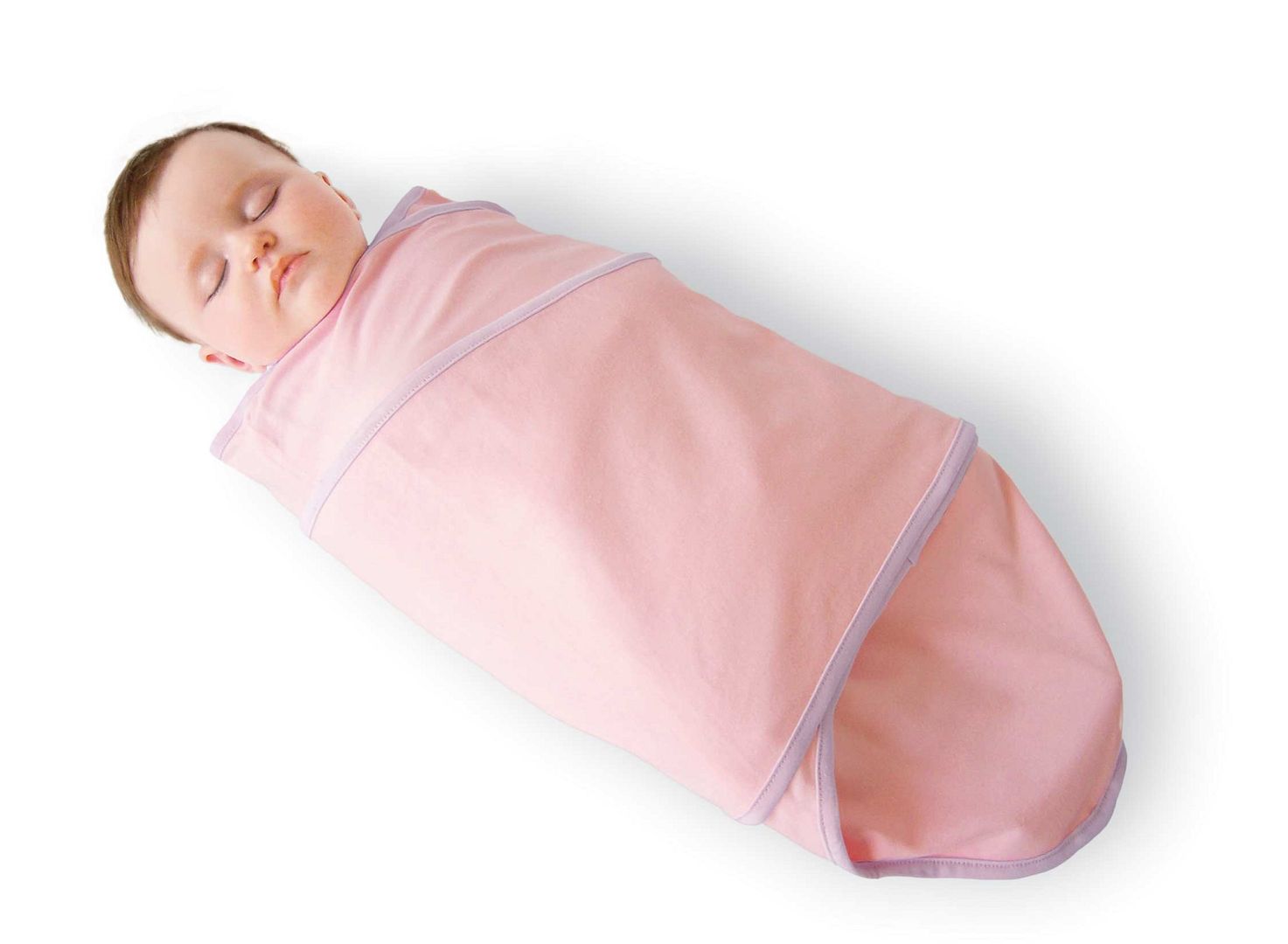 Flanel Waterproof Pads
There was no shortage of flannel waterproof pads in our house! We had them in three different sizes to accomodate the Pack N Play, the changing table, and the crib. They are completely flat and during this time I laid them on top of the sheets and Kate slept (or got her diaper changed) directly on them. When they got dirty I just pulled them off and laid another one down. I've found switching these out to be significantly easier than changing sheets every day.
Zippered Sleepers
Is there anything more difficult than dressing a newborn? Kate absolutely hated being dressed when she was first born, so the faster we could make the process, the better! We relied pretty heavily on sleepers and one-piece outfits that zipped all the way up (versus ones that had individual snaps).
Kimono/Side-Snap Tops

Along the lines of zippered sleepers, we also found that "kimono" or "side snap" tops were much easier for us to put on Kate than traditional onesies and shirts that we had to pull on over her head. The side-snap t-shirts were great when Kate was a newborn because they didn't disturb her umbilical cord, but once that fell off we switched to side-snap onesies.  They are typically a little pricier, but well worth the money during those early days in our opinions.
Baby Leg Warmers
Besides being quite possibly the cutest things ever, we've also found leg warmers to be extremely practical for Kate. She had several pairs which she primarily wore for bedtime when it was too cool to wear just a onesie, but too warm to wear a full sleeper. We preferred putting her in legwarmers versus pajama pants because if we needed to do a diaper change in the middle of the night we could easily do it by simply unsnapping the bottom of her onesie versus taking off pants and putting them back on. Leg warmers could also be easily slipped on or off when we checked on Kate at night depending on if she seemed too warm or too cool.
The Baby Whisperer books

I swear by these parenting books. I started reading the first one (Secrets of The Baby Whisperer
) when Kate was about 2 weeks old and it really speaks my language. For the most part it shaped how we took care of Kate–starting with her routine, which the Baby Whisperer calls the "E.A.S.Y." routine: Eat, Activity, Sleep, You Time. It is so simple, yet makes a world of difference. For me it took the guess work out of "Oh, could Kate be hungry right now?" and "When should she be sleeping?" We started her on the routine immediately and I think that's one of the reasons why I found parenting to be easier than I expected. The book helps you learn how to "read" your baby so you can learn her cues, like hunger cries and what your baby looks and sounds like when she's tired or overstimulated. It's been our parenting handbook and I cannot sing its praises enough. The second book (The Baby Whisperer Solves All Your Problems
) covers the concepts of the first book in more detail (although I highly recommend still reading the first book first because I think it's a good, basic introduction that's not too overwhelming during those initial weeks).  I've read both of these books repeatedly during Kate's first year to keep the information fresh in my head, and to reference when we weren't sure what to do.
Bottle Drying Rack

Nothing fancy here, but it gets the job done! We left it on our countertop next to our sink and it was so helpful to have Kate's bottle parts close at hand when we needed them.
Reusable Snack Bags from Mada's Place
My friend Steph makes these super cute, and super convenient reusable snack bags, which were a must-have for my diaper bag. I used them to store Kate's pacifier and bottle nipples when we were out and about. They're food safe, so as Kate got older I was also able to use them for her snacks. And the best part is they easily wipe clean or you can toss them in the washing machine for a heavy duty cleaning!
Car Mirror

I loved having this baby mirror set up in the backseat of my car. One slight adjustment of my rearview mirror and I could see how Kate was doing in her car seat. Kate also really liked the little animals that hang from it and she'd give them a big smile every time she got in the car. This mirror also plays music, but we didn't used that feature much as Kate seemed to prefer the oldies radio station to the kitschy children's tunes.
Pull Down Car Shades

Forget the bright yellow "Baby on Board" signs–nothing says "baby" like a pair of roller shades in your back windows.
Burp Cloths

They say you can never have enough burp cloths, and they're not kidding! We had at least 20 and it still didn't seem like enough on most days. We used cloth diapers for our burp cloths and they worked great.
Car Seat Cover
Microwave Steam Sterilizer Bags
This is not an all-inclusive list of the baby things we used during Kate's first three months–simply a highlight of some of our most favorite items and the things I'd most highly recommend. I hope you find it useful as you navigate the baby world for your own little one!