1. Curly Girl Designs
My friend Allison and I discovered Curly Girl Designs while shopping cute little boutiques in downtown Madison when she was here visiting me last summer. With their charming messages and adorable little drawings, what's not to love? I saw a plaque with the above design, instantly thought of my friend Marcia in New York (she's my vision of Superwoman), and purchased it for her birthday which was earlier this month. Well imagine my surprise and thrill when my friend Beth gifted me this very same design for my birthday in September! I have truly fallen in love with these designs. They have a perfectly thoughtful and unique messages for every occasion. Shop them online or click on "Find Us" to find a retail location near you.
2. Starbucks Chai Tea Latte
Once January hits I need to wean myself off of Starbucks' Peppermint Latte and try something new. There's just something about the page of my calendar turning from December to January that makes me want to put peppermint up on a little shelf until next Christmas. I've tried Starbucks' Chai Tea Latte once in the past and thought it was alright, but admittedly I wasn't a tea drinker back then. I started embracing tea during my first 28 Day Challenge, and have now grown to like it at least as much (maybe more?!) than coffee. In the spirit of the New Year, I decided to give the chai tea latte another chance, and boy am I glad I did! Love.
3. Wearing leggings to bed.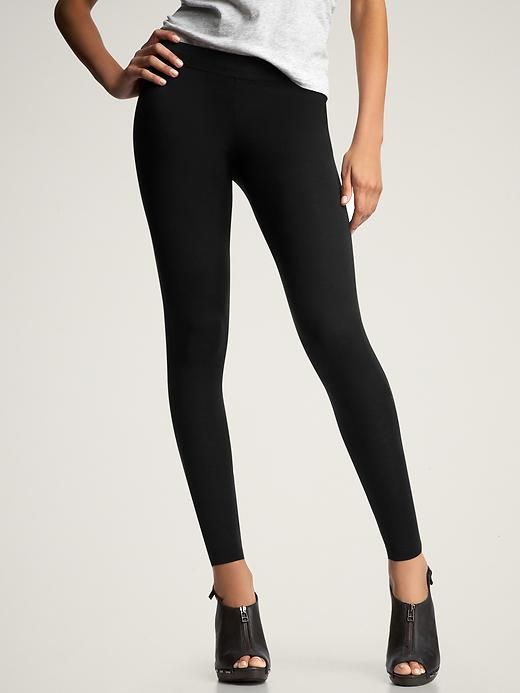 I usually skip the high heels for bedtime.  Usually.

If you live somewhere where it gets cold during the winter months, you've simply got to try this out. My friend Allison (who lives in Minneapolis, MN, and is clearly guest-starring in this post) introduced this concept to me. It makes loads of sense if you think about it: leggings are more comfortable because they don't slide up your legs like pajama pants do when you're sleeping.
Brilliant.
My favorite leggings are these ones from Gap—they're super soft and the waistband manages to stay put without being tight. Win, win!
4. Revlon ColorStay Eyebrow Enhancer
To preface this Things Loved recommendation, I must start by sharing a little something that happened in January that I was not so in love with: I made an impromptu decision to have my eyebrows threaded (for the very first time!) at a little kiosk in the mall.
I know what you're thinking: "impromptu decision" + "mall kiosk" = DUH.
Right.
I know.
And had I given myself a good thirty seconds of deliberation before lounging in a chair under a spotlight in the middle of mall-walker traffic I may have came to this same conclusion, but sadly I'm slow at math and make irrational, self-indulgent decisions while enjoying "me time" sans my toddler.
The results had me seriously considering going back to bangs—until I discovered this eyebrow pencil. I had been trying a regular eyebrow pencil to fill in what eyebrow hairs I had left but the end result looked too dark and harsh for as much filling in as I had to do. I picked up a few different eyebrow filler options and this was my favorite. The color goes on lighter and has a little bit of waxiness to it which helps keep my baby-fine brow hairs in place. There's a highlighter at the other end, which I occasionally dab at the inner corners of my eyes for a little added pop.
You can (kind of) see my new tiny and heavily lined eyebrows in the pictures I recently posted from my weekend in NOLA (pics enlarge when clicked).
(Surprisingly, my friend Allison had nothing to do with this recommendation, although she does have enviable eyebrows.)
5. Clinique Even Better foundation & foundation brush
I've reached that age and vanity level where I realize I should probably start wearing foundation on a regular basis. I used to occasionally wear Maybelline's Mineral Power liquid foundation but when it came time to replace the bottle of it that I'd purchased 4 years ago I discovered they no longer make it.
Don't you hate that?!
I tried a few other drugstore foundations but couldn't find anything I liked the feel of or that matched my skin. To spare myself from spending any more money on foundation hunting I decided to finally stop at a Clinique makeup counter (on my self-indulgent, no toddler day at the mall…now also known as "Eyebrowgate"), and once again sat in a chair under a spotlight in the middle of mall-walkers (my skin now raging red all around the space where my eyebrows used to be). This moment in the spotlight, however, ended up being a good one as I finally found a foundation I liked and that matched.
I also bought their foundation brush. Not because I'm convinced it does a better application job than my fingers, but because, frankly, I find it fun to "paint" my face each morning.
Honorable Mention: Threading. After my initial shock wore off and I got used to seeing my eyebrows at half their usual thickness, I have to admit that I actually kind of liked the whole threading thing. For the first time ever my eyebrows have an actual shape to them, which is something I've always wanted. I just might try threading again someday.