I'm honored to say I have received another reader request! This time from Nestie newleywed Markakis. She and her husband are settling into their new home and are looking for some tips and advice for organizing her kitchen pantry and I'm happy to help!
The first thing that came to mind after reading Markakis's email is a picture of a beautifully organized pantry I saw in a Real Simple magazine a couple years ago. I went to my trusty organization binder (a binder I keep full of organization ideas, tips, and pictures) and sure enough it was there! This pantry was "The Organizer" project in the December 2006 issue of Real Simple. I was able to find the complete article on their website, however the photos were really small, so I scanned my magazine page for this picture (hence the less than stellar photo quality). To read the entire article, complete with before & after pics and organization tips CLICK HERE.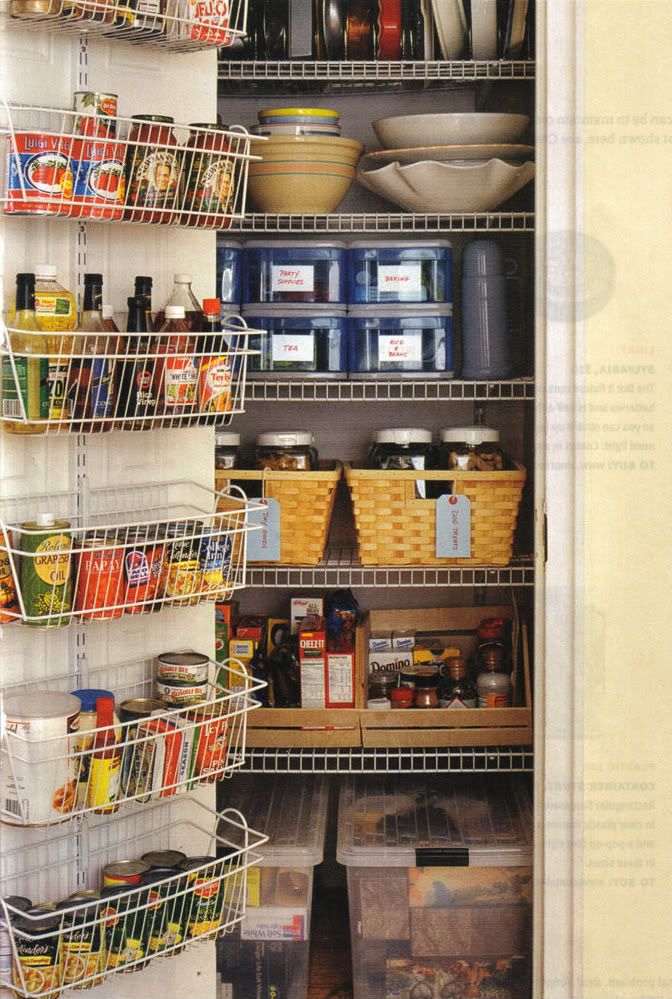 This article does a great job of summing up how to get started planning your pantry space for organization: sorting, purging, and prioritizing. In addition–be sure to use vertical space.
And if at all possible, try not to stack food items on top of each other (unless they're the same item–like a can of tomato sauce stacked on a can of tomato sauce). When you need to move things around to get to an item, you're less likely to put the things you moved back in order. This will put your pantry right back on the path to disaster.
My favorite part of this pantry organization is the extra-wide wire baskets on the back of the door for canned goods. Doors are often overlooked as a medium for storage and organization. And oftentimes they're the quickest, easiest way to access something! The baskets pictured are fromClosetmaid and hook onto a door mounted frame. And HERE is another option from Stacks And Stacks.
I also like the stackable drawers for smaller items like seasoning packets which can easily get lost in a large pantry.
A lot of pantry organization articles and tips I've read recommend getting clear, uniform storage containers for items like cereal, flour, sugar, etc. I don't do this, but if these are items that take up a lot of space in your pantry, it might be a good idea. Just be sure to get containers large enough to fit the entire amount of product you typically buy. The last thing you'd want is to get a container for your cereal only to find it fits 3/4 of the box, and be stuck storing a container and a 1/4 full box of cereal.
Baskets and crates provide topless storage for frequently used items. The wooden crates in the pantry picture are from Michael's, and the baskets are from Ikea. If you're an avid baker, it might be a good idea to put your most commonly used baking ingredients–flour, sugar, baking soda, etc.–in one basket that you can easily pull out and move to your countertop. This will save you trips back to the pantry for each ingredient you need. Another option for topless storage are these stackable bins from Stacks And Stacks.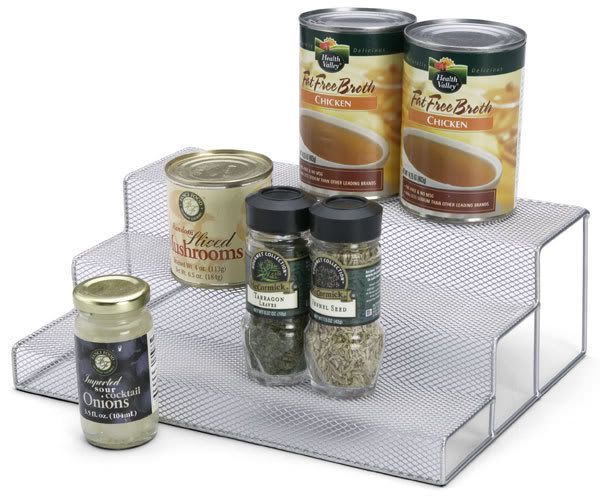 And these tiered shelves from The Container Store are nice for being able to see items that would otherwise get lost in the back of your shelves.
Lastly–don't forget that space between the bottom shelf and the floor. Large tote bins with wheels can be used to store items like dog food (for the new puppy!) or paper supplies.
And if you have that white wire shelving like Markakis, you might want to consider putting down a shelf liner, which will prevent little items from falling through the cracks.
Hope that helps!
Related Posts:
Organization–Tips For Getting Started
My Spice Cupboard
My Sister's Kitchen Transformation