Easter is less than two weeks away, and I'm getting so excited!  We picked out Kate's Easter basket a couple of weeks ago and she's been carrying it around the house ever since.  I love how much she gets into the traditions of the holidays!  Last year Kate had fun with an Easter egg hunt at G's parent's house, and this year I think she's really going to love it!
As many of you know, I'm a bit of a nutrition nut so I wanted to think of some fun and sugar-free Easter egg filler ideas that Kate could enjoy sans cavities and sugar crashes.  Here they are!
1.  How cute is this little bunny?  Fill your toddler's Easter eggs with Little People toy animals and people! Kate loves Little People toys.  She has the Little People Noah's Ark, the Happy Sounds Home, and the Open and Close SUV.  The great thing about this line is that all of the people and animals are interchangeable regardless of which toy your child has!  I picked up this Little People bunny for Kate at Target in the Easter section, and it can be one of Noah's animals or a pet in her dollhouse.  She's going to love it!  (Note:  Larger Little People animals and people will require larger eggs.)
2.  Stickers!  Kate loves stickers so I bought a packet of Easter-themed stickers, and a packet of Cars-themed stickers (she's super into cars and trucks right now) and cut them into egg-sized pieces.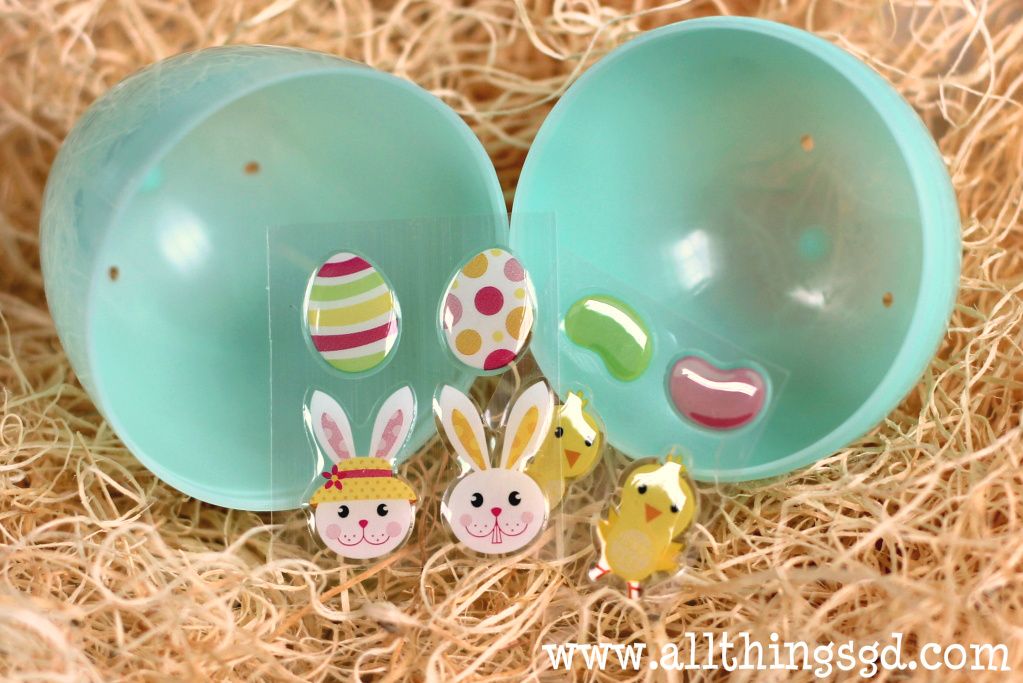 Easter-themed Stickers
3.  Kids love money before ever understanding what money really is.  Fill their Easter eggs with coins and they'll be thrilled to fill up their piggy bank after the egg hunt!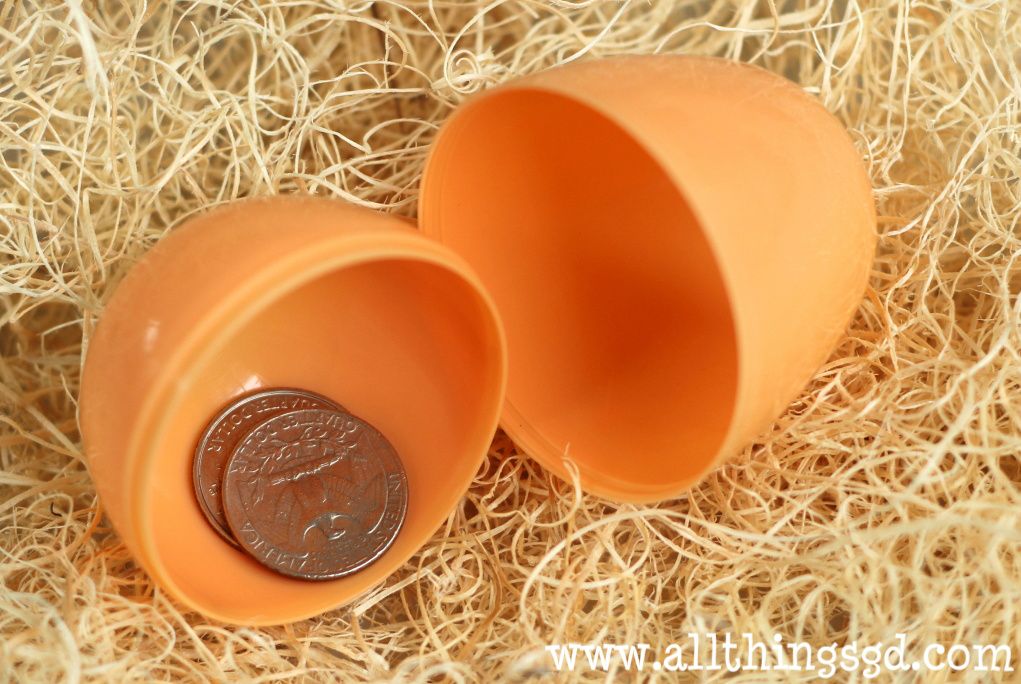 Money, Money, Money!
4. Barrettes, bows, hair clips, ponytail holders–any kind of hair accessory your little girl is currently rocking these days!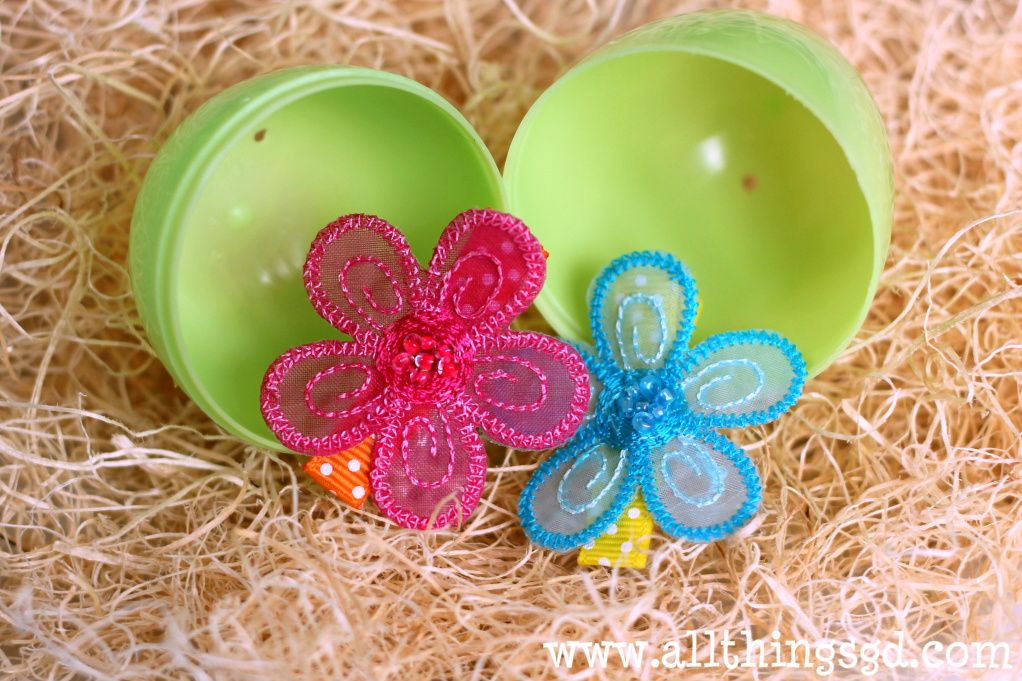 Hair Accessories
5. Little toy cars! Kate is obsessed with cars right now, and loves her Little People Wheelies Rampway.  The little toy cars that go along with it (like this one found in the Easter section at Target) are excellent fillers for extra-large eggs. Matchbox cars are another great idea!  Just make sure you get eggs that are large enough to hold them (or cars small enough to fit).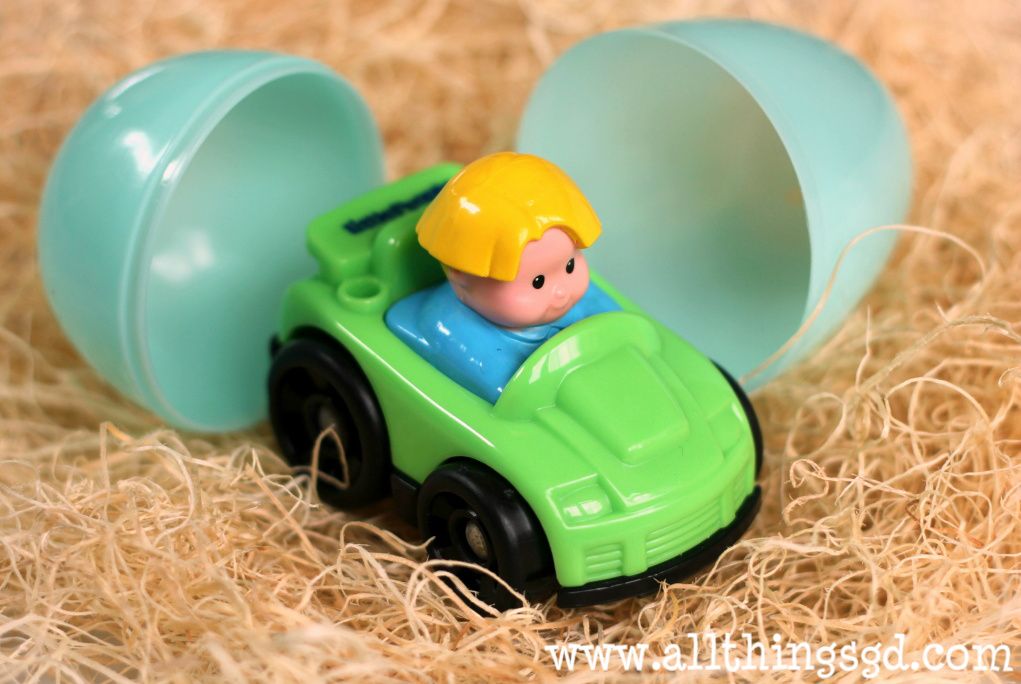 Toy Cars
6.  Sidewalk Chalk.  Another recent find is sidewalk chalk in the shape of an egg in Target's Dollar Spot section.  I picked up four chalk eggs for $1!
7.  Miniature Playdough.  I've seen miniature playdough tubs in varying sizes so make sure you get eggs that are the right size to hold them.
8.  Miniature bubbles.  One of my favorite signs of Spring is seeing bubbles floating across our yard, compliments of the many playful children in our neighborhood.  Look for miniature bottles of bubbles at any party store for just a handful of pennies!
9.  Packets of planting seeds.  Consider starting a new tradition with your child!  Spring is the perfect time to give them packets of flower or vegetable seeds to plant, help water, and watch grow.
10.  Kate is an accessories hoarder queen, so filling her Easter eggs with bracelets, necklaces, and plastic rings was an obvious choice!
Jewelry
11.  They're not just for stocking stuffers and school clothes shopping!  Filling your child's Easter eggs with a pair of brightly colored socks is a fun way to sneak in these otherwise boring wardrobe necessities.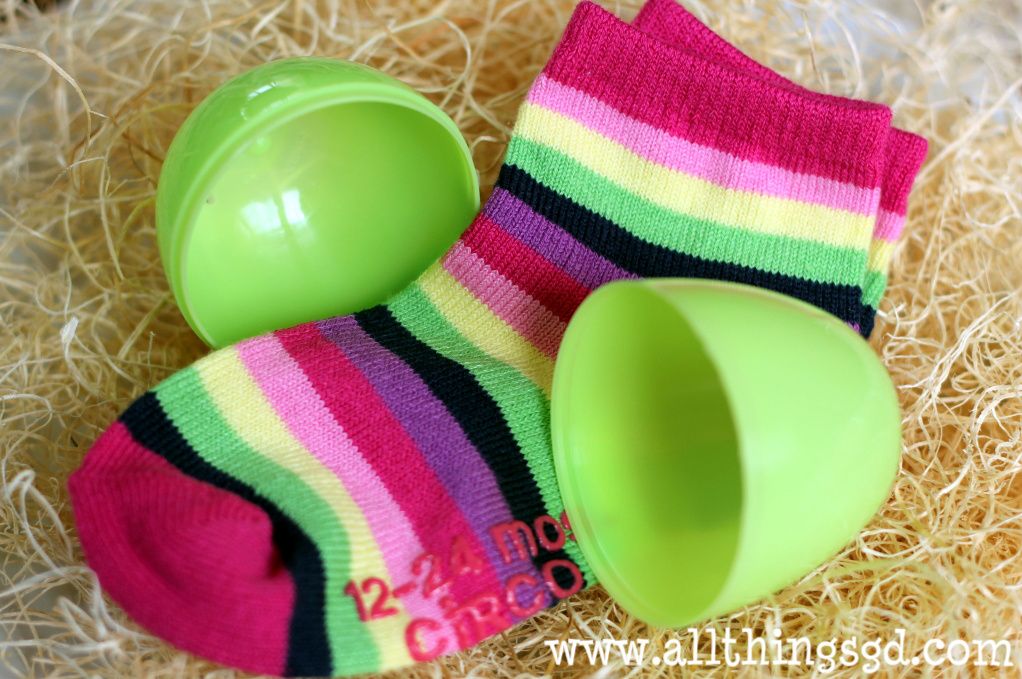 Bright Colored Socks
12.  Balloons.  Kate loves balloons, and they make a cheap and easy Easter egg filler.  Blow them up and teach your little one how to play catch, or bat them in the air for your child's first volleyball game!
13.  Legos.  A classic never goes out of style.  Fill your child's Easter eggs with additional pieces of their favorite Lego collection–or get a collection started for them!
14. Bath squirt toys. The possibilities are endless with these little suckers (and squirters).  Look for them by the bagful in the bath section of your favorite store.
15. Alphabet magnets. Your child will be having so much fun hunting for more letters that they won't even realize they're learning, too!
16.  Puzzle pieces.  Buy an age appropriate puzzle for your child, fill each of their eggs with one of the pieces, and turn their Easter egg hunt into a search to find all the pieces to the puzzle!
17.  I may be a nutrition nut, but that doesn't mean I'm a total wet blanket when it comes to snacks that Kate can enjoy.  Annie's Cheddar Bunnies are crackers in the shape of bunnies (perfect for Easter!) and made from organic, no sugar added ingredients.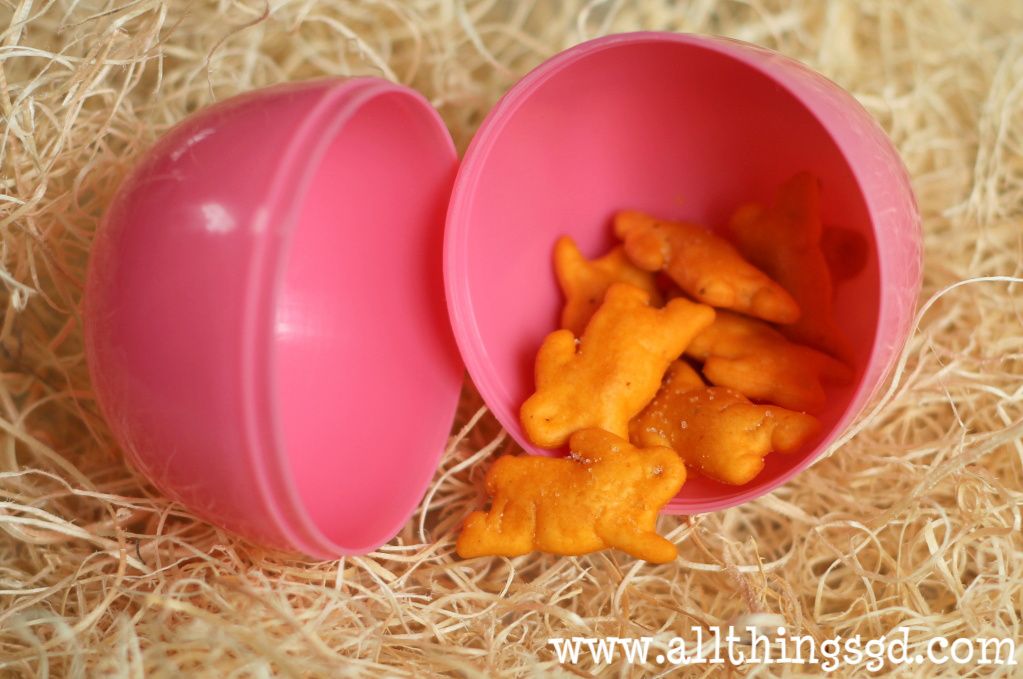 Annie's Cheddar Bunnies Crackers
18. Kate loves raisins, and a surprising recent discovery is that she also loves almonds and dried cranberries. A homemade trail mix of the three makes a wonderfully healthy Easter snack!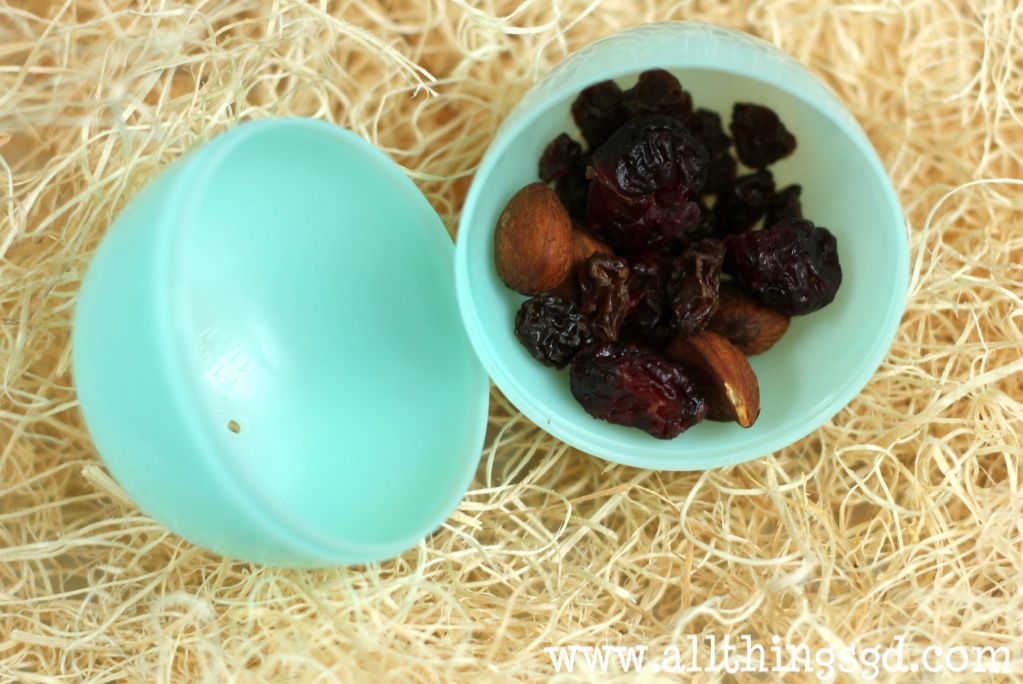 Homemade Trail Mix
19. Your child's favorite cereal, such as Cheerios, Kix, or Chex.
20. Pretzels, such as Annie's organic Pretzel Bunnies!
So there you have it–20 ideas for egg filler items you can feel good about treating your toddler with this Easter holiday!
Got any other candy-free filler ideas you'd like to share?  I'd love to hear them!
Disclaimer:  Please consider your child's age and ability when choosing Easter egg fillers for him/her.  Choking is a serious risk when it comes to objects this size, and anything that can fit inside of a small plastic Easter egg should be handled by your child only under strict adult supervision.